So the latest T-Bills auction results (2 Feb 2023) are out.
And interest rates on the 6 month T-Bills continue their downtrend to 3.88% (vs 4.00% the previous auction).
2 February 2023 T-Bills Auction Results – 3.88% cut-off yield
Cut-off yield is 3.88% – meaning that everyone will get T-Bills at 3.88% regardless of whether you applied for a competitive or non-competitive bid (as long as you are allotted).
Full allotment for non-competitive applications again.
What this means practically is that:
If you applied non-competitive, you get 100% allotment of whatever amount you applied for (at 3.88%).
If you applied competitive below 3.88%, you get 100% allotment (at 3.88% yield).
If you applied competitive at 3.88%, you get 71% allotment.
If you applied competitive above 3.88%, you get nothing.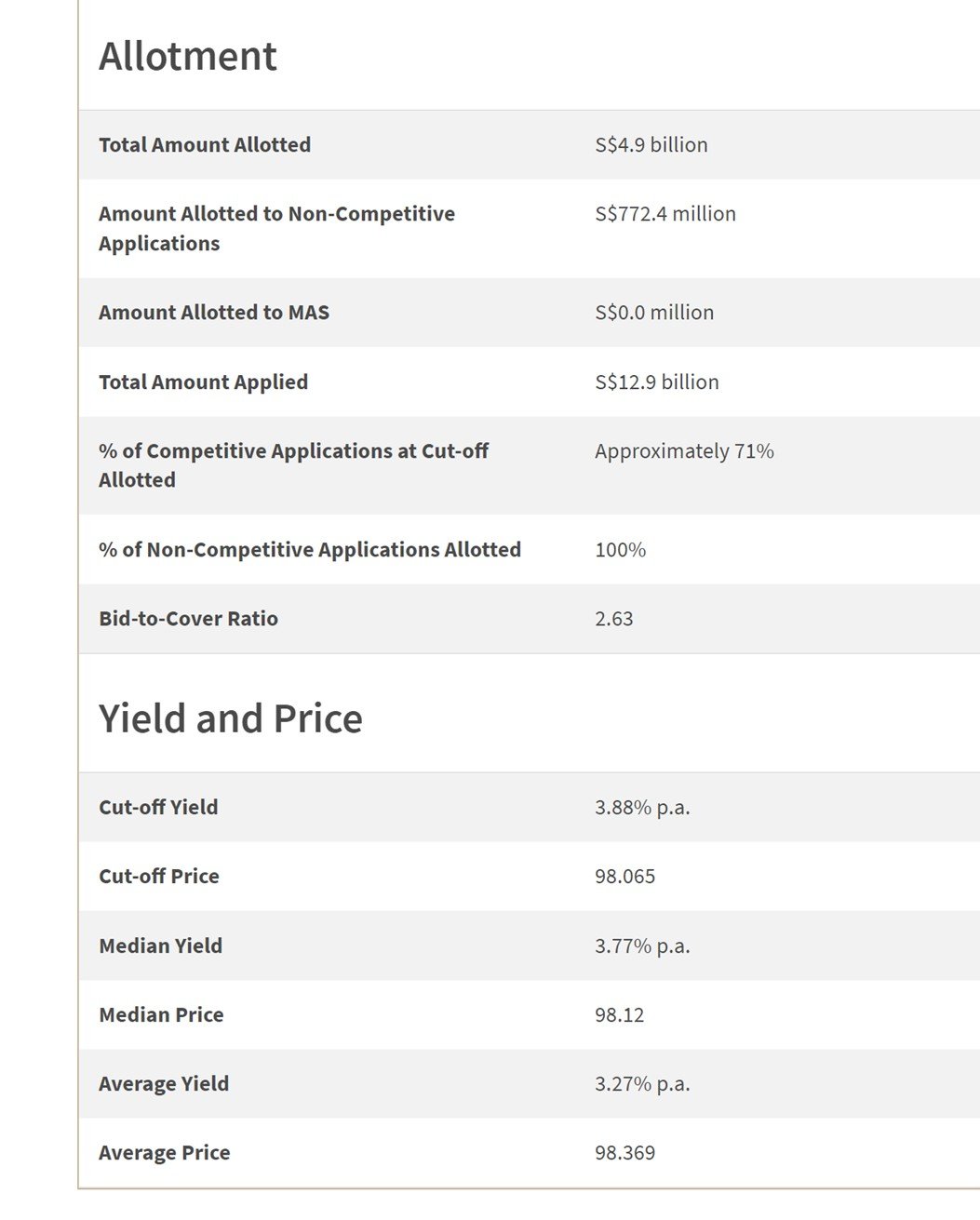 Statistics wise – the median yield went down to 3.77% (vs 3.9% previous auction).
While average yield went up quite a bit to 3.27% (vs 2.71% previous auction).
So generally speaking it seems the bidding has become more rational (reflected in higher average yields), while also reflecting the downtrend in interest rates (median yield is down).
Application amounts for T-Bills remains very high at $12.9 billion
Interestingly though, the total amount of applications for the T-Bills remains very high at $12.9 billion.
The previous auction was $13.1 billion, so this is only a $200 million drop from the previous auction.
You can see this charted below, current levels of demand for T-Bills are still very close to all time highs.
Is all this demand coming from CPF-OA? Can apply for T-Bills online if your CPF-IA is with DBS
Just a shoutout that if you are buying T-Bills using CPF-OA, you can now do so online (if your CPF-IA account is with DBS).
Previously the main drawback to buying T-Bills with CPF-OA is having to go down to the bank and queue for an hour.
And anecdotally, it seems like a lot of the T-Bills demand is coming from CPF-OA applicants.
I mean when you're using 2.5% CPF-OA cash to buy, even 3.88% T-Bills is a big increase in interest rates.
BTW – we share commentary on Singapore Investments every week, so do join our Telegram Channel (or Telegram Group), Facebook and Instagram to stay up to date!

I also share great tips on Twitter.
Don't forget to sign up for our free weekly newsletter too!
[mc4wp_form id="173″]
For cash – there are better options out there than 3.88% T-BIlls
That being said, if you're applying using cash though, I think there are better options out there.
RHB Fixed Deposit pays up to 4.28%.
And if you want to stick with a local bank, OCBC Fixed Deposit pays 4.08% for 8 months.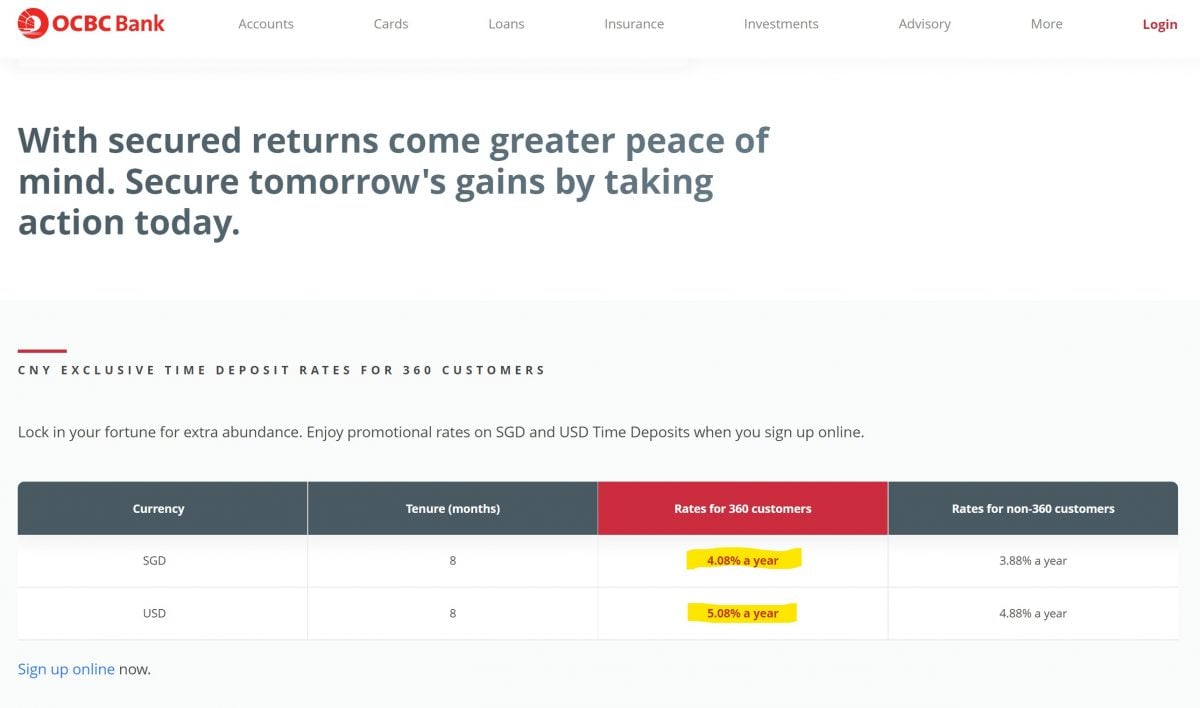 Both of which are very competitive (and arguably even better than) T-Bills at 3.88% due to the liquidity (can be broken early with a small penalty).
Did I apply for this round of T-Bills?
Personally for me I got lazy and decided to just skip this round of T-Bills.
Looking at the global interest rate trends I expected this round of T-Bills to come in quite low, and that turned out to be correct.
I'll probably just chuck the cash in an 8 month OCBC Fixed Deposit paying 4.08% and be done with it.
Trust Bank Account (Partnership between Standard Chartered and NTUC)
Sign up for a Trust Bank Account and get:
$35 NTUC voucher
1.5% base interest on your first $75,000 (up to 2.5%)
Whole bunch of freebies
 Fully SDIC insured as well.
It's worth it in my view, a lot of freebies for very little effort.
Full review here, or use Promo Code N0D61KGY when you sign up to get the vouchers!
WeBull Account – Free USD150 ($212) cash voucher
I did a review on WeBull and I really like this brokerage – Free US Stock, Options and ETF trading, in a very easy to use platform.
I use it for my own trades in fact.
They're running a promo now with a free USD 150 (S$212) cash voucher.
You just need to:
Sign up here and fund S$2000
Make 1 US Stock or ETF trade (you get USD100)
Make 1 Options trade (you get USD50)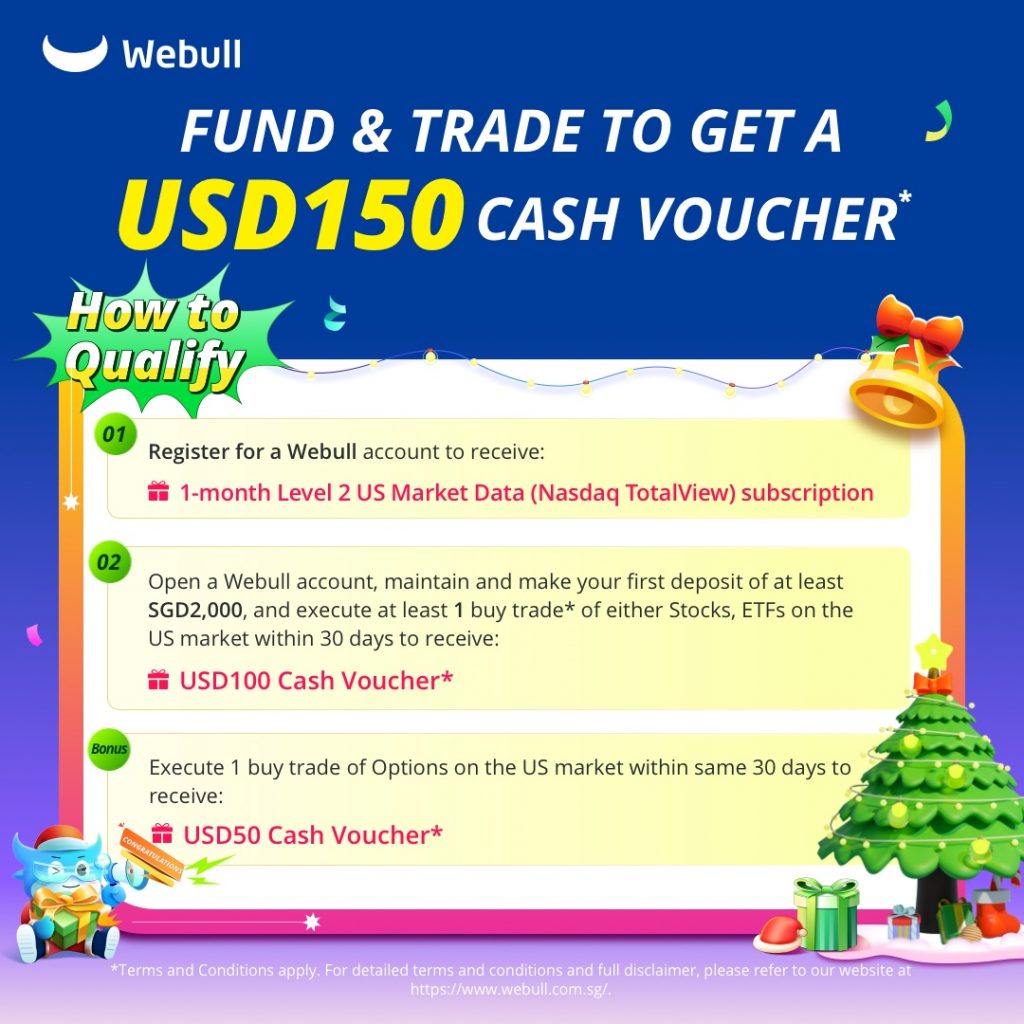 Looking for a low cost broker to buy US, China or Singapore stocks?
Get a free stock and commission free trading Webull.
Get a free stock and commission free trading with MooMoo.
Get a free stock and commission free trading with Tiger Brokers.
Special account opening bonus for Saxo Brokers too (drop email to [email protected] for full steps).
Or Interactive Brokers for competitive FX and commissions.
Do like and follow our Facebook and Instagram, or join the Telegram Channel. Never miss another post from Financial Horse!
Looking for a comprehensive guide to investing that covers stocks, REITs, bonds, CPF and asset allocation? Check out the FH Complete Guide to Investing.
Or if you're a more advanced investor, check out the REITs Investing Masterclass, which goes in-depth into REITs investing – everything from how much REITs to own, which economic conditions to buy REITs, how to pick REITs etc.
Want to learn everything there is to know about stocks? Check out our Stocks Masterclass – learn how to pick growth and dividend stocks, how to position size, when to buy stocks, how to use options to supercharge returns, and more!
All are THE best quality investment courses available to Singapore investors out there!