Note: This Article first appeared on Patreon. Making it publicly available given the huge interest on this topic. If you found it useful – do considering supporting Financial Horse as a Patron, and get access to my personal portfolio, latest stock watch, and updated thoughts.
I've been getting a ton of questions about the whole China Tech crackdown and crash:
Hello FH, do share your thoughts on DiDi and China's crackdown on US-listed, CN tech companies in general. Looking forward to hearing your analysis!
Hi FH, DIDI share price took a huge hit last Friday. Do you see value here from risk reward perspective, say in 2-3 years from now?
Hi FH, Didi has crashed to $8. Would you still continue to buy? Is the risk getting bigger with the possibility of delisting?
Is there a strong possibility that DIDI would be forced to delist ? The price point is fast becoming tempting to start a position. Appreciate any views on this.
Any thoughts on the private tutoring crackdown in China? I don't see how the govt is gg to control this now that the industry has ballooned so much. If im a parent and my kid's tutoring co goes out of business, im just gna find another one. Do you think there's an opportunity to buy those dips?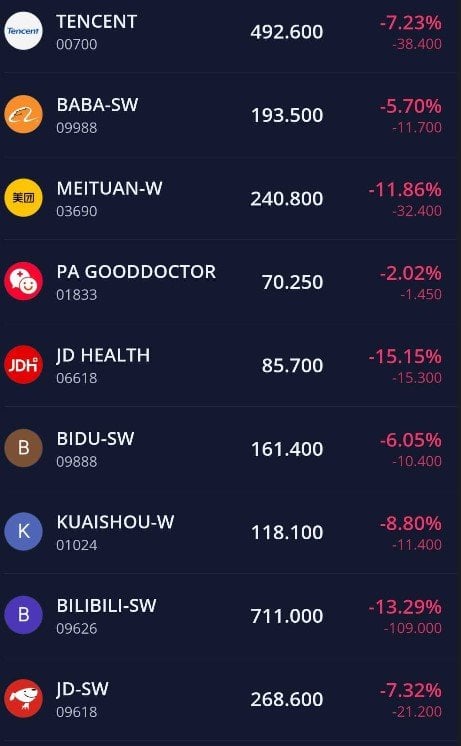 Background: Timeline of the tech crack down
Let's zoom out a little, and summarise the timeline to date:
Nov 2020: China pulls the Ant Financial IPO, and begins a crackdown on Ant Financial
Jan 2021: Crackdown expands to other China tech companies such as Meituan, Pinduoduo, Tencent Music etc
March 2021: Pinduoduo CEO steps down to "focus on other pursuits"
May 2021: Bytedance CEO steps down, presumably also to work on his hobbies
July 2021: Crackdown on Didi following their US IPO. Suggestions that the VIE loophole is being relooked
July 2021: China cracks down on the Edutech sector – suggestions they will make the entire sector non-profit. TAL Education closes down 70% that day.
For the record, this is the 2021 performance for some of the big China companies (apologies to non-Chinese readers):
China Tech Crash Explained
Now before we can decide if this is a good investment, we first need to understand the overarching framework.
We need to understand:
Why the CCP is cracking down on China Tech
Then we can start to understand the how.
And only then can we understand whether it's a good investment.
Because there's a lot of information to digest, I will structure the rest of this article in a Q&A format.
Why is the Chinese Communist Party (CCP) cracking down on China Tech Stocks?
Investing in China is unique.
Many investors are used to Western style democracy and its systems of checks and balances.
In the US, even if Trump wants to ban Chinese companies, there's a whole system of checks and balances that prevents him from doing so.
He needs to go through congress, and even if its approved you can challenge it in a court. The system will hold him back.
In China, the word of the Chinese Communist Party (CCP) is supreme.
You need to think of it like ancient China, where the Emperor's edict is the law of the land. If the Emperor wants something done, the only question you ask is how do you want it done. You never ask whether it's the correct decision.
And in China, the CCP makes decisions based on what they think is in the best interests of China. If they think that getting rid of Alibaba is in the interests of China, Alibaba is as good as gone.
No checks and balances here. It's a top down system where the nation is king (China) vs a bottom up system where the individual is king (US).
These are the ground rules, and if you're not comfortable with these risks, you shouldn't be investing in China.
This part of China will not change.
It's like expecting the US to give up their freedoms. Never happening.
What is the rationale behind this Tech Crackdown?
Now this is just my opinion based on what I've read in Chinese media, from prominent Chinese commentators, and from my time in China.
Protip: Ignore most of the western media when it comes to China. If you've never lived in China, you can never hope to understand how it works. You need to look at China through the lens of China.
With that out of the way, this is my view on the 2 overarching objectives behind the CCP's current regulatory crackdown.
Namely, that Tech Companies must comply with 2 rules:
Rule 1 – Comply with national strategic objectives
Rule 2 – Sustainable competition (no anti-competitive practices)
What is Rule 1 – Comply with national strategic objectives?
Remember how the CCP makes decisions based on what they think is in China's best interests?
Well, this is what they think is in China best interests:
Solve the demographic crisis – China has an ageing population, they need to raise the birth rate
Stable economic growth – Economic growth must be stable. CCP wants to avoid a repeat of Japan in the 1990s and their lost decade.
Reduce inequality – The inequality gap between the rich and the poor cannot be too big, because in China's history that has almost always resulted in revolution.
Keep manufacturing onshore and upgrade domestic capabilities – This is a subset of the stable economic growth point
Data Security of China consumers – If you store data on Chinese consumers, it must be stored in China and used "ethically"
If you're a tech company in China, everything you do needs to be in line with these goals above.
To give an example – the "sin" that Ant Financial committed, was that they extended loans without having to hold capital on their balance sheet (they farmed it out to a state bank). 
In other words, if the loan defaulted, Alibaba would not suffer as a financial loss, because the ultimate owner of the loan is the bank.
This meant Alibaba had no "skin in the game" – they were paid for making the loan, but suffered little downside if the loan went bad. This misalignment of interests could have created unsustainable debt growth like that in the West leading up to 2008.
So the entire system had to be revamped, like we saw with Ant.
What is Rule 2 – Sustainable competition?
Very simply:
You can compete and win if you deliver real tangible benefits to consumers. But if you compete and win by creating an artificial monopoly, the regulators will come after you.
Creating an artificial monopoly using (1) money (capital) or (2) anti-competitive practices is not allowed.
If you ask suppliers to list only on your platform, and kick out all sellers who don't comply, that's unfair competition (Alibaba).
If you negotiate a distribution contract for music, that prevents any other player in China from buying the same music, that's unfair competition (Tencent Music Entertainment).
If you give out a ton of subsidies to gain market share, driving out your competitors, and then raise prices at the end, that's unfair competition (Pinduoduo, Alibaba).
If you build such a great product that consumers buy your products without you pulling dirty tricks, that's fair competition (Huawei, Xiaomi, DJI… maybe).
How are the Rules implemented?
So that's what China wants to achieve.
Then we go to the how.
Edutech broke both Rules 1 and 2 so they got absolutely massacred.
Ant Financial broke both as well, so they got a harsh treatment.
Didi broke Rule 1, so they were hit, but not as bad as Edutech/Ant.
Tencent Music broke Rule 2, so they were hit, but not as bad as Edutech/Ant
You get the idea.
So FH… what happens next?
If I am right, then the crack down will continue to play out.
What started with Ant in 2020, will continue to play out for much of 2021 (and some of 2022).
The Chinese regulators will continue to roll out rules and guidelines for the tech industry.
This was what I wrote a couple weeks back, and I still stand by it:
I think it's part of a broader move to regulate China tech more heavily…
If I am right, then the days of freewheeling China tech are over. And we're moving into a phase where tech is more closely regulated in China, which will hit margins and growth.
Margins and growth will have to come down in the short term as this regulatory crack down plays out, which will hit valuations.
Cathie Wood has been selling China tech stocks on fears of a "valuation reset" for Chinese tech, and I don't disagree.
Am I still a buyer of Chinese Tech Stocks?
Yes, but you need to understand that my timeframe is long term.
And when I mean long term I mean 3 – 5 years, possibly 5 – 10 years.
Short term, there's going to be a lot of volatility.
But longer term, 2 of the secular themes I am very bullish on are China, and Technology.
Both will change the world.
And as a long term investor, I am happy to allocate accordingly.
BTW – we share commentary on financial markets every week, so do sign up for our mailing list.
Don't forget to join our Telegram Channel and Instagram  (or our Reddit Community)!
[mc4wp_form id="173″]
Specific Questions on China Tech Stocks
Now that's the broad, overarching framework I've been using to approach the China Tech crack down.
Agree or disagree, just leave a comment below.
And now I move onto the more specific questions, using my framework above.
Would I buy the dip in China Education?
No, I think it's too early to call this one.
I think the dip buyers are underestimating the education issue from a China policy perspective.
The background here is that the education system in China is hyper stressful. If you think the Singaporean education system is bad, wait till you see China.
The kids there study from 7am to 10pm every day for most of their childhood. After school tuition is viewed as mandatory. The kids that get to go to Tsinghua are Number one from their province, with 80 million people.
Still think getting into RI is hard?
And then when COVID happened, the Edutech players swooped in with a business model based on fear. It was – either you sign up for this package for your child, or we teach your child's competitor.
I mean that's just plain mean.
The current after-school education system (tuition) is too expensive. It (1) raises the cost of raising a child, and (2) causes a lot of stress for the child and parent.
If parents think raising a child is too expensive and stressful, they won't have children. One of the major goals for the CCP is to raise the birth rate, so Education is a big problem that needs to be solved.
If you need to crush a $6 billion company listed in the US (TAL Education) to solve this problem, consider it done.
I think for education, we need to understand the longer term vision for private education in China.
Making it non-profit is not entirely impossible here.
Will Didi get delisted?
Genuinely don't know.
But based on the analysis above, Didi's "sin" isn't as bad as Edutech or Ant.
They're just a bit loose with their personal data.
If they can take steps to safeguard user data, they should be fine.
Is Risk-Reward for Didi good at this price?
At current price of $8.06, Didi's market cap is $38 billion. That's cheaper than Grab, which will list at $40 billion.
At the same price, would you rather (1) buy a monopoly ride hailing player in China, or (2) a ride hailing / food delivery platform operator in South East Asia?
Don't forget that most of South East Asia is in rural Malaysia or Indonesia, where purchasing power is very low.
I like Didi, but I will probably average in to spread out the risk.
It's definitely a risky investment though, so don't buy if you're not comfortable with losing your capital.
If you want risk free go with SSBs at 1.5%.
What is the broader impact for China Tech?
If it wasn't obvious to the other China tech CEOs, I think it is now: Lie low for the whole year please.
CEOs for Bytedance and Pinduoduo have already stepped down. Jack Ma has stayed out of the limelight for a year.
Now is not the time to be making an aggressive push for market share with shady tactics.
Just lie low, and bide your time.
Closing Thoughts
As a long term investor, I think the regulatory clampdown is short term negative, but long term positive.
A lot of these changes will foster a more sustainable and healthy environment for China tech to grow in the years to come. It gets rid of the unsustainable practices, and paves the road for tech companies to contribute positively to China's development. But it will create a lot of problems in the short term.
Zooming out, I think the runway ahead for China tech is just massive, and one that I'm happy to participate in.
If you're interested, you can check out my full portfolio and watchlist of China stocks on Patreon. I update it weekly for stocks I buy and sell. 
But some caution is warranted. The crackdown will take some time to play out, so averaging in just makes a lot of sense here. 
Play the long game.
Note: This Article first appeared on Patreon. Making it publicly available given the huge interest on this topic. If you found it enjoy such content – do considering supporting Financial Horse as a Patron, and get access to my personal portfolio, latest stock watch, and updated thoughts.
Looking for a broker to buy China stocks? Get a Free Apple stock (worth S$200) when you open a new account with MooMoo or Tiger Brokers. Check out our review on MooMoo here.
Special account opening bonus if you're new to Saxo Brokers too (drop email to [email protected] for full steps).
---
As always, this article is written on 26 July 2021 and will not be updated going forward. Latest thoughts (and my stock watch and personal portfolio) are available on Patron.
Join our Reddit community at r/SingaporeInvestments.
Do like and follow our Facebook and Instagram, or join the Telegram Channel. Never miss another post from Financial Horse!
Looking for a comprehensive guide to investing that covers stocks, REITs, bonds, CPF and asset allocation? Check out the FH Complete Guide to Investing.
Or if you're a more advanced investor, check out the REITs Investing Masterclass, which goes in-depth into REITs investing – everything from how much REITs to own, which economic conditions to buy REITs, how to pick REITs etc.
Both are THE best quality investment courses available to Singapore investors out there!