Most of you would have heard of moomoo (powered by Futu) trading platform.
moomoo arrived in Singapore in Feb 2021, and made a big splash by giving all new users a free Apple share.
I've resisted doing a full review on them because I wanted to give time for the hype to die down, and to see what their longer-term intentions were.
Half a year on – how good is moomoo?
And with Interactive Brokers just announcing a full waiver of their $10 inactivity fee, how competitive is moomoo?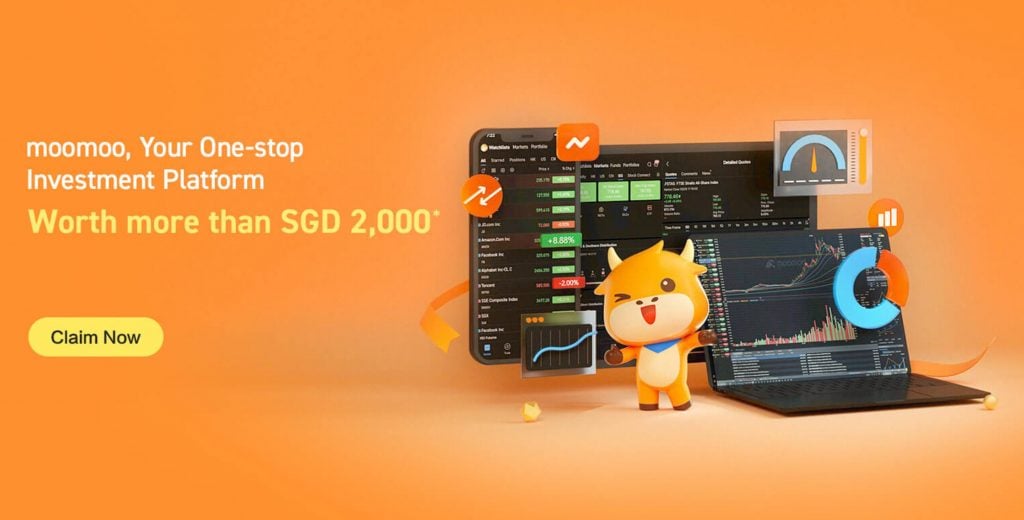 Basics: What is moomoo (Futu) Trading Platform?
moomoo is a trading platform offered by Moomoo Inc, a subsidiary of Nasdaq-listed Futu Holdings Limited (FUTU). The parent, Futu, has a market cap of almost $20 billion, so size wise they are significantly larger than Tiger Brokers ($2.9b market cap).
In Hong Kong the app is call FUTU Bull (niuniu) which is very popular and in Singapore the app is called moomoo.
It's basically the Asian version of Robin Hood – a low price app based stock broker.
Moomoo Referral Code/ Sign Up Bonus
Get 1 free Apple share (worth $200) you're new to MooMoo and fund $2700.
Link is here, but I would strongly suggest reading the entire review first before deciding if moomoo is appropriate for you (or if you want to go with Interactive Brokers, Tiger Brokers or Saxo): Moomoo Referral Code / Sign Up Bonus
Futu SG (moomoo) Fees – US, Hong Kong and Singapore markets
Let's start with the Fees.
The full Fees schedule is set out below.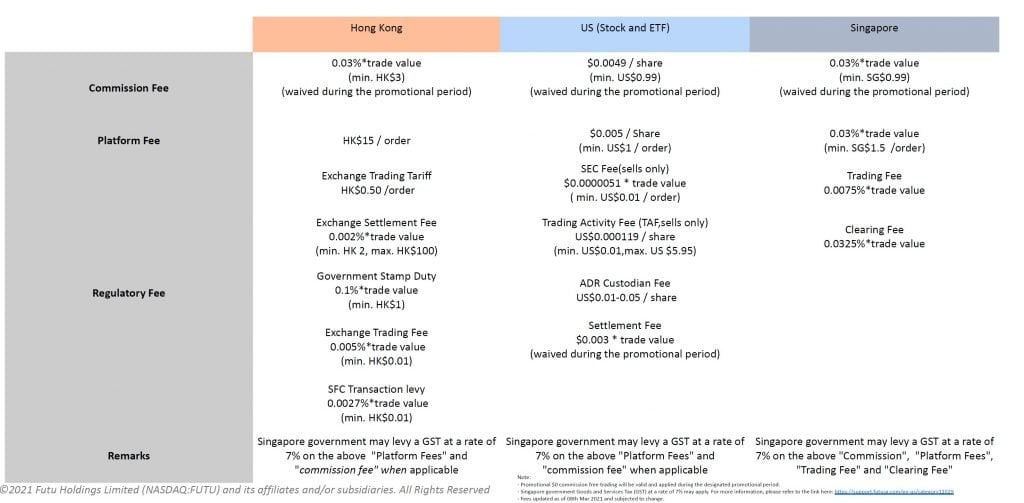 The thing to note about moomoo is that there are 2 levels of fees:
Commission Fee (to buy the stock)
Platform Fee (to use moomoo)
Let's say you buy an Apple stock in the US.
You need to pay Commission Fee of minimum $0.99, and Platform Fee of minimum $1.
In total, you pay about $2+ USD to buy the share.
Investment Moats has very kindly done up a chart below to illustrate this: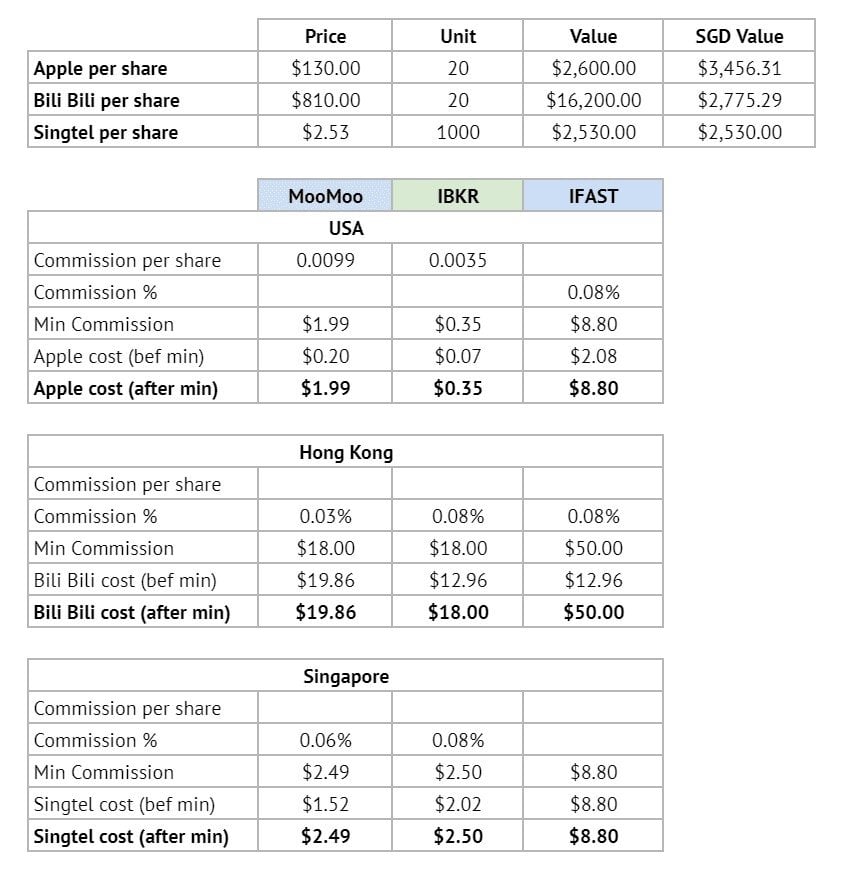 Do note that as part of the welcome package, you get unlimited commission free trading for 180 days, so you won't be paying any commission for the next 6 months.
moomoo Forex Fees
Forex Fees are about 0.3% give or take, which is in line with Tiger Brokers and Saxo.
It's ok, but won't be comparable to the market leader which is Interactive Brokers.
At Interactive Brokers you get the interbank spot rates + a $2 fee.
How does moomoo compare against Saxo, Tiger Brokers, Interactive Brokers and FSMOne?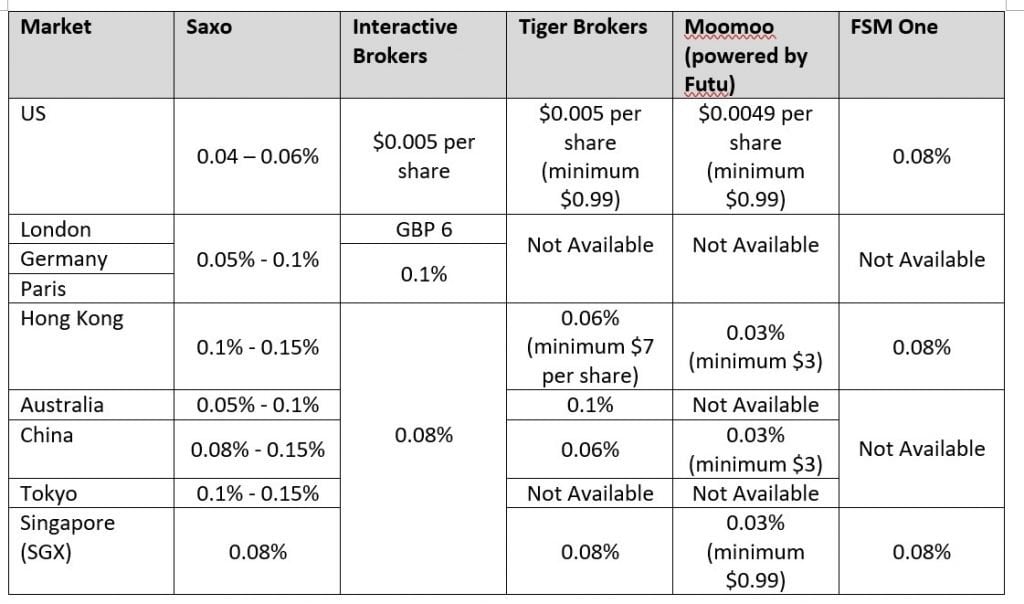 I've compared the fee schedule against the other big brokers – Saxo, Interactive Brokers, Tiger Brokers and FSM One above.
To sum it up:
moomoo's fees are the same as Tiger Brokers, but slightly cheaper in terms of minimum commission
moomoo is cheaper than FSMOne
moomoo is cheaper than interactive brokers in some areas (HK and China), but more expensive in other areas (US and Europe)
But long story short – every single broker on the list above is very competitive in terms of fees.
The days of paying your broker $25 plus $2 a month to buy US shares are over. As long as you're on one of the brokers above, the fees you're paying is very competitive.
If you're still on a broker like DBS Vickers or POEMS for your US/HK stocks, it's probably time to switch.
$25 commission per trade in 2021 is just daylight robbery.
moomoo (Futu) – Corporate Action Fees
This was what moomoo had to say:
Futu Singapore does not charge any processing fees for corporate actions. However any third-party/exchange charges will still be passed on to client. Charges may change from time to time at the discretion of Futu Singapore Pte Ltd.
I confirmed with moomoo (futu) and they confirmed that there is no dividend handling fee charged by moomoo.
If there is an M&A or rights issue, there might be some fees levied though.
Custodian Structure and not CDP
If you're buying Singapore shares – It's important to note that moomoo uses a Custodian Structure and not CDP.
This is the same for all the other broker on the list above – Interactive Brokers, Saxo, Tiger Brokers etc.
So the shares are legally held with moomoo, and not in your name.
Personally for me I like to hold my long term positions in CDP, because it makes receiving annual reports, rights issues, preferential offerings etc much easier. When you hold shares in custodian these things can be tricky, and it's hard to attend an AGM/EGM because your name is not on the official list of shareholders.
Anyway, this one's a personal call, and it only affects Singapore stocks.
If you want CDP access, DBS Vickers Cash Upfront is one of the cheapest at $10 per trade (only works for buy orders – $25 to sell).
If all you want to do it to trade in and out of Singapore stocks (ie. short term position) then CDP wouldn't be an issue because cost would be the bigger concern.
Margin Rates for Moomoo (vs Interactive Brokers vs Tiger Brokers)
Margin rates for Moomoo are really high – not competitive in this market.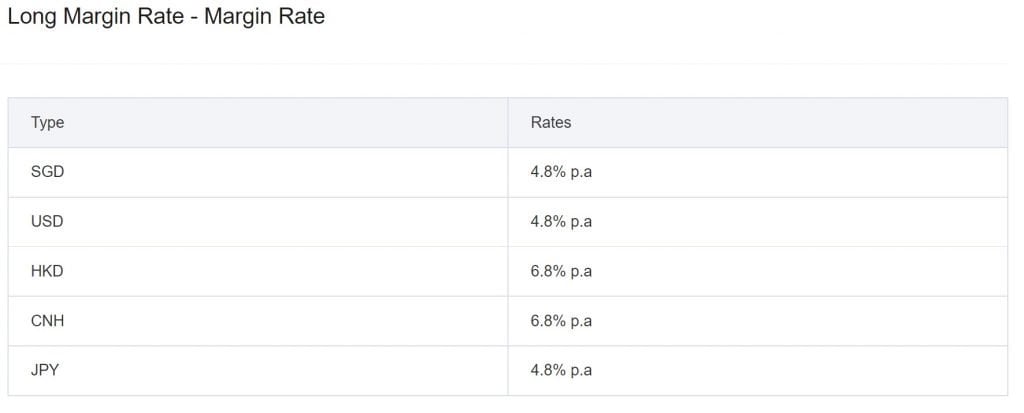 It's the same story for Tiger Brokers.
If you want to use margin go with Interactive Brokers which has very, very competitive margin rates.
How Safe / Reliable is moomoo (Futu)? MAS Licensed? SIPC Insured?
I've had a couple of questions about the reliability of brokers like moomoo, given that it is China backed.
What I would say is that moomoo (Futu) is Nasdaq listed, and they are also MAS licensed. This does reduce the risk of something going bad.
U.S. securities in your account are also protected up to $500,000 by Securities Investor Protection Corporation (SIPC).
But frankly, there is no broker in this world that is zero risk.
In today's world, there's always an element of counterparty risk, unless the shares are legally held in your name.
It's why there is so much hype over building a new decentralized financial system from the ground up using blockchain.
If you're concerned, I would say just use a few brokers, and spread your money around. No need to put your entire life savings into any 1 broker.
Should you transfer your existing shares into moomoo?
Another frequent question I get is whether it's worth it to transfer your existing shares into moomoo.
So maybe you already have a bunch of Tesla and Apple stock in POEMs.
But now you want to use moomoo as your main broker going forward – should you pay POEMs to transfer your existing shares into moomoo?
moomoo gives you a $50 voucher if you do a stock transfer in, so this offsets a big chunk of the cost of the transfer.
My personal view though, is that it's not worth the time and effort.
I personally have my stocks split over 5 or more brokers, and it doesn't affect me much. I don't see a compelling need to have all my stocks in one broker, since I track them via an Excel spreadsheet anyway.
In fact there's even diversification benefits to having multiple brokers.
In Feb when certain brokers were unable to buy stocks like Gamestop, having multiple brokers really came in handy.
You never know what technical or regulatory issue will break in the next market liquidity event.
Personal Experience with moomoo
Given that buying stocks is a big interest of mine, I have accounts with literally all the brokers out there: Saxo, Interactive Brokers, Tiger Brokers, moomoo (Futu), DBS Vickers, Standard Chartered Online Trading etc.
Having played around with all the brokers, my personal experience is that:
moomoo is the closest to Tiger Brokers in terms of User Experience and UI. It's a very simple to use interface, but not as gamified as Tiger Brokers.
All the functions are very easy to locate, and it didn't take long to get up to speed.
All in, it's a very comfortable and functional broker to use.
Contrast that with Interactive Brokers where it does take you some time to figure out how everything works, because the interface is less intuitive (to me at least) and has lots of hidden rules.
Personal View – Is moomoo a good broker to use?
The way I see it, all 4 brokers below are very competitive among each other:
moomoo (Futu)
Saxo
Interactive Brokers
Tiger Brokers
There are pros and cons for each, but you won't go too wrong picking from any of the 4 stock brokers.
I personally have accounts with all 4 brokers, and I buy using from all of them, with Saxo and Interactive Brokers as my main accounts.
What if you're starting fresh today – Which Stock Broker to pick?
If you're starting fresh today, I would say:
Casual Investor – moomoo (Futu) or Tiger Brokers
Hardcore Investor – Interactive Brokers
In between Casual/Hardcore Investor – Saxo
But like I said, all 4 are very competitive, and it ultimately boils down to personal preference.
If you're on the fence, just open an account with all 4 and play around a bit. With Singpass it literally takes 5 mins to open an account these days.
Play around the user interface, and decide which one works best for you. Some people like the cute gamified version of Tiger, some the more serious version from Interactive Brokers and Saxo, some the functional layout of moomoo.
Figure out what works for you.
Interactive Broker waives their inactivity fee
In case you missed it, Interactive Brokers announced they will be waiving their $10 a month inactivity fee (previously it was $10 a month if your account value was below $100k USD.
With this change, Interactive Brokers becomes very competitive even at smaller amounts, and is definitely worth checking out.
What I would say though, is that the Interactive Brokers interface is more complex than moomoo or Tiger Brokers, and it does take some getting used to. The onboarding process isn't the most straightforward too, there are a whole bunch of questionnaires to complete.
And moomoo has commission free trading + free Apple stock now, which could tilt the scales in favour of moomoo.
In any case, there are referral links for all the trading platforms below, so just feel free to pick the one that you like the most.
If you're still on a DBS Vickers / POEMs and paying $25 per trade + $2 a month for US share, it's really time for a new broker.
moomoo Singapore – Referral Code / Sign up Bonus
Get 1 free Apple share (worth $200) you're new to MooMoo and fund $2700.
Referral links (and T&Cs) below!
moomoo Singapore Referral Code: Moomoo Referral Code / Sign Up Bonus
Saxo Singapore Referral Code/ Promotion
Financial Horse x Saxo Affiliate Link
If you're keen on opening a Saxo account, Financial Horse has partnered with Saxo for a special account opening bonus if you fund $3000 and make 1 stock trade. The link is below, drop me an email at [email protected] for the next steps!
Note: If you're interested in this bonus, please do make sure you click through the link to open an account!
Referral Link: FH Account Opening Bonus.
Interactive Brokers Global Referral Code / Promotion
Interactive Brokers Referral Link
Tiger Brokers Singapore Referral Code / Sign Up Bonus
You can use the link below to get 1 free Apple share (if you fund $2000) and 60 commission free trades within 180 days:
FH Referral Link: Tiger Brokers Referral Code / Sign Up Bonus