After our recent property article, a lot of you have reached out with concerns.
Many of you want to buy a property, but you're worried about how high prices are.
You're worried whether now is the right time to buy, how to pick a good property, how to determine the right price etc.
Now there's nothing I can do to change how hot the property market is.
But I figured what I can do, is that I'll do a full series on buying a Property in Singapore, and share what I know about buying a property.
I don't profess to be an expert on real estate, but this is what I've learnt along the way, and I do hope it helps you. 
Whether you like it or not, just let me know in the comments and I can improve the series going forward.
A brief outline of what I intend to share in this Complete Guide to Buying Property in Singapore:
How to pick a property?
How to determine fair price for the property?
How to hold the property (legal structure and tax considerations)?
How to finance the property?
How to negotiate a sale?
How to renovate a house (ID and renovation)?
Types of Investment Strategies for Real Estate
My views on where the Singapore Property Market is headed
I'll try to do an article a week if my schedule permits, so hopefully we can get this series tied up by end of the year.
Today, we'll start with Part 1: How to Pick the Right Property in Singapore.
All Patreons get exclusive early access including the fuller versions of this series, so do sign up as a Patron if you're keen!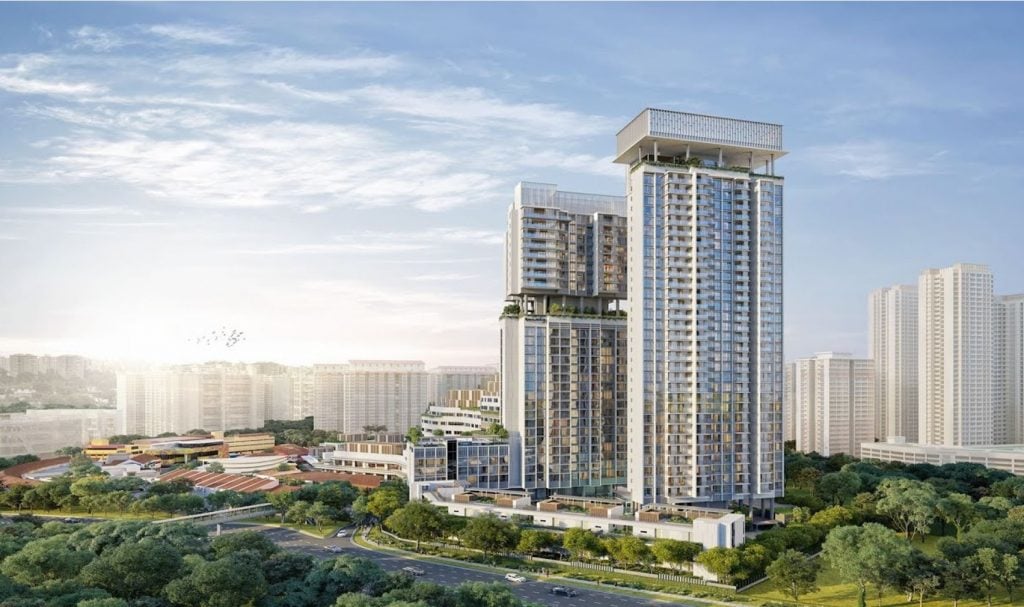 Part 1: How to Pick the Right Property in Singapore?
The first question you need to ask yourself – Why are you buying a property?
Are you buying it for (1) own stay, or (2) investment?
The answer matters because it has massive implications on how you pick the property.
Own Stay Property in Singapore
If you're buying for own stay, then it's very simple – just pick what you like.
You need to absolutely think about what you need.
If you are buying a BTO, don't forget that you need to wait 5 years for the BTO to complete, and then there is a 5 year MOP after.
So effectively you need to forecast your living needs for the next 10 years, and decide on that basis.
The key factors to look at are:
How much space do you need?

Do you have kids, or plan to have kids?
Are your parents or in-laws staying with you?
Do you have pets?

What Location do you want?

Do you need to stay close to your parents to look after them?
Do you need to stay in a specific location for primary schools?
Do you need to stay close to your workplace? Transportation hub?
If you're buying for own stay, you should pick for your own requirements first, and investment returns second.
Investment Property in Singapore
Property as an investment is very polarizing – you either love it or hate it.
The older generation will think of property as the only "true" investment. The young will think of property as a "boomer" investment that no longer generates good returns going forward.
Both are correct – it's just a function of the time you grew up in.
The older generations saw Singapore go from third world status to first world status, and the massive boom in real estate that came with it. So they very rightly respect the power of real estate.
The younger generation look at prices today, and they don't think we'll see the same returns for property that we saw the past 30 years. That's probably true as well.
I shared my views on property in a recent article, and to sum up – Don't expect the same returns you say the past 30 years, but low single digit returns are still very possible going forward. With the potential for higher returns if you pick well.
And real estate offers additional benefits beyond capital market instruments:
Volatility – Stocks can swing 10% over a few days. If you hold a $10 million stock portfolio, that's a $1 million swing in net worth. Not everybody is comfortable with that. With property, the volatility is much lower because prices are not quoted on a daily basis. This helps if you're the kind prone to panic sell in a market crash.
Diversification – Residential Real Estate in Singapore offers a different risk profile from stocks / REITs, so there are portfolio diversification benefits.
Leverage – With the max 75% LTV, it can turn a 3% nominal return into a 7% return on your invested capital, because you only pay for 25% of the price and the rest is financed through loans.
Investment returns from real estate comes in 2 forms:
Capital Gains – Price of the property goes up
Rental Yield – Rental income, after deducting property tax, maintenance and expenses
FH, I want a house to stay but also make money
For most of us though, we may want a house that we can live in, and still make us money when we sell it 5 to 10 years from today.
If you're one of this, I would suggest to do some soul searching and understand which is more important – the investment part, or the own stay part.
This is typically linked to your age.
If you're in your 30s, you probably want something that maximises the investment value, because you plan to sell it in 5 years and upgrade anyway. At this stage of life, capital growth is your main priority.
But if you're in your 50s, you might not value money so much anymore. You might just want to buy a house that you can settle down, to retire and grow old in. At this stage of life, quality of life may matter more than money.
So only you can answer this question.
Be honest with yourself, there's no point lying to yourself.
How to actually pick a Property in Singapore?
Now on to actually picking a property.
The factors that you look out for at:
Most important:

Location, Location, Location
Price

Less Important (but still matter):

Layout
How many rooms?
Façade – Build Quality and Maintenance
Maintenance
Facilities
Freehold vs Leasehold
En Bloc Potential
Big vs Small Developments
For ease of understanding, I will write this from the perspective of buying a condo in Singapore, but most of the lessons here are universal and apply to HDBs and Landed Properties.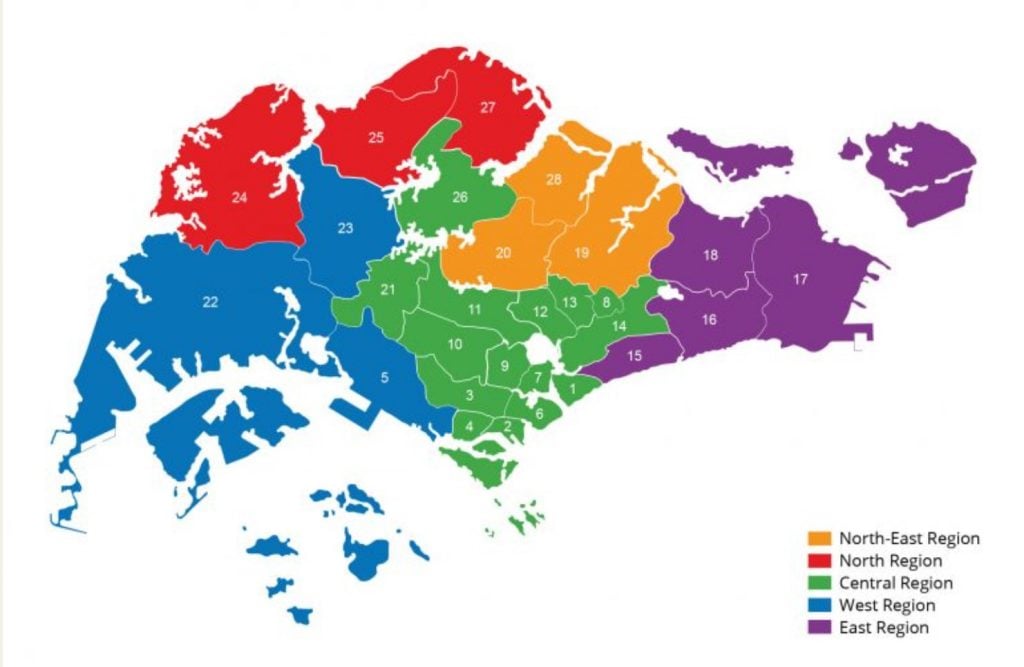 Location, Location, Location
As the saying goes, property is about Location, Location, Location.
And you know what? – When it comes to real estate, the quote is absolutely, 100% accurate.
Location is THE MOST IMPORTANT THING when it comes to picking a property.
If you only take away one thing from this FH Property Series let it be this – The key to picking good real estate is the location.
Before you look at pricing, layout, facilities etc, you absolutely MUST, MUST, MUST look at the location.
I cannot stress this enough.
How to determine whether a location is good?
How to pick a good location is as much an art as a science.
Be wary of Home Bias
Be very careful with Home Bias.
Home Bias works like this.
You grow up your whole life in Toa Payoh.
After you get married, you lucked out and managed to get a BTO in Toa Payoh.
After 5 years MOP (Minimum Occupation Period), you decide to sell your property and buy a condo in Toa Payoh.
It's human nature to like things we are comfortable with. And that's completely ok when it comes to buying a home to live in.
But if you are buying for investment – you need to be objective.
You may be willing to pay an extra $100,000 because there's that amazing Bak Chor Mee store around the corner. But that doesn't mean a future buyer will see your property the same way.
When buying for investment value, it's not about you, it's about how the market will perceive value.
What Factors to look at?
For investors, these are the key factors to look at:
Proximity to MRT / Bus / CBD / Major hubs
Proximity to Supermarket, Hawker center, shopping mall, beach, parks etc.
Supply vs demand?
How ATAS is the area?
Have a bit of an imagination
Proximity to MRT / Bus / CBD / Major hubs?
Pretty self explanatory – how near is it to transportation networks like MRT or Bus? Where is the nearest MRT station, or bus stop? Is there a new MRT line being constructed within 5 mins walk?
Is it near a major transport hub like Serangoon, Paya Lebar, Jurong East?
Is it near a major work hub like CBD or One-North, or the future Jurong East or Punggol?
The nearer it is, the more favourably a future buyer will view the property, and the higher the demand for rental/sales.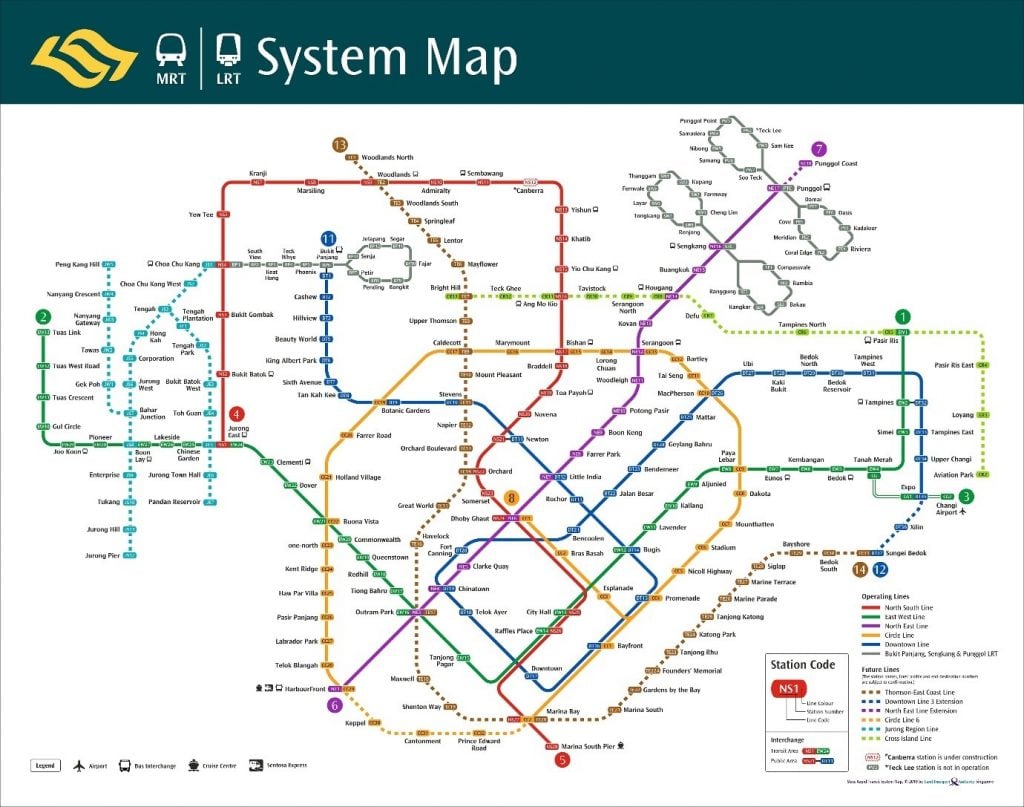 Proximity to Supermarket, Hawker center, shopping mall, beach, parks etc.
Pretty self-explanatory as well.
Look at whether it is near a supermarket, hawker center, shopping mall, beach, park, F&B etc.
Again – it doesn't matter whether you like it or not.
If you're buying for investment value, all that matters is whether the market likes it.
And people generally like the convenience of having a supermarket or hawker center nearby.
Supply vs demand?
This is about understanding how much supply there will be, relative to demand in the coming years.
Imagine you want to buy a house in the D15, Marine Parade area in Singapore.
Let's say you checked around, and there's only 1 new development launching in the next 3 years. There are 500 units, of which half have already been sold.
This means that anybody who wants to live in this area in the next 3 years, needs to either buy one of the 250 remaining units, or to buy resale.
That's a good sign for prices, at least in the short term.
Which means as a seller you can hold out for a higher price, and as a buyer you need to adjust your expectations accordingly.
How ATAS is the area?
Real estate is always the same in every country.
Over time, the rich will coalesce into certain parts of the city, and real estate prices in that area go up.
Over time, more and more people want to stay there, driving up prices.
In Singapore, it tends to be the D15 (for Easties) and D10 (for Westies) areas.
Supply in Singapore is tightly controlled, so when you get real estate in areas like that they tend to hold their value well over time.
The government is trying to solve this with the Prime Location Public Housing Model, so do keep an eye out for that.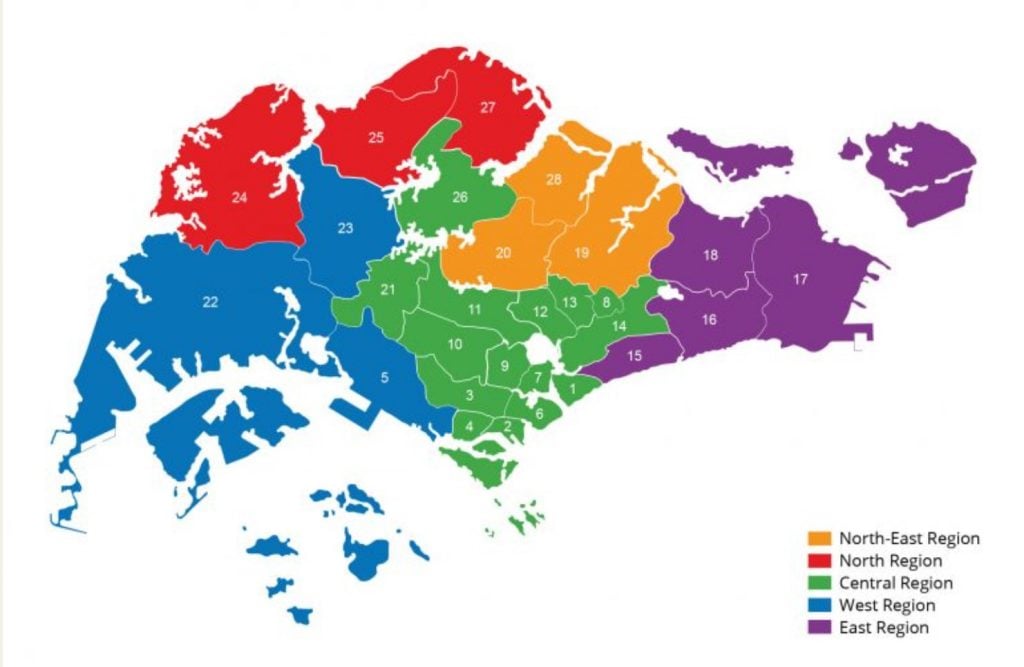 Have a bit of an imagination
Don't forget though, that real estate use changes over time.
In fact, the best gains (or losses) in real estate come from change in real estate use.
Think about the gentrification of the Keong Saik area, and imagine how much money the guys who bought real estate there would have made.
Think about how prices will change if the Red light district is moved from Geylang.
Real estate requires a bit of imagination sometimes.
You want to find locations with the potential to change, and where this is not already priced in.
On the flip side, an area that is very hot today, may not be so hot in 10 years.
The Orchard Road area is a good example, where prices didn't go up that much over the past 10 years relative to the rest of Singapore, because all the exciting new developments have moved to Bugis (Duo, Guoco Midtown) or Marina Bay (Marina One).
The URA Master Plan is a must read, to understand how it affects the particular area.
Big changes to come will be:
Pasir Panjang area – Transformed by the Greater Southern Waterfront development plan
East – Move of Paya Lebar Airbase in 2030
Geylang – Lots of speculation about how the red light district will be moved one day
I remember talking to a China real estate developer who bought land in Shanghai's Pudong area in the 1990s.
Over the next 30 years he made so much money it was downright criminal.
I asked him what made him buy property in Pudong all those years ago.
He replied that back then, Pudong was just swamp land, full of mud at the time. Few people would have expected Pudong to become what it is today.
In his view, people who bought land back then were either just very lucky, or had unbelievable foresight.
I'm sure you can ask the people who bought a GCB in the 1960s and they'll give you the same answer.
Real estate is funny like that. The best gains are made when it's not priced in by the market.
Have a bit of an imagination – there is more to real estate than just the new MRT line popping up.
BTW – we share commentary on Singapore Investments every week, so do join our Telegram Channel (or Telegram Group), Facebook and Instagram to stay up to date!
Don't forget to sign up for our free weekly newsletter too!
[mc4wp_form id="173″]
Second Most Important Point – Price
After location, pricing is the next most important point.
But pricing is a massive topic in itself, big enough that we'll dedicate a full article to it.
So we'll leave it out for now – we'll touch on pricing in the next article in this series.
Minor points
After location and price, we get to the other points.
These are less important than location and price, but should still be looked at nonetheless:
Layout
How many rooms?
Façade – Build Quality and Maintenance
Maintenance
Facilities
Freehold vs Leasehold
En Bloc Potential
Big vs Small Developments
Floor Layout
Simply put – Look for a square layout.
Singaporeans love square layouts, and hate those weirdly shaped ones (D'Leedon) or those with a nasty pillar right smack in the middle of the hall (Reflections).
Square layouts also maximise the space, because trying to fit furniture into a curved hall is nothing short of a nightmare.
Sometimes, a 900 sqft with a good layout, could more liveable than a 1000 sqft with an odd layout.
I've set out some examples of not so great layouts from D'Leedon and Reflections at Keppel Bay respectively below.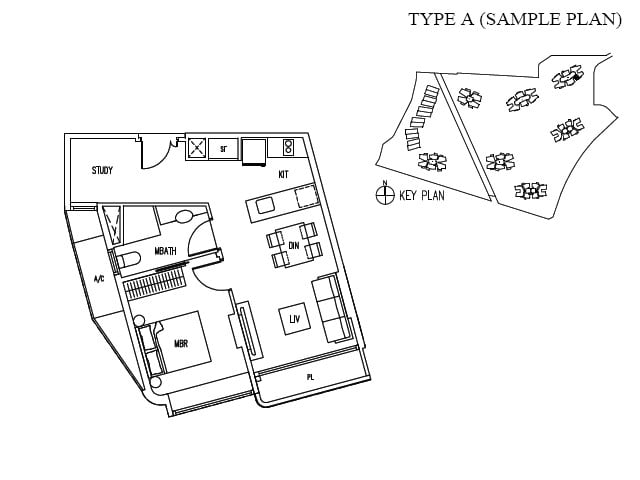 Ideally, you also want a maid/utility room (with bathroom), which should be in a separate region that is not linked to the hall or common area. This is good for privacy reasons.
The smaller 2 or 3 bedrooms won't have this, and it's technically not a must have.
But do know that without the separate maid's room, a lot of Singaporean families with kids may not be able to buy from you, so you're cutting yourself out from a large pool of potential buyers. You'll only be able to sell to expats, singles, or smaller families, which is a smaller market.
Balconies are a bit of a personal preference.
Post COVID, some buyers find the balcony a godsend (fresh air). Some find that it just takes up space that could go into the living room instead. This one's more of a personal preference in my view.
But generally you want to avoid those where you have an 800 sqft room but 150 sqft is balcony. The latest URA guidelines set limits on how much of a house is balcony space, but the older houses may not have such rules.
How many rooms?
General rule of thumb is that 1 or 2 bedroom is the sweet spot for an investment property, to maximise capital gains and rental yield.
3 Bedrooms are more for own stay where you need the extra room.
The problem with studios is that most families / singles may not want to buy a studio because it's too small, so you may have problems when it comes to selling.
Personally I usually prefer a 2 bedroom for investment, but there are some exceptions like Duo where 1 bedroom is probably the better choice for rental yield.
Dual Key?
In the past there used to be a dual-key concept, where the property is split into separate components.
An example from Waterbank @ Dakota below, where there is a 1 bedroom, and a 2 bedroom that can be leased out separately.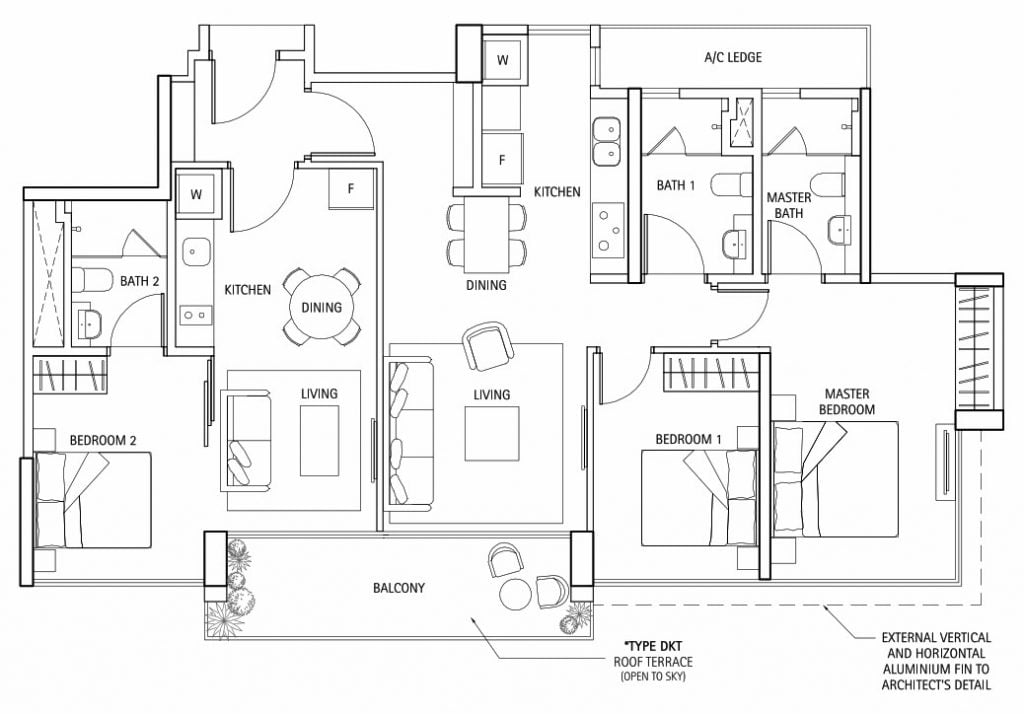 The benefit is that with 1 property under 1 name, you can effectively lease out the 2 units separately and maximise rental yield. This helps you get around Additional Buyer's Stamp Duty (ABSD).
That's the theory at least.
In reality, it doesn't really achieve any of those goals, because renters will prefer a proper 1 or 2 bedroom.
And very few buyers want to buy a dual-key, so you need to sell at a discount.
Dual Keys have fallen out of favour in recent years, and for good reason.
Façade – Build Quality and Maintenance
How well maintained the façade is matters too.
Some new condos are very poorly maintained and start degrading after a few years, while some old ones are well maintained and still in great conditions.
Don't neglect this one – it will heavily affect your rental yield and resale value.
Maintenance Fee
With Maintenance Fees, the lower the better.
Some condos like Reflections come with $700 maintenance for a 3 bedroom, which is just a huge turn off for potential buyers.
Not many buyers are keen to be paying $2000+ just in maintenance fees every 3 months.
Maintenance is sometimes penny-wise pound foolish.
You don't want it too low either because if the property is not maintained well things will fall apart, and it affects the resale value.
Generally the sweet spot for a 3 bedroom should be between $300 – $500.
Facilities
With facilities – the more the better.
Full facilities condos (full gym, pool, tennis court etc) are very popular with expats, so if you care about rental yield you'll want to look closely at this one.
Facilities needs to be balanced with maintenance and the number of people in the condo though.
If there's too few people, and a lot of facilities, you'll have to pay high maintenance which is not worth it.
If there's too many people, you may get cheap maintenance but the facilities are always booked.
There's a sweet spot to this one.
Freehold vs Leasehold?
Freehold vs Leasehold is an issue that can take up a full article on its own. That's how controversial it is.
I know some people who only can accept a freehold property – in which case go for it. No point buying a leasehold if you're not comfortable with the concept of the depreciating lease.
My personal view is that it all comes down to price and location.
Today, Freehold Condos are priced at about a 15%-20% premium to a leasehold in the same location.
That to me is about fairly valued.
Now the general way to value a leasehold is to use the Bala Curve.
Sidenote: The Bala Curve has an amazing story itself – it was from this Land Office Employee called Bala (obviously) which came up with a table to determine the value of leasehold land, based on the number of years left. After independence, the Singapore Land Authority continued to use a version of the Bala Curve, so it survives till today: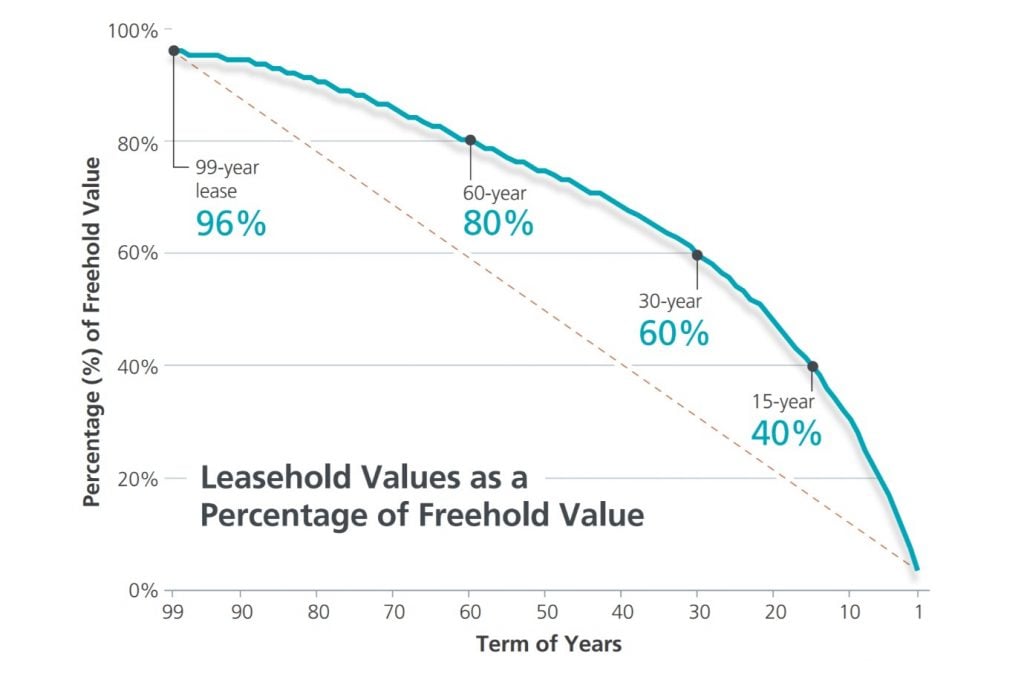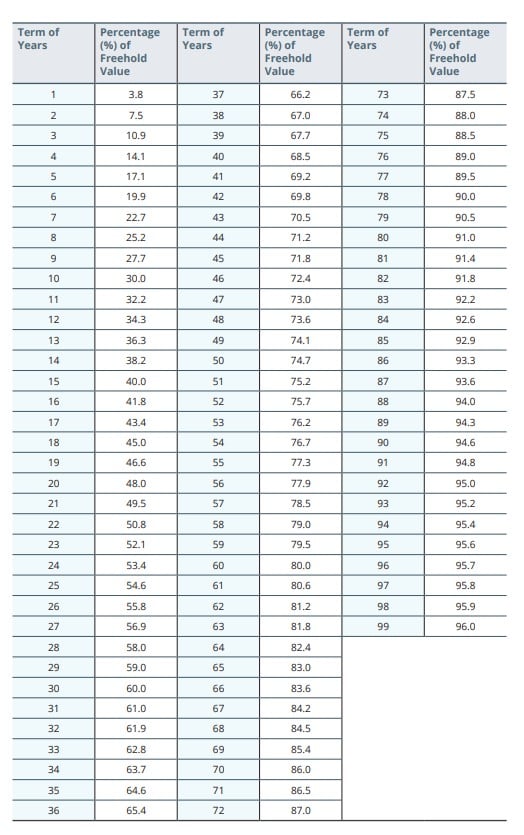 To sum it up, for a leasehold:
80+ years left on the lease: The value doesn't drop much in the first 10 – 20 years. As long as you sell before it hits the 80 year mark on the lease, you shouldn't see major depreciation due to the lease decay.
60 – 80 years left on the lease: This is the point where you start to see some decay in value on the lease.
30 – 60 years left on the lease: After 60 years, the value really starts to drop, because the amount of loan a potential buyer can take from the bank drops.
<30 years left on the lease: Lease decay is very quick in the last 30 years, so you want to be careful buying in this range. The bank requires 30 years left on the lease for a loan, so any potential buyer is going to find it hard to take a mortgage.
My personal view is that don't obsess too much about Freehold vs Leasehold, because it tends to be priced in.
As long as you're buying something with 70 years or more on the lease (ideally 80+), it *shouldn't* be a major factor.
Focus more on picking the location.
80% of land in Singapore is leasehold, so if you only buy freehold you're severely limiting your choices.
En bloc potential?
Think of it like buying stocks.
Do you buy a stock simply because you think it will be privatised?
Or do you buy a stock because you love the business, and any privatisation is a bonus?
The simple fact of the matter is that en-bloc is way harder to achieve than people expect.
Getting 80% of residents to agree to sell, and on a price + method of apportionment, is nothing short of a nightmare.
My view is that en bloc should be viewed as a bonus, but should not be your primary exit strategy.
Pick property that will make you money even if an en-bloc doesn't materialise.
Big vs Small Developments
The general consensus is that big developments are better.
Because there are more units, there is greater transaction volume, and greater price discovery.
Whereas with a small development with 20 units, your last done transaction could be 5 years ago, and now nobody wants to buy your unit except at a 5% increase from the last done (5 years ago!).
So most buyers like big developments, and I generally agree that all things being equal, big developments are better.
The problem is that in reality, the big development may not have the unit you like, it may be at a higher price, it may be a lousier layout etc. None of that matters for an investment property, but it matters for own stay.
So I would say look at this one holistically, and decide what's important to you.
Not exhaustive, but should be the main ones
Now this isn't an exhaustive list, but it should cover the main points you look out for when buying a property:
Most important:

Location, Location, Location
Price

Less Important (but still matter):

Layout
How many rooms?
Façade – Build Quality and Maintenance
Maintenance
Facilities
Freehold vs Leasehold
En Bloc Potential
Big vs Small Developments
We'll talk about how to price a property in the next article.
As this is the first in the FH Property Series, I would love to hear what you think!
Any points that I missed out?
Any points that you want me to cover?
Let me know below!
All Patreons get exclusive early access including the fuller versions of this series, so do sign up as a Patron if you're keen!
---
Looking to buy Bitcoin, Ethereum, or Crypto?
Check out our guide to the best Crypto Exchange here.
Looking for a low cost broker to buy US, China or Singapore stocks?
Get a Free Apple stock (worth S$200) when you open a new account with Tiger Brokers and fund $2000.
Get 1 free Apple share (worth $200) you're new to MooMoo and fund $2700.
Special account opening bonus for Saxo Brokers too (drop email to [email protected] for full steps).
Or Interactive Brokers for competitive FX and commissions.