Latest T-Bill auction results are out!
4.19% for the 6 month T-Bills.
Which are very, very attractive indeed.
Remember, T-Bills are backed by the Singapore government and pretty much risk-free.
So this is a pretty attractive return.
Allotment Results of latest T-Bills (4.19%)
Allotment wise – we still see 100% of non-competitive applications allotted: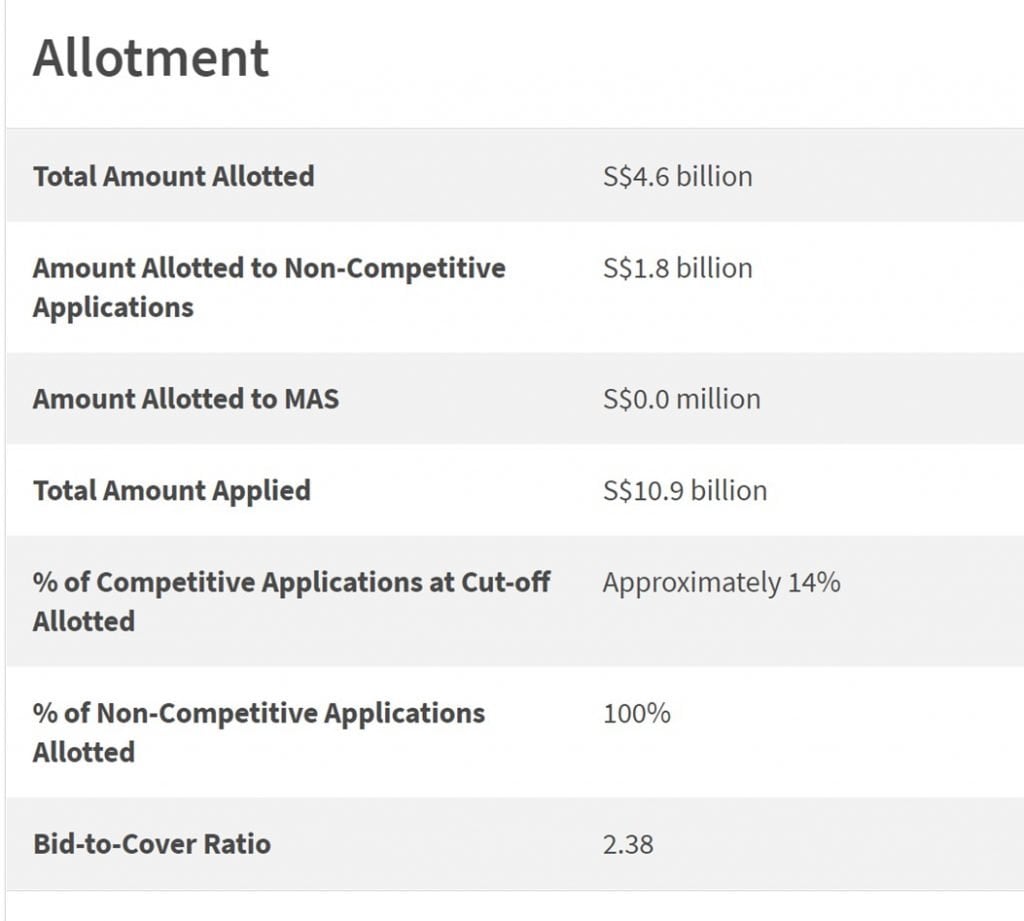 Cut-off yield is 4.19% as shared above:
How High will T-Bills go this cycle?
In my recent article, this was what I shared:
"Latest Futures markets are pricing in a peak US Fed Funds Rate of about 4.75 – 5.25%, by mid 2023.
…
Let's be conservative and assume SGD interest rates peak slightly below US interest rates.
I think realistically, you could see T-Bills trade anywhere from 4.25% – 5.0% by end of this cycle."
Time to start buying T-Bills?
So with the latest round of T-Bills at 4.19% very close to the bottom end of my range, I think we're very rapidly approaching the interest rate end game here.
Sure, I don't think we're at cycle peak just yet, and there's probably room for T-Bill rates to go up a bit more.
But at these kind of numbers, I think it would make sense for me to start locking in some T-Bills at 4%+ rates.
But because of the lack of liquidity, I'll probably still be setting aside cash in Singapore Savings Bonds and savings account (like Trust Bank or DBS Multiplier).
I do want the opportunity to add to positions in the event of any market liquidity event.
The exact proportion of liquid cash, T-Bills or Singapore Savings bonds – is ultimately up to each investor to decide.
BTW – we share commentary on Singapore Investments every week, so do join our Telegram Channel (or Telegram Group), Facebook and Instagram to stay up to date!
Don't forget to sign up for our free weekly newsletter too!
[mc4wp_form id="173″]
Key Features of T-Bills
To recap the key features of T-Bills, they are:
Risk Free
Backed by the Singapore government, this is as close to risk free as it gets
High short term interest rates
The latest Singapore Savings Bonds yields 3.08% for one year, and the latest Fixed Deposit yields 3.33% for one year.
While T-Bills yield 4.19% for 6 months, and 3.72% for 12 months.
In rapidly rising interest rate climates (like right now), very few products out there will be able to match the interest rates on T-Bills.
Can be bought with CPF-OA (and SRS / Cash)
And interestingly, you cannot use CPF-OA funds to buy Singapore Savings Bonds or Fixed Deposit.
But you can use them to buy T-Bills.
With T-Bills at 4.19%, it's a healthy 1.69% higher interest than CPF-OA's 2.5% (after the first $20,000).
I did an analysis on whether it makes sense to use CPF-OA to buy T-Bills, check out the full article here if you are keen.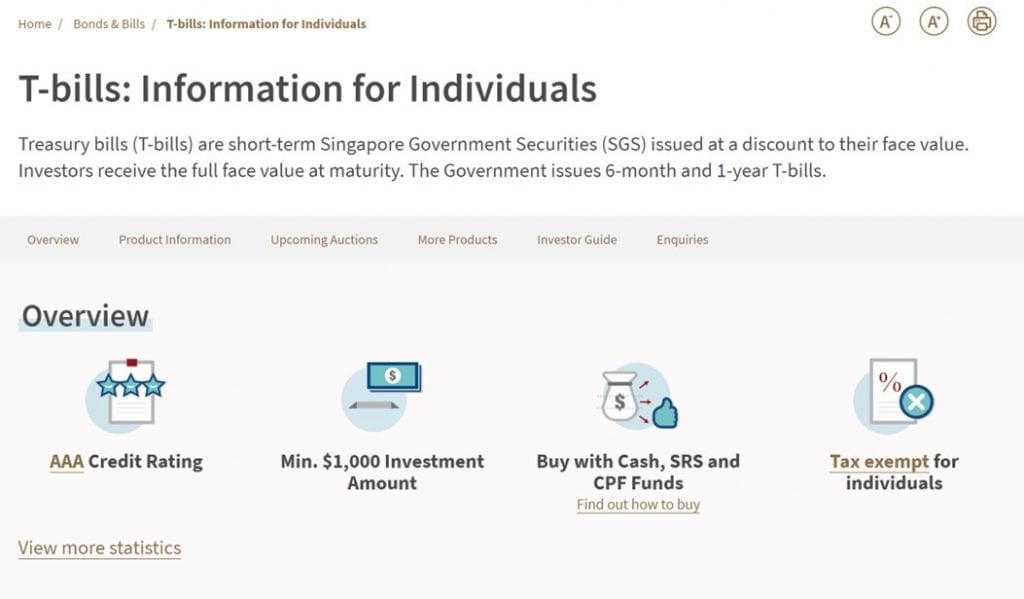 How to Buy T-Bills as a Singapore Investor, using Cash, SRS or CPF?
If you're keen to buy T-Bills, check out our recent article here on how to buy T-Bills using Cash, SRS or CPF.
Trust Bank Account (Partnership between Standard Chartered and NTUC)
Sign up for a Trust Bank Account and get:
$35 NTUC voucher
Whole bunch of freebies – A free packet of rice (1kg), a free Kopitiam Kaya Toast set, a $1.99 Double Mushroom Swiss at Burger King, and 50% off KFC Zinger Set just to name a few.
1.0% base interest on your first $50,000 (up to 1.4%)
 Fully SDIC insured as well.
It's worth it in my view, a lot of freebies for very little effort.
Full review here, or use Promo Code N0D61KGY when you sign up to get the vouchers!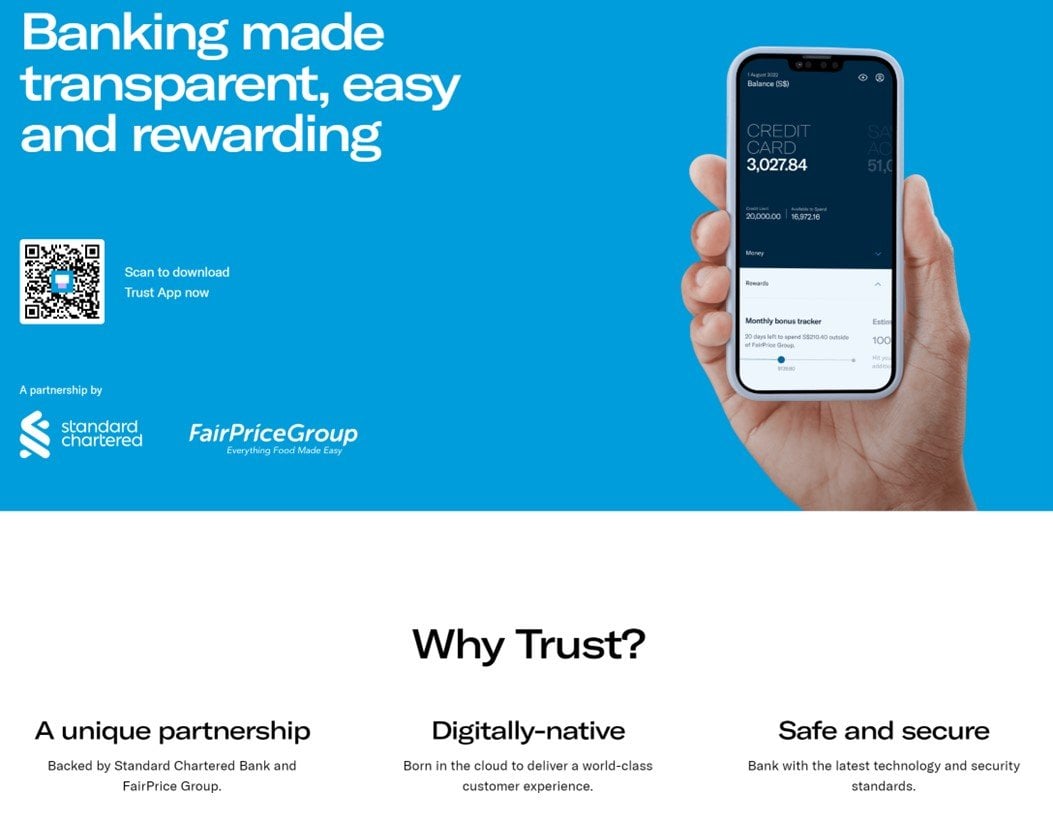 WeBull Account – Free US Stock, Options and ETF trading (Free USD130 (S$185) in Tesla shares)
I did a review on WeBull and I really like this brokerage – Free US Stock, Options and ETF trading, in a very easy to use platform.
I use it for my own trades in fact.
To get the USD130 (S$185) in Tesla shares, you just need to:
Sign up here and fund S$2000
Make 1 US Stock or ETF trade (you get USD100 in Tesla Shares)
Make 1 Options trade (you get USD30 in Tesla Shares)
Looking for a low cost broker to buy US, China or Singapore stocks?
Get a free stock and commission free trading Webull.
Get a free stock and commission free trading with MooMoo.
Get a free stock and commission free trading with Tiger Brokers.
Special account opening bonus for Saxo Brokers too (drop email to [email protected] for full steps).
Or Interactive Brokers for competitive FX and commissions.
 Looking to buy Bitcoin, Ethereum, or Crypto?
Check out our guide to the best Crypto Exchange here.
 Do like and follow our Facebook and Instagram, or join the Telegram Channel. Never miss another post from Financial Horse!
Looking for a comprehensive guide to investing that covers stocks, REITs, bonds, CPF and asset allocation? Check out the FH Complete Guide to Investing.
Or if you're a more advanced investor, check out the REITs Investing Masterclass, which goes in-depth into REITs investing – everything from how much REITs to own, which economic conditions to buy REITs, how to pick REITs etc.
Want to learn everything there is to know about stocks? Check out our Stocks Masterclass – learn how to pick growth and dividend stocks, how to position size, when to buy stocks, how to use options to supercharge returns, and more!
All are THE best quality investment courses available to Singapore investors out there!
FYI – We just launched the FH Property Series. Everything you need to know to buy a property in Singapore, completely free of charge.