After our last article on T-bills, we received several queries on how to buy T-bills. 
You can buy T-bills using cash, Supplementary Retirement Scheme (SRS) or CPF Investment Scheme (CPFIS) funds.
Singapore Treasure Bill (T-Bill)
As a recap, Treasury bills (T-bills) are short-term Singapore Government Securities (SGS) issued at a discount to their face value. 
Investors receive the full face value at maturity. 
SGS T-bills are fully backed by the Singapore Government, and the Government issues 6-month and 1-year T-bills.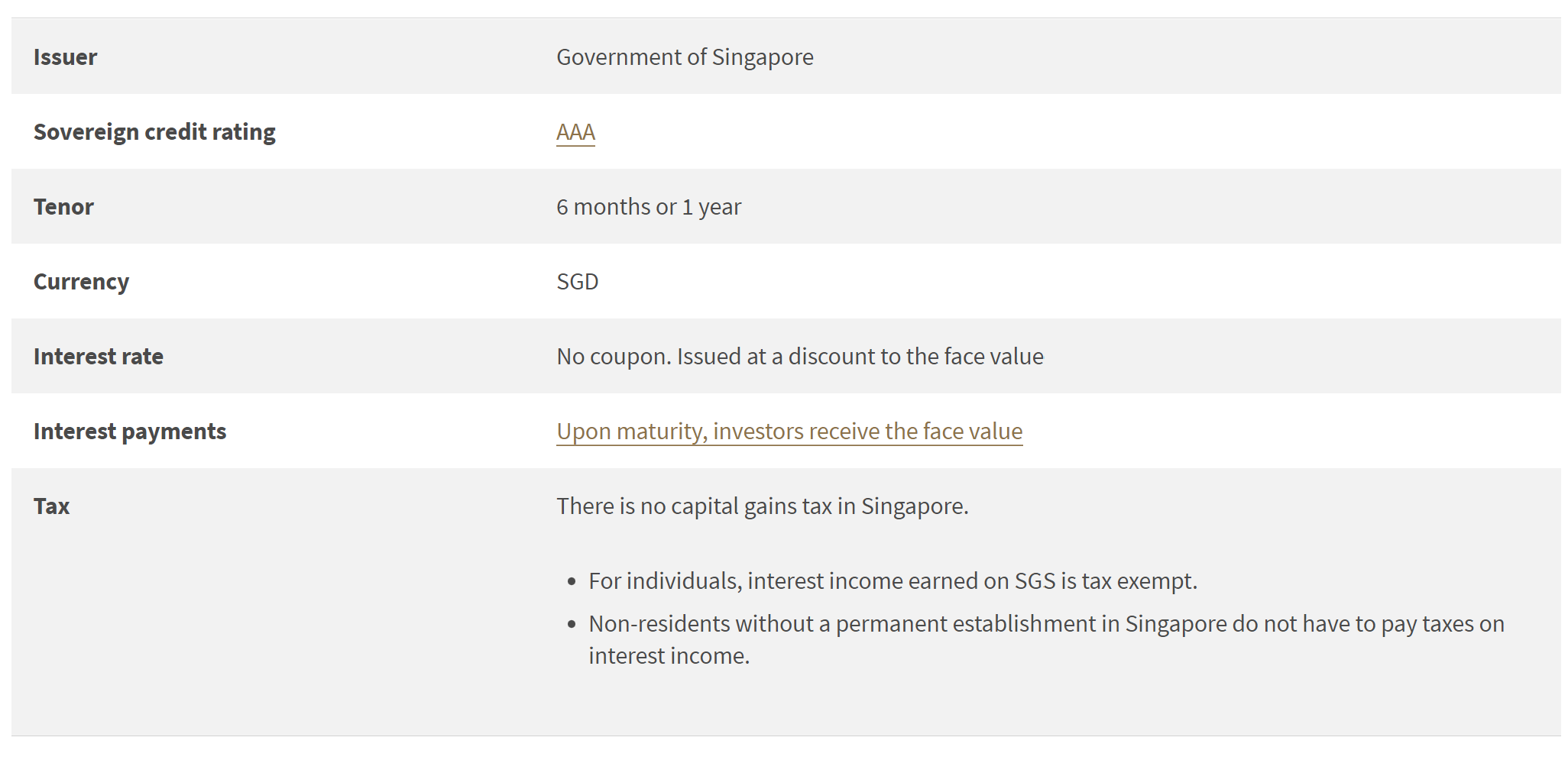 When to buy T-Bills?
To know when to subscribe for T-bills, you have to look at the issuance calendar.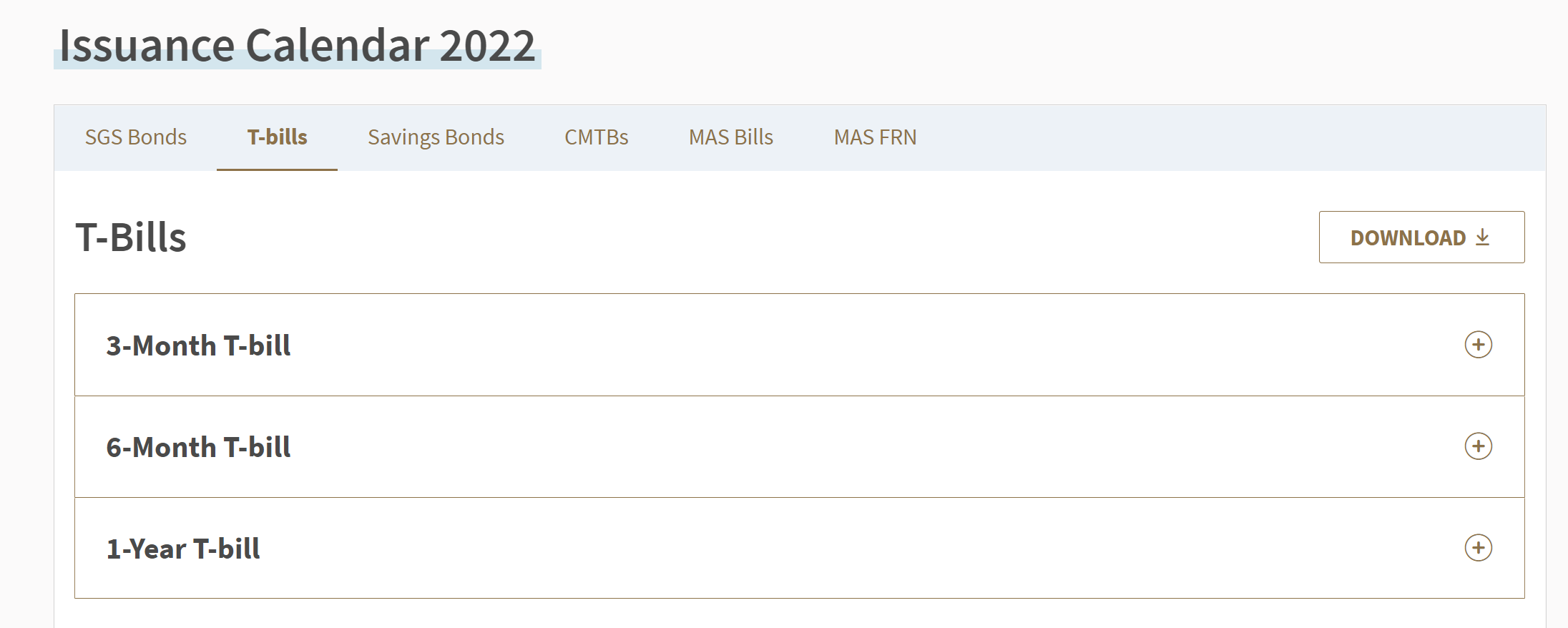 Click here to access the 2023 issuance calendar. 
Applications through ATMs and internet banking typically start usually after 6pm on the announcement date. 
And typically close 1 to 2 business days before the auction.
How to buy T-Bills
Using Cash
You will need:
How to apply?
Apply through ATMs or your bank's internet banking portal.
As an example, let's look at DBS' process.
Find out more about how to apply through OCBC here, and UOB here.
Using SRS 
You will need an SRS account with one of the three SRS operators (DBS/POSB, OCBC, and UOB).
Access your bank's internet banking portal and apply accordingly.
Using CPF
For CPFIS-OA investments, you will need a CPF Investment Account with one of the three agent banks (DBS/POSB, OCBC, and UOB).
There is no need to open any CPF Investment Account if you wish to invest CPFIS-SA funds.
How to apply?
You can buy or sell T-bills through DBS, OCBC or UOB by visiting their branches. 
Remember to bring your NRIC/ Passport.
Before you can use your CPFIS funds, you need to have a minimum sum of $20,000 in your Ordinary Account and $40,000 in your Special Account.
You can invest under CPFIS if you:
BTW – we share commentary on Singapore Investments every week, so do join our Telegram Channel (or Telegram Group), Facebook and Instagram to stay up to date!
We also share great nuggets of wisdom on Twitter.
Don't forget to sign up for our free weekly newsletter too!
[mc4wp_form id="173″]
DBS has provided a great summary as well: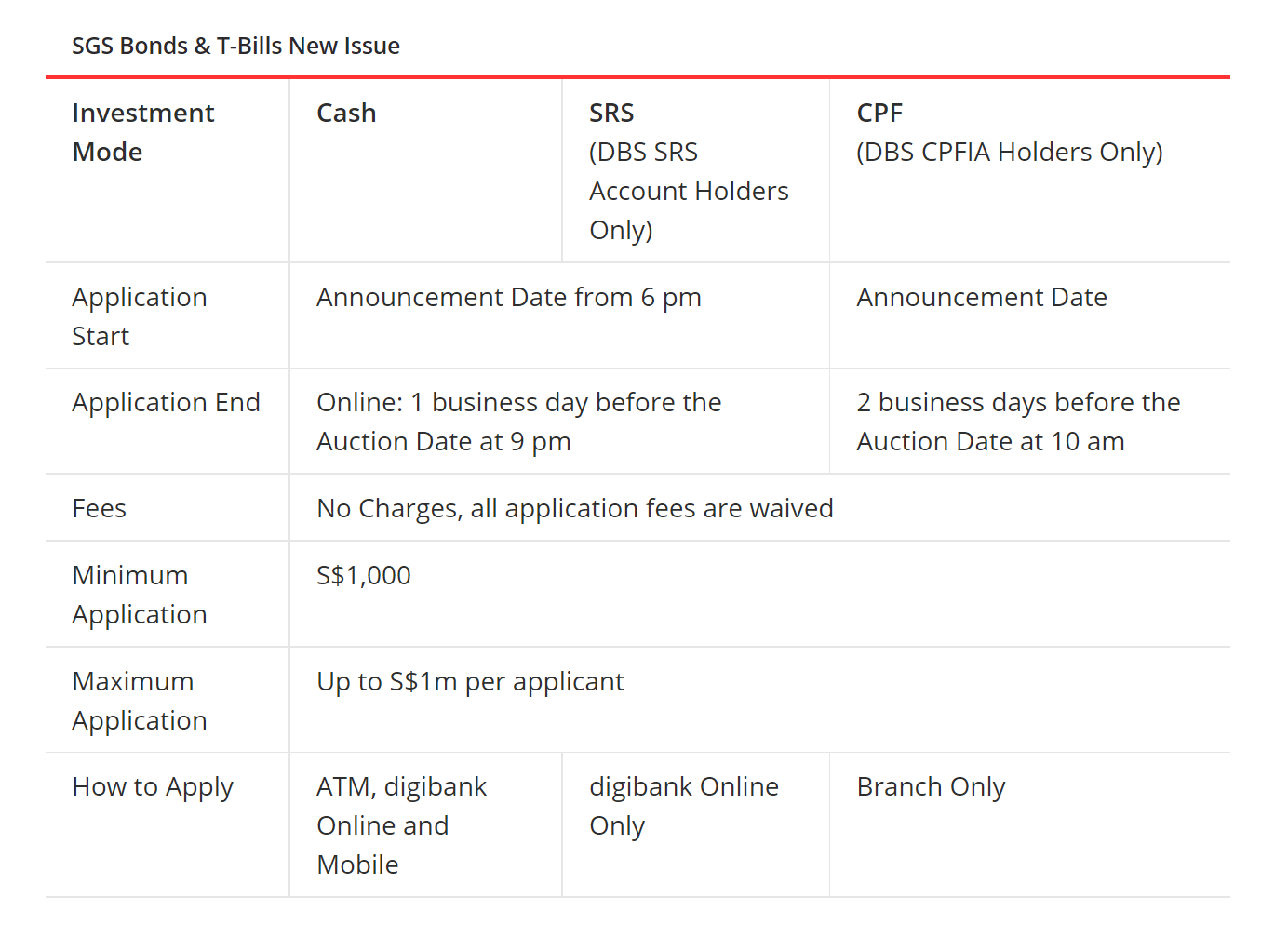 How much to apply?
The minimum bid amount for T-bills is $1,000. 

There are allotment limits for competitive and non-competitive bids at each auction.
Typically, for T-bills, the limit is about $1 million. But if you wish to apply for more, you can just check with your private banker. 
Make sure you have sufficient funds in the account you use to apply, because the full bid amount will be deducted from your account at the point of application. 
Note: For reopened bonds, 115% of the bid amount will be debited. Any difference from the price will be refunded into or debited from your bank account after the auction.
If your bid is unsuccessful or invalid, the money will be refunded into your bank account, 1 to 2 business days after the auction day.
Competitive vs Non-Competitive Bid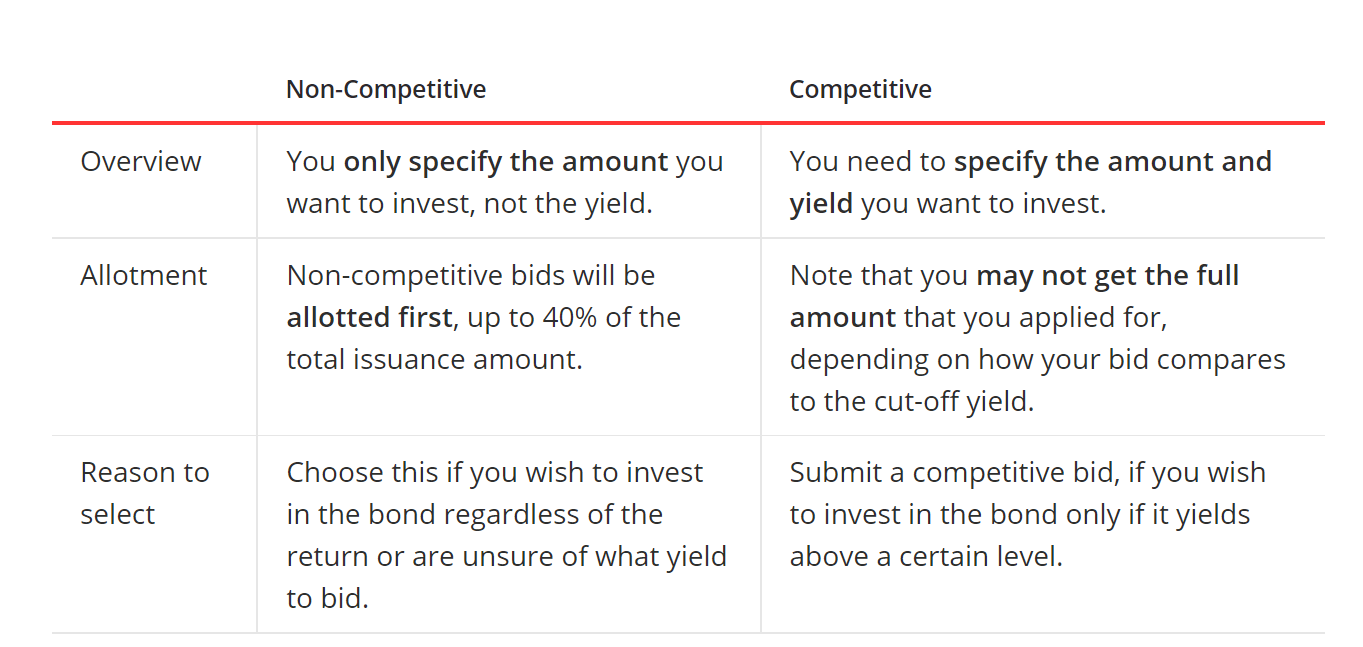 T-Bill Allotment Results
After applying for T-bills, you just need to check the results. 
This usually happens about an hour after the auction, you can check the results on the issuance calendar.
T-bills are issued 3 business days after the results are announced.
If your bid is successful, the securities will be reflected as follows:
For cash applications: check your CDP statement
For SRS application: check your bank statement 
For CPFIS-OA application: check the CPFIS statement sent by your bank
For CPFIS-SA application: check your CPF statement
Trust Bank Account (Partnership between Standard Chartered and NTUC)
Sign up for a Trust Bank Account and get:
$35 NTUC voucher
Whole bunch of freebies – A free packet of rice (1kg), a free Kopitiam Kaya Toast set, a $1.99 Double Mushroom Swiss at Burger King, and 50% off KFC Zinger Set just to name a few.
1.0% base interest on your first $50,000 (up to 1.4%)
 Fully SDIC insured as well.
It's worth it in my view, a lot of freebies for very little effort.
Full review here, or use Promo Code N0D61KGY when you sign up to get the vouchers!
Looking for a low cost broker to buy US, China or Singapore stocks?
Get 100 USD in Apple Shares with Webull, a zero commission broker.
Get a free stock and commission free trading with MooMoo.
Get a free stock and commission free trading with Tiger Brokers.
Special account opening bonus for Saxo Brokers too (drop email to [email protected] for full steps).
Or Interactive Brokers for competitive FX and commissions.
Looking to buy Bitcoin, Ethereum, or Crypto?
Check out our guide to the best Crypto Exchange here.
Do like and follow our Facebook and Instagram, or join the Telegram Channel. Never miss another post from Financial Horse!
Looking for a comprehensive guide to investing that covers stocks, REITs, bonds, CPF and asset allocation? Check out the FH Complete Guide to Investing.
Or if you're a more advanced investor, check out the REITs Investing Masterclass, which goes in-depth into REITs investing – everything from how much REITs to own, which economic conditions to buy REITs, how to pick REITs etc.
Want to learn everything there is to know about stocks? Check out our Stocks Masterclass – learn how to pick growth and dividend stocks, how to position size, when to buy stocks, how to use options to supercharge returns, and more!
All are THE best quality investment courses available to Singapore investors out there!
FYI – We just launched the FH Property Series. Everything you need to know to buy a property in Singapore, completely free of charge.
For more personal finance & investing content, follow Financial Horse on Social Media!