Latest T-Bills auction results are out!
And unfortunately, the T-Bills yields look to be tracking US interest rates and going down.
In my weekend article I estimated fair value of 4.1% – 4.2% for the T-Bills (give or take 0.1% either way).
Final cut off yield came in at 4.00%, definitely on the lower end of the range here.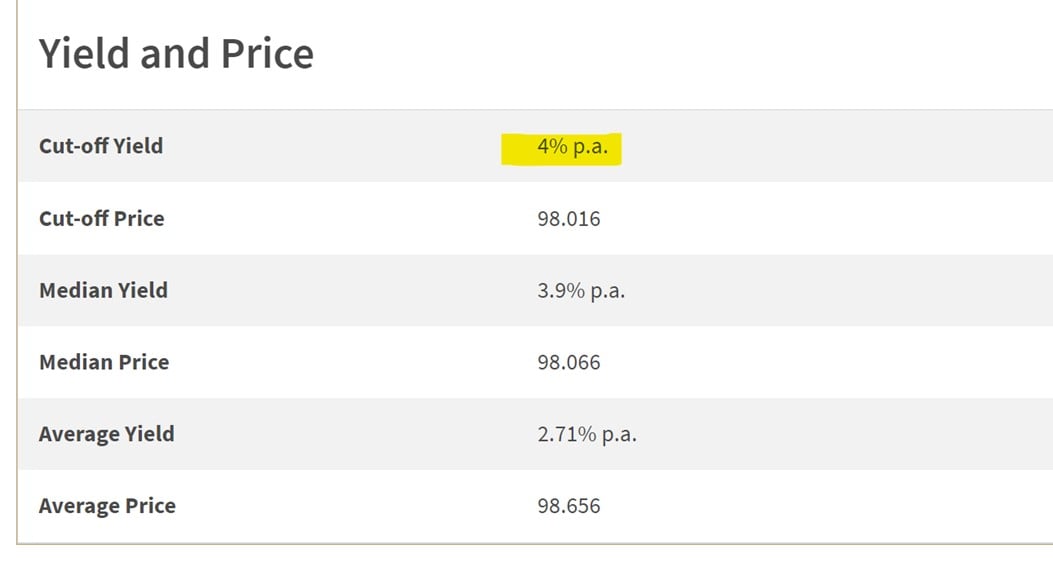 18 January 2023 T-Bills Auction Results – 4.00% cut-off yield
Diving into the numbers.
Cut-off yield is 4.00%.
This means that everyone will get T-Bills at 4.00% regardless of whether you applied for a competitive or non-competitive bid.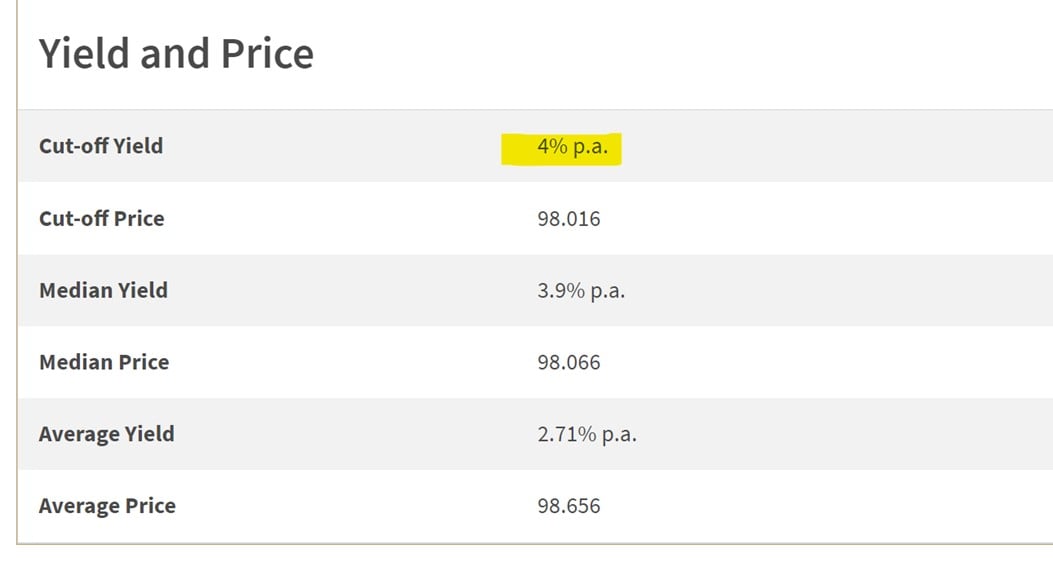 Allotment Results for 18 January 2023 T-Bills – Full Allotment for non-competitive bids
Just like the 5 January 2023 T-Bills, you're looking at full allotment for non-competitive applications again.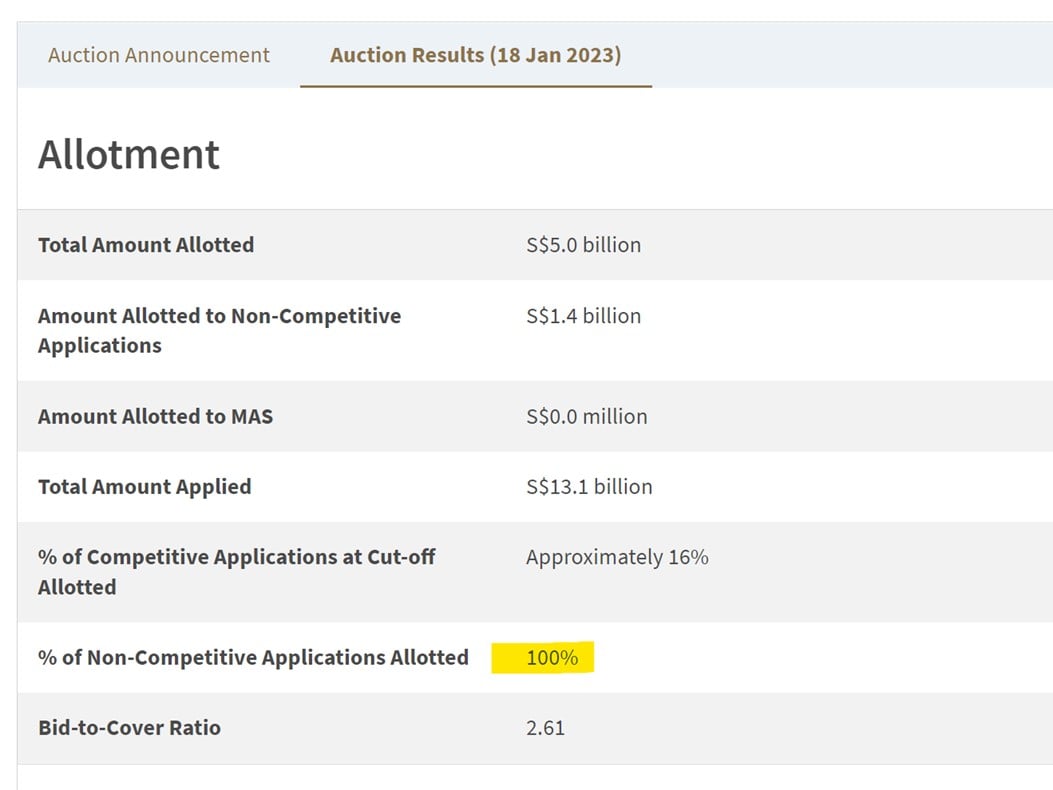 Practically speaking, this means that:
If you applied non-competitive, you get 100% allotment of whatever amount you applied for (at 4.00%).
If you applied competitive below 4.00%, you get 100% allotment (at 4.00% yield).
If you applied competitive at 4.00%, you get 16% allotment.
If you applied competitive above 4.00%, you get nothing.
Application amounts for T-Bills increased drastically to $13.1 billion
Interestingly, the total amount of applications for the T-Bills increased quite drastically to $13.1 billion.
The previous auction was just $12 billion, so this is a $1.1 billion increase which is noteworthy.
I charted the application amounts going back to July 2022 below.
You can see how the application amount of $13.1 billion this time around is the second highest in the past 6 months (only below the record $14.2 billion on 10 Nov 2022)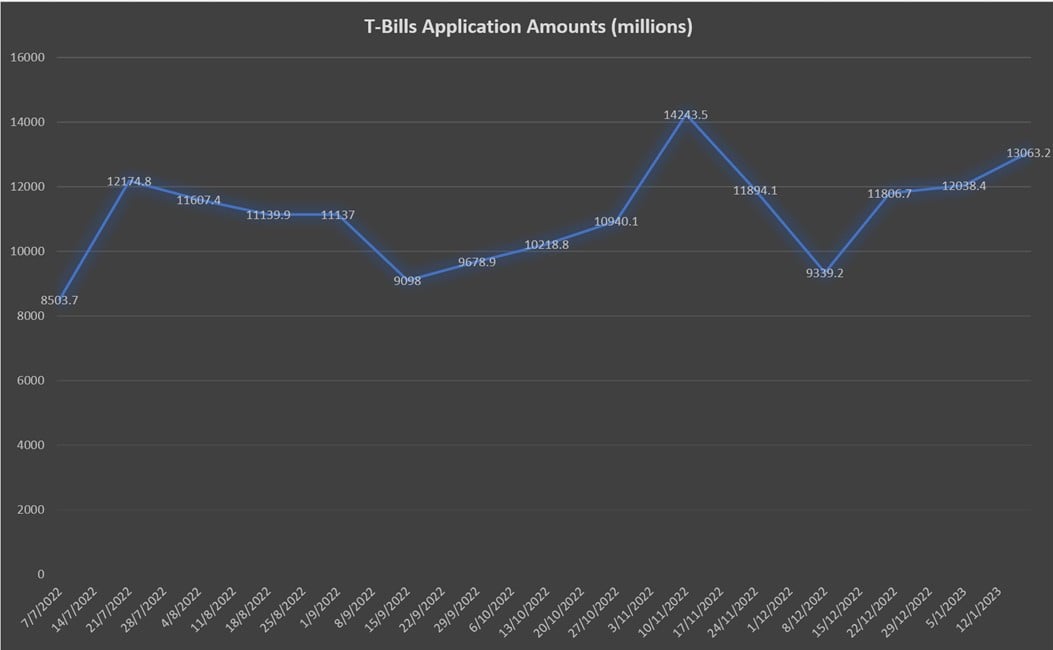 What does the T-Bills bidding data tell us? More low-ballers?
That said, the bidding data is very, very interesting.
Here's the statistics for the recent 18 January 2023 auction.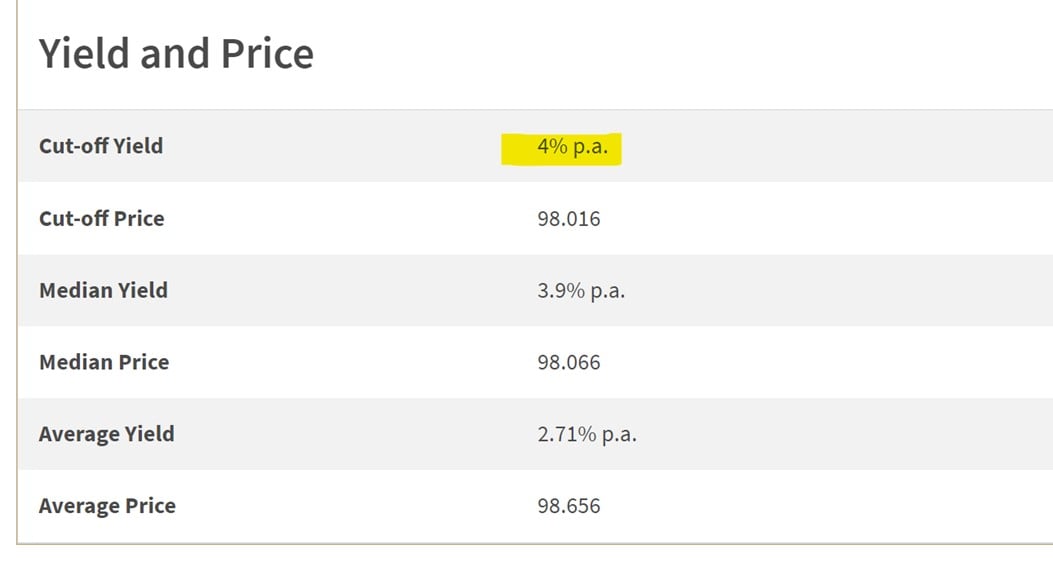 Here's the statistics for the previous 5 January 2023 auction.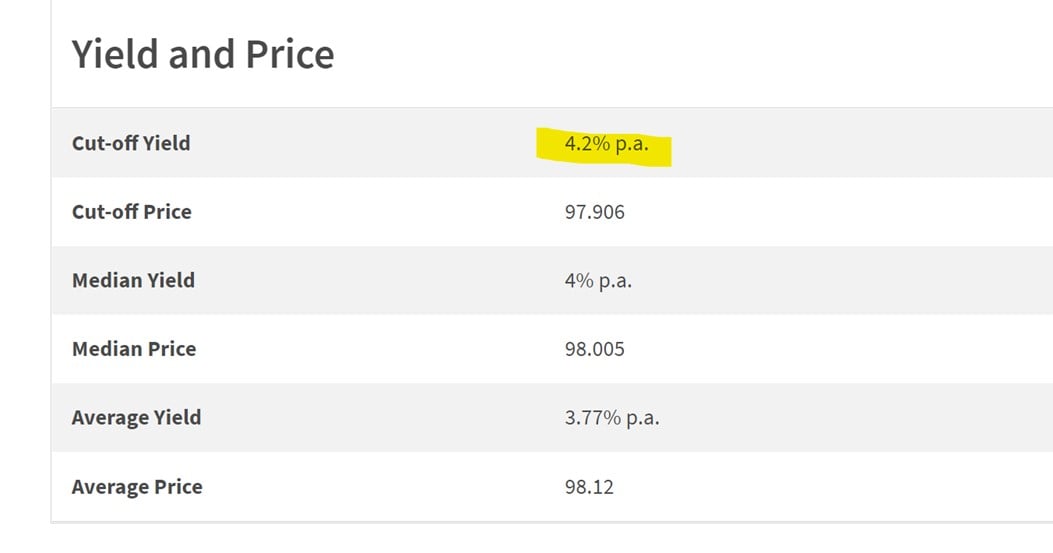 What stands out – the average yield.
Average yield was 3.77% the previous auction, plunging to a ridiculously low 2.71% this time around.
Whereas median yield of 3.90% is very close to the 4.00% from the previous auction.
For those less familiar with statistics:
Average is calculated by adding up all the bid values and dividing by the number of the bids
Median is the middle bid
The advantage of the median, is that it removes extreme measurements from the data set.
So the fact that average yield plunged so drastically, while median yield is about the same, indicates that bidders on the extreme ends have adjusted their bids down.
Ie. Either the low bidders are bidding lower, or the high bidders are bidding lower.
Or both.
BTW – we share commentary on Singapore Investments every week, so do join our Telegram Channel (or Telegram Group), Facebook and Instagram to stay up to date!

I also share great tips on Twitter.
Don't forget to sign up for our free weekly newsletter too!
[mc4wp_form id="173″]
What does this mean? Why did average yield drop so much?
I suppose one possible reason could be from the CPF-OA bidders.
If you spend an hour queueing at the bank to buy T-Bills with CPF-OA, you're going to want to get an allotment no matter what.
And getting allotment at 4.2% vs 4.0% really doesn't matter all that much when CPF-OA pays only 2.5%.
So you might bid competitive at say 2.00%.
Another possible reason is that maybe people were submitting ridiculous 8.00% bids previously.
And now they're becoming more realistic with their bids?
Which exactly it is – only MAS will know.
Interest rates are trending down though… Don't blame the low-ballers
But just before you start hating on all the low ballers, let me just put it out there that I don't think these low ballers skewed the yields all that much.
I think by and large most of the bidders are still submitting quite rational bids (as you can see from the small move in median yields down).
And the trend in US interest rates has most definitely been down the past few weeks.
Here's the US 2 Year – plunging from 4.45% the start of the year to 4.18%.
For T-Bills interest rates to come down is fair.
What did I bid for this round of T-BIlls? What will I do next?
I bid 4.19% this time around, and I got absolutely nothing again.
I think I'll probably just chuck the money into OCBC's 8 month fixed deposit at 4.08% and be done with it frankly.
That being said, there is a 12 month T-Bill auction coming up on 26 January for those who are interested.
Many of you have asked whether the 12 month T-Bill is superior for CPF-OA (because you lose less CPF-OA interest).
I'm running the numbers on that and will share this weekend, together with my estimate on the yields for the 12 month T-Bills.
Trust Bank Account (Partnership between Standard Chartered and NTUC)
Sign up for a Trust Bank Account and get:
$35 NTUC voucher
1.5% base interest on your first $75,000 (up to 2.5%)
Whole bunch of freebies
 Fully SDIC insured as well.
It's worth it in my view, a lot of freebies for very little effort.
Full review here, or use Promo Code N0D61KGY when you sign up to get the vouchers!
WeBull Account – Free USD150 ($212) cash voucher
I did a review on WeBull and I really like this brokerage – Free US Stock, Options and ETF trading, in a very easy to use platform.
I use it for my own trades in fact.
They're running a promo now with a free USD 150 (S$212) cash voucher.
You just need to:
Sign up here and fund S$2000
Make 1 US Stock or ETF trade (you get USD100)
Make 1 Options trade (you get USD50)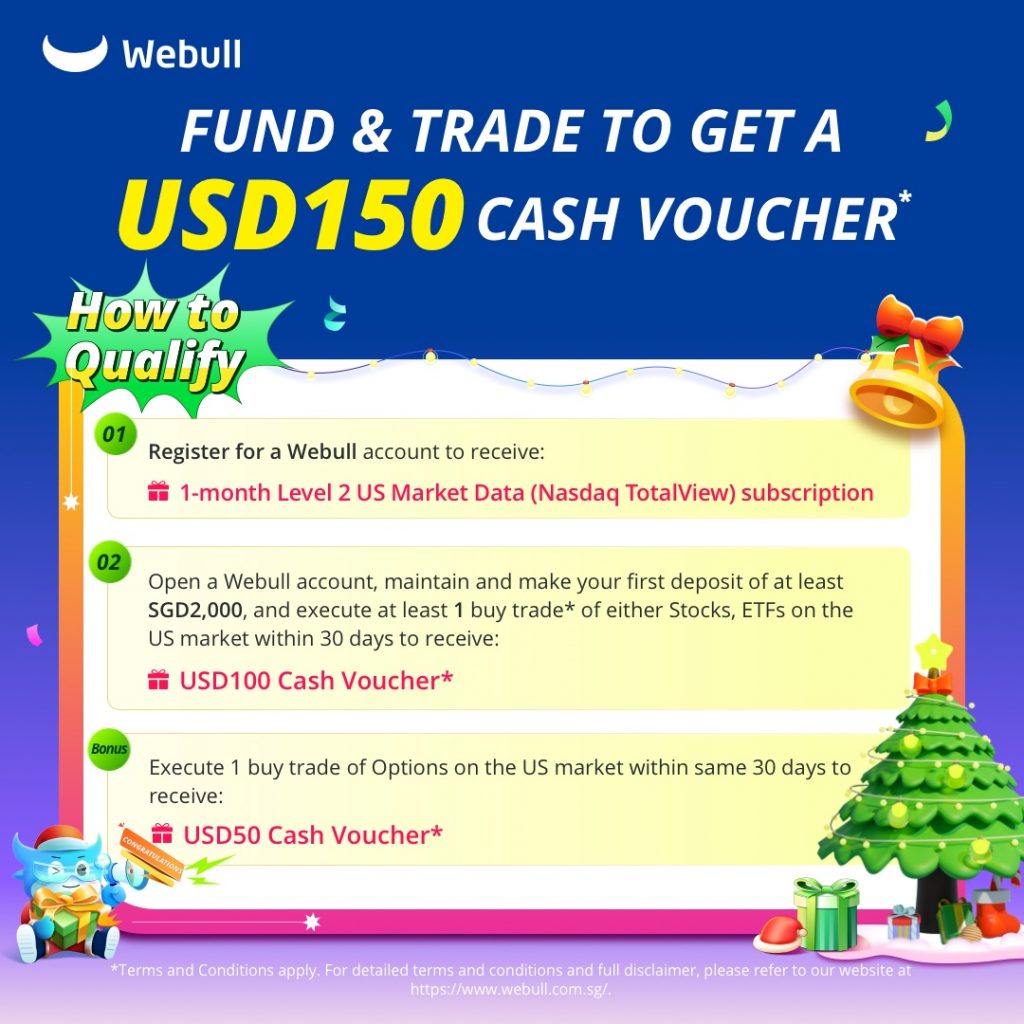 Looking for a low cost broker to buy US, China or Singapore stocks?
Get a free stock and commission free trading Webull.
Get a free stock and commission free trading with MooMoo.
Get a free stock and commission free trading with Tiger Brokers.
Special account opening bonus for Saxo Brokers too (drop email to [email protected] for full steps).
Or Interactive Brokers for competitive FX and commissions.
Do like and follow our Facebook and Instagram, or join the Telegram Channel. Never miss another post from Financial Horse!
Looking for a comprehensive guide to investing that covers stocks, REITs, bonds, CPF and asset allocation? Check out the FH Complete Guide to Investing.
Or if you're a more advanced investor, check out the REITs Investing Masterclass, which goes in-depth into REITs investing – everything from how much REITs to own, which economic conditions to buy REITs, how to pick REITs etc.
Want to learn everything there is to know about stocks? Check out our Stocks Masterclass – learn how to pick growth and dividend stocks, how to position size, when to buy stocks, how to use options to supercharge returns, and more!
All are THE best quality investment courses available to Singapore investors out there!