Okay… you guys know the drill by now.
Next T-Bills auction is on Thursday, 5 January.
So if you want to apply, you need to get your cash applications in by 9pm on Wednesday, 4 January.
If it's CPF, you probably want to get it done by Tuesday, 3 January.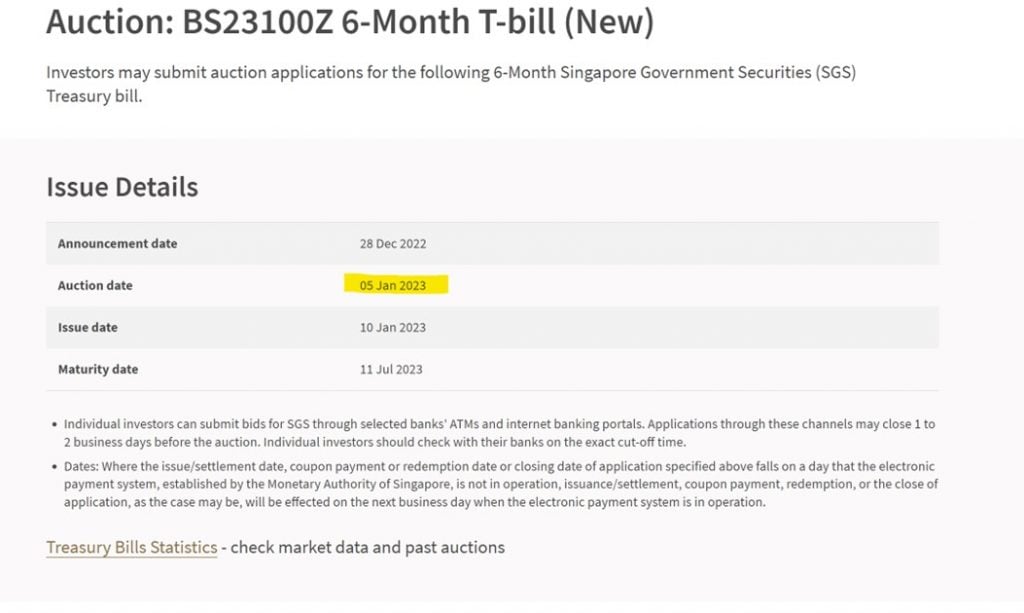 There are 2 big questions I want to discuss in today's article:
What is the estimated yield on the next T-Bills auction?
Are interest rates peaking? Should you lock in a 18 months fixed deposit at 4.2% instead of buying a 6 months T-Bill?
What is the estimated yield on the next T-Bills auction?
The exact cut-off yield on each T-Bill auction is determined by matching supply vs demand.
Short of knowing every single bid that comes in, you cannot predict exactly the yield on the T-Bill ahead of time.
But you can get some clues from market pricing.
For reference, the most recent T-Bill auction closed at 4.28%.
The latest 6 month T-Bill trades at 4.36% on the open market: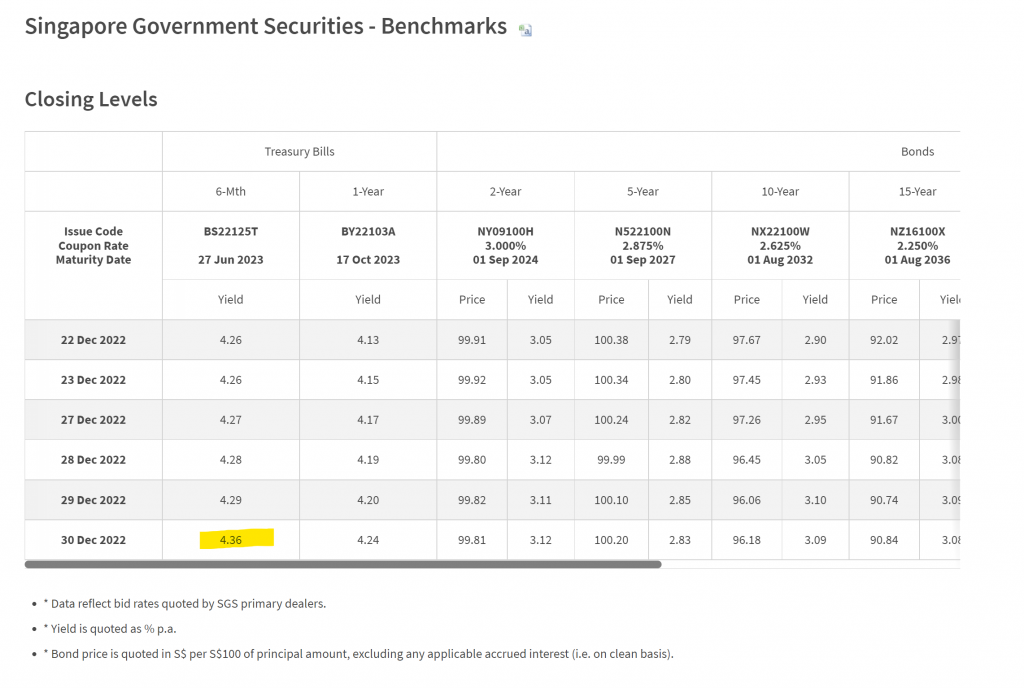 While the latest 12 week MAS Bill trades at 4.44%:
US Treasuries tell an interesting story.
The short end of the curve (1 – 2 year) is generally flat to up slightly.
But the long end of the curve (>10 year) has gone up quite a bit the past 2 weeks.
Translating back into T-Bills, this means yield for T-Bills *should* be flat to up slightly from the previous auction.
Estimated fair value of 4.3 – 4.4% for the next T-Bill auction
Putting all this together.
My estimated fair value for the next T-Bill auction is about 4.3 – 4.4%.
Based on latest market pricing and trend.
But of course the big wildcard is investor demand, because if you get a lot of investor bids, especially from low ballers, that could distort the yield.
How strong will retail demand be?
Now I could be wrong.
But my gut feel is that retail demand for T-Bills is starting to stabilise (as more money is tied up).
And those that remain are becoming more savvy with their competitive bidding.
Of course I don't have hard evidence for this other than the chart below.
But anecdotally, most investors I speak to already have a significant chunk of cash deployed in fixed deposit or previous T-Bills.
And they're much more familiar (and savvy) with the T-Bills auction bidding process than they were just 2 months ago.
To the point where they're no longer submitting low ball bids.
But frankly, this is just my view, and I could be wrong.
I would love to hear from you if you think otherwise.
Estimated fair value of 4.3 – 4.4% for the next T-Bills auction?
If I am right though, then we might see T-Bills start to trade more orderly going forward, with good allocations for non-competitive.
This means the 4.3 – 4.4% range might hold up, give or take 0.1% (or more) either way.
Are interest rates peaking? Should you lock in a 18 months fixed deposit at 4.2% instead of buying a 6 months T-Bill?
Perhaps the most interesting question I wanted to discuss.
Are interest rates peaking?
Don't forget this is a climate where you can get 4.2% on a 12 or 18 month Fixed Deposit.
So if you think interest rates will start dropping in 2023.
It might actually make sense to lock in a 18 month fixed deposit at 4.2%, than buy a 4.3% T-Bill for 6 months.
With the T-Bill, you're only locking in the interest rates for 6 months…
Will interest rates drop in 2023?
For the record, this is not an easy question.
The one thing I know about interest rates, is that they seldom go where people expect them to go.
Remember in Dec 2021 when everyone expected interest rates to stay at 0% for a decade?
And now 12 months on everyone thinks interest rates will stay at 5% this decade?
Yeah… you get my point.
BTW – we share commentary on Singapore Investments every week, so do join our Telegram Channel (or Telegram Group), Facebook and Instagram to stay up to date!

I also share great tips on Twitter.
Don't forget to sign up for our free weekly newsletter too!
[mc4wp_form id="173″]
What are the markets pricing in?
For what it's worth, US futures markets are pricing in US interest rates to peak in 6 months.
Before declining slightly in 12 – 24 months.
Or in plain English – markets think that interest rates peak in mid 2023, drop slightly by end 2023, and drop significantly by end 2024.
This makes a lot of sense when you think about it, and it ties in with the prevailing narrative.
That the Feds will try to fight inflation with higher interest rates, only to cause a US recession in 2023, which will force them to start cutting rates by end 2023 / 2024.
What do I think – lock in interest rates now?
But like I said, interest rate forecasts are notoriously inaccurate.
I don't think interest rates have peaked yet, there's probably a little more room to go.
But I do not deny that the bulk of interest rate increases are behind us.
So those of you that want to lock in a 12 – 18 month fixed deposit.
Sure, maybe you're not locking in peak interest rates – But it does offer you protection in the event that all these interest rate predictions are wrong, and interest rates are slashed in 2023.
Not the worst thing in the world to do, frankly.
Buy Singapore Savings Bonds instead?
Of course, if you're worried about interest rates being cut in 2023, the other option is Singapore Savings Bonds.
These allow you to lock in yields for up to 10 years (vs 18 months for Fixed Deposit).
Although that said, latest Singapore Savings Bonds estimates are not looking too attractive, at 2.8%+ first year, going up to 2.9%+ over 10 years (note these are just estimates):
Personally I've been loading up on Singapore Savings Bonds though, especially since allocations are good ($173,000 for the recent tranche).
I like them for their liquidity (get your money back easily with accrued interest), and the option to hold for as long as 10 years.
But I leave it for each investor to decide the right mix of T-Bills, Fixed Deposit and Singapore Savings Bonds for themselves.
You want to strike a good balance between liquidity needs, and yield, and only you can decide for yourself.
Do you still need to submit competitive bids for T-Bills auction?
Given that T-Bills bidding and demand is starting to become more orderly, the question arises – do you still need to submit competitive bids?
Or can you just put in a non-competitive bid and be done with it.
It's a good question, with no easy answer.
My suggestion is to still put in a competitive bid, as long as you know what you're doing.
Sure the chances are low, but in the unlikely event of a freak T-Bills result (eg. 3.5% yield), you don't want to be forced to buy and be locked in for 6 months.
Although if all this T-Bills nonsense annoys you and you just want to buy some T-Bills regardless of what happens, then okay maybe a non-competitive bid would make sense.
But frankly, it's your call.
Looking at the latest numbers, I do think the risk associated with a non-competitive bid has gone down.
Trust Bank Account (Partnership between Standard Chartered and NTUC)
Sign up for a Trust Bank Account and get:
$35 NTUC voucher
1.5% base interest on your first $75,000 (up to 2.5%)
Whole bunch of freebies
 Fully SDIC insured as well.
It's worth it in my view, a lot of freebies for very little effort.
Full review here, or use Promo Code N0D61KGY when you sign up to get the vouchers!
WeBull Account – Free USD150 ($212) cash voucher
I did a review on WeBull and I really like this brokerage – Free US Stock, Options and ETF trading, in a very easy to use platform.
I use it for my own trades in fact.
They're running a promo now with a free USD 150 (S$212) cash voucher.
You just need to:
Sign up here and fund S$2000
Make 1 US Stock or ETF trade (you get USD100)
Make 1 Options trade (you get USD50)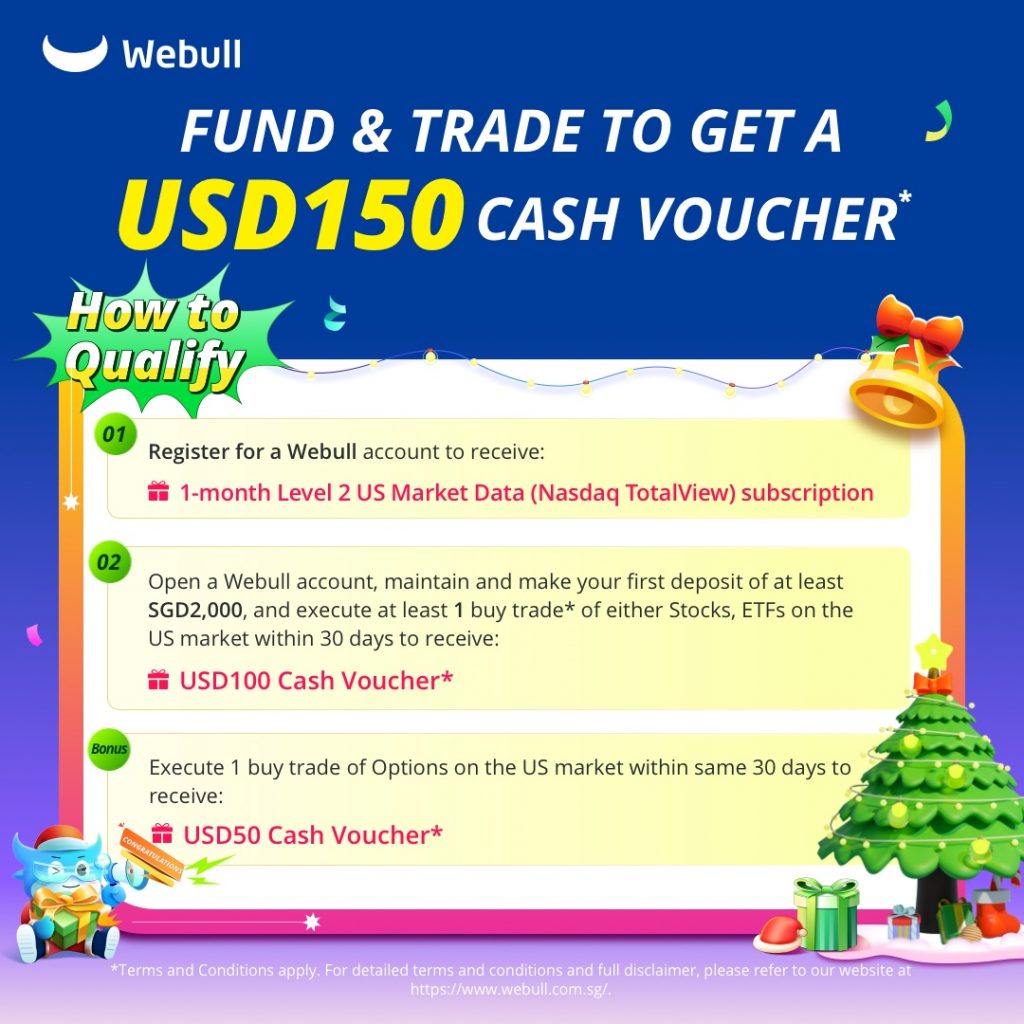 Looking for a low cost broker to buy US, China or Singapore stocks?
Get a free stock and commission free trading Webull.
Get a free stock and commission free trading with MooMoo.
Get a free stock and commission free trading with Tiger Brokers.
Special account opening bonus for Saxo Brokers too (drop email to [email protected] for full steps).
Or Interactive Brokers for competitive FX and commissions.
Do like and follow our Facebook and Instagram, or join the Telegram Channel. Never miss another post from Financial Horse!
Looking for a comprehensive guide to investing that covers stocks, REITs, bonds, CPF and asset allocation? Check out the FH Complete Guide to Investing.
Or if you're a more advanced investor, check out the REITs Investing Masterclass, which goes in-depth into REITs investing – everything from how much REITs to own, which economic conditions to buy REITs, how to pick REITs etc.
Want to learn everything there is to know about stocks? Check out our Stocks Masterclass – learn how to pick growth and dividend stocks, how to position size, when to buy stocks, how to use options to supercharge returns, and more!
All are THE best quality investment courses available to Singapore investors out there!