What an absolute bloodbath in tech stocks!
From it's October 2021 high of $366, literally just 3 months ago – Shopee (Sea Ltd) has plunged 58%.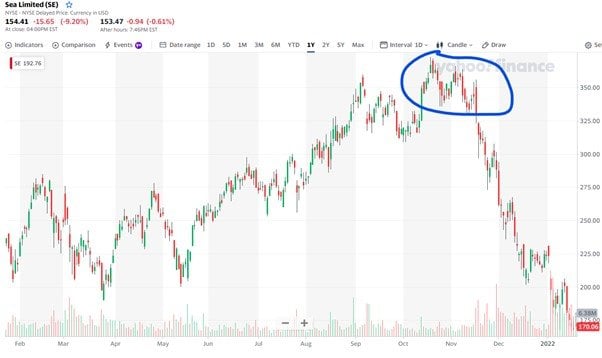 And it's not just Shopee though, almost all the high flying tech stocks have been crushed the past 3 months.
A lot of short-term indicators I track are indicating we are very close to a local bottom here.
As long as these support levels hold, we could see a pretty big bounce in risk assets short term (followed by a broader decline as 2022 plays out).
Never thought I would say this – but at $154, is Shopee (Sea Ltd) a great value buy?
Basics: What is Sea Limited / Shopee?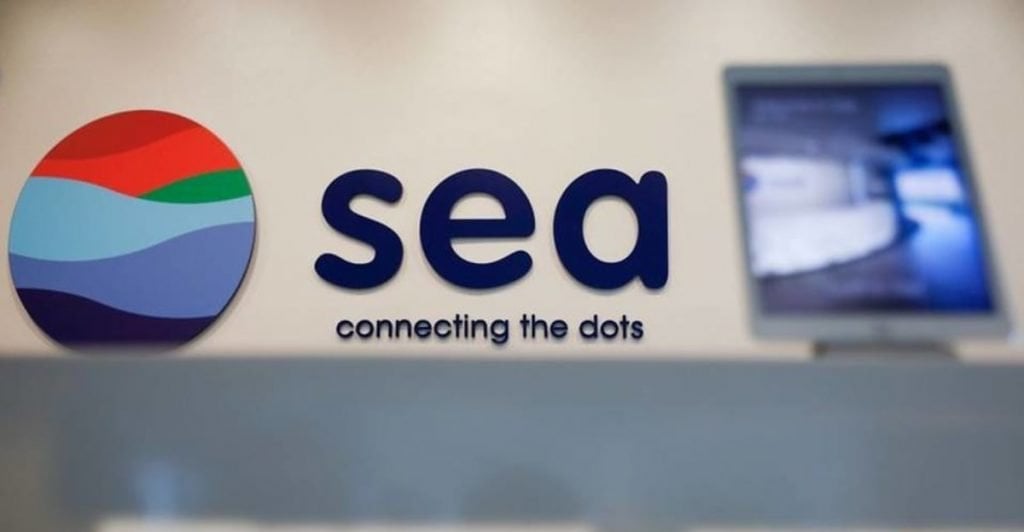 In October 2020, I wrote an article evaluating Sea Ltd at $169.
Funny how life works, because almost 1.5 years later, after a 100% rally from there, Sea Ltd is now back below that price.
Sea Ltd is basically split into 3 parts:
Digital Entertainment (DE) – Gaming business, Garena Free Fire is the big cash cow
E-Commerce (EC) – Shopee, basically
Digital Financial Services (DFS) – Seamoney, the nascent fintech arm
Core markets for Sea Ltd are South East Asia, Taiwan and Brazil.
While management has a strong eye on expansion into Poland, France, Spain and India.
For now, the 2 biggest revenue generators are gaming and eCommerce: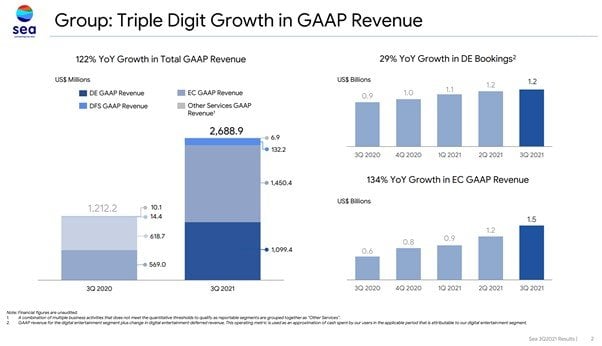 Core Gaming Business is slowing
I'm just going to say it – the big red flag in the latest financials is that the core gaming business is starting to slow.
Now the narrative before this has always been that Shopee and Seamoney will burn massive amounts of cash to grow market share.
While the gaming business, powered by Garena Free Fire, generates a ton of free cash flow to fuel the cash burn.
That narrative is now in question, because the gaming business is starting to slow: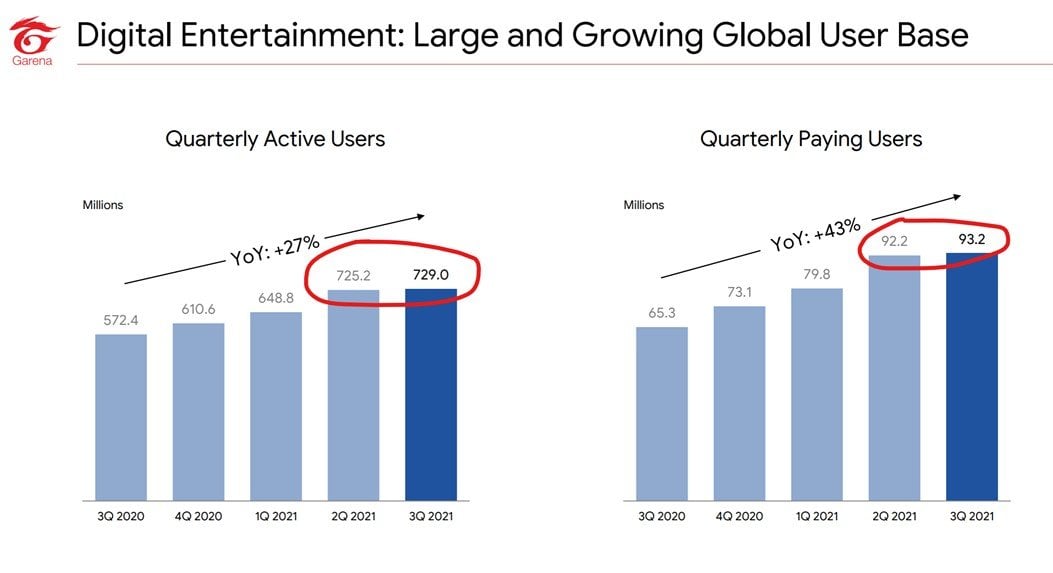 At the same time, expenses are not slowing down:
There was a time when burning money to grab market share was sexy, but this is most definitely not the year.
In a year when the Feds are on track to hike 4 times and start Quantitative Tightening, ballooning losses are not sexy at all.
Tencent sold $3 billion in Sea Shares
When it rains, it pours.
To add to Sea's misery, their biggest shareholder, Tencent, is mired in problems of their own with the Beijing Government.
Word is that Beijing doesn't like the China tech giants to have fingers in every pie.
The official version is that this is not good for competition, the cynic's version is that they don't like anyone to have that much power.
The past week saw Bytedance close their entire investment division.
Tencent has also been very obediently selling down stakes in their portfolio companies, which includes JD, and of course Sea Ltd.
Tencent has sold close to $3 billion in Sea Ltd stock at an average price of $208.

But what happens next?
Even after the sale, Tencent holds 18.7% of Sea, which is worth about $17 billion at today's price
Tencent has committed that they will not further sell their stake for another 6 months, but what happens after that?
Tencent will convert all its stock into Class A stock which holds less votes, which means the founder Forest Li will hold 57% of voting rights going forward.
You can argue that this might satisfy Beijing such that Tencent won't need to sell more stock after 6 months.
But frankly – it's tough to call exactly what will please Beijing.
Until this is resolved that could add a lot of near term pressure for Sea stock.
Respect the Macro… Macro Headwinds from Rising Rates
I wrote a detailed article last week sharing my macro views and why I think 2022 is going to be the most adverse macro environment for risk assets since 2018.
I hate to say it, but I don't think 2022 is the year to try to be too clever on fundamental stock picking.
This is a new regime of higher inflation and rates volatility, very different from the previous.
So I think 2022 is the year to respect the macro, to respect the flows.
When things sell-off, the market will throw the baby out with the bathwater.
Switch into fundamental stock picking mode only when the dust settles.
And short term bounce aside, I think the broader move for risk assets is downwards, until such point when Powell changes his mind on rate hikes.
BTW – we share commentary on Singapore Investments every week, so do join our Telegram Channel (or Telegram Group), Facebook and Instagram to stay up to date!
Just created a Discord server where I collate analyst reports and investing resources that I come across in my research. Hit us up here if you're keen.
Don't forget to sign up for our free weekly newsletter too!
[mc4wp_form id="173″]
What I like about Sea?
Okay, so everything above was the bad stuff.
Now let's talk about what there is to like about Sea:
Impeccable Execution
Sea Digital Bank
A lot cheaper than 3 months ago
Impeccable Execution
You almost never see me say this about any company, especially not the ahem *ah gong* companies.
But I think Sea's management team has impeccable execution.
Seriously, everything they touch turns into gold.
From Garena Free Fire, to Shopee taking on Lazada in SEA, to their recent expansion into Latam and Europe. Even their execution of Seamoney in Indonesia looks very promising.
I don't know how they do it, but this horse is truly impressed by their execution.
Tech is maturing very quickly, and at this point in the cycle it's sometimes less about how good your tech is, and how well you can execute in the real world.
And in that sense, I'm really impressed by Sea.
If they continue executing like this, there's a lot of potential to grow in their core markets of SEA, Brazil and Taiwan, And their new markets of Poland, France, Spain and India.
Sea Digital Bank
Take a management team with a strong track record of execution, and given them a digital banking licence – and watch what they can do.
I have very high hopes for the Sea Digital Bank.
The Fintech part of the business is tiny now, but if they play their cards right this could in time become Sea's version of AWS (Amazon Web Services – the cash cow for Amazon).
Fintech is big money for any player who can build a dominant position, which is why we see so many players trying to do it.
There will be fierce competition from the Grab-Singtel consortium, but I think the market is big enough to accommodate a few players.
That said, short term, Seamoney is not going to contribute meaningfully to the bottom line, and will burn lots of cash.
Valuations – A lot cheaper than 3 months ago
If you liked Sea Ltd at $366, you should be loving it at $154, no?
From a fundamental perspective, nothing much has changed over the past 3 months.
And yet the price is 58% cheaper.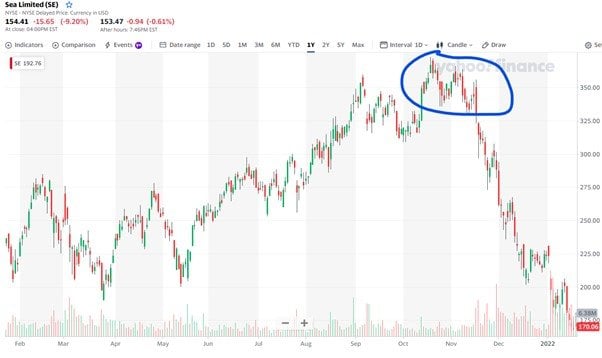 What is a fair valuation for Sea?
Price to Sales still sits at a lofty 16 times though.
Which begs the question – what is a fair valuation for Sea?
With high growth companies like this (revenue growth in excess of 100%), it really doesn't make sense to run anything fancy like discounted cash flow.
I'm just going to stay very big picture here.
Sea's core markets of SEA, Brazil and Taiwan have a combined GDP of $4.2 billion.
Tencent at their prime was valued at US$660 billion, and China's GDP is $14.7 billion.
If we assume that Sea one day grows to become as dominant as Tencent in its core markets, and the market values it as such, then the fair valuation for Sea would be:
4.2 / 14.7 * 660 = $188 billion
Which is almost 120% upside to current market cap of $85b.
Of course, this analysis doesn't count their growth markets of Europe and India, so that's just pure upside.
But you could also argue that the market may never value Sea like it does Tencent, or that Sea would never become as dominant.
But that misses the point of this tabletop analysis.
Big picture – is that if you think Sea can become as dominant as Tencent one day, and you think the market will value it like Tencent, there's potentially 100%+ upside from here.
Shopee vs Grab?
I suppose the most natural comparison to Shopee would be to Grab.
Both are South East Asia platform plays, both have an upcoming Fintech arm.
Grab's market cap is significantly lower at $20 billion, a mere 23% of Sea Ltd.
That said – both have the same problems where they're still not profitable and cash flow positive.
In 2022's macro environment, the market is likely to punish such stocks, and Grab themselves have also collapsed 45% from their IPO price.
That said – if I were bullish on South East Asia, I would not want to get sucked into a discussion of which will prevail longer term.
I'll probably just buy both, together with Gojek-Toko when it lists, and be done with it. Assuming I'm bullish on SEA tech of course.
Balance Sheet is ok
Couple more points to look at then I'll share holistic views.
Balance sheet is very strong with $11.8 billion cash on hand, so even though Sea is burning through a lot of cash it's not a major cause of concern.
Institutional Shareholders are very strong
List of Institutional Shareholders are very strong too.
Some really big names on there, including T.Rowe (8.2%) and Tiger Global (2.5%).
This is a good sign.
Will I buy Shopee / Sea at $154?
On to the million dollar question – Will I buy Shopee (Sea Ltd) at $154?
Full Disclosure – I don't have any existing position in Sea Ltd, so read into that what you will.
I like the impeccable execution from the management team.
I like the growth potential, from their growing core South East Asia, Taiwan and Brazil markets, and from new markets in Europe and India.
Valuations wise – I think if you can take a longer-term perspective, the valuations are reasonable. There's a lot of growth baked in, but the company is also growing very quickly.
What I don't like, is actually completely beyond Sea's control.
It's the macro headwinds, and potential unwind of COVID trades.
The past week saw pandemic winners Peloton and Netflix crater 20%. It looks like the post-COVID normalisation is happening faster than expected, and I would be curious to see how that would impact Sea's numbers going forward.
If people go out more, that could translate into slowing growth in eCommerce and gaming.
And from a macro perspective, I just think this year will be tough on high beta stocks like Sea.
Sure, the stock is very oversold now, and I wouldn't be surprised to see a strong rally until late Q1 / early Q2.
But then the Feds are going to hike 4 times, and start on Quantitative Tightening.
I mean how much can stocks go up, until the Feds change their mind and ease policy again?
Short Term or Long term position?
So to answer this question, I think it depends on whether I see this as a short or long term position.
Short term, 3 – 6 months, I think it may make sense to buy now and try to flip it into any strength in Q1. Subject of course, to proper position sizing and stop losses.
Longer term, say 3 – 5 years, I don't see a big hurry to add.
Fed hikes will take some time to play out, and as shared in last week's article, I don't see them changing their mind for as long as inflation stays sticky.
And until they change their mind, I think the upside for risk assets generally will be muted.
You can check out my full portfolio and how I am positioned on Patreon.
But like I said, I know not everyone is a fan of market timing. For those who are into Dollar Cost Averaging (DCA) you might want to just ignore the entire discussion on timing.
Closing Thoughts – I'm tempted to flip Sea Stock
I'm actually pretty tempted to buy Sea and just flip it short term (2 – 3 months).
Market looks close to capitulation here, at least in the near term.
Buy it, set a stop loss, and look to sell by late Q1/early Q2.
And buy it back as 2022 plays out.
But truth be told, I haven't made up my mind just yet.
For those who are keen, you can check out my full portfolio, and weekly updates on my buy and sells (and my stock watch) on Patreon.
I would love to hear what you think about Sea though. At $154, is it a screaming buy? Or still a falling knife?
As always, this article is written on 22 Jan 2022 and will not be updated going forward. Latest thoughts (and my stock watch and personal portfolio) are available on Patron.
---
Looking to buy Bitcoin, Ethereum, or Crypto?
Check out our guide to the best Crypto Exchange here.
Looking for a low cost broker to buy US, China or Singapore stocks?
Get 1 free Apple share (worth $230) you're new to MooMoo and fund $2700.
Get a Free Apple stock (worth S$230) when you open a new account with Tiger Brokers and fund $2000.
Special account opening bonus for Saxo Brokers too (drop email to [email protected] for full steps).
Or Interactive Brokers for competitive FX and commissions.
Do like and follow our Facebook and Instagram, or join the Telegram Channel. Never miss another post from Financial Horse!
Looking for a comprehensive guide to investing that covers stocks, REITs, bonds, CPF and asset allocation? Check out the FH Complete Guide to Investing.
Or if you're a more advanced investor, check out the REITs Investing Masterclass, which goes in-depth into REITs investing – everything from how much REITs to own, which economic conditions to buy REITs, how to pick REITs etc.
Want to learn everything there is to know about stocks? Check out our Stocks Masterclass – learn how to pick growth and dividend stocks, how to position size, when to buy stocks, how to use options to supercharge returns, and more!
All are THE best quality investment courses available to Singapore investors out there!