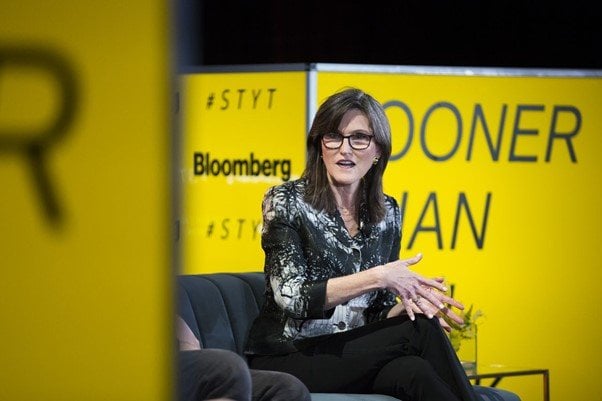 About a year ago, I wrote a macro article where I suggested that Cathie Wood's ARKK would become a big problem on the way down.
I got a lot of hate for it back then.
But fast forward a year, and ARK is now down 50% from highs.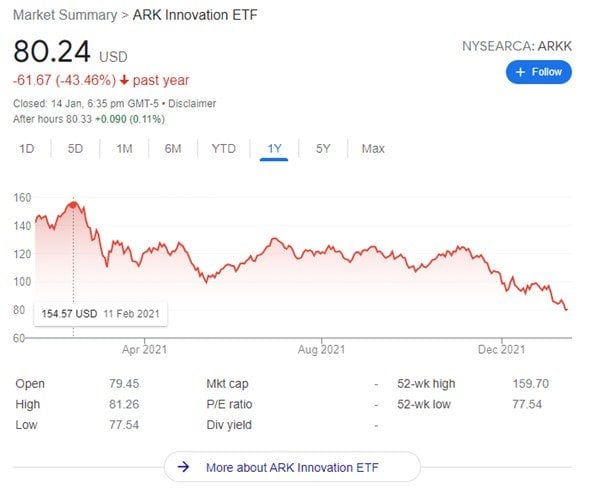 So here's another macro prediction for 2022.
I think 2022 is going to be the most adverse macro environment for stocks since 2018. And I think risk assets generally are going to be in a world of pain this year.
For the record, this was what 2018 looked like for the S&P500. It basically went nowhere for a year, and finished it off with a massive decline.
What is my (or everyone's) base case?
My base case for 2022, is that:
Q1 2022
By and large, things should still remain orderly in Q1. Growth is decent, inflation is rising, and Quantitative Easing (QE) is still in play.
Q2 and Q3 2022
Where things start to get rocky.
I think Q2 onwards growth will start to slow, inflation will start to slow.
Right as the Feds switch into rate hikes and Quantitative Tightening (QT).
Which is going to be a very dangerous mix for risk assets as we head into the middle of the year.
In 2018 terms, I think we're somewhere in mid-2018. Things can still go okay for a while more, but a big move (to the downside) lies somewhere in the future.
Let me explain why I think this way, and where I could be wrong.
Inflation is a political issue – Powell was renominated to fight Inflation
Now inflation hits the poor harder than the rich.
When you spend 80% of your income on food, rent and gas, you'll notice when prices go up.
So inflation is deeply unpopular, and Biden's latest approval rating has plunged to 33% in the latest poll.
With the midterm elections coming up in Nov 2020, this is a big problem.
It's quite clear now that Powell was renominated to fight inflation – he literally said inflation is no longer "transitory" a week after his renomination.
To recap what he's done since:
QE to end by March 2022
Market pricing in 3.5 rate hikes by Dec 2022
Quantitative Tightening to start shortly after first hike – at a much faster pace than before (2018 max was $50 billion a month)
The USD is the reserve currency of the world.
If the US needs to raise interest rates to keep the US voter happy, it's going to have implications on global asset prices whether you like it or not.
What would stop rate hikes?
The way I see it, there's only 3 scenarios where Powell will stop the rate hikes:
Inflation goes away
Voters stop caring about inflation
Markets break
Inflation goes away
The problem with inflation is that much of it is supply driven.
Omicron is causing supply chain disruptions around the world, which will not go away just because you tighten monetary policy.
All the Feds can do is to raise rates and hope that demand for goods will drop.
And the problem then is that it takes some time for monetary policy to kick in, about 6 – 12 months on average.
So if the Feds hike today, we only see the impact on demand in Q3 – Q4.
Because of that, it's hard to see inflation (as measured by core PCE that the Fed tracks) going down significantly before the later parts of this year.
Which means Powell will keep on hiking.
Voters stop caring about inflation (or elections are over)
I don't think the voters are going to stop caring about inflation any time soon.
You can argue this will no longer be an issue after the midterm elections in Nov 2022.
Maybe, but that still leaves us from now till Nov 2022, which is a long way to go.
Markets break
Either:
S&P500 drops 20 – 30%, or
Treasury markets stop functioning properly (like late 2019 or March 2020)
Every time the Feds take the markets off QE, something usually breaks.
The markets are like a drug addict these days, no longer able to function properly without monetary stimulus.
In 2019 it was the repo crisis, in March 2020 the treasury markets stopped functioning.
If something breaks again, I think the Feds will be forced to reverse course, just like they did in Dec 2018.
In fact I think this is the most likely outcome of the rate hikes.
So FH… you're telling me the Feds are going to hike until the markets break
Pretty much, essentially.
The Feds will tighten monetary policy until (1) inflation goes away or (2) markets break.
Inflation (measured via core PCE which the Feds look at) is unlikely to budge in the short term.
Which means that the Feds are basically going to hike until the markets break.
What is the opportunity cost if I am wrong?
There are 2 ways a stock price can go up: (1) earnings growth, (2) multiples expansion.
For those familiar with Price to Earnings, (1) is the E going up, (2) is the P/E going up.
In a year when the Feds are tightening monetary policy, it's hard to see multiples expansion, so (2) is out.
Which leaves earnings growth.
And my personal view is that earnings growth will peak in Q1 2022 because:
Rising inflation is hitting profit margins due to higher costs
2021 is a strong year for earnings which makes the year on year comparisons hard to beat
Fiscal stimulus and credit growth peaked in 2021, which will hit the economy in 2022
So even if I am wrong and the economy is strong enough to take the rate hikes, I frankly don't see stocks going up all that much this year because of (1) limited multiples expansion and (2) muted earnings growth.
BTW – we share commentary on Singapore Investments every week, so do join our Telegram Channel (or Telegram Group), Facebook and Instagram to stay up to date!
Just created a Discord server where I collate analyst reports and investing resources that I come across in my research. Hit us up here if you're keen.
Don't forget to sign up for our free weekly newsletter too!
[mc4wp_form id="173″]
Could I be wrong?
Let's stress test with some counterarguments:
Feds will chicken out before they hike
Same thing happened in early 2021, but nothing happened
Already priced in – market is now anticipating rate cuts
Economy is strong enough to absorb the hikes
Feds will chicken out before they hike
This one I plain disagree.
If you read Powell's latest speeches, it's quite clear that he is serious about fighting inflation this year. A lot of Fed members have come out to say the same as well.
In fact the latest minutes suggest that the Feds are looking at quantitative tightening (balance sheet run off) quite soon after the first rate hike, and at a significantly higher pace than in 2018.
Quantitative tightening is big news because it's literally the opposite of Quantitative easing. With QE you're pumping money into the system. With QT you're taking money out of the system. It's a deflationary event.
In 2018 the highest pace we ever got was $50 billion of QT each month. Bigger than that is quite a scary thought.
So I actually think that investors may be surprised by how quick QT could run this year.
It makes sense too – if the Feds are going to hike 4 times this year, they need to implement QT to bring the long end up, to prevent yield curve inversion.
Same thing happened in early 2021, but nothing happened
Remember when the market was freaking out over rising rates in 2021?
And then absolutely nothing happened after that?
Well, I think the key difference this year is that (1) the Feds are actually going to hike, and (2) corporate earnings are starting to peak.
Whereas in 2021 you had very strong earnings growth, and a very supportive Fed.
So yeah… I think this year is different.
Economy is strong enough to absorb the hikes / Already priced in – market is now anticipating rate cuts
This is probably the most convincing argument.
That after the huge plunge in growth stocks the past 2 months, rate hikes are already priced in at this point. And that the economy is strong enough to absorb the rate hikes.
And I agree this is possible.
What I would say though, is that in this scenario, where is the upside going to come from?
If the market never crashes, the Feds have no reason to stop hiking.
And if the Feds don't stop hiking, how are stocks going to go up materially from here?
Without multiple expansion, it's just earnings growth.
How much can earnings grow in a climate with inflation pressuring costs, and the Feds hiking 4 times in a year?
High frequency indicators are already starting to show weakness, here's US retail sales: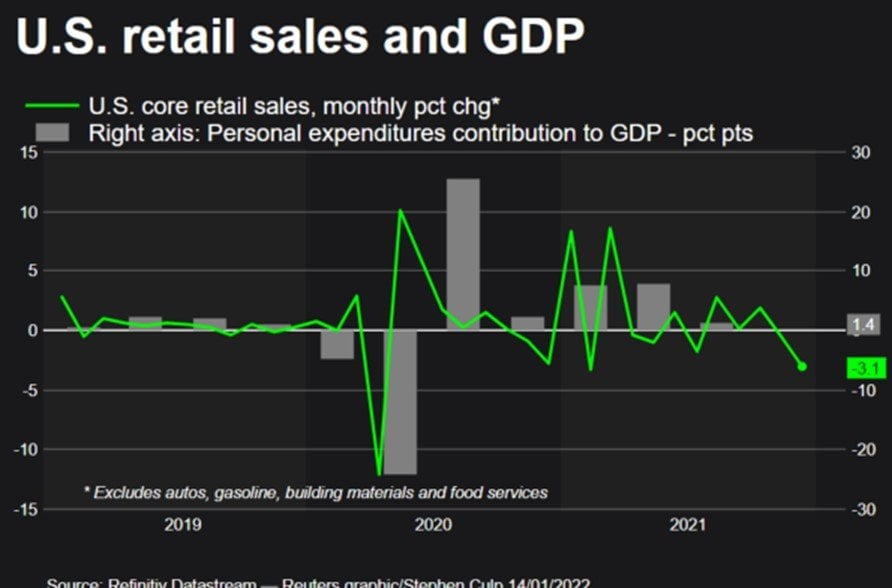 So I definitely could be wrong here. But at least if I am wrong, the opportunity cost should not be massive.
How am I positioning?
For my personal portfolio, I've already started taking profits in some positions late last year.
Those I continue to hold today are mostly positions I want to hold long term.
That said if we get any strong rallies into late Q1 or early Q2 I may use the opportunity to derisk further.
I've also significantly dialled back on my rate of purchases since Q3 2021 (as shared here).
This has increased my dry powder quite significantly, that I will likely deploy in 2022.
What will I buy in 2022?
Like I shared in a previous article, I plan to be buying REITs heavily this year on any interest rate sell-off.
Long term secular growth tech positions will be a good buy at some point too.
At some point in 2022, I will also take profit in my DBS and UOB positions.
I'm up 60-70% on them, and I don't think high interest rates will last forever.
For those who are keen, you can view my full personal portfolio and stock watch, with weekly updates on my trades on Patreon.
When to buy? Better late than early?
The key event to me is when Powell decides to pivot away from hawkish monetary policy.
That's probably the time I buy interest rate sensitive stocks like REITs and tech, and sell my banks.
And this time around, I would much rather be late than early.
Sure I may not buy the bottom, but at least I don't catch a falling knife.
Because of how big markets are, if Powell changes his mind it's not like the S&P500 will jump 20% overnight anyway.
Remember – stocks take the stairs up, and the elevator down.
There will be time to buy on the way up.
Do support FH on Patreon for more in depth and timely positioning updates.
Closing Thoughts: Everyone has a plan… until they get punched in the mouth
So there you have it. My high level game plan for 2022.
But much as we can plan and theorycraft, it would be wise not to forget the eternal words of Mike Tyson:
I think this is going to be one of those years.
While we still need to plan, it will also be wise to keep a close eye on how the markets play out, and how Powell responds.
Flexibility, and being quick to respond, might just be the name of the game this year.
I know not everybody wants to run such an active portfolio.
If you're one of those, I would say tilt towards value stocks / FAANG style stocks, which should be less volatile in 2022. And watch your risk exposure to ensure that you can sit through a 20% drawdown.
I do want to caveat that this discussion above is looking at the indexes broadly.
Some sectors like banks or oil or FAANG could still continue to do well despite a declining broader environment.
Individual stocks can still continue to outperform too if the company executes well.
Love to hear what you think though! How are you positioning for 2022?
As always, this article is written on 15 Jan 2022 and will not be updated going forward. Latest thoughts (and my stock watch and personal portfolio) are available on Patron.
---
Looking to buy Bitcoin, Ethereum, or Crypto?
Check out our guide to the best Crypto Exchange here.
Looking for a low cost broker to buy US, China or Singapore stocks?
Get 1 free Apple share (worth $230) you're new to MooMoo and fund $2700.
Get a Free Apple stock (worth S$230) when you open a new account with Tiger Brokers and fund $2000.
Special account opening bonus for Saxo Brokers too (drop email to [email protected] for full steps).
Or Interactive Brokers for competitive FX and commissions.
---
Do like and follow our Facebook and Instagram, or join the Telegram Channel. Never miss another post from Financial Horse!
Looking for a comprehensive guide to investing that covers stocks, REITs, bonds, CPF and asset allocation? Check out the FH Complete Guide to Investing.
Or if you're a more advanced investor, check out the REITs Investing Masterclass, which goes in-depth into REITs investing – everything from how much REITs to own, which economic conditions to buy REITs, how to pick REITs etc.
Want to learn everything there is to know about stocks? Check out our Stocks Masterclass – learn how to pick growth and dividend stocks, how to position size, when to buy stocks, how to use options to supercharge returns, and more!
All are THE best quality investment courses available to Singapore investors out there!