We had quite a few notable results in the fixed income world yesterday that I thought was worth writing on quickly.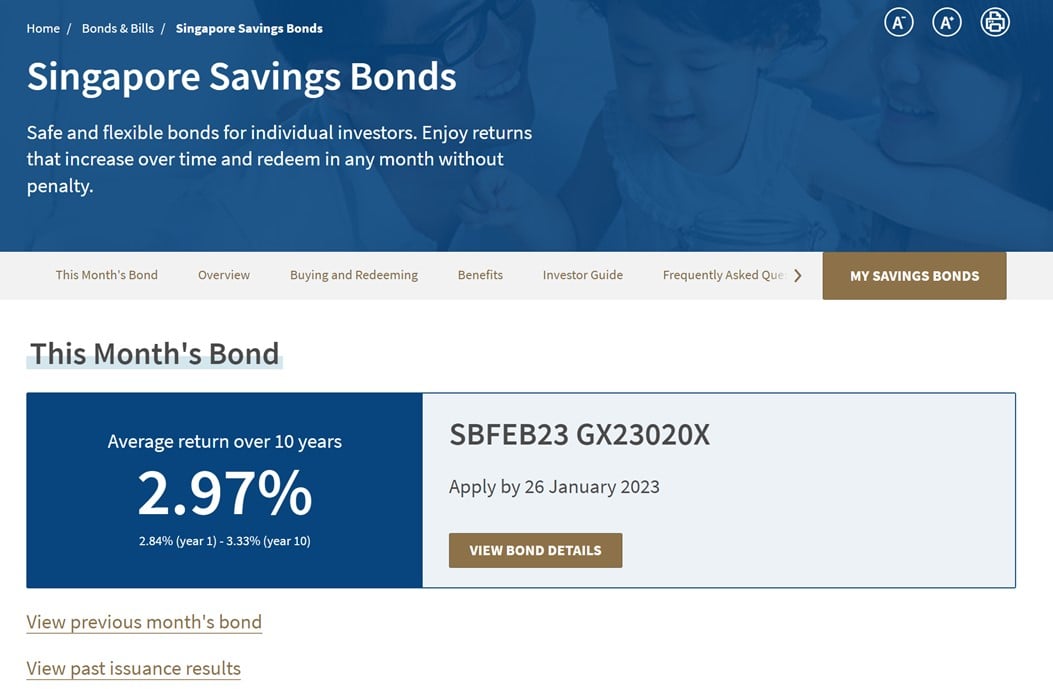 Singapore Savings Bonds massively undersubscribed – Full $200,000 allotment!
The first is the Singapore Savings Bonds allotment results.
$700 million of Singapore Savings Bonds were on offer.
Receiving only $477 million in applications.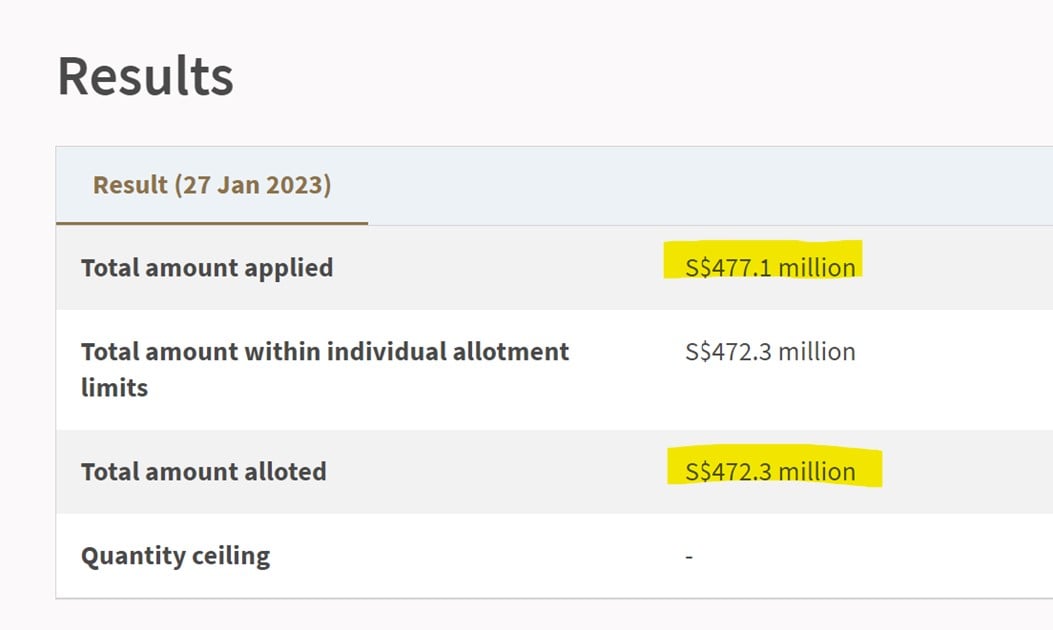 This was massively undersubscribed – so anyone who applied would get full allotment up to their individual maximum of $200,000.
Remember how a few months back everyone was worried that at $9000 allotment a month it would take years to max out your full $200,000 Singapore Savings Bonds allotment?
Well jokes on you – because half a year later and we're getting full $200,000 allotment on Singapore Savings Bonds in 1 month.
If anything, this should be a lesson on how quickly things can change in markets.
One moment everybody is dying to buy Singapore Savings Bonds, literally before you know it and nobody wants Singapore Savings Bonds again.
I bought quite large amounts of Singapore Savings Bonds
For what it's worth, I actually bought quite meaningful amounts of Singapore Savings Bonds this time around.
As shared previously, I'm still holding to quite a bit of 2019 Singapore Savings bonds paying me 2% yields.
So it was pretty much a no brainer to redeem them and flip them into the February Singapore Savings Bonds – which pay 2.84% for the first 6 years.
Why not buy T-Bills or Fixed Deposit?
Yes, yes, I know that T-Bills and Fixed deposit have 4% plus interest rates.
But I still bought the Singapore Savings Bonds because:
(1) they have liquidity – I can get the money back very quickly with accrued interest and no penalty.
And (2) – they give the optionality to hold up to 10 years.
You know, just in case I am completely wrong about the interest rate outlook and they get cut to zero in 2023.
The very optionality alone is worth something.
And unlike with 10 year SGS (Singapore Government Security) bonds, you don't take on any duration risk with Singapore Savings Bonds.
If you buy a 10 year SGS and interest rates go up, you will suffer capital losses on your bonds (price trades inversely to yield).
You don't have these problem with Singapore Savings Bonds, they can be redeemed any time from the government with no capital loss.
10 year Singapore Government Security Auction closes at 2.86%
Talking about 10 year SGS.
We just had a 10 year SGS auction close on 27 Jan 2023.
And the yields came in at 2.86%
I suppose it's not unexpected given that the 10 year is trading at 2.8ish these days (so this result is generally in line with market pricing).
But it's still a shock when you see the 10 year yields going down so sharply.
BTW – we share commentary on Singapore Investments every week, so do join our Telegram Channel (or Telegram Group), Facebook and Instagram to stay up to date!

I also share great tips on Twitter.
Don't forget to sign up for our free weekly newsletter too!
[mc4wp_form id="173″]
This will not end well…
I shared detailed macro views in the macro piece earlier.
But the long and short – is that I don't think this will end well.
The sharp easing in financial conditions is coming right as inflation is starting to come off its peak.
If left unchecked, it could result in a meaningful recovery in economic growth – and inflation.
Which could require a further round of tightening down the road.
The Feds are going to have a very tricky time at next week's FOMC.
Especially since the market is already pricing in close to 100% certainty they will only raise by 0.25% and not 0.5%.
The messaging from them is going to be crucial.
This is a market that is starting to fully price in a soft landing. How do you convince them that you will still do what it takes to fight inflation, and not be cutting rates in the second half of 2023.
Boy, I do not envy Jerome Powell at all.
As always, this article is written on 28 Jan 2023 and will not be updated going forward.
If you are keen, my full REIT and stock watchlist (with price targets) is available on Patreon. You can access my full personal portfolio to check out how I am positioned as well.
Trust Bank Account (Partnership between Standard Chartered and NTUC)
Sign up for a Trust Bank Account and get:
$35 NTUC voucher
1.5% base interest on your first $75,000 (up to 2.5%)
Whole bunch of freebies
 Fully SDIC insured as well.
It's worth it in my view, a lot of freebies for very little effort.
Full review here, or use Promo Code N0D61KGY when you sign up to get the vouchers!
WeBull Account – Free USD150 ($212) cash voucher
I did a review on WeBull and I really like this brokerage – Free US Stock, Options and ETF trading, in a very easy to use platform.
I use it for my own trades in fact.
They're running a promo now with a free USD 150 (S$212) cash voucher.
You just need to:
Sign up here and fund S$2000
Make 1 US Stock or ETF trade (you get USD100)
Make 1 Options trade (you get USD50)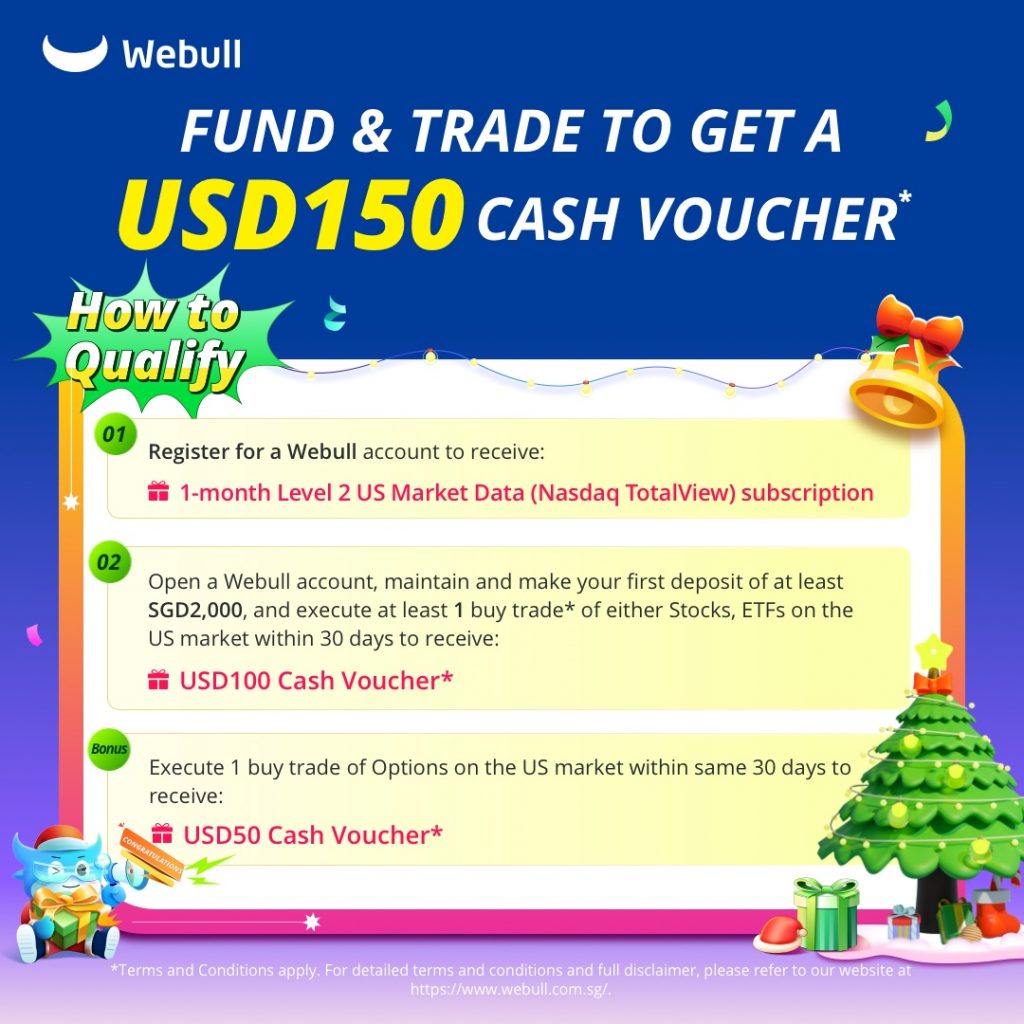 Looking for a low cost broker to buy US, China or Singapore stocks?
Get a free stock and commission free trading Webull.
Get a free stock and commission free trading with MooMoo.
Get a free stock and commission free trading with Tiger Brokers.
Special account opening bonus for Saxo Brokers too (drop email to [email protected] for full steps).
Or Interactive Brokers for competitive FX and commissions.
Do like and follow our Facebook and Instagram, or join the Telegram Channel. Never miss another post from Financial Horse!
Looking for a comprehensive guide to investing that covers stocks, REITs, bonds, CPF and asset allocation? Check out the FH Complete Guide to Investing.
Or if you're a more advanced investor, check out the REITs Investing Masterclass, which goes in-depth into REITs investing – everything from how much REITs to own, which economic conditions to buy REITs, how to pick REITs etc.
Want to learn everything there is to know about stocks? Check out our Stocks Masterclass – learn how to pick growth and dividend stocks, how to position size, when to buy stocks, how to use options to supercharge returns, and more!
All are THE best quality investment courses available to Singapore investors out there!