The next 6-month T-Bills auction is on 3 August 2023 (Thursday).
If you've been following interest rates, you'll notice that US interest rates have gone up the past few days.
The 1-year T-Bills also came in stronger than expected at 3.74% (vs 3.66% on the open market the day prior to auction).
If this holds, we might see T-Bills yields start to pick up again.
Let's discuss 2 key questions:
What is the estimated yield for the 6-month T-Bills?
Are the T-Bills worth buying – for cash or CPF-OA buyers?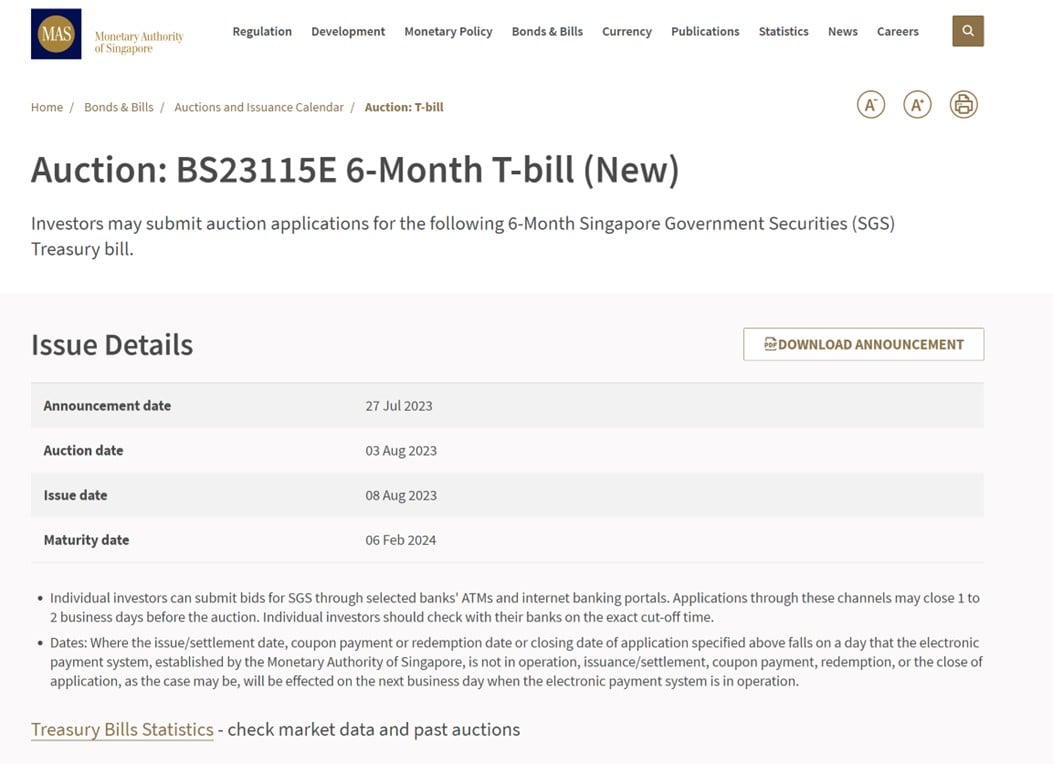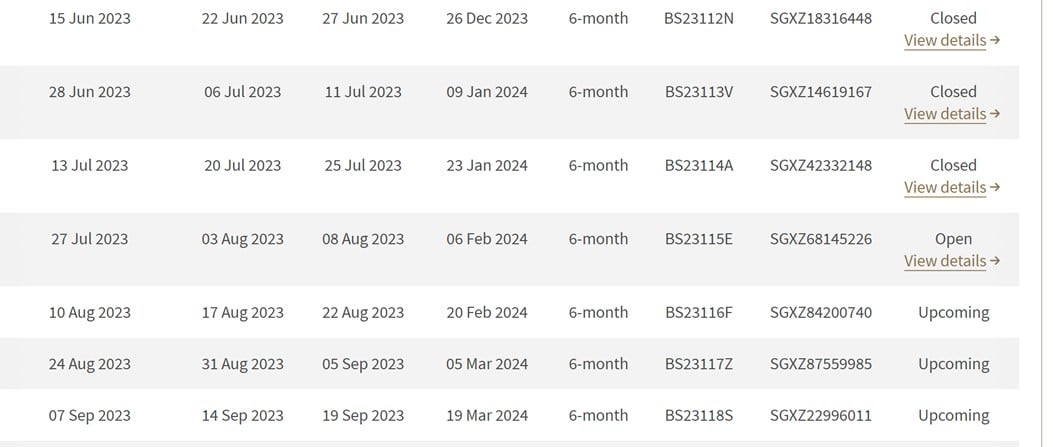 What is the estimated yield for the 6 month T-Bills? (3 August 2023 Auction)
6-month T-Bills trade at 3.86%
T-Bills trade at 3.86% on the open market.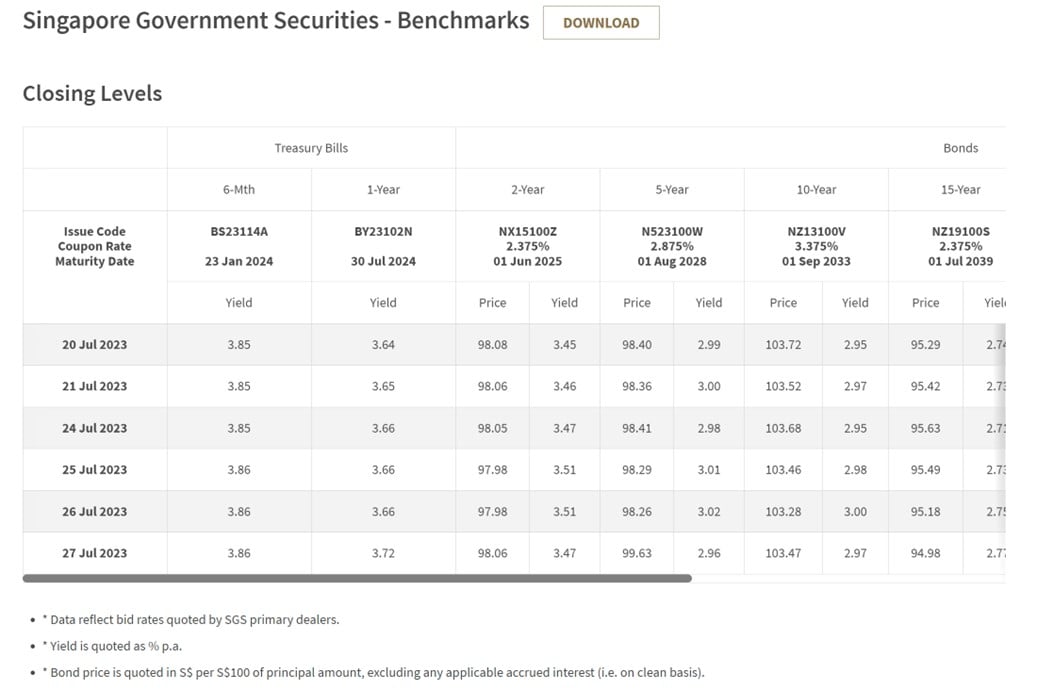 12-week MAS Bills trade at 4.12%
While the institutional only 12-week MAS Bills trades at 4.12%.
This gives you an idea of where T-Bills yields would be without retail investor demand.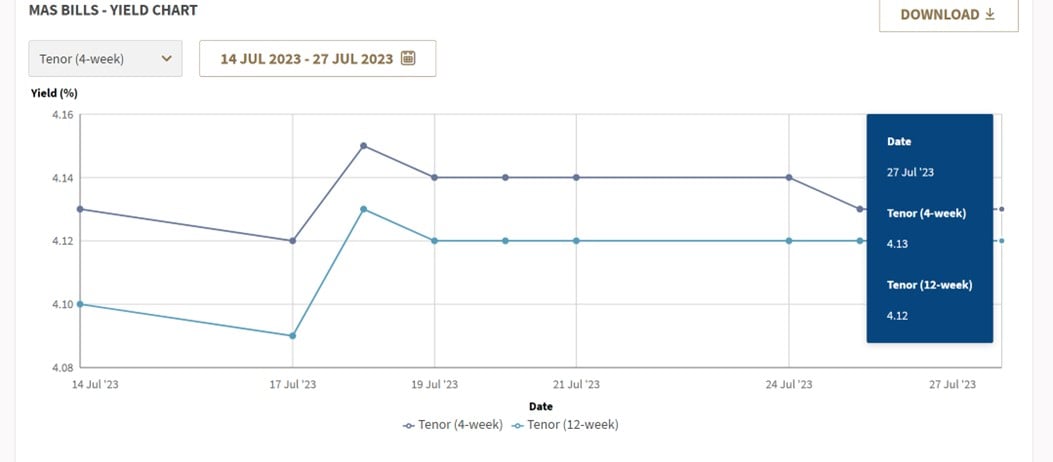 Interest rates seem to have recovered of late
US interest rates have picked up of late though.
After the dip earlier this month (on optimism that inflation is coming down), markets have become a bit more realistic of late.
So there has been an uptrend in US interest rates the past week or two.
Notably – the US 10 Year broke 4% again this week, on news that the Bank of Japan might be abandoning yield curve control.
So this is good for T-Bills interest rates (less so for stocks).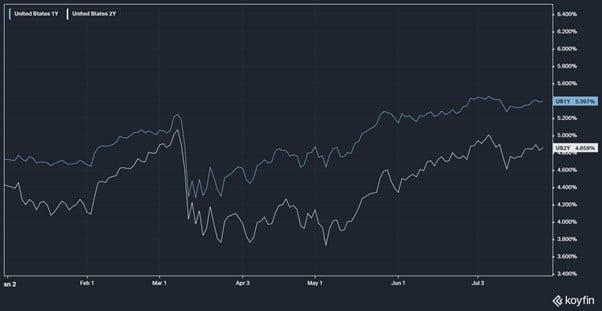 The recent 1 year T-Bills auction came in quite strong as well.
Cut-off yield was 3.74%, vs 3.66% on the open market.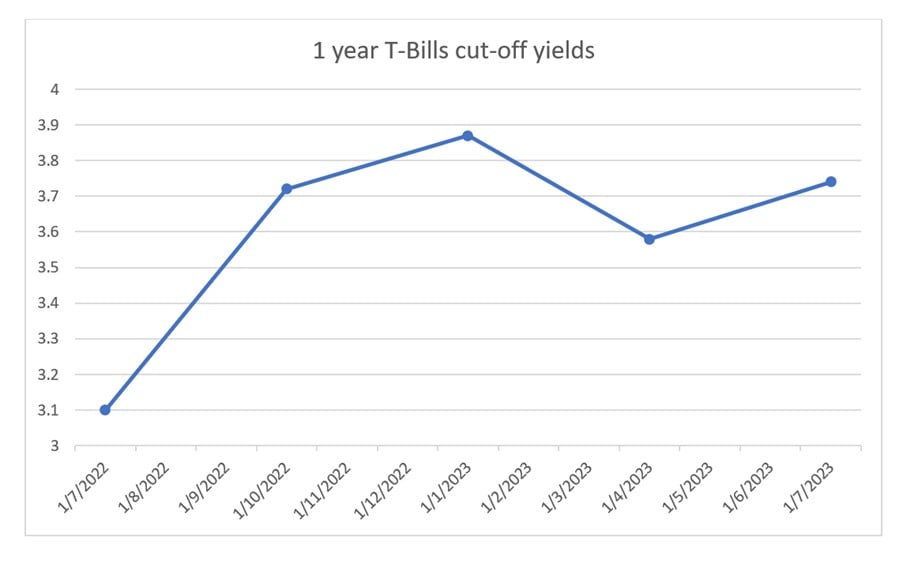 The most recent 6-month T-Bills auction didn't do so well though, with yields coming down to 3.85% (vs 3.99% the previous auction).
That was in early July though, and it seems that things have changed the past week or two.
Demand for T-Bills is the Wildcard
The wildcard is always demand.
Investor demand for the most recent 6 month T-Bills auction jumped 18%, which partly explained the decline in yields.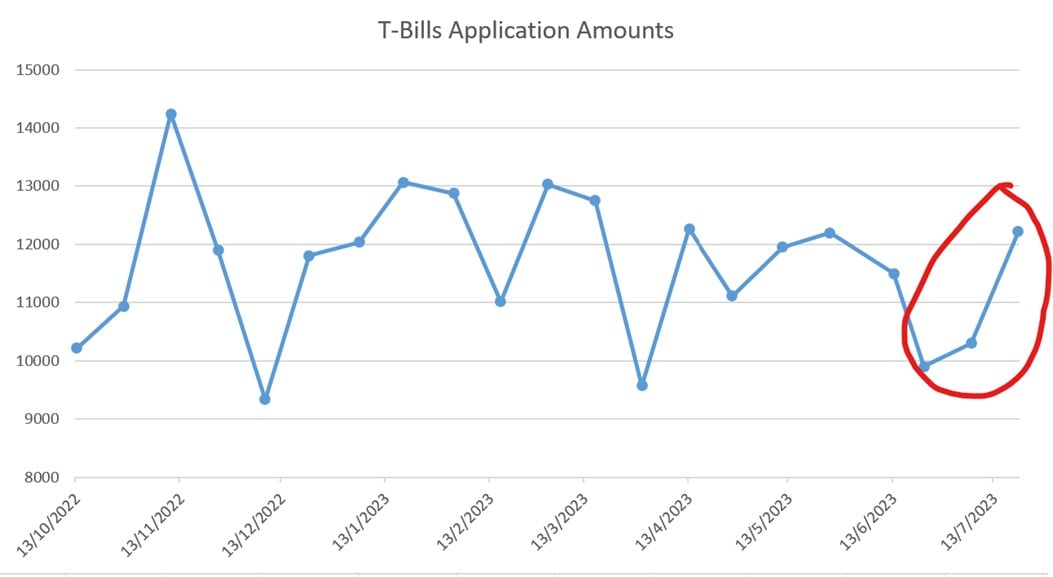 Yet the 1 year T-Bills didn't do so well.
With demand coming in 26% below the previous auction.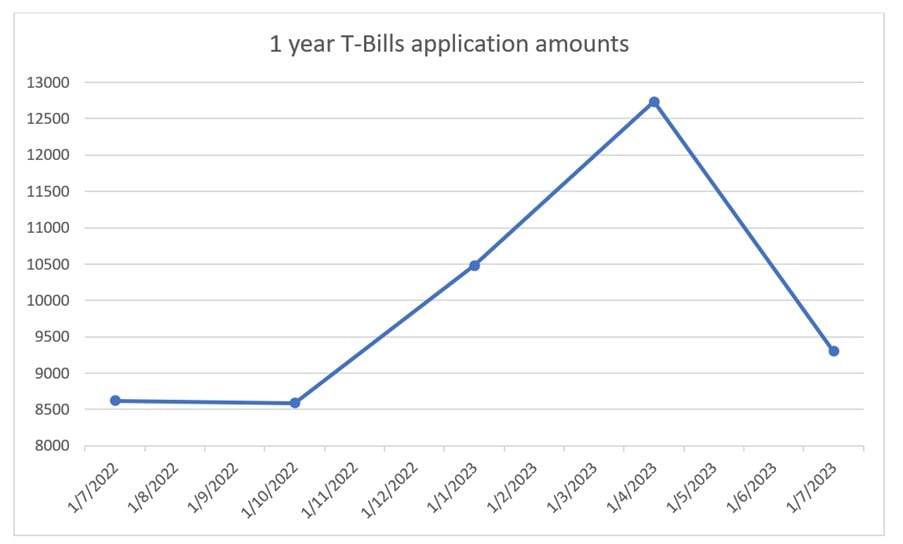 How strong will investor demand for the next T-Bills auction be?
Always a wildcard.
Interest Rate Outlook? After the Fed rate hike?
It's probably worth talking about the interest rate outlook given that we just had an FOMC this week (where the Feds raised rates).
Here's what market is pricing in today.
About a 30% chance of another rate hike from here.
With interest rate cuts to begin in Q2 2024.
And up to 5 interest rate cuts in 2024.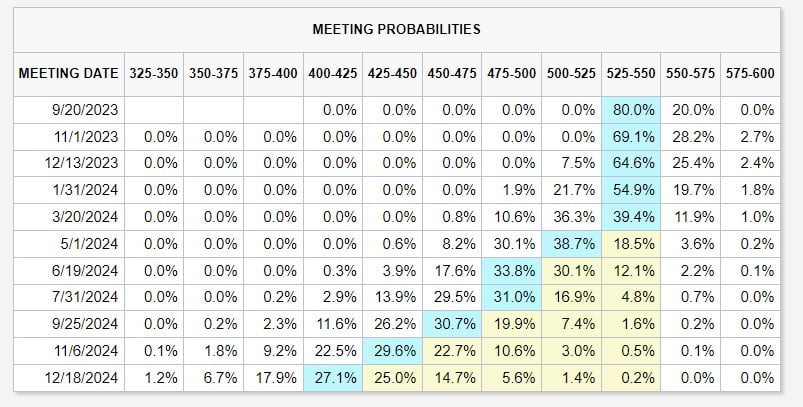 As shared in yesterday's article, I do have my doubts over whether this will happen unless we get a recession.
But for T-Bills purposes it doesn't really matter all that much – because the market is pricing in interest rates to stay flat for the next 6 months.
Estimated yield of 3.85% – 3.95% on the T-Bills auction? (3 August 2023)
Put all of the above together, and I probably going to go with an estimated yield of 3.85% – 3.95%.
I think the uptick in US interest rates of late may drive up the T-Bills yields.
But if you are bidding, do take a look at market conditions the day before the auction just to confirm before putting in your bid.
As always, I encourage investors to put in a competitive bid, just to avoid any freak results.
And you usually want to bid as close to the auction as possible to minimise the opportunity cost of the cash, and so you can take into account all information available to you.
Are the T-Bills a good buy – for cash or CPF-OA buyers?
Whether the T-Bills are a good buy will depend on whether you're buying using cash or CPF-OA.
Let's discuss each individually.
BTW – we share commentary on Singapore Investments every week, so do join our Telegram Channel (or Telegram Group), Facebook and Instagram to stay up to date!

I also share great tips on Twitter.
Don't forget to sign up for our free weekly newsletter too!
Cash Buyers – Are the T-Bills a good buy?
What are the alternatives for cash buyers, if you don't want to buy T-Bills?
Alternatives for cash buyers?
GXS Bank – 3.48% on cash
I just wrote about GXS Bank last week which I think is very attractive.
You're getting paid 3.48% on cash, on up to $75,000.
With no minimum deposit, and no lockup period.
And no hoops to jump through.
You just put money in, it earns 3.48% pa accrued daily.
And you can take it out anytime.
I think it's a fantastic deal, and a very strong alternative to T-Bills or Fixed Deposits or Singapore Savings Bonds.
Yes yields are not as high, and GXS may decide to cut interest rates down the road.
But as long as it lasts, it's a very good deal.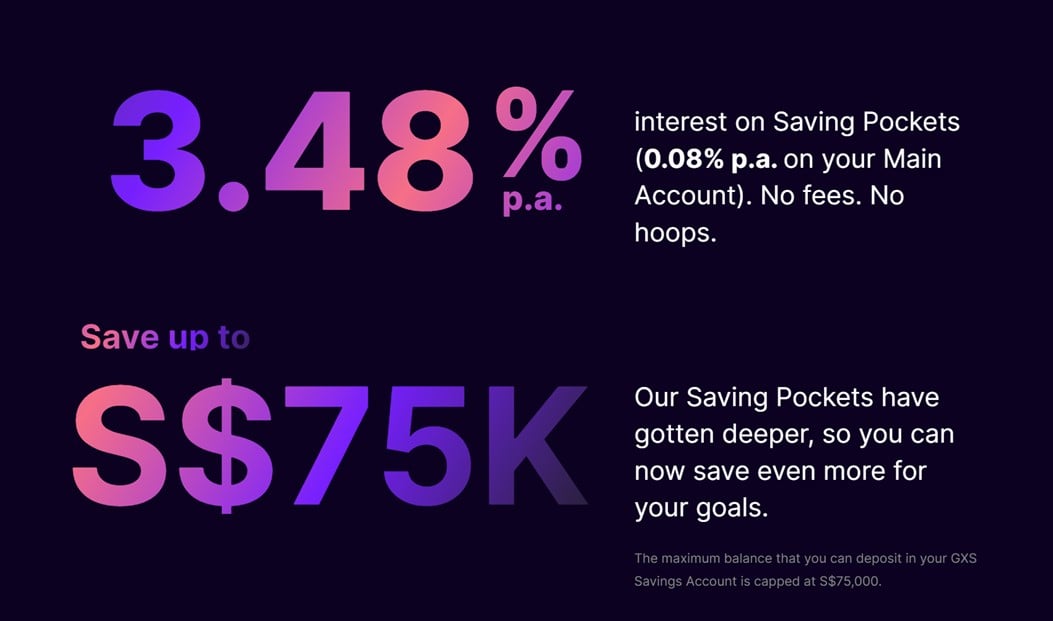 Unfortunately signups have closed due to the overwhelming response, and you can only get on a waitlist now.
For those who managed to get an account though, it's a very good place to park liquid cash.
If you don't have an account, it's probably joining the waitlist for when they open to sign ups again.
Maybank Fixed Deposit – 3.5%ish blended
Alternatively you can use the Maybank Fixed Deposit which pays 3.90% for a 12 month deposit.
Do note that you do need to deposit $1,000 for every $10,000 in fixed deposit.
This brings the blended yield down to about 3.5%-ish, which is in line with other banks like ICBC or BOC.
This makes T-Bills quite an attractive alternative to Fixed Deposits, simply because of the higher interest rates.
Singapore Savings Bonds yield 2.97%
Latest Singapore Savings Bonds yield 2.97% all the way up to 7 years.
The benefit with Singapore Savings Bonds is that you're locking in interest rates up to 10 years, and can get your money back any time (money comes back the next month).
With T-Bills you get a higher interest rate for now, but you only lock in rates for 6 months, and you cant get the money back easily before maturity.

I think 6-month T-Bills are a good place to park cash
All in, I think 6-month T-Bills are a pretty good place to park cash currently.
Yields at the 3.8 – 3.9% range are comfortably above alternatives like fixed deposits.
You do lose the liquidity though as it's not easy to get the money back before maturity.
So only put in money you don't need for the next 6 months.
T-Bills a good buy for CPF-OA buyers?
The auction date for this T-Bills is 3 August 2023, which makes it just perfect for CPF-OA buyers in minimising lost CPF-OA interest.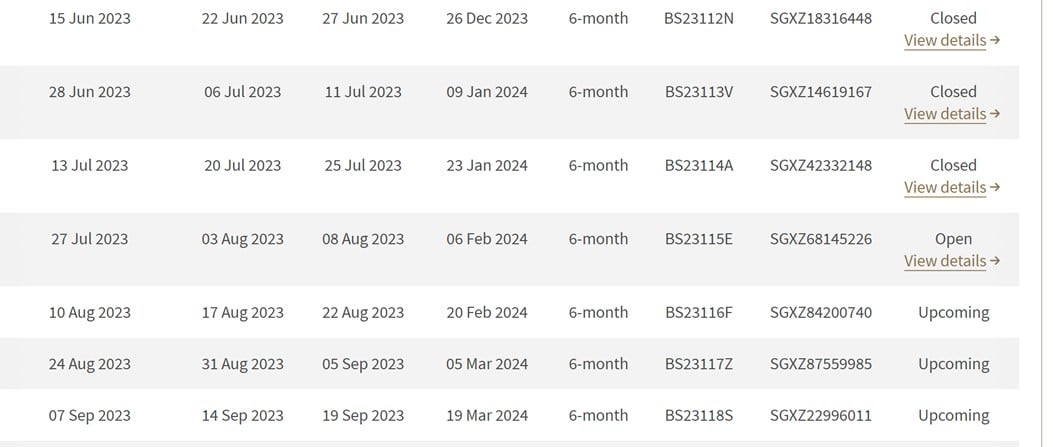 I've run the numbers below.
Assuming T-Bills at 3.85%, you're earning an extra $486 interest on $100,000, vs just putting the money in CPF-OA.
That's a 33% increase in the interest, and worth the time in my view if you don't need to use the CPF-OA funds.
Timeline for the 3 August 2023 T-Bills
Auction for the T-Bills is on 3 August 2023.
Cash buyers will want to get their application in by 9pm on 2 August.
CPF-OA buyers will want to get it done by 1 August.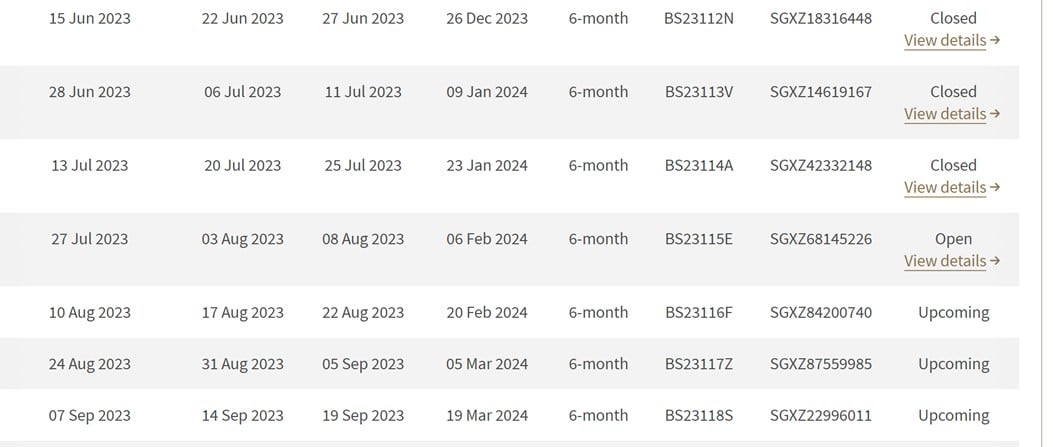 This article was written on 28 July 2023 and will not be updated going forward. For my latest up to date views on markets, my personal REIT and Stock Watchlist, and my personal portfolio positioning, do sign up as a Patreon.
WeBull Account – Get up to USD 800 worth of shares (expires 31 July)
I did a review on WeBull and I really like this brokerage – Free US Stock, Options and ETF trading, in a very easy to use platform.
I use it for my own trades in fact.
They're running a promo now with up to USD 500 free fractional shares.
You just need to:
Sign up here and fund $300 SGD
Execute 1 buy trade within 30 days of funding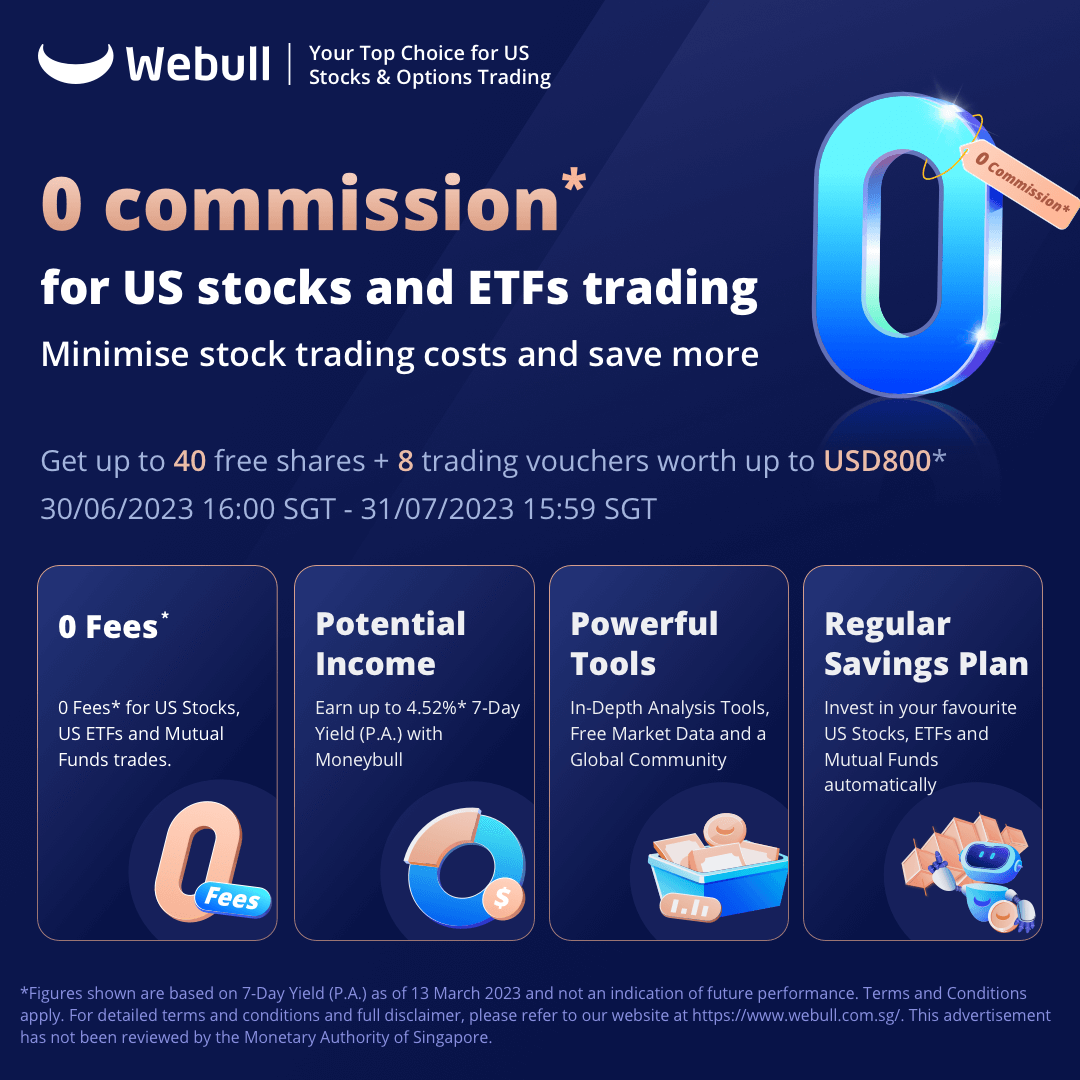 Trust Bank Account (Partnership between Standard Chartered and NTUC)
Sign up for a Trust Bank Account and get:
$35 NTUC voucher
1.5% base interest on your first $75,000 (up to 2.5%)
Whole bunch of freebies
 Fully SDIC insured as well.
It's worth it in my view, a lot of freebies for very little effort.
Full review here, or use Promo Code N0D61KGY when you sign up to get the vouchers!
Portfolio tracker to track your Singapore dividend stocks?
I use StocksCafe to track my portfolio and dividend stocks. Check out my full review on StocksCafe.
Low cost broker to buy US, China or Singapore stocks?
Get a free stock and commission free trading Webull.
Get a free stock and commission free trading with MooMoo.
Get a free stock and commission free trading with Tiger Brokers.
Special account opening bonus for Saxo Brokers too (drop email to [email protected] for full steps).
Or Interactive Brokers for competitive FX and commissions.
Check out my personal recommendations for a reading list here.