Latest auction results for the 6 month T-Bills (BS23112N) are out!
Cut-off yields jumped to 3.89% (from 3.84% the previous auction).
But look under the surface and you'll find that investor demand for T-Bills is dropping.
This is interesting enough that I wanted to do a quick piece on it.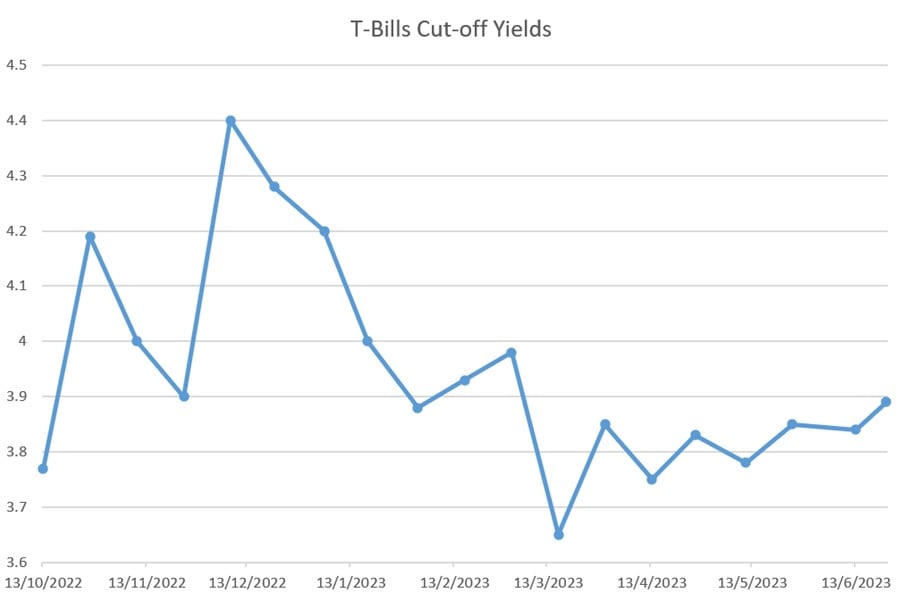 6 month T-Bills Auction Results (22 June 2023)
In my weekend article I estimated a range of 3.80 – 3.90% for this round of 6 month T-Bills.
With the final cut-off yield coming in at 3.89%, that's definitely on the higher end of this range.
You can see this plotted in graph form below.
Since March 2023 after the failure of Silicon Valley Bank, T-Bills yields have settled into a range around 3.75 – 3.85%.
The latest T-Bills auction looks to be breaking out from this range.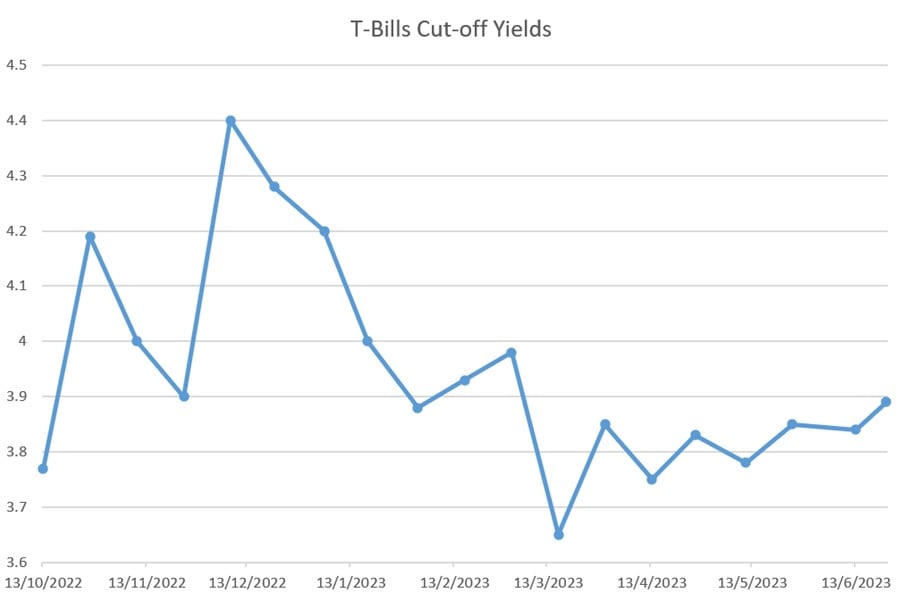 Why did T-Bills yields go up? Investor demand for T-Bills going down?
Why is this the case though?
Why are T-Bills yields going up?
If you look at the amounts applied, they are actually going down.
$11.5 billion the previous auction, to $9.9 billion this auction.
That's a 14% drop vs the previous auction, and a 19% drop from the auction before that.
In fact the $9.9 billion in applications for the latest auction is one of the lowest application amounts in the past 6 months.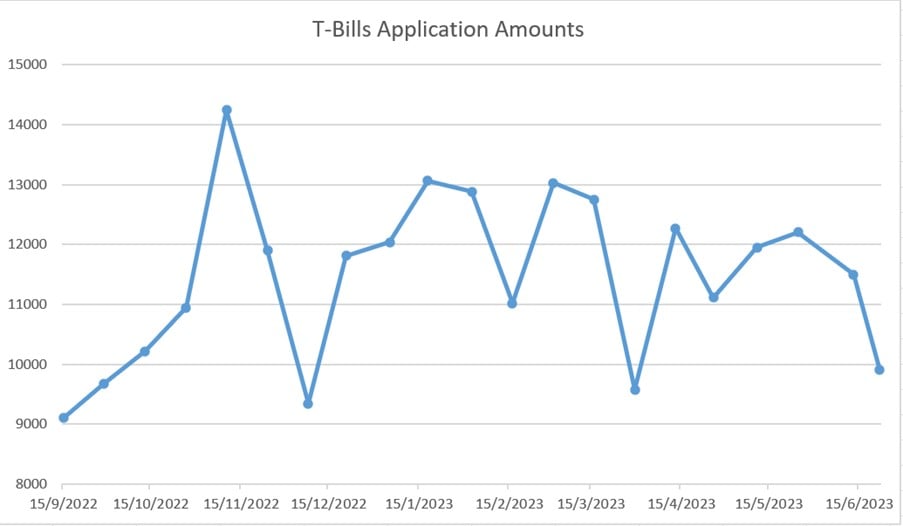 T-Bills are now much more attractive than Fixed Deposits – so why is demand going down?
This is especially interesting when you realise that the banks have been slashing their fixed deposit rates.
UOB and OCBC have slashed their fixed deposit rates to 2.70%, which is a whopping 1.19% below the latest T-Bills interest rates.
Even when compared against the best fixed deposit rates (yielding 3.55%), T-Bills at 3.89% offer a comfortably higher yield than Fixed Deposits.
Why T-Bills demand continues to drop in light of this is anyone's guess.
But some potential reasons I can come up with are:
Investors fearing rapid interest rate cuts are buying instruments to lock in interest rates for longer (for eg. a 3 – 5 year bond instead)
With the calming of capital markets investors are deploying cash into other parts of the markets instead for higher returns
Some of you may point to demand from CPF-OA bidders being terrible for this auction because the issue date is so close to the end of the month.
But if you look at the auction results for some of the previous T-Bills (with issue dates at the end of the month), you'll find that this doesn't really seem to impact the application amounts that much.
So my best guess is that investors are indeed deploying cash elsewhere (instead of T-Bills), but frankly your guess is as good as mine here.
If this holds true we may continue to see more attractive T-Bills interest rates going forward.
I personally applied for this round of T-Bills using cash from maturing Fixed Deposits, so I'm not complaining.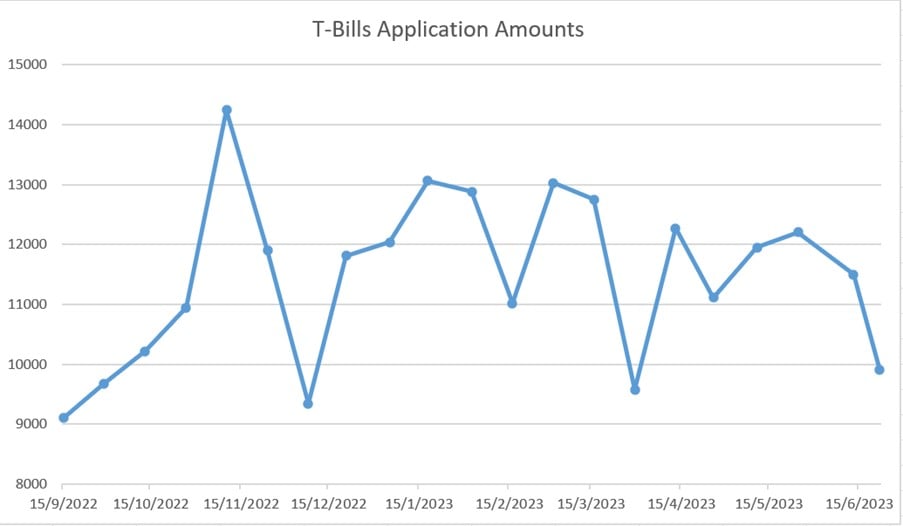 What does this mean for bidders who applied for T-Bills?
I'm still getting some questions on how do you know if you will get a T-Bills allotment, and how much will you get.
Generally speaking:
If you applied non-competitive you will get full allotment of T-Bills.
If you applied competitive, then:
You get full allotment if you applied below 3.89%
You get 74% allotment if you applied 3.89%
You get no allotment if you applied above 3.89%
Do note the actual issue date for the T-Bills is 27 June 2023, but even after that it may take some time to show up on your CDP statement.
BTW – we share commentary on Singapore Investments every week, so do join our Telegram Channel (or Telegram Group), Facebook and Instagram to stay up to date!

I also share great tips on Twitter.
Don't forget to sign up for our free weekly newsletter too!
WeBull Account – Get up to USD 500 worth of fractional shares (expires 30 June)
I did a review on WeBull and I really like this brokerage – Free US Stock, Options and ETF trading, in a very easy to use platform.
I use it for my own trades in fact.
They're running a promo now with up to USD 500 free fractional shares.
You just need to:
Sign up here and fund $100 SGD
Maintain for 30 days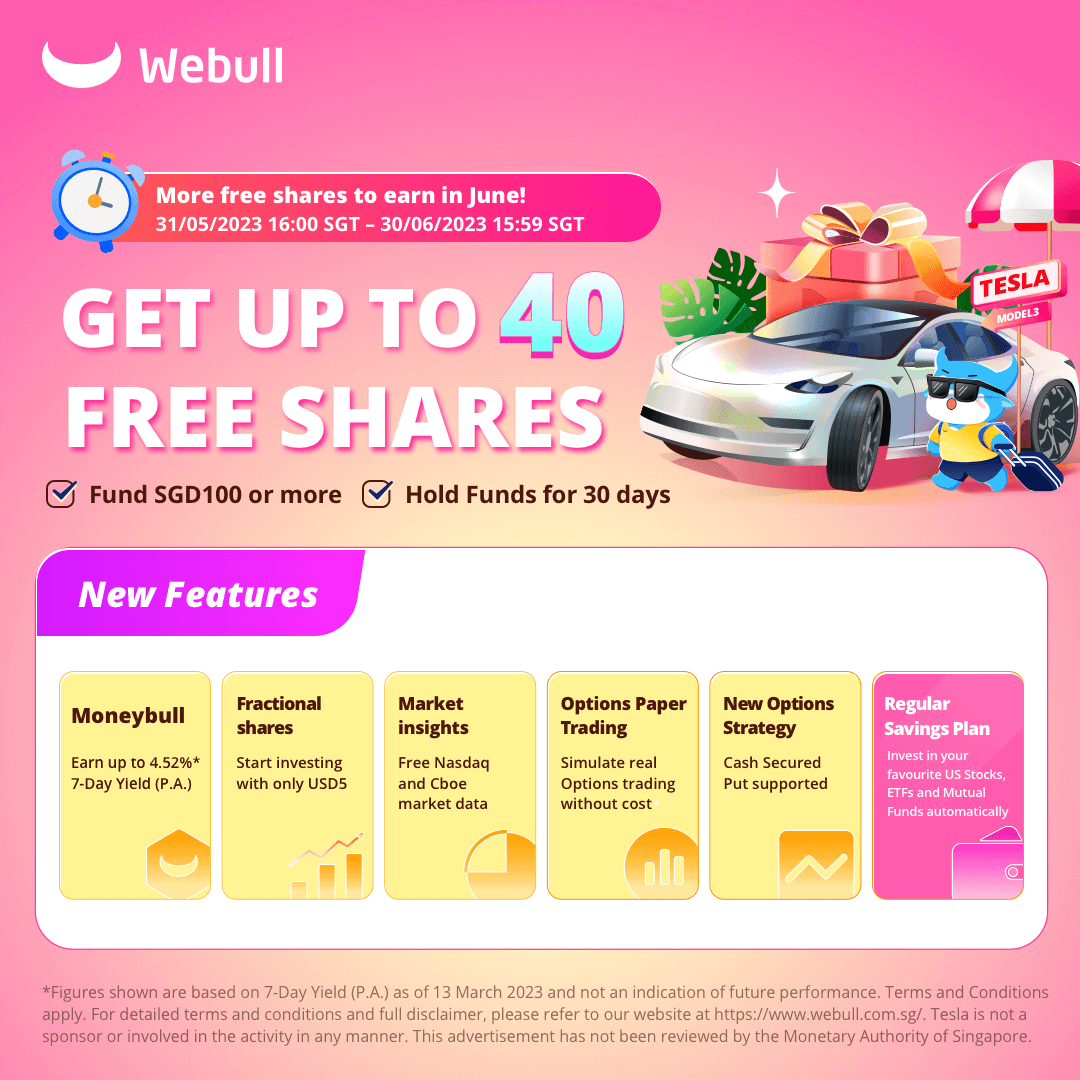 Trust Bank Account (Partnership between Standard Chartered and NTUC)
Sign up for a Trust Bank Account and get:
$35 NTUC voucher
1.5% base interest on your first $75,000 (up to 2.5%)
Whole bunch of freebies
 Fully SDIC insured as well.
It's worth it in my view, a lot of freebies for very little effort.
Full review here, or use Promo Code N0D61KGY when you sign up to get the vouchers!
Portfolio tracker to track your Singapore dividend stocks?
I use StocksCafe to track my portfolio and dividend stocks. Check out my full review on StocksCafe.
Low cost broker to buy US, China or Singapore stocks?
Get a free stock and commission free trading Webull.
Get a free stock and commission free trading with MooMoo.
Get a free stock and commission free trading with Tiger Brokers.
Special account opening bonus for Saxo Brokers too (drop email to [email protected] for full steps).
Or Interactive Brokers for competitive FX and commissions.
Check out my personal recommendations for a reading list here.