As Patreons will know, I have been accumulating REIT positions of late.
Given that we are getting close to peak interest rates.
And given that economic growth (and inflation) is likely to slow further in the next few quarters.
The headwinds for REITs today are no longer as pronounced as they were in 2022.
To the point where you can start thinking about playing the reversal in interest rates.
Of course, that's not to say that REITs have bottomed for this cycle.
But the point is that I have become more constructive on REITs, and it would make sense to start buying (or thinking about what to buy).
Don't go too crazy and all-in though, because there is still significant uncertainty on the depth and severity of the recession to come.
Ground Rules – Top 3 High Yield REITs I will buy in 2023
With that in mind, I wanted to take an updated look at the S-REIT landscape.
I know that nobody wants to read a list of top REITs that is dominated by CapitaLand or Mapletree or Frasers REITs.
So I'll throw in a curve-ball.
2 simple rules for this list:
REITs that I will personally consider buying
7% dividend yield minimum
That should mix things up a little.
Top 3 High Yield REITs I will buy in 2023 – 7% dividend yield minimum (as a Singapore Investor)
Lendlease REIT
Price/Book: 0.7x
Indicative Dividend Yield (Annualised): 7.4%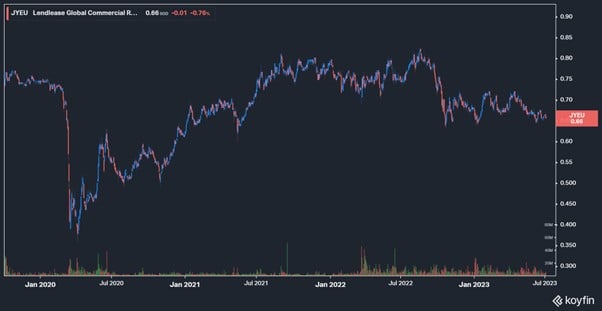 What I like about Lendlease REIT
I like Lendlease REIT's property portfolio.
In Jem you have one of the best retail plays to capitalize on the Jurong Lake District's growth.
Considering Jem is 61% of Lendlease REIT, this is pretty much what you're buying this REIT for.
The other asset – 313 Somerset is decent too, having carved out a niche for itself as a more "trendy" retail mall catering to the younger crowd in Orchard.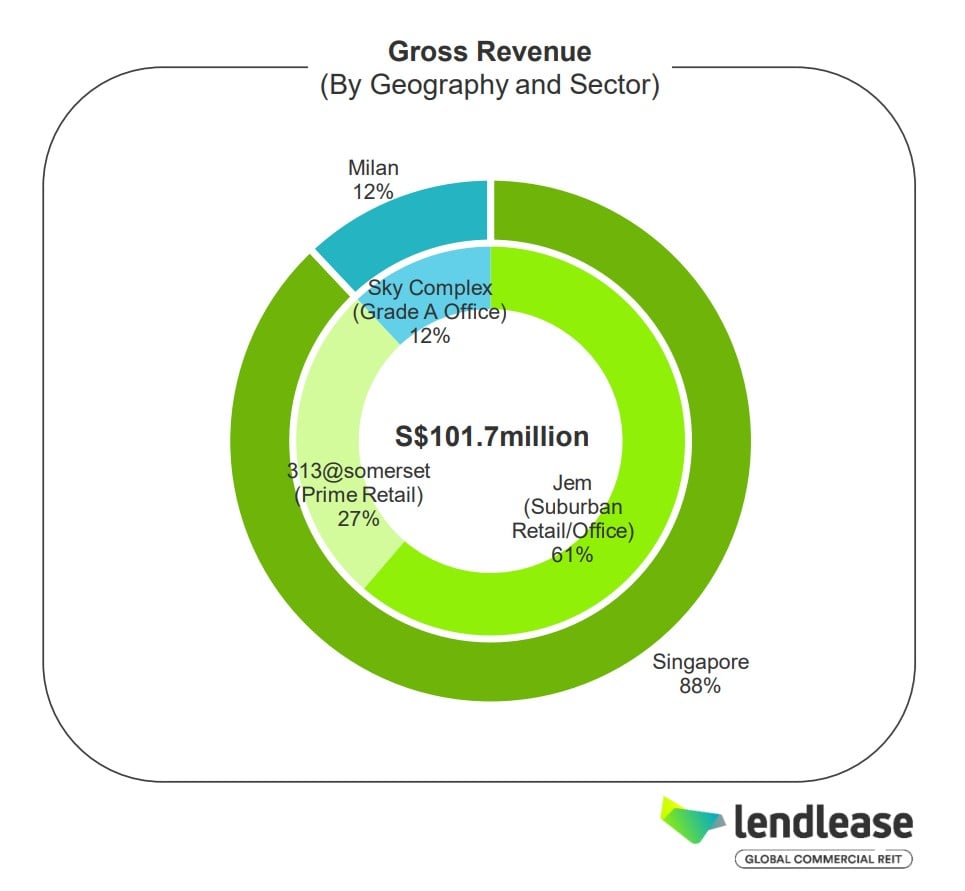 Lendlease REIT bought Parkway Parade
Lendlease REIT bought 10% of Parkway recently in a DPU accretive transaction, which suggests a purchase price somewhere in the 4%-ish cap rate range.
I know some of you hate Parkway Parade and think of it as an ageing mall way past its prime (yes… investors are brutal like that).
But personally I like Parkway.
Strong captive audience in the D15 area (without any real competitors of the same size nearby).
And with the new MRT line to come up soon (with direct underground access to Parkway).
Don't deny the mall is old, but given the good location AEI should help keep it relevant for a long time to come.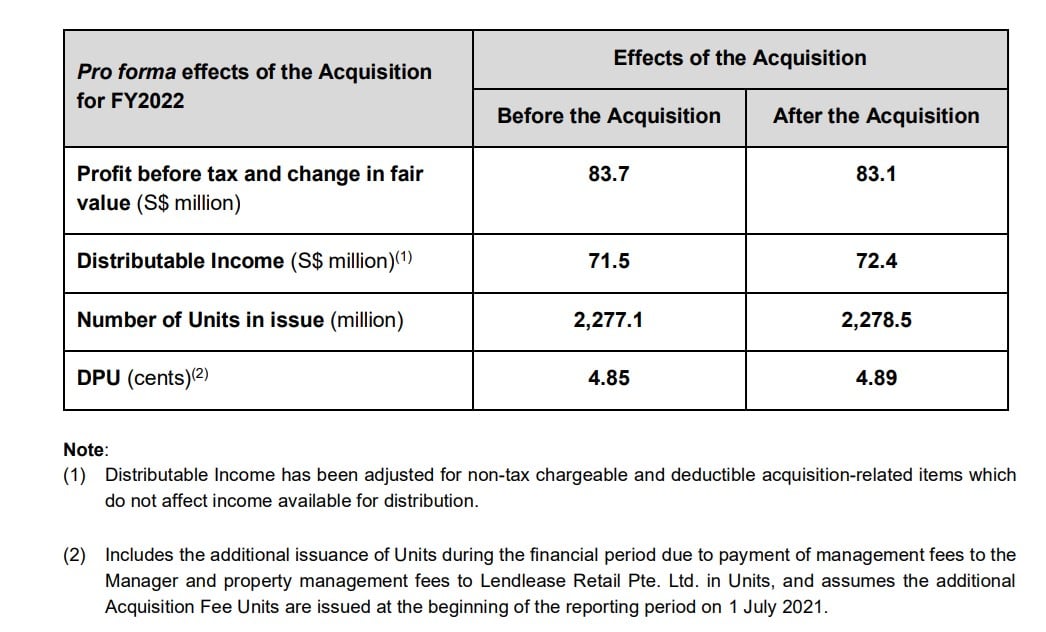 Pipeline is decent as well, with Paya Lebar Quarter as another potential asset to be injected in due course.
Risks with Lendlease REIT – 7.4% yield and 30% discount to book
That being said, there's no free lunch in this world.
You can expect all the REITs on this list to have a catch to them (as you would expect with a 7%+ yielding REIT).
I know that many Singapore investors don't like Lendlease REIT.
They have been quite liberal with their acquisitions and fundraisings since IPO, which hasn't been so great for shareholder value.
You can see the 5 year chart – current price is well below IPO levels ($0.935), and close to 2.5 year lows.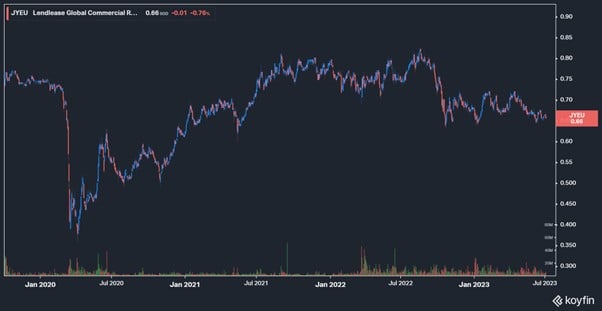 Lendlease REIT also just bought a 10% stake in Parkway Parade (for about $90 million).
Note that Parkway is valued at $1.38 billion, and Lendlease REIT's market cap is only $1.5 billion.
This only means one thing – Lendlease REIT is likely to buy the rest of Parkway Parade in the years ahead, and it's likely to be funded by a big equity fundraise.
This potentially huge fundraise is going to hang over the REIT like the proverbial Sword of Damocles.
So price gains should be limited in the short term.
Debt levels are also on the high side, with a big chunk of euro debt coming due in 2024.
So… I leave investors to decide for themselves if Lendlease REIT is a good buy for their own portfolio.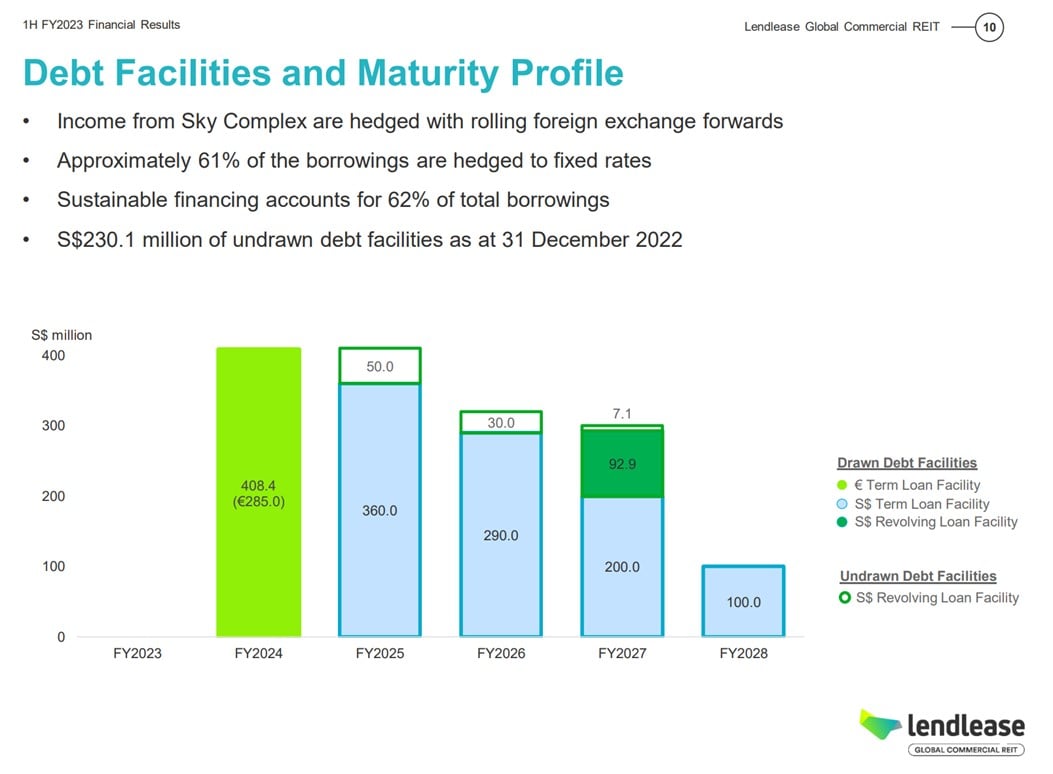 CapitaLand China Trust
Price/Book: 0.7x
Indicative Dividend Yield (Annualised): 7.4%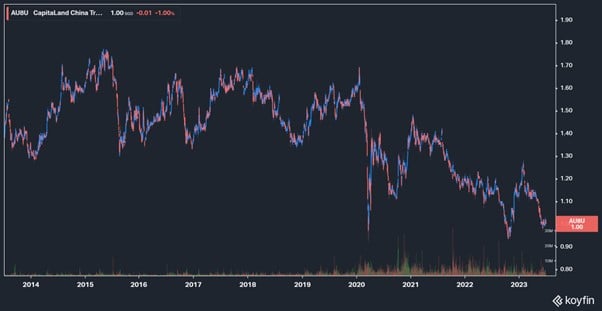 I thought long and hard about whether to include CapitaLand China Trust on this list.
The problem with this REIT, is that the short term outlook for the Chinese economy is very unclear.
The post-COVID reopening boom has not played out, the real estate slowdown is still playing out in earnest, and foreign investors are pulling capital in droves.
On the flipside, the solution to this problem is very simple – to turn on the liquidity taps again.
But the Chinese are reluctant to do so for fears of reinflating the asset bubble.
How they are going to resolve this, is the million dollar question for the Chinese economy.
In some ways, this is similar to the dilemma the Western central banks are going to face in the months ahead, so China is ahead of the curve in this way.
What I like about this REIT?
CapitaLand China Trust today is still primarily a retail REIT.
76% of the asset base is retail, and 52% of the asset base is in the Tier 1 cities of Beijing and Guangzhou.
I get the argument that retail space in China is not going to do well in the years ahead because of:
competition from e-commerce
weak macroeconomic growth / consumer spending
On (1) – it's fairly clear that there are limits to e-Commerce.
At the end of the day, people still want to go to a mall to hang out and have a meal and look at things in person.
So retail malls in good locations near population centers will continue to remain relevant.
That's what you get with CapitaLand China Trust.
For what it's worth, rental reversions for the portfolio are positive across the board, but DPU is down quite a bit due to one-offs.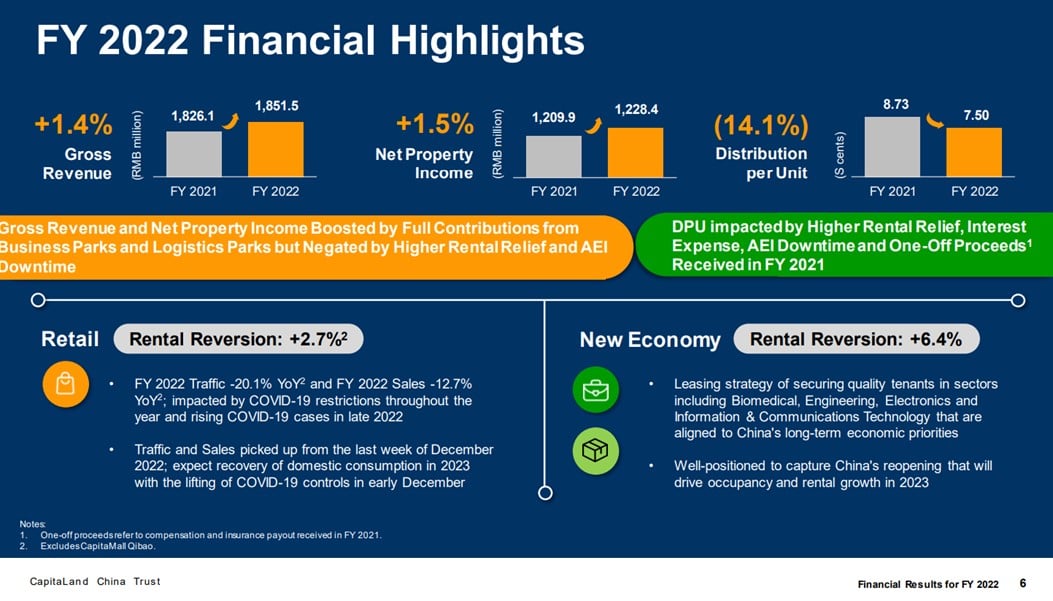 On (2) – yes the Chinese economy is going through a cyclical downturn.
But is this a short term problem, or is this a long term structural problem?
Not an easy question to answer.
My take is that if you position size well, there is still room for exposure to Chinese assets in a Singapore investor's portfolio.
Chinese assets trade on a completely different cycle to western assets, which offers powerful diversification benefits.
Risks are very real though, so nobody is saying to dump 150% of your portfolio into China.
Risks with CapitaLand China Trust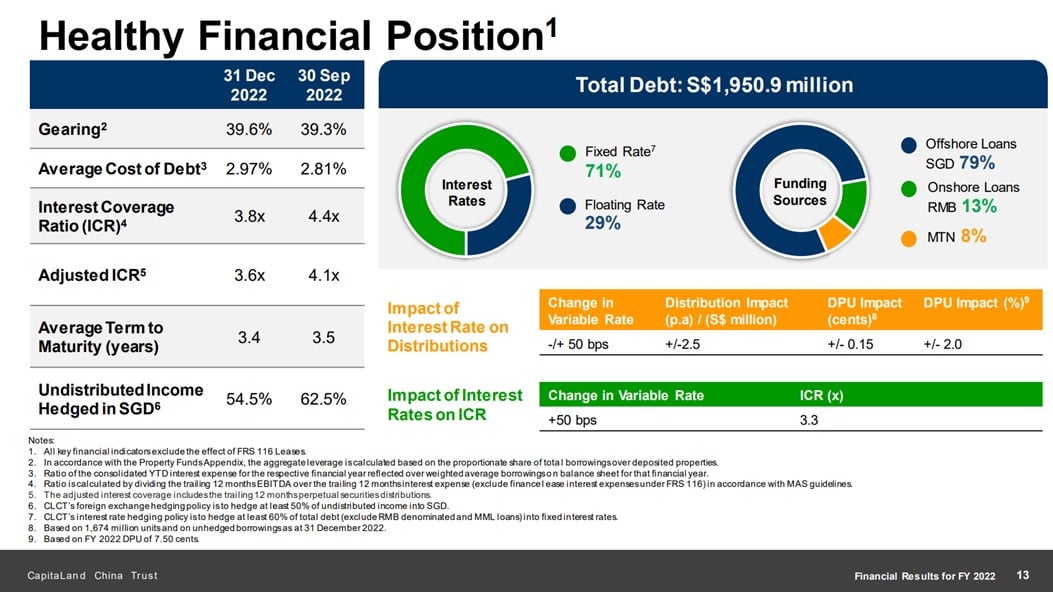 Most of the debt (79%) is offshore SGD loans.
This is both a good and bad thing.
Good in that it's less vulnerable to refinancing risk in onshore RMB (especially with the CapitaLand name).
Bad in that if onshore RMB interest rates are cut, this won't benefit CapitaLand China Trust that much (because all the debt is SGD debt).
And if the RMB weakens further, the SGD denominated debt will increase in value relative to the property portfolio / rental income.
Throw in all the China related macro risks above, and there are plenty of catches with this REIT.
Current price though, is close to COVID lows, a 30% discount to book, and a 7.5% annualized yield.
And close to the lowest it's been in 10 years.
Are the risks appropriately priced in?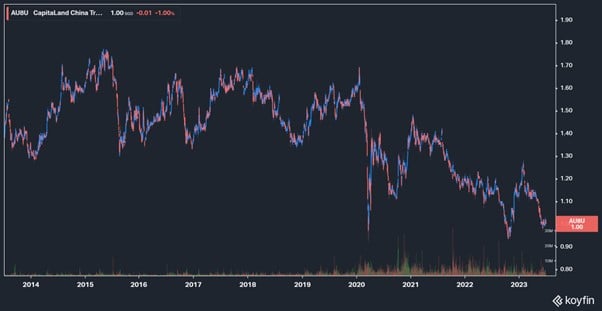 BTW – we share commentary on Singapore Investments every week, so do join our Telegram Channel (or Telegram Group), Facebook and Instagram to stay up to date!

I also share great tips on Twitter.
Don't forget to sign up for our free weekly newsletter too!
Starhill Global REIT
Price/Book:  0.6x
Indicative Dividend Yield (Annualised): 7.3%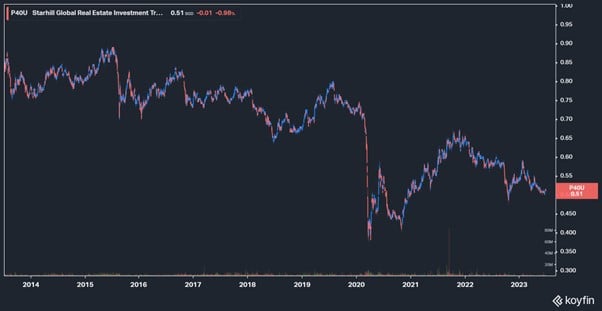 Full disclosure that I hold positions in Lendlease REIT and CapitaLand China Trust, but I do not hold a position in Starhill Global REIT.
I have traded this position in the past – having bought a position in the 40s during COVID and selling it in the 60s in 2021 for a nice profit.
Prices have slid back down to the low 50s of late, and if it goes into the 40s I might just pick up a position again.
What I like about Starhill Global REIT
Starhill Global REIT is one of those boring REITs that has been around for ages, but just flies under the radar.
69% of the asset base is Singapore properties, of which half is Ngee Ann City, and half is Wisma Atria.
I love Ngee Ann City, but I don't particularly like Wisma Atria.
But like I said, at the right price, I could still be tempted to buy a position.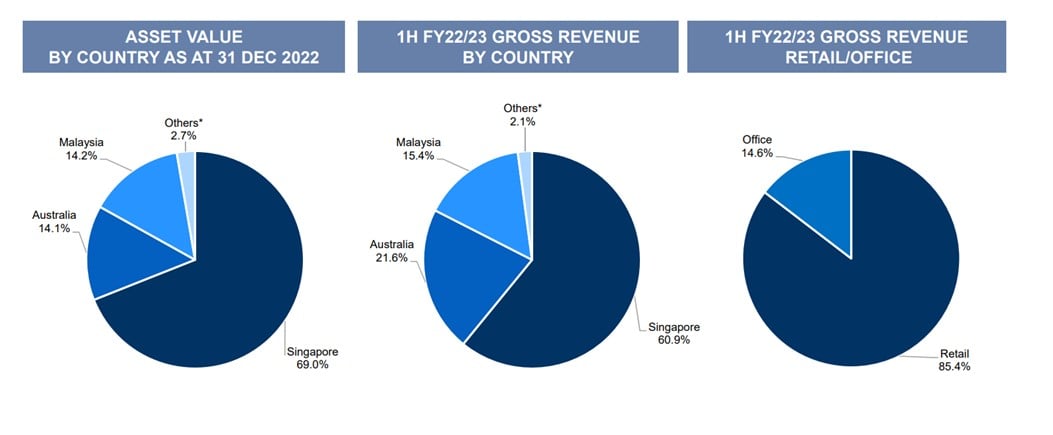 Debt levels are on the lower side at 36%.
This is a good thing.
Especially when you compare with most of the other big REITs which are running close to 40% gearing these days.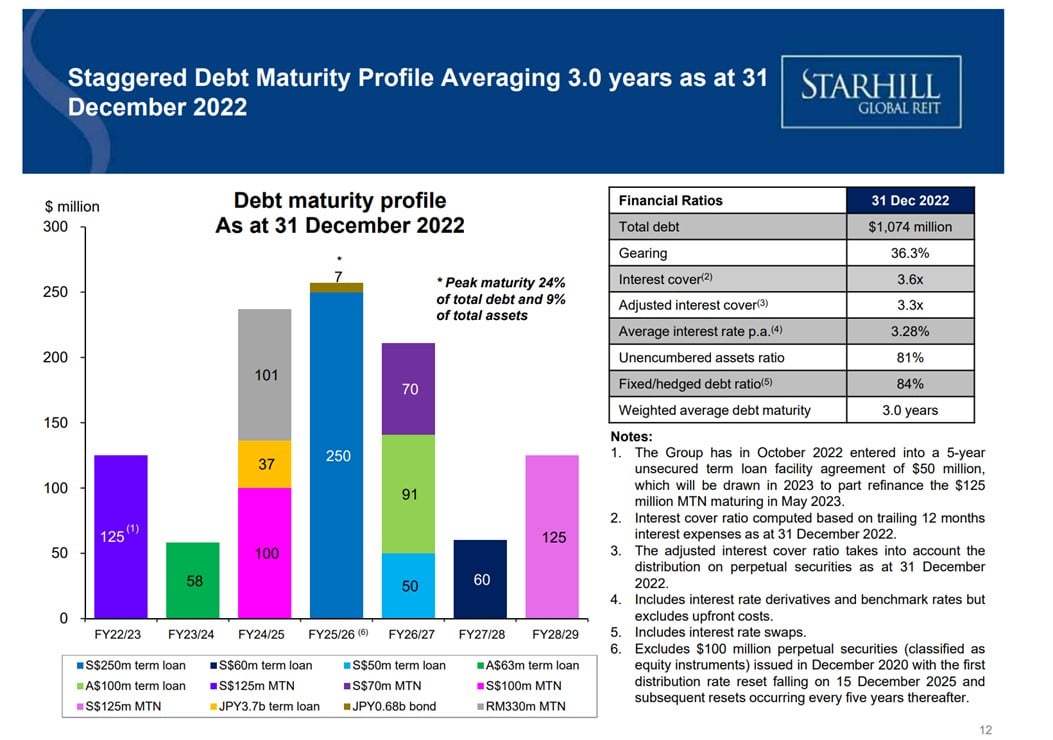 Risks with this REIT?
The sponsor, YTL Corp, is a Malaysian infrastructure conglomerate.
So it doesn't carry the same brandname as CapitaLand or Mapletree or Frasers.
Don't expect the same level of financial support or pipeline.
And 28% of the asset base is in Australia and Malaysia as well, and not necessarily best in class properties.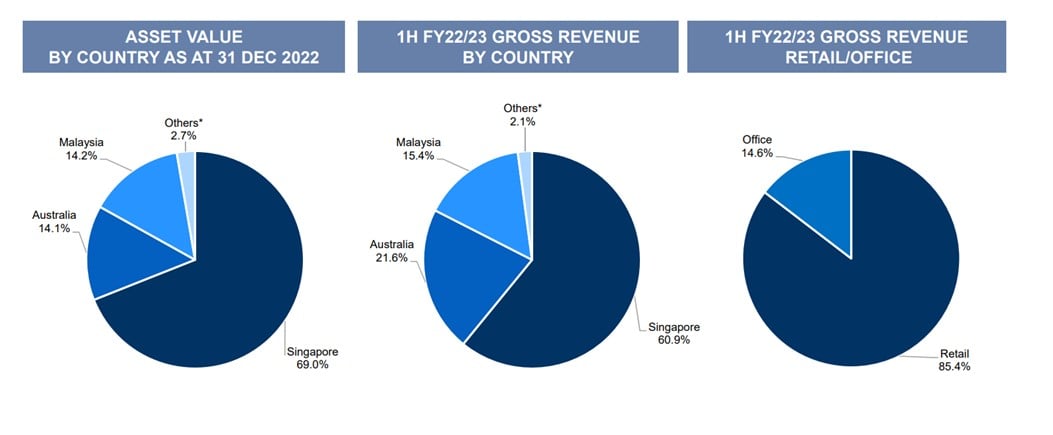 At current price, you're buying in at a 30% discount to book, and a 7.3% annualized yield.
Like I said, all the REITs on this list have a catch with them.
The question investors should ask is whether it has been priced in.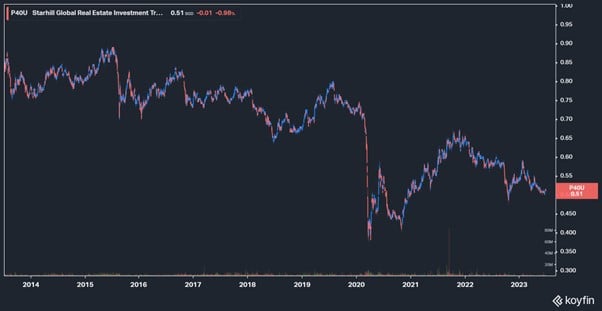 Honourable Mention – Other Top High Yield REITs I may consider buying
Now all 3 REITs above are REITs that I may consider buying in the months and quarters ahead.
I hold positions in Lendlease REIT and CapitaLand China Trust that I may add.
And I have no position in Starhill Global REIT but I may open a position at the right price.
In the second part of this article, I wanted to discuss other high yield REITs with dividend yields above 7% that I am following.
But which I haven't really made up my mind on whether I would buy just yet.
In any case I wanted to share some high level thoughts on them, and hopefully you guys find it useful.
Patreons will get updates as and when I change my mind, and if I decide to buy (or sell) any of these positions.
I-REIT Global
Price/Book: 0.5x
Indicative Dividend Yield (Annualised): 8.9%
I know there are some investors who love I-REIT global.
This REIT primarily holds offices in Germany, Spain and France.
At current price, I-REIT global pays a juicy 8.9% yield, and 50% discount to book.
The ECB is behind the curve on inflation as compared to the Feds, so you would expect to see more rate hikes out of the ECB in the months ahead.
But the lesson so far seems to be that REITs short term bottom around the period where the pace of increase of interest rates is the highest, which might suggest now is the time to be buying European REITs.
These are European offices, so the downside risk probably isn't as bad as US offices with the work from home trend, but some level of adjustment will likely be required.
I suppose it again goes back to the question – at what price is this priced in?
Current prices are at 10 year lows, and close to COVID levels.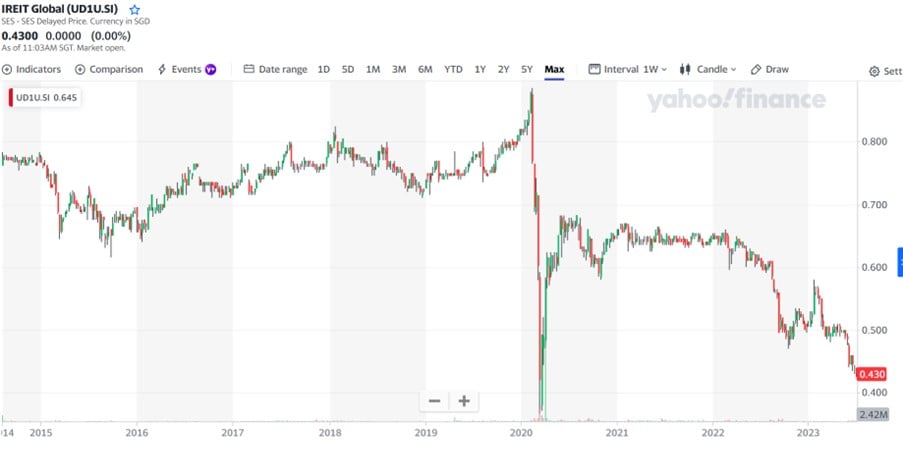 Keppel Infrastructure Trust
Price/Book: 1.8x
Indicative Dividend Yield (Annualised): 7.4%
I shared my views on Keppel Infrastructure Trust and why I bought a position a few weeks back, so do check out that post if you are keen.
The risk in the short term is that inflation pressures are starting to moderate.
Which means that distribution yield for this infrastructure trust might get hit in the quarters ahead.
At the same time the expiring leases for the Singapore assets is a big issue that needs to be dealt with.
I still like this business trust though, and at the right price might add to my position.
Daiwa House Logistics Trust
Price/Book: 0.8x
Indicative Dividend Yield (Annualised): 8.5%
The Japanese economy has been doing very well of late.
And in the BOJ, you have a central bank that sounds like Jerome Powell in 2021, keeping interest rates at rock bottom despite a booming economy.
That's a good mix for Japanese assets.
The problem is that this is a very small REIT, and there isn't very much of a track record for the Sponsor to analyse.
And where the Yen goes in the months ahead is really anyone's guess.
All goes back to price though.
For investors comfortable with the risk, you're looking at about 8% dividend yields.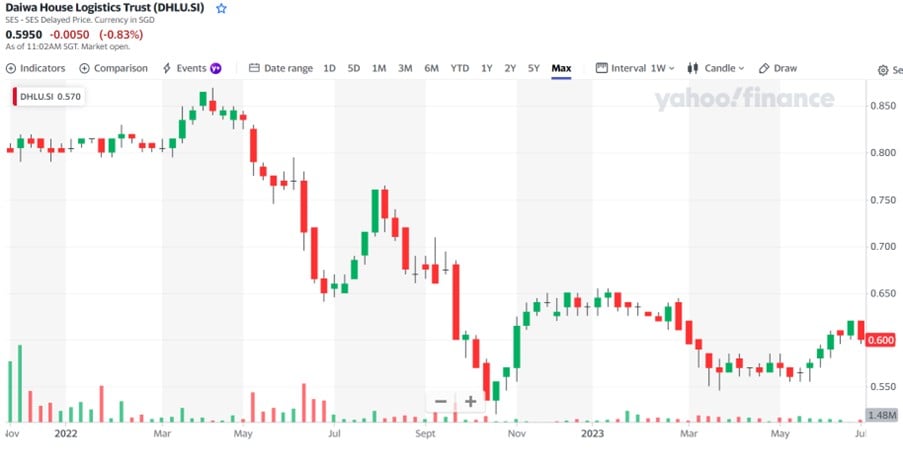 Keppel Pacific Oak US REIT
Price/Book: 0.4x
Indicative Dividend Yield (Annualised): 17%
Keppel Pacific Oak US REIT pays a ridiculous 17% annualized dividend yield at current prices.
To say that investors don't want to touch US office properties with a ten foot pole right now is probably an understatement.
Keppel Pacific Oak's exposure is more to the sun belt cities, so perhaps they may be able to weather the storm better.
Whatever the case, you do need a healthy risk appetite for this REIT.
I've traded in and out of this position in the past, but not yet this cycle.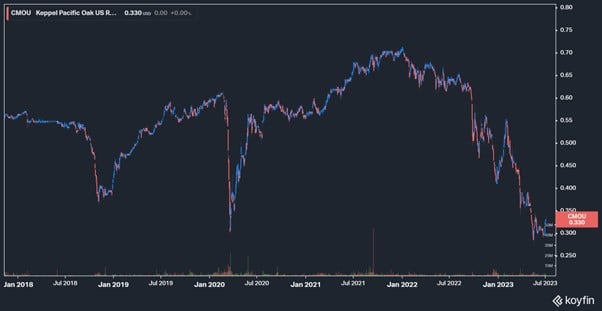 Closing Thoughts
As you can see from the post above, there are quite a few REITs out there that are trading close to 10 year lows, and very attractive dividend yields.
The question then is what catalyst will there be to spark a rerating in REIT prices?
Fed interest rate cuts would be the obvious one.
But when do we get such cuts, and what needs to happen before we see cuts?
Not an easy question.
Whatever the case, I think at this point in the cycle, it makes sense to start buying, or at least start thinking of what to buy.
And that's been the purpose of this article.
Just because I included a REIT above doesn't mean I'm going to go out and buy it tomorrow.
Like I said, the depth and severity of the economic slowdown to come still remains a question mark.
Maybe you get a soft landing, maybe you get a big recession.
Not so clear for now.
But I have started buying REITs, and at the right price I will definitely be adding to positions going forward.
Patreons will get regular updates as and when I buy (or sell) REIT positions.
This article was written on 7 July 2023 and will not be updated going forward. For my latest up to date views on markets, my personal REIT and Stock Watchlist, and my personal portfolio positioning, do sign up as a Patreon.
WeBull Account – Get up to USD 800 worth of shares (expires 31 July)
I did a review on WeBull and I really like this brokerage – Free US Stock, Options and ETF trading, in a very easy to use platform.
I use it for my own trades in fact.
They're running a promo now with up to USD 500 free fractional shares.
You just need to:
Sign up here and fund $300 SGD
Execute 1 buy trade within 30 days of funding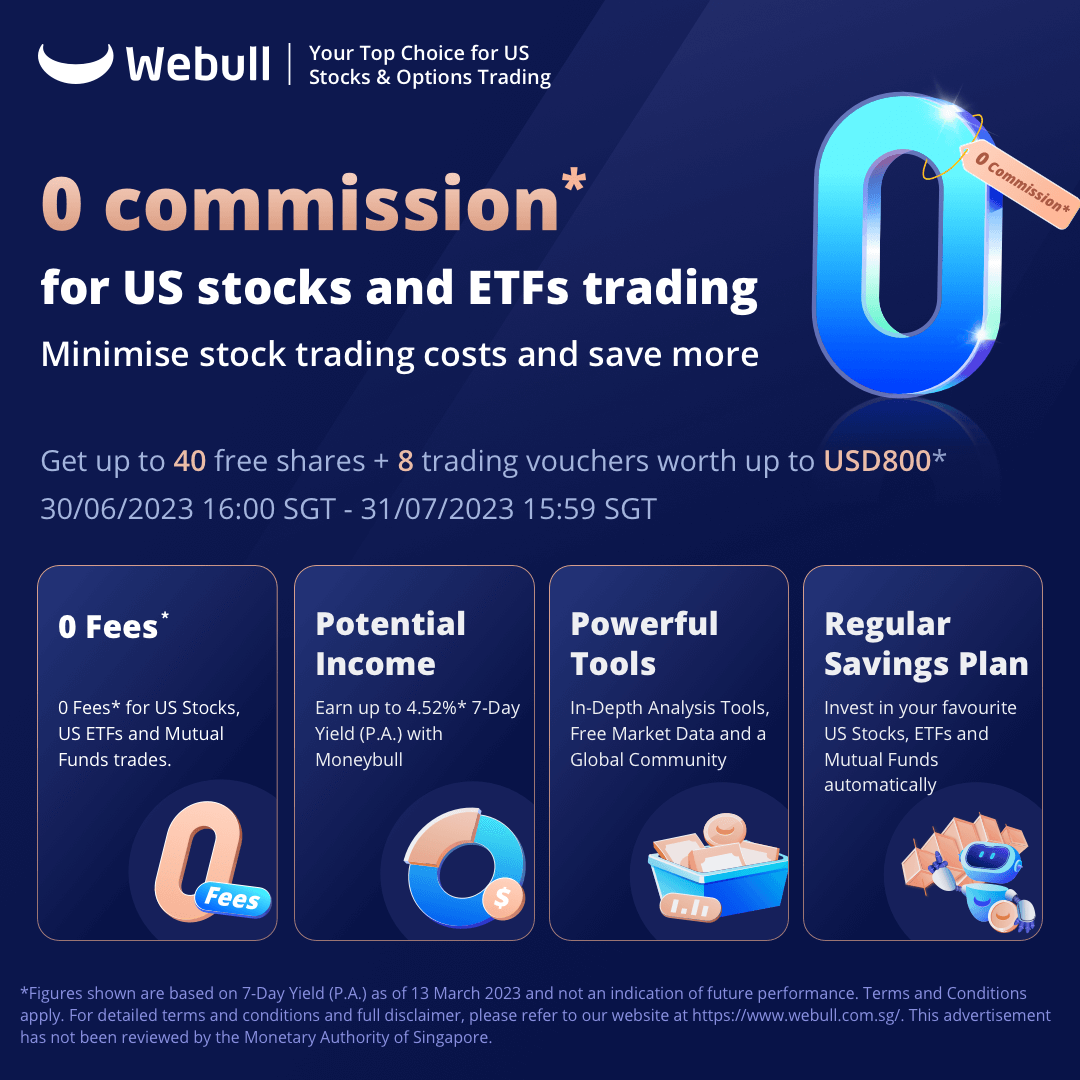 Trust Bank Account (Partnership between Standard Chartered and NTUC)
Sign up for a Trust Bank Account and get:
$35 NTUC voucher
1.5% base interest on your first $75,000 (up to 2.5%)
Whole bunch of freebies
 Fully SDIC insured as well.
It's worth it in my view, a lot of freebies for very little effort.
Full review here, or use Promo Code N0D61KGY when you sign up to get the vouchers!
Portfolio tracker to track your Singapore dividend stocks?
I use StocksCafe to track my portfolio and dividend stocks. Check out my full review on StocksCafe.
Low cost broker to buy US, China or Singapore stocks?
Get a free stock and commission free trading Webull.
Get a free stock and commission free trading with MooMoo.
Get a free stock and commission free trading with Tiger Brokers.
Special account opening bonus for Saxo Brokers too (drop email to [email protected] for full steps).
Or Interactive Brokers for competitive FX and commissions.
Check out my personal recommendations for a reading list here.