Here on Financial Horse, we talk a lot about large cap stocks.
You know, the DBS, MCT, CapitaLands etc.
While small cap stocks / penny stocks get very little love.
So let's remedy that today.
Let's look at the top 3 small cap stocks (or penny stocks) to buy in Singapore right now in 2021.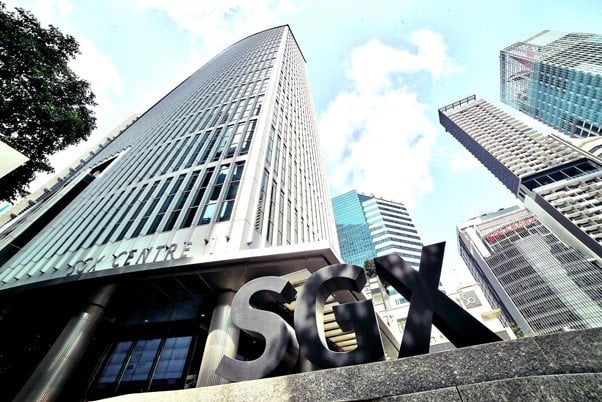 Why Small Cap Stocks in Singapore?
The thing to note with small cap stocks is that they tend to be more risky.
Small cap stocks tend to be:
Under followed by the big institutional players
Less information and coverage available publicly
Tightly held family companies
Low trading liquidity
With their low trading liquidity and information asymmetry, it usually becomes a favourite for market manipulators (or speculators).
So whenever you dabble in the small cap stocks space, know that the stock can move in a big way – up or down.
You can make a lot of money if you catch the up move, but if you get it wrong and catch the down move, there's a lot of capital destruction there.
Small cap stocks are also much more sensitive to economic growth than large cap stocks.
This is why small cap stocks usually outperform in the early stages of the growth cycle (like in 2020), but are the first to roll over when economic growth starts to taper (like now).
Not a buying recommendation
And of course, please do not use this list as a buying recommendation.
All the stocks on this list are small cap, very risky, and very volatile.
There is real risk of loss of capital here.
This is not like buying a DBS or CapitaLand, where at the end of the day it is Temasek backed and the core business is very stable.
Top 3 Small Cap Stocks in Singapore (2021 – Penny Stocks)
iFAST Corporation Ltd (Stock price: AIY (SGX))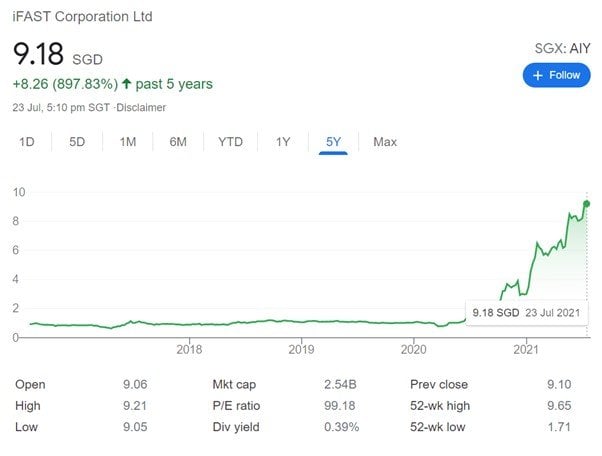 iFast Corporation has been on an absolute tear the past year.
Just look at the chart above.
It's gone from $1 in early 2021 to $9 today, a mind blowing 900% increase.
What is FSMOne?
iFast Corporation owns FSMOne, which is a fund and stock platform.
They make money by trailer fees, platform fees, and wrap fees.
Basically when you buy a fund on FSMOne, you pay them a fee, and the fund manager pays them a referral fee.
If you're familiar of Endowus, you can think of FSMOne as a bigger version with more fees (which is how they make their profits).
iFast has been trying to get a digital bank license in both Singapore and Hong Kong but failed in both cases.
They're now trying for one in Malaysia.
Fintech is on fire right now – Valuations are very high
Fintech is on fire right now. Not just Singapore – but globally.
StashAway, Syfe and Endowus each raised about $30-40 million recently.
If you assume that they sold 10-20% of their company to raise the money, then we're looking at about a $200 – $300 million valuation for each of them.
Endowus and StashAway each have about $1 billion Assets under Management (AUM).
iFast has about $16 billion AUM.
So if we take Endowus at $200 million, and adjust that for a $16 billion AUM, very simplistically we get $200 million X 16 = $3.2 billion.
iFast's market cap today is "only" $2.5 billion so it looks about fairly – slightly undervalued if you run it this way.
What about future growth for iFast?
The question though, is where does future growth come from?
There's a lot of competition snipping at the heels from StashAway, Syfe and Endowus.
In fact Endowus is trying to build themselves up as a fund access platform to rival FSMOne, for much lower fees.
The market is pretty efficient in the longer term, and if a competitor gives me access to the exact same fund at a fraction of the cost, I would go to the competitor.
Which suggests that FSMOne's core business may not be sustainable longer term.
So I can see why they are trying out for the digital bank licenses.
My Personal View on iFast?
Personally I think iFast at this price is overvalued.
But hey, I've been saying that since $6, so what do I know. I'm just a horse who likes to comment on stocks.
That said – Fintech is hot as hell right now, so there could be some gas left in the tank. 3 – 6 months timeframe, perhaps it goes even higher.
But longer term it all depend on earnings growth.
And with the new wave of disrupters like Endowus coming along, I think the only way out for iFast is to either (1) adapt their current business model (and lose the juicy margins), or (2) find a new avenue of growth (eg. digital banks).
Tricky stuff.
BTW – we share commentary on financial markets every week, so do sign up for our mailing list, its absolutely free (goes out every Sunday).
[mc4wp_form id="173″]
Don't forget to join our Reddit Community, Telegram Channel and Instagram!
QAF Limited (SGX: Q01)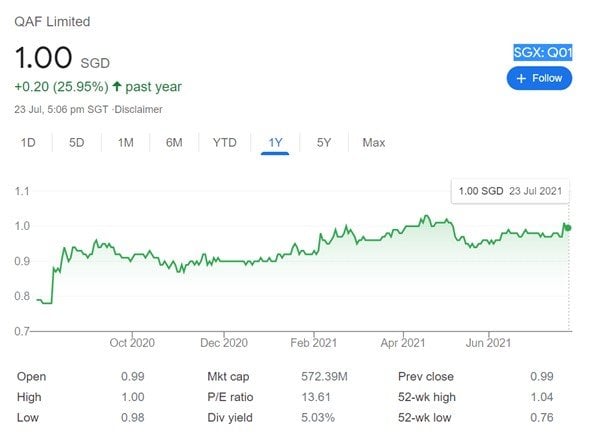 QAF Limited is a very interesting food company:
QAF Ltd is a leading multi-industry food company with core businesses in bakery, primary production (of hogs) and distribution & warehousing. QAF's extensive operations and distribution networks cover a variety of Asia Pacific countries such as Singapore, Malaysia, the Philippines, Cambodia and Taiwan and employs around 9,000 people regionally.
Other than the renowned Gardenia brand, the group also owns several other popular brands including Bonjour under the Bakery division, High Country and Murray Valley for its Primary Production division, and Farmland and Orchard Fresh for its Distribution and Warehousing division.
Long story short, they own a bunch of bakeries, and a bunch of pig farms (hog farms to be precise).
If you buy Gardenia bread? You're contributing to QAF Limited's bottom line.
Consumer Staples is a great inflation hedge
QAF Limited is a great inflation hedge.
If you believe the future is going to be inflationary (as I do), then consumer staples is a great way to hedge.
The logic is a bit circular, but food prices are a major input into the inflation index. So if inflation goes up, at some point in time it usually means food prices are going up. And if food prices are going up then QAF Limited is making more money.
It's why oil is a good inflation hedge as well. Don't ask me why.
Majority Held by the Salim Family
This small cap Singapore stock is not without its downsides though.
The company is majority owned by the Salim family in Indonesia (68%), which is one of the most powerful conglomerates there.
So control of the company will always rest with them, and as a public shareholder you'll always be a minority.
Trading liquidity is pretty thin too, and all round it's quite an underfollowed stock.
But sometimes its those kind of under the radar stocks that are the best right?
Nanofilm Technologies International Ltd (SGX: MZH)
What Nanofilm Technology does – is that it uses advanced manufacturing techniques to manufacture cutting edge materials, that have many uses in the industry.
And the materials are supposedly very good as compared to existing materials – with lots of demand.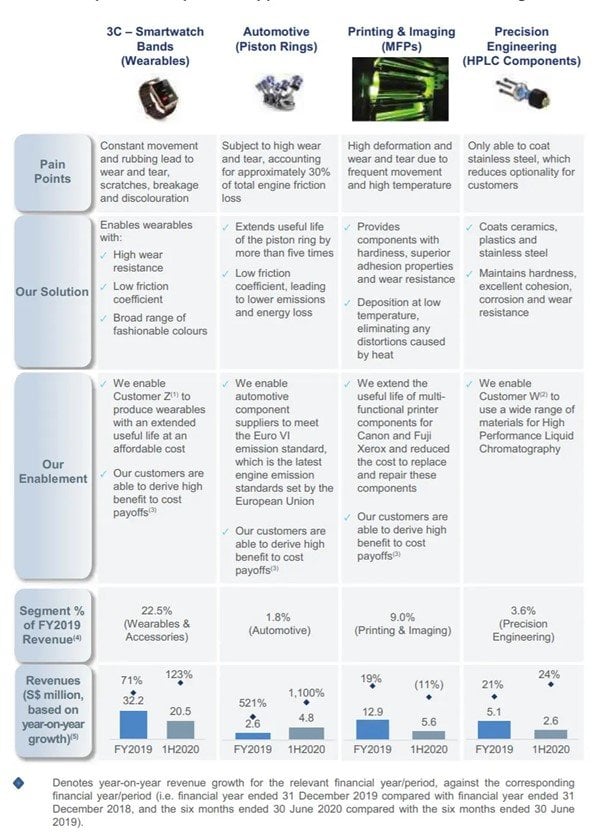 I covered Nanofilm Technologies at IPO launch ($2.59), and this was my view back then:
"I'll give Nanofilm Technologies a 3.75 horse rating.
I would give Nanofilm a 4 – 4.5 Horse rating if I were able to independently verify the claims as to Nanofilm's technological superiority (and difficulty in replicating it by competitors)."
Since then, share price has climbed to $6.28, a 240% increase.
And along the way the founder's wife also bought a GCB for a cool $128 million.
I'm just a horse, but sometimes I wish I sold fancy materials (or chairs 😉 instead.
My personal view on Nanofilm?
Nanofilm's recent earnings are very strong, with a 61% year on year increase in profit.
My view remains the same though – it all goes back to the technology.
How good is the underlying technology, and how easy is it to copy?
I'm not a materials engineer so it's tough for me to comment on this one. Anyone in the industry who has experience with this, just drop an anonymous comment or email!
Without being able to confirm this, I would be wary of putting significant amounts of money to buy this small cap Singapore stock.
Centurion Corp (SGX: OU8)
Okay I cheated.
It's a top 3 list, but I really felt that Centurion Corp deserved to be on the list too.
And I didn't want to kick any of the other 3 off this list of small cap stocks.
Centurion Corp is the largest operator of worker's dorms in Singapore and Malaysia. If you're familiar with the Westlite brand, it's run by Centurion:
Westlite Toh Guan, Westlite Mandai, Westlite Woodlands, Westlite Papan and Westlite Juniper. Both Westlite Toh Guan and Westlite Woodlands are 100% owned while Westlite Mandai and Westlite Papan (both joint ventures with Lian Beng Group) are 45% and 51% owned respectively. For Westlite Juniper, the Group secured a 10-year lease, with an option to renew for another five years. This lease commenced in September 2019.
They also have student accommodation in Australia, Korea, USA, UK.
A poor man's version of SPH?
Valuations of Centurion Corp
If you believe the book value, Centurion is trading at 0.47x book value.
When book value is this cheap, it usually means one of 2 things:
The book value is wrong
There are a lot of problems with the company hiding under the surface
Digging a bit into the numbers – Centurion actually turned a gross profit in 2H2020 in the depths of migrant worker dorm crisis.
I'm not sure what to make of this one – was it because of the government support?
They did a book a big revaluation loss on their assets though, resulting in a net loss.
Problems with Centurion Corp – Classic Small Cap Stock
On to the problems – where do I even start.
Post COVID – what will future workers dorms look like? I think the government will fundamentally revamp this industry, and I can only begin to imagine what it will look like when they are done with it. What will profit margins look like after this?
What is the true valuation of the underlying workers dorms? Most of these are short term industrial style leases with 10 – 20 years remaining. If they are not renewed by the government, the underlying value is zero.
Trading liquidity is incredibly poor, only a few lots traded a day. You can't even open a big position without moving the price.
Very little information on Centurion publicly – I dug around for quite a while and couldn't locate anything interesting.
The insiders will hold the upper hand here, because they know a lot more than us.
Centurion Corp is probably the epitome of small cap stocks. It has all the problems that come with a small cap stock, but it's also trading at 0.47x book value. If there's even a chance of a turnaround, there could be a lot of upside.
Honourable Mention – AEM Holdings
Big honourable mention for AEM Holdings, which is a huge favourite with retail investors:
AEM is a solutions provider for the back-end testing of the semiconductor manufacturing process. It works closely with its key customer, Intel, to design, engineer, and manufacture the test handlers. AEM then provides field support and post-sales replacements.
Basically, they provide equipment for Intel – equipment used to support semiconductor manufacturing.
Semiconductors have been in huge shortage for the entirety of this COVID crisis (because of increased demand), so all semiconductor stocks have been on fire.
The problem though, is that the semiconductor cycle looks to be peaking in 2H2021, or early 2022.
Which means we may be nearing the top of this cycle for semiconductors.
Semiconductors are a very commoditised market, so you'll want to be very careful at the top. This is a cyclical industry with big boom bust cycles.
The share price reflects that too – it's been flat all year, since the incredible runup last year.
Closing Thoughts: Top Small Cap Stocks to buy (2021)
I've only begun to crack the world of small cap stocks in this article, and there's so much I haven't touched on.
If there's anything I missed, just give me a shoutout in the comment below, and we can continue the discussion.
If you're interested, you can also check out Patron for my full personal portfolio, together with my stock watch with a full list of stocks I am monitoring closely right now.
Love to hear from you!
---
As always, this article is written on 24 July 2021 and will not be updated going forward. Latest thoughts (and my stock watch and personal portfolio) are available on Patron.
 Join our Reddit community at r/SingaporeInvestments
Do like and follow our Facebook and Instagram, or join the Telegram Channel. Never miss another post from Financial Horse!
Looking for a comprehensive guide to investing that covers stocks, REITs, bonds, CPF and asset allocation? Check out the FH Complete Guide to Investing.
Or if you're a more advanced investor, check out the REITs Investing Masterclass, which goes in-depth into REITs investing – everything from how much REITs to own, which economic conditions to buy REITs, how to pick REITs etc.
Both are THE best quality investment courses available to Singapore investors out there!