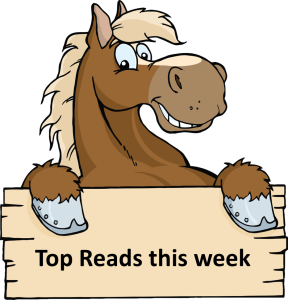 Rounding up top investing articles from around the web, including articles shared in our Reddit Community: r/SingaporeInvestments.
---
ShareInvestor Webpro offers 10 years of financial data across 7 markets, along with charting tools, screeners, insider trades, consensus estimates and more!
Sign up in the month of July to enjoy an additional $20 off. Click to find out more!
Learn more in Financial Horse's review of ShareInvestor Webpro here.
---
The decision may cap a drawn-out saga around the company, which has left retail investors and creditors holding losses. Hyflux began a court-supervised debt restructuring process in May 2018 and faced about S$2.8 billion of investor claims. It received multiple offers from several bidders along the way, none of which concluded.
A piecemeal sale of Hyflux's assets has already started, with the company announcing earlier this month that Keppel Infrastructure Trust will acquire from it the remaining 30% stake in a desalination plant for S$12 million. Bloomberg News had reported in June that sales in the liquidation process would likely bring in less than S$200 million, a fraction of the amount creditors are claiming.
---

---
Around four months ago, CapitaLand Limited (SGX: C31) surprised the market with a proposal to privatise its property development arm to restructure itself into a real estate investment manager (REIM). 
This move will split the company into two, with the development division fully owned by CLA Real Estate, a unit of Temasek Holdings.
CapitaLand's investment division will be separately spun off as "CapitaLand Investment Management" or CLIM and will be listed on the Singapore stock exchange.
CapitaLand's core markets remain Singapore, China and India, and the group is present in the five key verticals of retail, integrated developments, office, lodging and new economy.
The group's strength remains in Asia, as it has around 87% of its assets under management (AUM) and 85% of its funds under management (FUM) in Asia.
---
A volatile environment for government bonds is reflecting worries about both slower growth and stubborn inflation.
Stagflation, a relic of the 1970s when inflation was high and economic growth slowed, has reemerged in market talk recently.
While many market veterans see inflation leveling off, fears remain about a low-growth environment where prices keep rising.
---
Chinese real estate tycoon Hui Ka Yan is rapidly slipping down the wealth rankings. He net worth dropped another $3.35 billion this week, as shares of his Evergrande tumbled 26%.
The company's Hong Kong-listed shares have plunged 68% over the past year, and analysts say the once resourceful tycoon appears to be running out of options to avert a mounting debt crisis. It's a dramatic turn of events for Hui, who had been crowned Asia's richest person just four years ago, when his net worth peaked at $45.3 billion. Today, his fortune currently sits at $17.2 billion and there's no telling how much further it may drop.
"Evergrande's debt crisis is accelerating," Shen says. "The company is sure to run into problems because it doesn't have access to new financing, and it can't dispose of assets in a fast enough manner to raise funds either."
Investors, for example, worry that financial institutions might cut off Evergrande's funding and demand immediate repayments. Last week, a local court froze 132 million yuan of deposits held by Evergrande's mainland subsidiary, Hengda Real Estate Group, at the request of creditor China Guangfa Bank. 
Now, the company is considering taking its bottled water unit, Evergrande Spring, public in Hong Kong, according to Bloomberg. But Shanghai Maoliang's Shen says it is unclear how investors would react, especially when the parent company is mired in financial troubles of its own.
---
Gold inched lower on Thursday, as the dollar remained strong and investors looked past economic threats from rising cases of the Delta coronavirus variant and opted for riskier assets instead.
The yield on 10-year Treasury notes continued their bounce from five-month lows following a weak 20-year bond auction. Higher bond yields increase the opportunity cost of holding non-interest bearing gold.
The European Central Bank is all but certain to promise an even longer period of stimulus on Thursday to make good on its commitment to boost inflation.
---
Singapore is facing the greatest competition yet to its status as the dominant marine fuel supplier in Asia, with China luring more ships to its shores following a rapid expansion of its port and refining facilities.
China's marine fuel sales — known in the industry as bunkering — have almost doubled over the past five years and the nation is banking on attracting ships that travel to nearby ports in major economies such as South Korea and Japan. Singapore still has a commanding position as the top supplier to a sector valued at over US$30 billion in Asia, but Chinese growth is accelerating.
The epicenter of China's bunkering is Zhoushan, an archipelago to the south of Shanghai on the east coast. Some of the nation's newest and biggest crude oil refineries are being built in the area, while the government has introduced tax incentives that make Chinese fuels more competitive.
---
As one of the world's largest institutional investors, its US$282 billion (S$385 billion) portfolio is replete with businesses that contribute to global warming – from Singapore Airlines to Sembcorp Marine, a supplier of offshore rigs.
"We never said we will not invest in an emitter of carbon – as long as this emitter is on a journey, a path and we can be helpful in terms of how we can shift them," said Mr Nagi Hamiyeh, Temasek International's joint head of investments.
Temasek's approach is emblematic of the delicate dance many global investors face, especially those laden with legacy assets that once belonged to the state.
---
The Australian Competition and Consumer Commission (ACCC), which previously slapped the world's toughest content licencing rules on internet giants Facebook Inc and Alphabet Inc's Google, called for industry submissions.
The ACCC inquiry will take submissions until mid-August with a final report due in March 2022. Local representatives of Amazon and eBay were not immediately available for comment.
The ACCC will examine the relationships between large online markets and third-party sellers and shoppers, including competition impacts and handling of data, complaints and reviews.
---
The High Court has ordered the Kheng Chiu Tin Hou Kong and Burial Ground (THK), a company founded by Hainanese community leaders that holds tens of millions of dollars in assets to be wound up.
Justice Aedit Abdullah said on Monday (July 19) that there was ample evidence to show that those in control of the board of the company had "preferred their own interests over those of the members as a whole", and that this was "unfair or unjust to the other members".
---
Creative Eateries, founded by F&B entrepreneur Anthony Wong, has a total of 21 F&B brands in its portfolio. The company is now led by his two daughters, Bernadette Giam and Bonnie Wong, who are continuing to diversify its stable of brands.
Some of the more familiar brands include Bangkok Jam, Suki-Ya, Siam Kitchen, Fremantle Seafood Market and Vineyard at Hort Park. The company also boasts two catering services – Creative Eateries Catering and Shiok! Kitchen Catering.
---
Speaking at The B Word, a conference about bitcoin, Musk said that Tesla could play a role in helping the bitcoin industry transition to clean energy, then got wistful about his struggles with Tesla.
In a Twitter exchange with fans after the bitcoin conference, Musk wrote that Tesla is still "not quite done" getting to "volume production" of its custom-designed 4680 battery cells.
He also acknowledged that Tesla sold Maxwell Technologies' ultra-capacitor business and other assets to a San Diego-based startup called UCap Power.
---
Netflix executives addressed the company's video game plans and strategy for the first time Tuesday.
Netflix will use gaming to extend its intellectual property and harvest data to figure out what users want.
Netflix games could spawn Netflix films or series, creating a virtuous cycle.
---
In March this year, the National Volunteer and Philanthropy Centre (NVPC) piloted an e-flag day for charities, where a charity can send a QR code to donors on WhatsApp. 
Among the online fund-raisers, virtual races, virtual charity dinners and even virtual concerts are becoming increasingly common.
---
951 times. That is how many burpees a Brazilian man living in Singapore completed in an hour, setting a new Guinness World Record in a fundraising effort for his niece who was born last year with severe heart disease.
---
Japan's former Prime Minister Shinzo Abe will not attend the Olympics opening ceremony according to public broadcaster NHK.
NHK said Abe decided against attending the ceremony after the Japanese government declared a state of emergency and virus restrictions over Tokyo, in an effort to minimize health risks among residents and visitors.
Abe played a outsized role in attracting the Olympics to Tokyo, pledging to IOC members in 2013 that the lingering nuclear disaster at Fukushima was "under control" and pitching his nation as a "passionate, proud, and a strong believer" in the Olympics.
---
Looking for a comprehensive guide to investing? Check out the FH Complete Guide to Investing and FH REITs Masterclass for Singapore investors.
2021 Stock Watch: Support the site as a Patron and get stock market updates. Like our Facebook Page and join our Telegram Channel for weekly updates!