I've been using ShareInvestor quite a while now to do my research for Singapore stocks, and I actually really like it. It can't be compared to a Bloomberg Terminal or Refinitiv of course, but those cost upwards of $20,000 a year, while you can get ShareInvestor WebPro for around $200+ a year.
However, if you're looking into Singapore stocks, and you want an upgrade on Yahoo Finance, ShareInvestor is a really, really good option. Heck, it's probably the only viable option out there right now.
We covered ShareInvestor in our original post a while back, and we'll cover some additional features in this post.
Over the next month or two, I'll also incorporate ShareInvestor charts in my posts so you have a better idea of how they can be used in an actual, real world investing context.
Basics: What is ShareInvestor WebPro?
There are 2 main market data providers out there today: Bloomberg, and Refinitiv.
If you're a trader or banker working in an institutional setting, you'll be on Bloomberg, full stop. Data aside, most market players will only recognise Bloomberg screenshots, and if you're a trader the chart function in Bloomberg is just impossible to give up.
But these 2 platforms cater mainly to institutional investors. A Bloomberg terminal goes for $2000 a month, so as retail investors, it just doesn't make sense to pick one up.
That's where ShareInvestor WebPro comes in.
ShareInvestor WebPro is:
An essential investment tool for all investors and traders
A full suite of fundamental data and technical charts is readily available for your investment analysis. Be the first to be updated with the latest financial news and information. With ShareInvestor WebPro, you will be able to make good investment decisions with confidence.
I'm going to break that down for you. ShareInvestor WebPro is a poor man's version of Bloomberg. You get probably half the functions of Bloomberg, but at a much, much, much lower price point.
And when you save $2000 a month on expenses, that's no different from making an extra $2000 on your trades.
Pricing
One of the main highlights of ShareInvestor WebPro is the competitive pricing, especially against competing products like Bloomberg.
The basic pricing for ShareInvestor WebPro is set out below. Market Data Fee (real time stock prices) isn't needed unless you're a trader (in which case you may be able to get from your broker), but it's there if you want the option.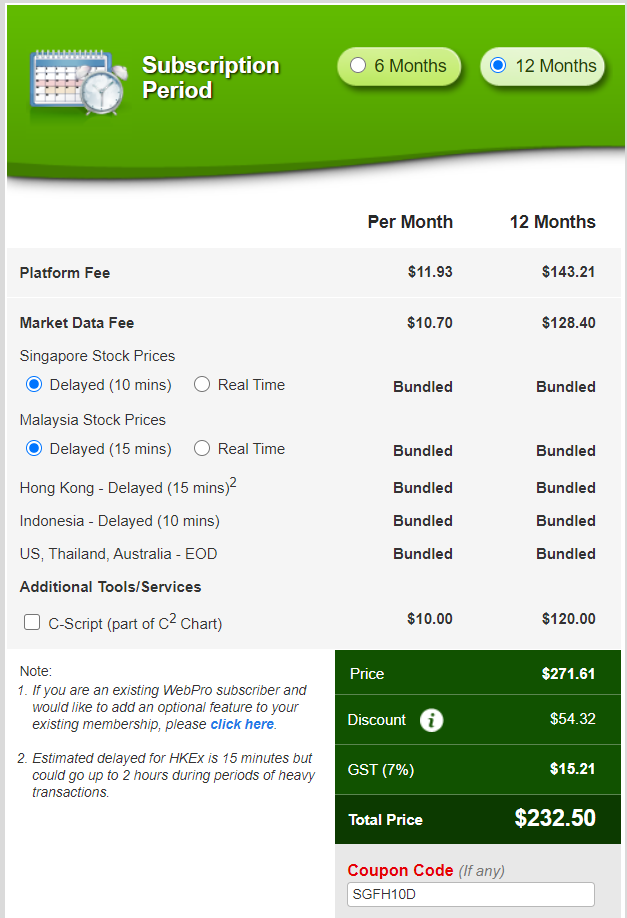 Financial Horse Coupon Code / Promo Code
On top of that, there is a Financial Horse Coupon Code / Promo Code that will offer new subscribers a $10 rebate, so don't forget to use it if you're signing up.
The coupon code / promo code is SGFH10D
Final Pricing
After using the coupon code, it drops to about S$222 for 1 year subscription, which works out to S$18.50 a month.
That's actually really reasonable.
Compared to a full fledged Bloomberg Terminal, ShareInvestor WebPro comes in at a fraction of the cost.
And compared to free options like Yahoo Finance, ShareInvestor can do a lot more that than the free options.
Features List – What can ShareInvestor WebPro do?
The full features list is set out on their website, and it's a pretty long list, so do take a look if you're keen.
http://www.shareinvestor.com/membership/plans_compare.html
Most of the features are pretty self-explanatory, so I'm not going to go through a full walkthrough, I'll just highlight the main features that I like.
And the most helpful part, is the section on fundamental analysis. Now I'm a long term investor, so I mainly look at fundamental analysis. You know, stuff like P/E ratios, dividend payout ratios, EV/EBIDTA etc.
And without a platform like ShareInvestor WebPro, there's 2 main ways of getting such information: (1) Yahoo Finance, and (2) the Company's website. All the information is public, so I'll be able to get them anyway, but the main difference is how long it takes me to get the information. And with many of them, getting them via ShareInvestor is much more convenient.
Fundamental analysis
ShareInvestor WebPro gives you the up to date financial ratios for just about every metric you could want.
I've extracted some charts below to give you a rough idea, but long story short, there's a ton of financial ratios here, way more than what you'll get on Yahoo Finance.


It also gives you the past 10 years' worth of financial ratios. This cannot be understated, because Yahoo Finance only gives you the financial ratios as at the current date.
It's super helpful especially when you're evaluating REITs, because you'll usually want to see how the REIT's price has traded against it's book value historically. And that's something you just couldn't get from Yahoo Finance, so this is actually a pretty huge upgrade.
Unfortunately, the most granular you can break this down is by years, so you can't generate a day to day / month to month chart like with Bloomberg. But again, it really all goes back to the pricing here.

Insider Sales and Share Buybacks
Insider sales is another big one. Insider sales are all announced on SGX, so it's actually possible to go through all the company announcements individually to figure out what insiders are doing.
But that's incredibly tedious, and realistically nobody is going to do that.
With ShareInvestor WebPro, all the insider trades are nicely categorised for you, so it hugely reduces the amount of time spent on such research.

Likewise for Share Buybacks. ShareInvestor WebPro consolidates them all in a nice place for you to refer easily.

Screener (Fundamental Analysis & Technical Analysis)
The screener feature is also way superior to the free options you get on SGX or Yahoo Finance.
You can screen by:
Fundamental Analysis Conditions;
Technical Analysis Conditions; and
Consensus Estimates Conditions; and
Price and Other Conditions.
Fundamental Analysis Conditions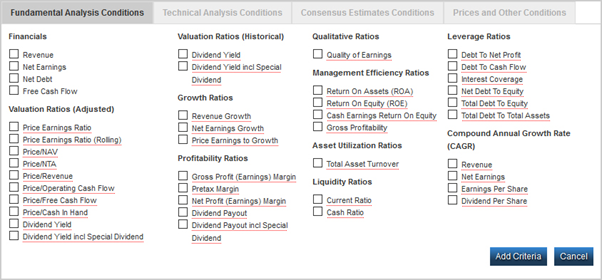 Technical Analysis Conditions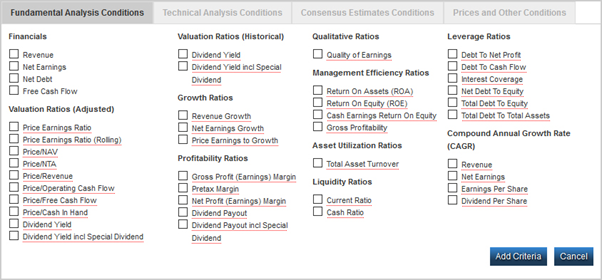 Consensus Estimates Conditions
Price and Other Conditions
C2 Chart
ShareInvestor also has a newly launched feature, the C2 Chart, which is designed for technical analysis.
Some notable features:
Compare your stock performance versus the Index or Industry Peers
Use drawing tools like Arrows, TextBoxes and Free-style Doodling
Add trendy studies like Average True Range (ATR) and Donchian Channel (DC)
Share your chart analysis to anyone conveniently through a screen grab
Switch between different chart themes/styles to your own liking
It comes with no additional cost, and is in addition to all the features above. Could be really handy for those of you who like to do technical analysis.
Portfolio Series
ShareInvestor also has a really interesting portfolio series that could be suitable for newer investors.
Basically you'll pick from 4 different model portfolios as set out below.
Based on this, ShareInvestor will then screen certain stocks for you.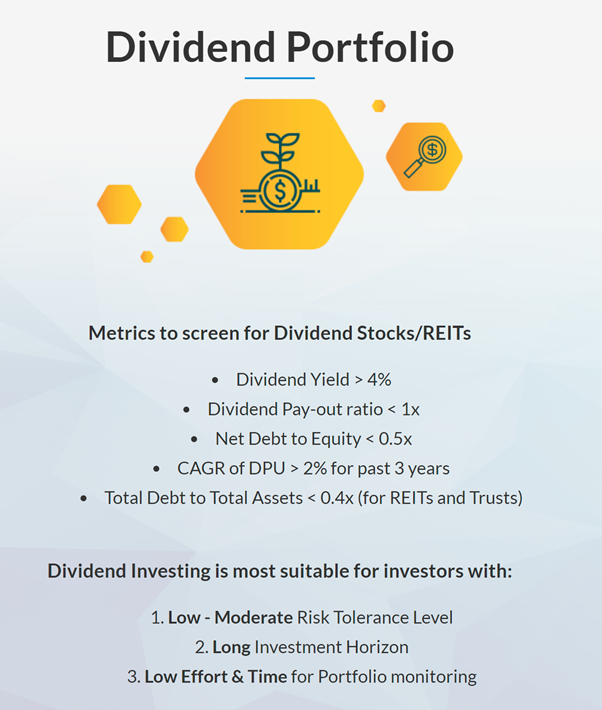 For example, if you pick dividend portfolio, ShareInvestor will screen Dividend Stocks or REITs that fit the financial metrics set out above. With the initial list, you can then go on to perform more in depth research on the individual stocks based on the other fundamental analysis tools described above.
It's a really interesting tool, and one that could be especially useful for newer investors. Even for experienced investors, this could save a lot of time in the filtering process.
Additional Support
ShareInvestor platform is really comprehensive. I've been using it for over a year, and I still don't think I've fully discovered all the features.
Anyway, there's a couple of ways that you can get additional support, and these include:
· Monthly online tutorial – A product specialist will guide you through the features of WebPro.
· Private Member Group – Communicate with product specialist and like-minded investors on features or stock reviews.
Financial Horse Coupon Code / Promo Code
If you're keen to sign up, there is a Financial Horse Coupon Code / Promo Code that will allow you to enjoy a $10 rebate, so don't forget to use it if you're signing up.
The coupon code / promo code is SGFH10D
Free Trial
If you're still undecided, you can give try it out for free. There is a 9 Day Free Trial available here!
Disclaimer: The following post is sponsored by ShareInvestor, all opinions and views expressed in this article are courtesy of Financial Horse.