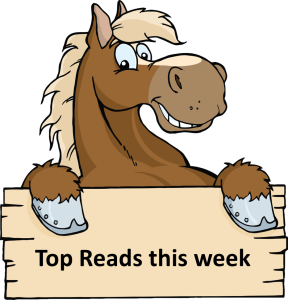 Rounding up top investing articles from around the web, including articles shared on Twitter.
---
There are two points with the "bailout" that are very concerning:
AT1 Bondholders (CoCo) wiped out ahead of equity holders – this will trigger repricing of AT1s across the board
The speed of the deal is astounding – how bad was the run on Credit Suisse last week?
---
Asian lenders may find it difficult to replenish their capital by issuing Additional Tier-1 (AT1) bonds, Citigroup said in a research note on Wednesday, after the Swiss authorities' move to wipe out Credit Suisse bonds as part of its takeover deal.
The challenge will be particularly acute for a large number of smaller banks in Asia more reliant on AT1s compared with Western peers due to tighter regulatory liquidity requirements.
Under the takeover deal, the Swiss regulator determined that Credit Suisse's AT1 bonds with a notional value of 16 billion francs ($17.35 billion) would be wiped out, a decision that stunned global credit markets and angered many holders.
AT1 bonds, which can be converted to equity, rank higher than shares in the capital structure of a bank. If a bank runs into trouble, bondholders will usually come before shareholders in terms of getting their money back.
The write-down to zero at Credit Suisse will produce the largest loss in the $275 billion AT1 market to date.
---
When Silicon Valley Bank failed earlier this month, the Federal Deposit Insurance Corporation stepped in, taking over the bank to protect its depositors.
But with the collapse marking the second-largest bank failure in U.S. history, some consumers may be wondering how much the FDIC can handle.
The FDIC is typically unlikely to face losses on insured deposits, he said, though he was unable to say whether that would be true in the case of Silicon Valley Bank given that the agency is also insuring uninsured deposits.
While the FDIC may have to borrow money in an "extreme circumstance," he said, "all of those facilities exist to make sure that depositors have access to their cash. And in particular, they want depositors to know that they'll have access to the cash."
That confidence means depositors will not take all their cash out and the system works more smoothly, he added.
---
In a joint statement at the end of Mr Xi's state visit to Moscow, the two men cautioned against any steps that might push the Ukraine conflict into an "uncontrollable phase", adding pointedly that there could be no winners in a nuclear war.
Mr Putin accused Western powers of fighting "to the last Ukrainian", while Mr Xi reiterated China's "neutral position" on Ukraine and called for dialogue.
"We believe that many of the provisions of the peace plan put forward by China are consonant with Russian approaches and can be taken as the basis for a peaceful settlement when they are ready for that in the West and in Kyiv. However, so far we see no such readiness from their side," Mr Putin said.
China's proposal – a 12-point paper calling for a de-escalation and eventual ceasefire in Ukraine – lacks details on how to end the war.
---
Mr Ong noted that before COVID-19 vaccines became available, Singapore resorted to implementing a "circuit breaker" in April 2020 in a bid to contain the pandemic. 
"The two-month circuit breaker cost us around S$11 billion in terms of GDP loss. And we spent close to another S$60 billion over two financial years to cushion the hardship for businesses and workers, not to mention all the heartaches, the difficulties families had to go through," he said.
---
These scammers put up online property listings on various advertisement websites, such as Facebook and Carousell, enticing victims into starting a conversation with them on Whatsapp through the contact numbers listed on these ads.
The scammers then impersonate registered property agents, furnishing the details of a legitimate property agent, including their Council for Estate Agencies (CEA) registration numbers, business cards, as well as photos and videos of the property they are leasing.
But when victims enquire about viewing the property, the scammers will claim that there is too much demand, before pressuring them into making rental deposits to a local bank account to secure the units.
---
From April 2025, bottled and canned drinks will cost 10 cents more, but shoppers will get the deposit back once they return the empty cans and plastic bottles for recycling.
---
Nike beat Wall Street's expectations for its fiscal third-quarter earnings and revenue.
The retailer has been contending with a glut of inventory and soft sales in China as the region recovers from the Covid pandemic.
Nike said it is taking a "cautious approach" to planning, given worries about the consumer and the economy.
---
TikTok CEO Shou Zi Chew appealed directly to the app's users ahead of what's expected to be a heated grilling in the U.S. House Energy and Commerce Committee this week.
Filming from Washington, D.C., Chew emphasized the large scale of TikTok users, small and medium-sized businesses and its own employees based in the U.S. that rely on the company.
TikTok said last week that the Committee on Foreign Investment in the U.S., which is reviewing risks related to the app, is pushing for ByteDance to sell its stake or face a ban.
---
The smash success of ChatGPT prompted an internal "code red" at Google, and sent the tech giant scrambling to release something similar. But Bard's announcement last month proved catastrophic when a moving graphic intended to showcase Google's AI capabilities blurted out an AI-hallucination(Opens in a new tab), also known as a lie. Shares of Google's parent company dropped by $100 billion(Opens in a new tab) immediately afterward.
Rather than a big, flashy wide release, Google is opting to let select insiders receive demos, and providing a waitlist link for everyone else. The Bard homepage(Opens in a new tab) has a "Join waitlist" button, which, if clicked will let you know if the account you're using is eligible, and if so, ask you whether you want to opt-into Bard news updates. Once you're on the waitlist, there's nothing to do but wait for an email with the subject line "It's your turn to try Bard."
Looking for a comprehensive guide to investing? Check out the FH Complete Guide to Investing, Stocks Masterclass and REITs Masterclass for Singapore investors.
2023 Stock Watch: Support the site as a Patron and get stock market updates. Like our Facebook Page and join our Telegram Channel for weekly updates!
Join Financial Horse's Investing Community!