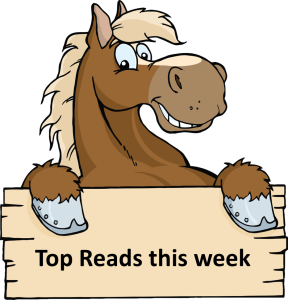 Rounding up top investing articles from around the web, including articles shared by fellow investors in the Financial Horse Facebook Group.
Last Chance! – Promo for FH Complete Guide to Investing + REITs Masterclass!
---
In a media call on Thursday morning following its results release, Singtel group chief executive Yuen Kuan Moon said that the review of the telco's entire asset portfolio is done with the primary motives in mind: to bridge the valuation gap between individual assets and the integrated telco assets, as well as to monetise assets that are not aligned with, or may be less important to the group's vision.
The telco has already begun a partial sale via auction of Optus' towers in Australia to maximise proceeds from the sale, said Singtel in its filing, and said the group seeks to "more actively recycle" its assets.
---
Jeff Bezos will formally step down as Amazon CEO on July 5, he announced Wednesday at the company's annual shareholder meeting.
Andy Jassy, Amazon's cloud-computing boss, will take over Bezos' role.
Once he steps down, Bezos will transition to executive chairman of Amazon's board.
---
Billionaires Kwek Leng Beng and Wee Cho Yaw, among the richest real estate tycoons in Singapore, are placing big bets in state land auctions as the developers seek to replenish their land banks amid rising housing demand in the city-state.
A consortium led by Wee's UOL Group submitted the highest bid of S$381.4 million ($288.2 million) for a 99-year leasehold residential site in the northern Singapore town of Ang Mo Kio. The UOL bid edged out the partnership of Kwek's City Developments and MCL Land as well as a joint venture between Far East Organization, the privately held developer controlled by billionaire brothers Robert and Phillip Ng, and Japan's Sekisui House.
---
Singaporeans and permanent residents (PRs) will have to test negative for Covid-19 before returning to or transiting through Singapore, as the country further tightens its border measures to manage the risk of imported cases and virus transmission in the community. 
---
Esco Lifesciences, which supplies life sciences tools for the healthcare industry, has raised US$200 million in an oversubscribed Series A round, as it seeks to expedite expansion in China, and hunt down acquisitions worldwide. The round will value the company at over US$800 million.
---
The decision comes despite data showing the economy putting up a stronger-than-expected showing in the first quarter of the year. Gross domestic product grew by 1.3 per cent year-on-year between January and March, propped up by gains in the manufacturing, finance and insurance, and wholesale trade sectors.
In its report, MTI said the external economic environment has improved since February, even though the pandemic continues to disrupt economic activities around the world. Following a stronger-than-expected performance in the first quarter, the domestic economy "should still see a recovery this year" amid the global economic rebound and further progress in the local vaccination programme.
---
NetEase said it plans to spin off Cloud Village, the operator of its NetEase Cloud Music streaming service, in an initial public offering in Hong Kong. NetEase, the operator of China's second-largest gaming business, reported a 39.7 per cent increase in first-quarter revenue in its "innovative businesses and other" segment, which includes the music streaming business. NetEase attributed a year-over-year increase in gross profit in the segment primarily to the improved performance of NetEase Cloud Music.
Earlier this month, NetEase Cloud Music struck a licensing deal with Sony Music Entertainment to distribute the latter's content to mainland Chinese users and explore other areas of collaboration, including music vlogs and online karaoke with smartphones. It also has licensing deals with Universal Music Group and Warner Chappell, the global music publishing arm of Warner Music Group.
---
Biden orders closer review of Covid origins as U.S. intel weighs Wuhan lab leak theory (CNBC)
President Biden has ordered a closer intelligence review of what he said were two equally plausible scenarios of the origins of the Covid-19 pandemic.
Biden revealed that earlier this year, he asked the intelligence community to assess "whether it emerged from human contact with an infected animal, or from a laboratory accident."
The hypothesis that the virus may have escaped from a Chinese lab has gained more mainstream traction.
---
In February, Nvidia released new processors specifically for mining cryptocurrency.
Nvidia booked $155 million in revenue from crypto mining cards in the first quarter.
But Nvidia CEO Jensen Huang talks about the new product line as a way to protect the company's PC gaming business.
---
Under the partnership with HCA Healthcare, Alphabet's Google Cloud will work to develop algorithms based on patient records from the Tennessee-based provider that attempt to improve efficiency and patient outcomes.
Cramer acknowledged that previous attempts to disrupt patient care using artificial intelligence, such as one from IBM's Watson, haven't lived up to grand ambitions. However, he said he believes Google's foray could be more successful, in part, because the company is working so closely with a health-care provider.
---
Malaysian billionaire Lim Kok Thay's Genting Hong Kong is looking at potential asset sales and debt restructuring to help its loss-making cruise liner navigate the challenging business environment brought on by the Covid-19 pandemic.
The operator of Star Cruises posted a net loss of $1.7 billion in 2020, compared with a net loss of $158.6 million the year before, the company said in a filing to Hong Kong's stock exchange on Sunday evening. There are "material uncertainties which may cast significant doubt about the Group's ability to continue as a going concern," it said.
---
In a statement on Tuesday (May 25), Mr Ismail Sabri said they totalled 41,971 to date. These include 6,290 babies below 18 months old. The overall number of children infected, including those older than 12, has risen eight-fold.
---
New Covid-19 cases have stayed above 6,000 for seven straight days and the health ministry has said the tally may exceed 8,000 by next month if people do not follow the virus protocols. Just under 3 per cent of Malaysia's population is fully vaccinated, though the government aims to achieve herd immunity by year end.
---
The researchers say it could be because women had to take on more than their fair share of housework, among other stressors the Covid-19 pandemic has brought to daily life.
---
Technician Kamaruddin Salleh, 53, was attending his eldest son's polytechnic graduation ceremony three years ago when he got the idea of going back to school. The same year, he decided to enrol in a part-time aerospace engineering course in Temasek Polytechnic. Mr Kamaruddin, who stopped his studies after secondary school, was partly inspired by his 49-year-old wife.
---
China's Inner Mongolia region has proposed punishments for companies and individuals involved in digital currency mining as it looks to further crack down on the practice.
Telecommunications businesses involved in mining could have their business licenses revoked while cloud computing companies could get blocked from preferential government policies.
Inner Mongolia's tough stance on mining began in March after it announced plans to ban new cryptocurrency mining projects and shut down existing activity to cut down on energy consumption.
China's crackdown on cryptocurrencies began in 2017 when it forced local exchanges to shut down and banned initial coin offerings.
---
---
Looking for a comprehensive guide to investing? Check out the FH Complete Guide to Investing and FH REITs Masterclass for Singapore investors.
2021 Stock Watch: Support the site as a Patron and get stock market updates. Like our Facebook Page and join our Telegram Channel for weekly updates!