As you know, a month or two ago I shared my view that the market pricing on interest rates was wrong.
To me, the market pricing was wrong in 2 ways:
Short term interest rates need to go higher than what the market is expecting
The timing of interest rate cuts will not be as early as the market is expecting
The market seems to have woken up to this reality.
Where we are today, the market is now pricing in 1 more rate hike to 5.5%, and no interest rate cuts until late 2023 / early 2024.
This looks a lot closer to what I think is the interest rate end game.
So I wanted to share some views on what I think happens next.
At the same time, there are interesting developments in short term interest rates in Singapore – both on T-Bills and MAS Bills that I wanted to discuss.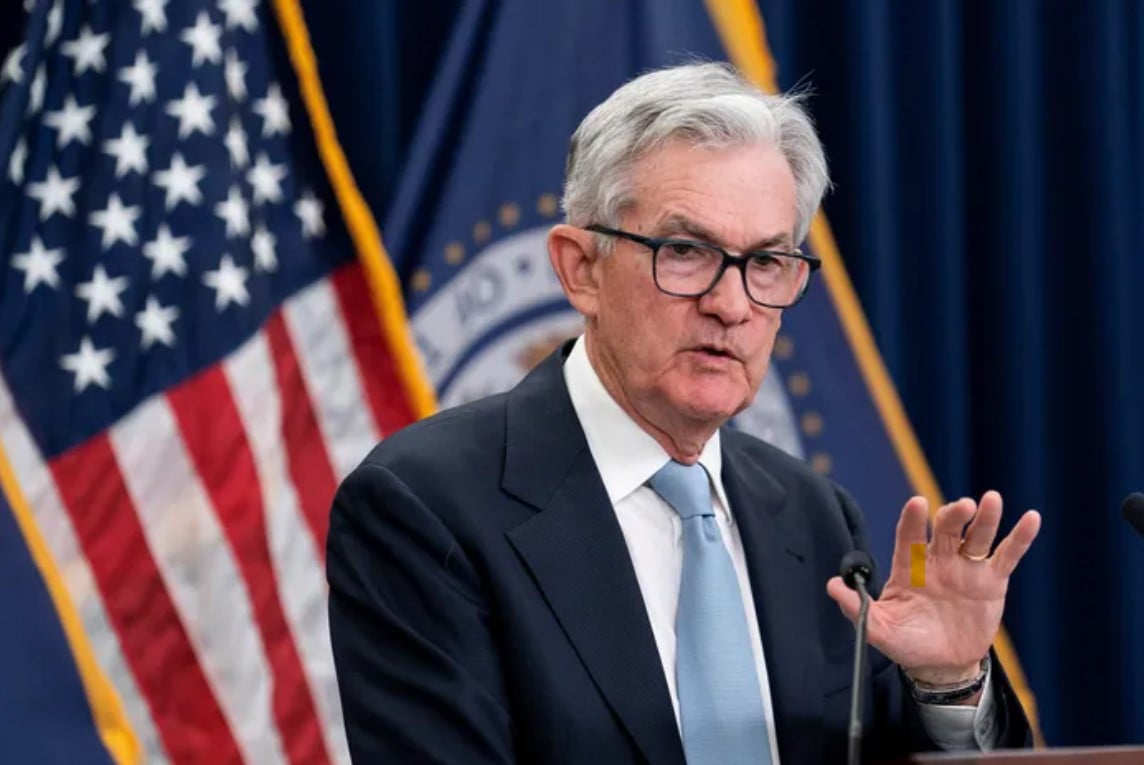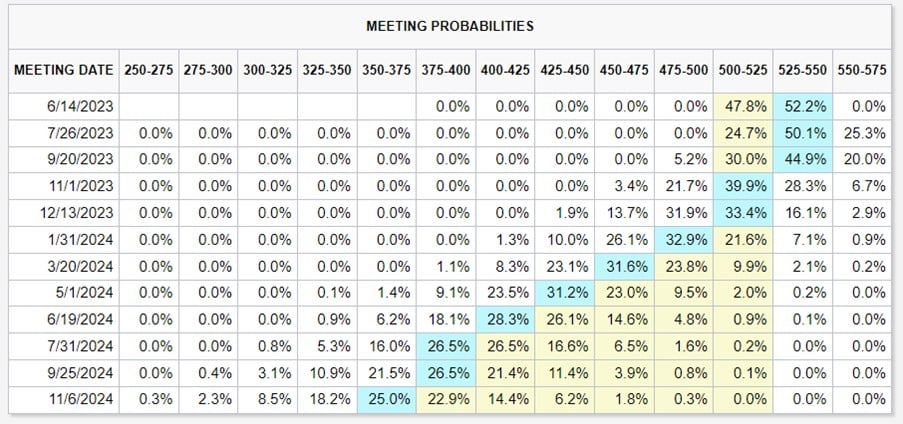 6 month T-Bills issued at 3.85% yields (25 May 2023 Auction)
First off – the latest 6 month T-Bills auction closed at 3.85%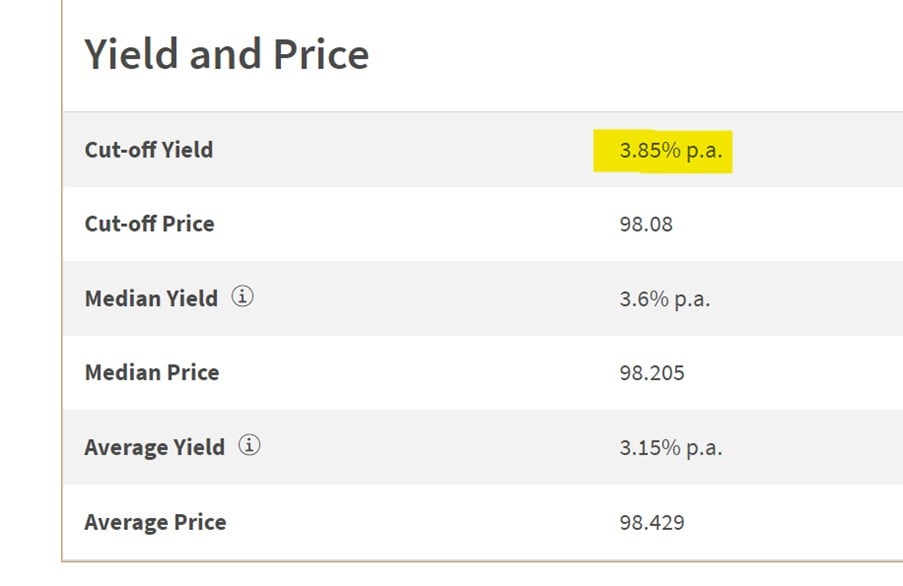 You can see the 6 month range on the T-Bills cut-off yields below.
3.85% is still below the highs hit in late 2022, but it's on the higher end of the range it's settled into since the failure of the US banks in March 2023: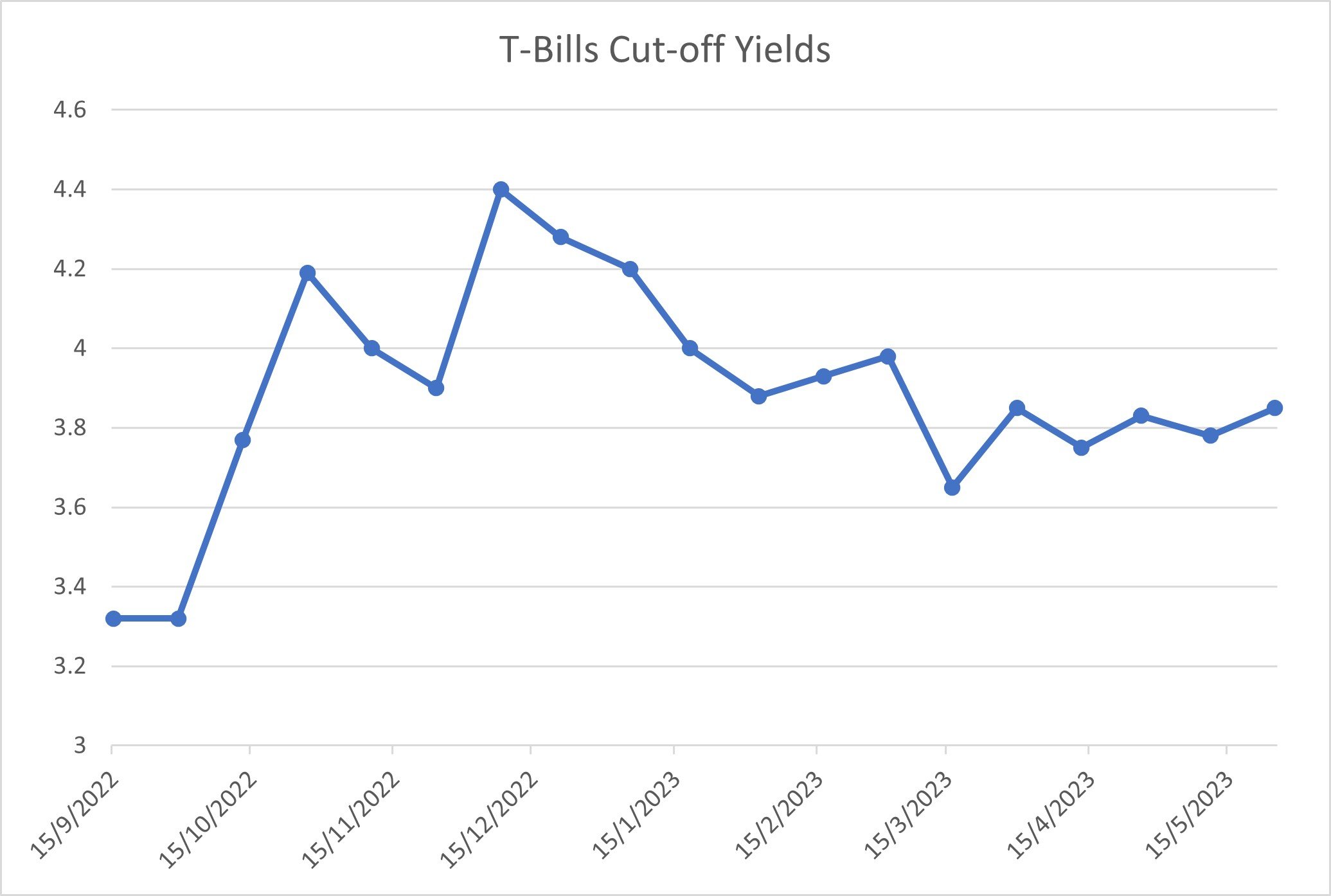 T-Bills demand did not go up significantly
T-Bills application amounts are set out below.
Yes, application amounts are up slightly, but it's not a massive increase.
So it's hard to say that this rise in yields is due to demand, it does point to something deeper.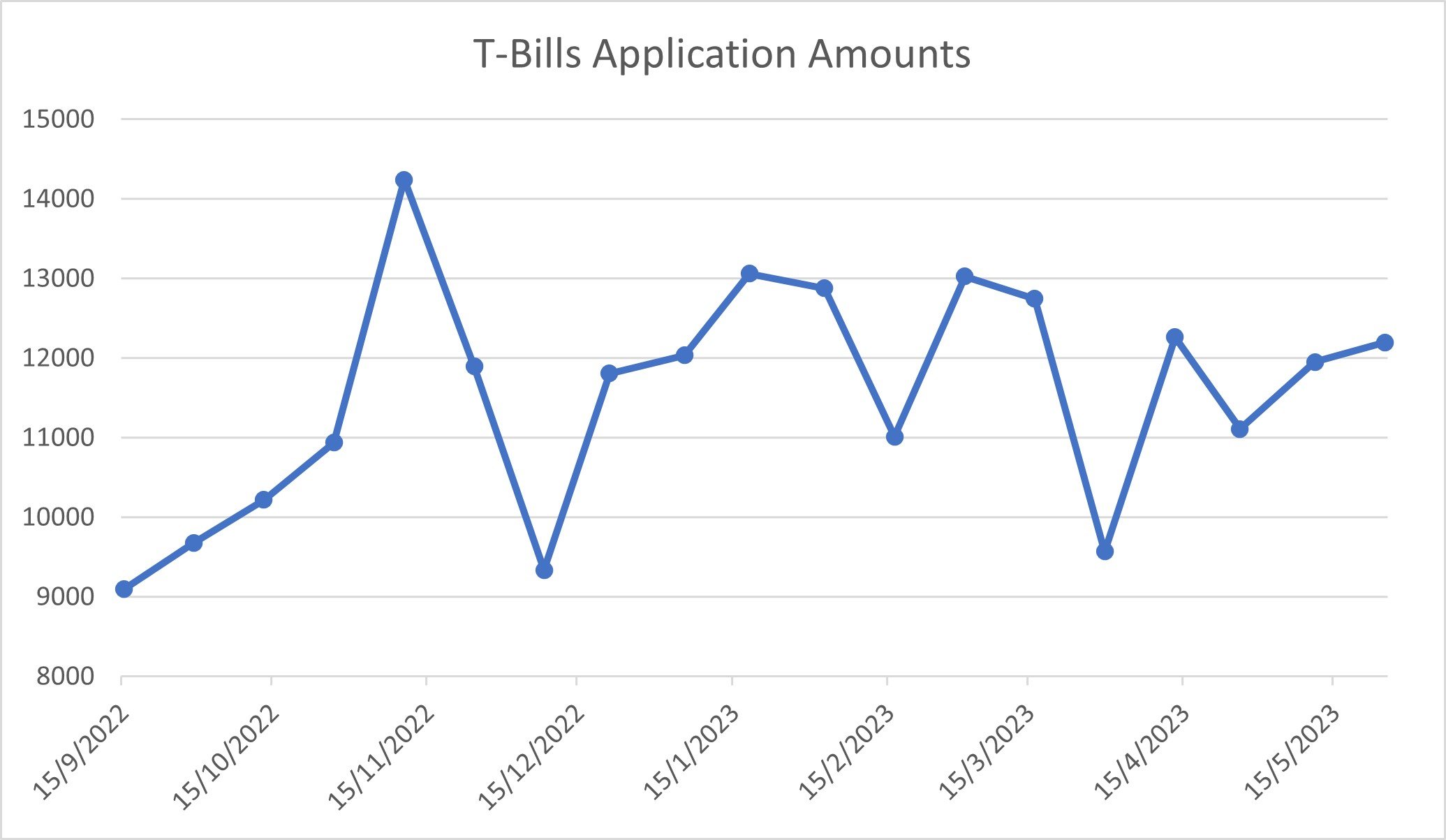 Why did T-Bills yields go up? US Interest Rates went up?
In my weekend article I projected a range of 3.7% – 3.8% for the T-Bills.
What changed over the course of this week though, was that US interest rates went up materially.
Whether it's due to markets realising that the economy is stronger than expected, that interest rate cuts are further away than expected, or because of fears over the debt ceiling, or because of lopsided short positioning is not very clear.
But the fact is that US short term interest rates went up materially this week, as you can see below:
12 week MAS Bills Auction closed at 4.08%
This had an impact on the 12 week MAS bills as well, which shot up to 4.08% for the most recent auction.
A couple of you guys shared this in the FH Telegram Group as a sign that the T-Bills yields would go up, and that turned out to be absolutely spot on.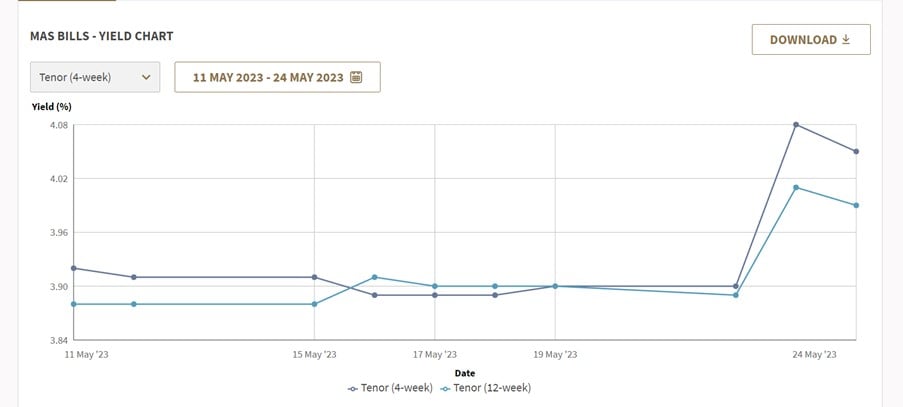 I myself applied for T-Bills this round
As shared last week, the way the market is priced today – I think T-Bills are a better buy than fixed deposit.
I put all my expiring Fixed Deposits into T-Bills this week, and I plan to do so going forward as well.
Why are T-Bills a better buy than Fixed Deposits?
The problem now is that the banks have adjusted their fixed deposit rates down in anticipation of interest rate cuts the next 6 – 12 months.
And yet the short term picture is much more nuanced than that.
Yes the economy is rolling over, but you still have a Fed that has invoked the legacy of Paul Volcker to crush inflation.
How quickly they cut interest rates, is not a straightforward call.
In my view – market pricing today is closer to the reality than what bank fixed deposits reflect.
And that's where my money will be going in the short term.
Why I thought market pricing on interest rates was wrong?
In my previous articles I wrote that the market pricing on interest rates was wrong in 2 ways:
I think interest rates may go up higher in the short term (than what market is pricing in)
I think interest rates will stay high longer than what market is pricing in (rate cuts not so soon)
To some extent, this has already played out.
Market Pricing on Interest Rates today
Market today is pricing in:
1 more rate hike to 5.5%, and a slim chance of another hike to 5.75%
No interest rate cuts until late 2023 / early 2024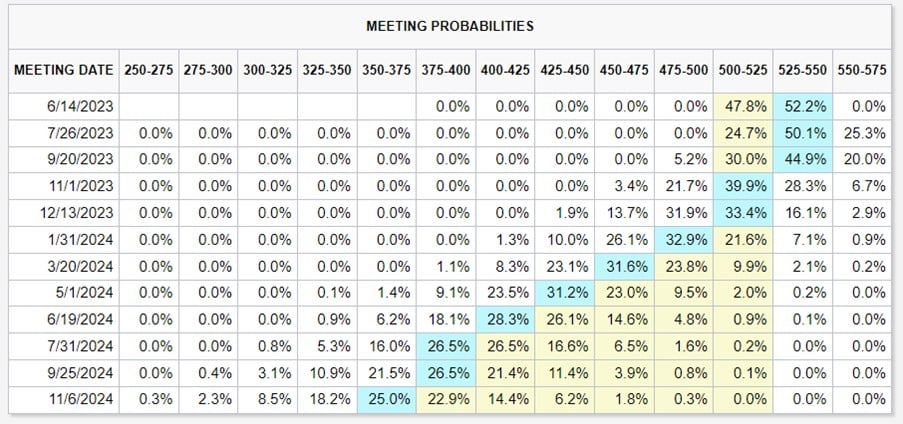 Market Pricing on Interest Rates 2 months ago
Contrast that with the market pricing 2 months ago where the market saw interest rates peaking at 5.25%.
And interest rate cuts as early as September 2023.
And much of my thesis of (1) higher interest rates in the short term and (2) rate cuts further out than expected has already played out.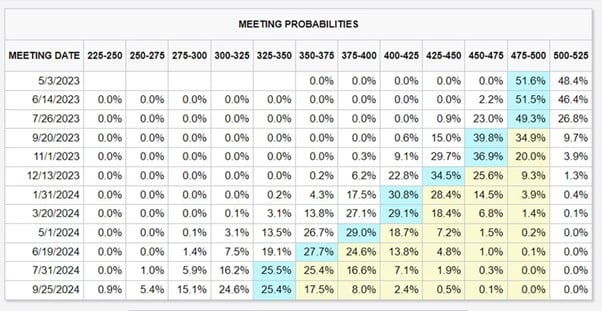 What happens next for interest rates?
Where we are today – I think this looks very close to the interest rate end game for this cycle.
Ie. 50/50 chance of 1 more rate hike, and a slim chance of 2 more rate hikes.
And no rate cuts until late 2023 / early 2024.
The probabilities can move somewhat, but I don't think the market is fundamentally wrong on this anymore – unlike where it was 1 – 2 months ago.
So just for the record, I no longer think the market is wrong on interest rates.
Current interest rate pricing is very closely aligned with how I see the next 12 months playing out.
The key variable going forward is how policy makers react to slowing economic growth.
After talking about Paul Volcker all cycle, does Jerome Powell do an Arthur Burns and slash interest rates the moment unemployment starts going up?
Or does he hold true to his guns to bring inflation down, even at the cost of a deep recession.
That's the million dollar question going forward.
And the market pricing on this today, I think it's about right: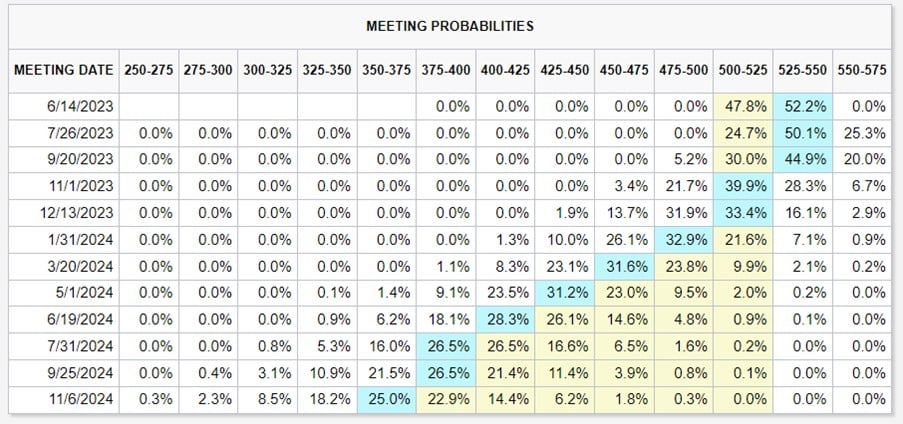 What are the implications of this?
Let's discuss the implications on:
Where to park cash?
What does this mean for the economy / financial markets?
Let's start with the easy one, on where to park cash – T-Bills or Fixed Deposit.
BTW – we share commentary on Singapore Investments every week, so do join our Telegram Channel (or Telegram Group), Facebook and Instagram to stay up to date!

I also share great tips on Twitter.
Don't forget to sign up for our free weekly newsletter too!
Because of this though… T-Bills are a better buy than Fixed Deposit in my view
Interestingly State Bank of India which offered a 3.75% Fixed Deposit has slashed it to 3.50% now.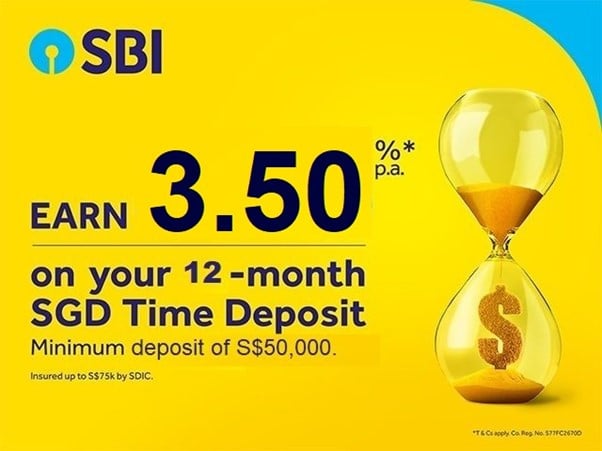 The best 6 months fixed deposit you can get today is 3.55% with RHB.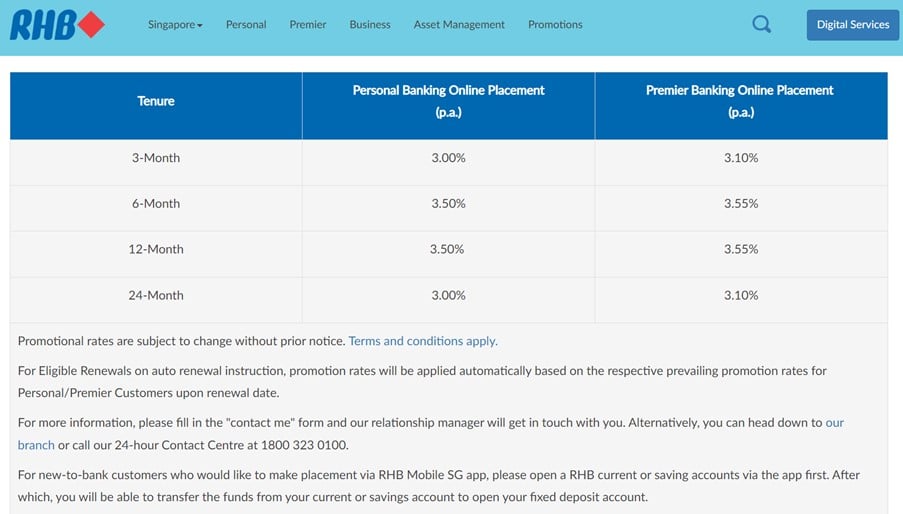 Like I said, I think the fixed deposit rates set by the banks are too conservative versus market pricing.
Which is why I see T-Bills as the better buy vs Fixed Deposit.
And that's where I plan to put my cash short term.
What about the impact on the economy / financial markets?
The much more tricky question, is what is the impact on the economy or financial markets.
This is not an easy one.
We're coming off a 13 year bubble inflated by a decade of low interest rates and QE.
That ended with $5 trillion stimulus post-COVID.
With a land war now going on in Europe.
And US and China locked in a great powers conflict.
Broadly speaking though, I see 2 possible futures based on how quickly Jerome Powell cuts interest rates in the next 12 months.
Scenario 1 – Powell cuts interest rates too early
If Powell panics and cuts interest rates too early.
He will make the same mistake that Arthur Burns did in the 1970s.
Cut too early, allow inflation to return, requiring a second round of tightening (and second recession).
And repeat until inflation is finally tamed.

In this scenario the mid-term would be stagflationary and not good for the real economy.
But financial markets wise you can still make a lot of money trading the cycles and the volatility.
Scenario 2 – Powell cuts interest rates too late
If Powell cuts too late though, then you have the opposite problem.
In this scenario yes inflation is probably tamed.
But the damage to the economy might be severe.
And given that we've had a massive asset bubble the past 13 years, what happens on the other side of the recession is not so clear.
Don't forget that the US regional banks are going into this with their balance sheets already impaired from all the mark to market losses on the Treasuries they hold.
If you throw in loan defaults in real estate, credit card debt, corporate loans.
It's a big question mark on what happens next.
Because of this I suspect Jerome Powell will panic and cut too early when the time comes, but hey I'm keeping my eyes wide open to all possibilities here.
As shared with Patreons, given that we are close to peak interest rates here, I have started buying REITs that I think are attractively priced in today's markets. You know, just in case Powell does panic and slashes interest rates. Full list and thought process is available to Patreons.
Closing Thoughts: Is there a Scenario 3 – Where Powell gets the timing perfectly right?
I suppose the question is will there be a Scenario 3?
The one where Powell gets the timing on the interest rate cuts perfect, bringing inflation down while avoiding a deep recession.
Personally I don't believe this is possible.
I think the Feds started hiking too late this cycle.
Had they wanted to achieve a soft landing, they should have stopped QE in 2021, and starting hiking interest rates then.
By waiting until 2022 to hike interest rates, they let the economy run too hot, and inflation run too high, that it cannot be tamed so easily any more.
But hey I could be wrong on this.
Let's see how the next 12 months play out.
This article was written on 25 May 2023 and will not be updated going forward. For my latest up to date views on markets, my personal REIT and Stock Watchlist, and my personal portfolio positioning, do sign up as a Patreon.
WeBull Account – Get up to USD 500 worth of fractional shares + chance to win USD888 / Tesla Model 3 (expires 30 May)
I did a review on WeBull and I really like this brokerage – Free US Stock, Options and ETF trading, in a very easy to use platform.
I use it for my own trades in fact.
They're running a promo now with up to USD 500 free fractional shares, and a chance to win USD 888 or a Tesla 3.
You just need to:
Sign up here and fund any amount
Maintain for 30 days
Trust Bank Account (Partnership between Standard Chartered and NTUC)
Sign up for a Trust Bank Account and get:
$35 NTUC voucher
1.5% base interest on your first $75,000 (up to 2.5%)
Whole bunch of freebies
 Fully SDIC insured as well.
It's worth it in my view, a lot of freebies for very little effort.
Full review here, or use Promo Code N0D61KGY when you sign up to get the vouchers!
Looking for a low cost broker to buy US, China or Singapore stocks?
Get a free stock and commission free trading Webull.
Get a free stock and commission free trading with MooMoo.
Get a free stock and commission free trading with Tiger Brokers.
Special account opening bonus for Saxo Brokers too (drop email to [email protected] for full steps).
Or Interactive Brokers for competitive FX and commissions.
Looking for the best investment books to improve as an investor in 2023?
Check out my personal recommendations for a reading list here.
Do like and follow our Facebook and Instagram, or join the Telegram Channel. Never miss another post from Financial Horse!
Looking for a comprehensive guide to investing that covers stocks, REITs, bonds, CPF and asset allocation? Check out the FH Complete Guide to Investing.
Or if you're a more advanced investor, check out the REITs Investing Masterclass, which goes in-depth into REITs investing – everything from how much REITs to own, which economic conditions to buy REITs, how to pick REITs etc.
Want to learn everything there is to know about stocks? Check out our Stocks Masterclass – learn how to pick growth and dividend stocks, how to position size, when to buy stocks, how to use options to supercharge returns, and more!
All are THE best quality investment courses available to Singapore investors out there!