You guys know the drill by now.
Next T-Bills auction is on 25 May 2023, so the deadline to apply is 1 day before for cash, and 2 days before for CPF-OA.
I myself have a fair bit of spare cash from T-Bills that are maturing this month, so I will likely be applying for this round of T-Bills.
So I wanted to do a quick roundup to discuss:
Expected yields on the next T-Bills
How T-Bills compare with other cash solutions like Fixed Deposit, Singapore Savings Bonds, money market funds, and high yield savings accounts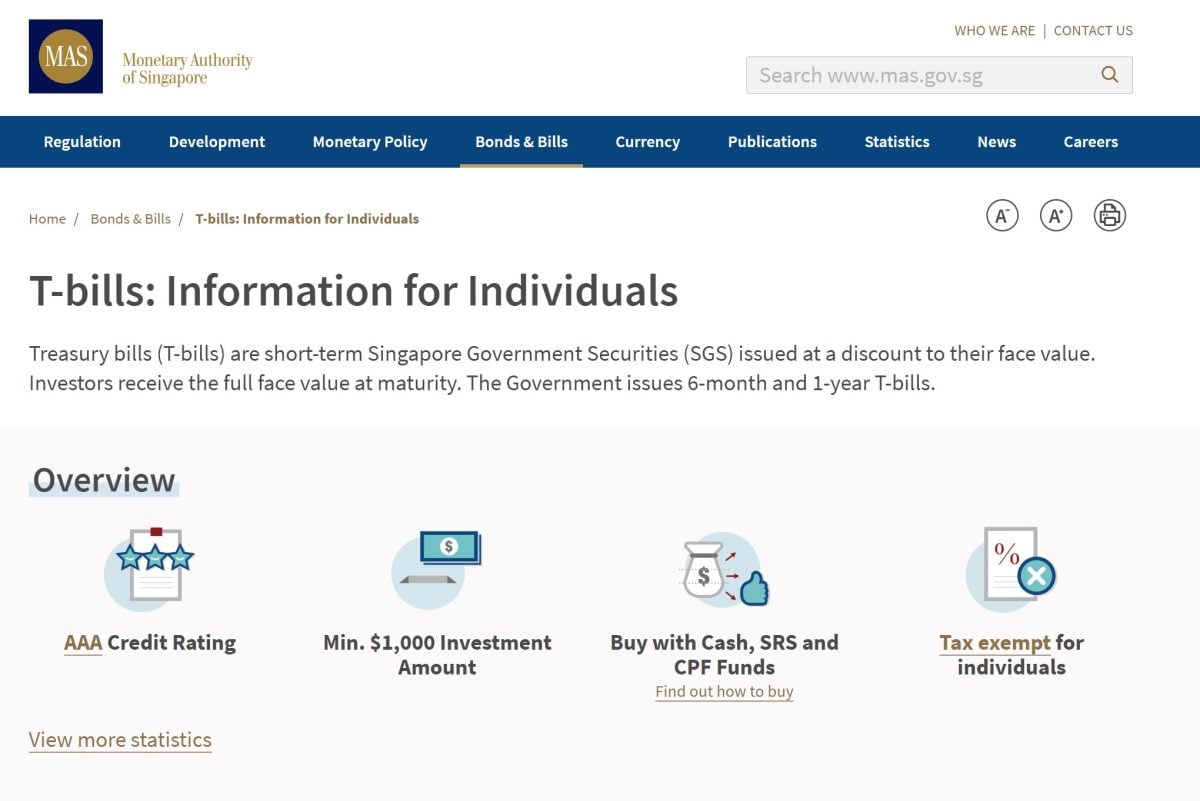 Expected yield on the next 6 month T-Bills
Let's start with expected yields.
6 month T-Bills – 3.74%
Latest 6 month T-Bills are trading at 3.74% on the open market.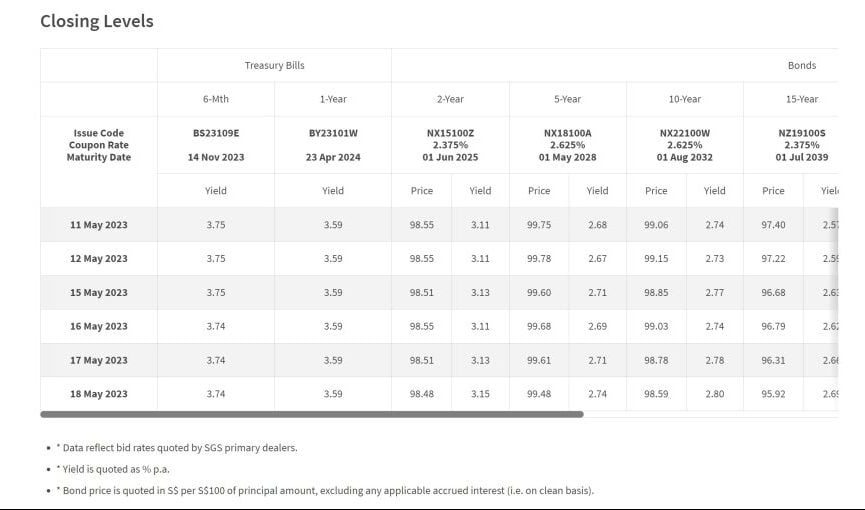 MAS Bills – 3.90%
Whereas the institutional only MAS Bills are trading at 3.90%.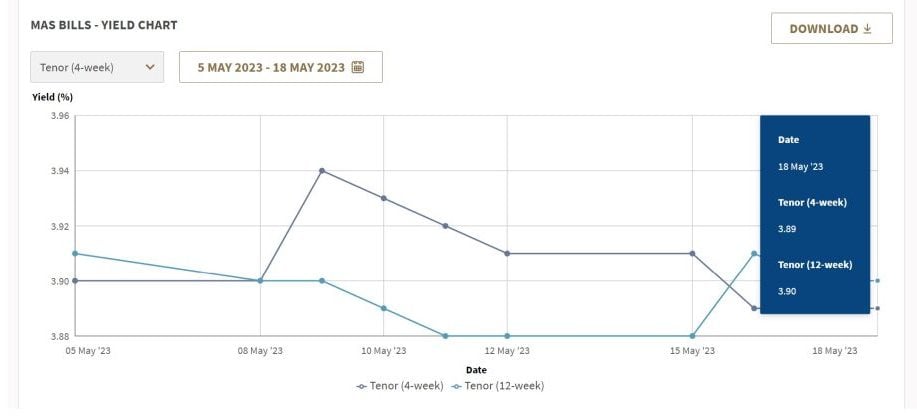 Market is pricing in 2 rate cuts by end of 2023
If you look at the market pricing – market is pricing in 2 interest rate cuts by end of 2023.
As shared previously, I do have my doubts over whether this pricing is correct, but let's run with this for now.
Because of this you would probably expect to see 6 month T-Bills come in below the 12 week MAS Bills.
So 3.90% is probably too optimistic a yield.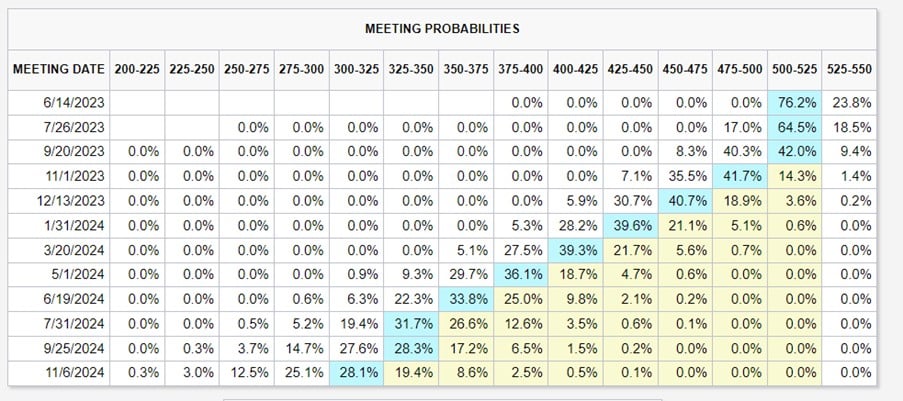 Most Recent T-Bills Auction – 3.78%
The most recent T-Bills auction closed at 3.78%.
You can see the trend below – how yields are down firmly since December 2022 highs, but has stabilised at the 3.7 – 3.8% range since late March.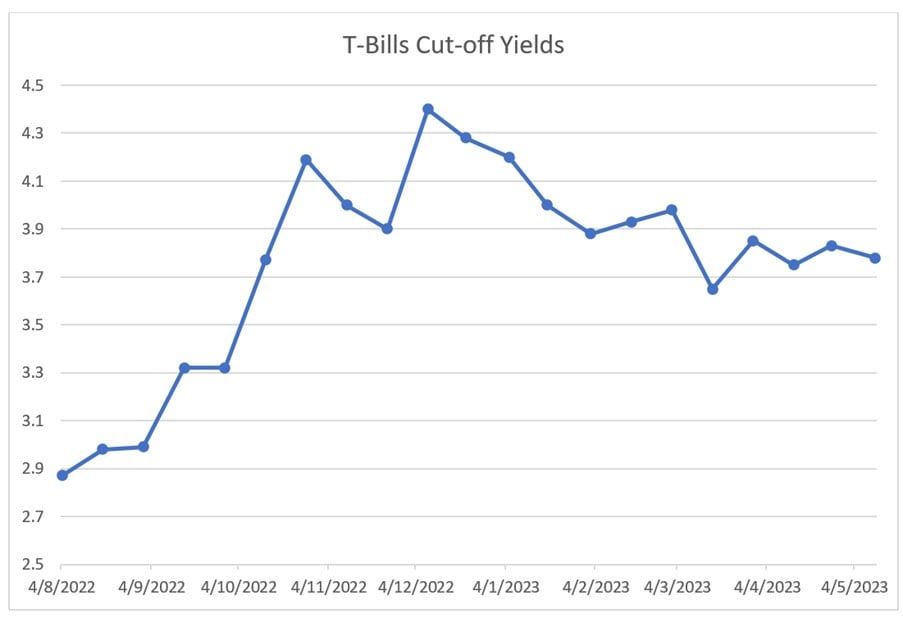 What about application amounts for T-Bills?
Interestingly, T-Bills application amounts remain quite steady.
I could be wrong, but it seems like the T-Bill craze is starting to die down, and investors are starting to discover other places to park their cash (or CPF-OA investors have already bought).
Whether it's Fixed Deposits, Singapore Savings Bonds, Money Market Funds, High Yield Savings Accounts.
I suppose this is a good thing for T-Bills, because it brings demand down.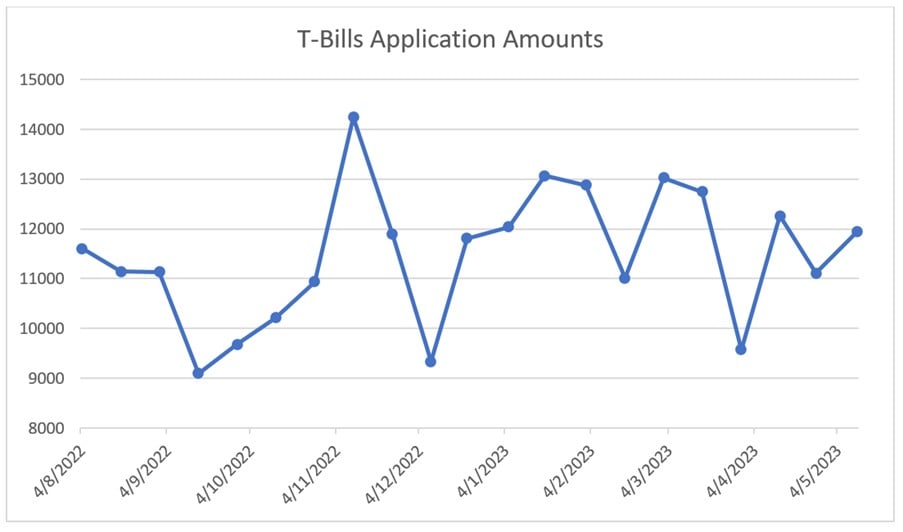 Next 6 month T-Bills Auction – Expected yield of 3.70% – 3.80%
Put all this together, and I think we'll see an expected yield of 3.70% – 3.80% for the next T-Bills auction.
As always, I do encourage investors to submit a competitive bid, to avoid any freak results where the yields plunge and you're still forced to buy.
Do note with T-Bills you do lose a few days of interest (between auction date and issue date)
A couple of you have written in to highlight this point, so I wanted to discuss this quickly.
Do note that if you look at the exact timeline for T-Bills.
The auction date is 25 May 2023, which means that by 24 May 2023 you need to apply and have the funds deducted from your bank account.
However, the T-Bills themselves will not be issued until 30 May 2023.
This means that you will lose the interest on the cash from 24 May 2023 to 30 May 2023.
So the effective interest rate on the T-Bills is slightly lower than the headline number because of this dynamic.
It brings the effective yield down about 0.05% – 0.10%, so do bear this in mind if you are comparing options vs fixed deposit and the numbers run very close.
Better Buy – T-Bills vs Fixed Deposit
With that in mind, let's discuss alternatives to Fixed Deposit.
The best alternative here is probably Fixed Deposit.
With Fixed Deposit, your best options are 3.75% for 12 months with State Bank of India.
Do note that minimum deposit is $50,000: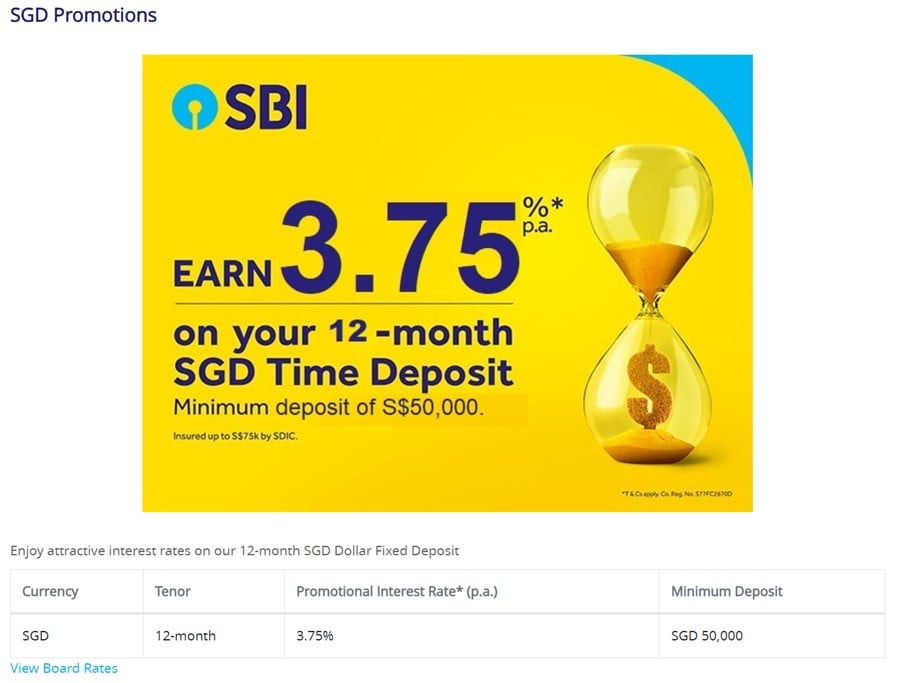 Or if you want something shorter HSBC is offering 3.65% for a 3 month Fixed Deposit.
Minimum deposit is $30,000:

Funnily enough the 6 month Fixed Deposits are in a weird place because of the uncertainty over rate cuts over a 6 month period.
But you can get 3.55% with RHB Bank if you're interested: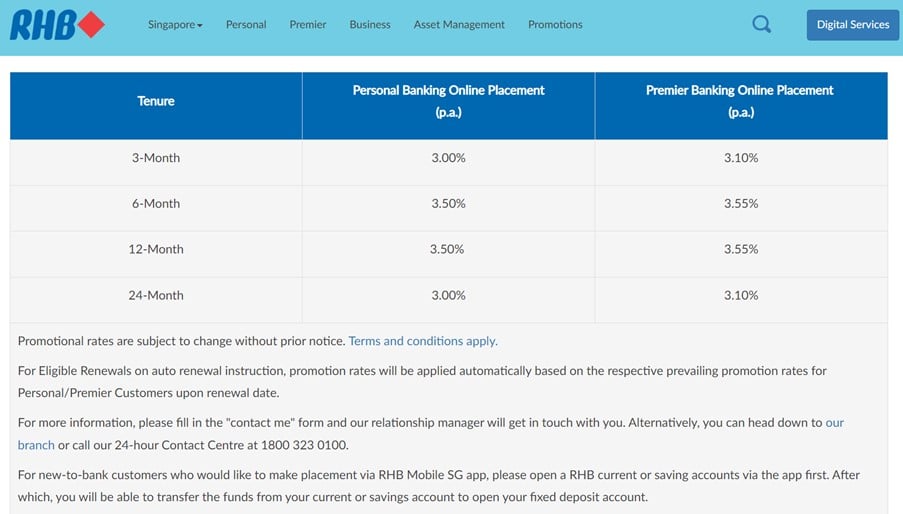 BTW – we share commentary on Singapore Investments every week, so do join our Telegram Channel (or Telegram Group), Facebook and Instagram to stay up to date!

I also share great tips on Twitter.
Don't forget to sign up for our free weekly newsletter too!
Better Buy – T-Bills vs Singapore Savings Bonds
T-Bills vs Singapore Savings Bonds is not really an apples to apples comparison.
Singapore Savings Bonds offer a much lower yield of 2.81%.
But the benefit is that you lock in interest rates for up to 10 years, and you can redeem any time with accrued interest.
So it's more for investors who prize these qualities (10 year duration with full liquidity), but it does come at the cost of lower interest rates.

Better Buy – T-Bills vs High Yield Savings Account
Some of you have asked me about High Yield Savings Accounts and why I don't write about them.
Just for the record, I myself use a High Yield Savings Accounts in UOB One, which I find to be the best savings account in the market right now.
You're effectively looking at 5.0% effective interest rate on $100,000.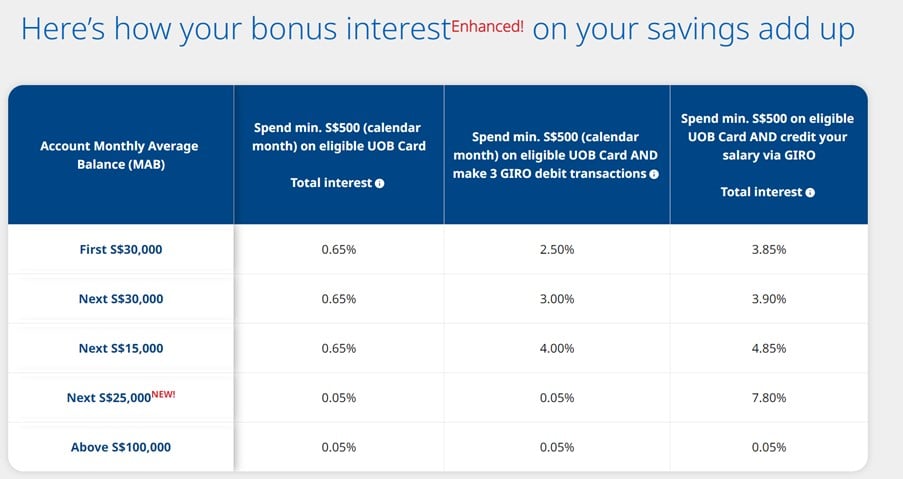 With full liquidity as this is a savings account – you can withdraw any time.
The only drawback is that you need to spend $500 on your UOB card and credit your salary via Giro.
For those who can fulfil this it shouldn't be that hard, but there are some others who may not be able to fulfil these conditions (for eg. if you are a business owner or retiree with no salary).
Or perhaps you may not even want to bother jumping through these hoops for the additional interest.
So I leave it for each investor to decide what works for them.
But personally I use UOB One, and I pair it with UOB Stash Account for very liquid savings that generates very respectable yields (4% blended rate if you put $200,000 across UOB One and UOB Stash Account).
Better Buy – T-Bills vs Money Market Funds
There's been an active discussion in the FH Telegram Group on money market funds as a place to park cash.
My apologies because I've been meaning to write a full article on money market funds, but haven't gotten around to doing so just yet.
For now, the simple takeaway is this – money market funds are not a free lunch.
The yields are in line with T-Bills or Fixed Deposit at 3.5% – 3.8% ish.
But the liquidity does come at a cost.
In the sense that Money Market Funds are not capital guaranteed, so there is a very small chance of capital loss if things really go bad.
And in times of high market stress (think March 2020), you may not be able to exit the money market fund quickly without suffering losses, and may need to hold on for a few weeks / months to wait for conditions to stabilise.
So do note this point, money market funds are not a free lunch, and that liquidity does come at the cost of risk of capital losses.
I will be buying this round of T-Bills (instead of Fixed Deposit)
As shared at the start of this article I will be applying for this round of T-Bills.
The T-Bills I applied in November 2022 have come due, so I have some cash lying around.
I'm not terribly excited by Fixed Deposit at these rates since the best 6 month option is RHB Bank at 3.55%.
Not when you're probably going to see 3.7%ish on the T-Bills.
I don't have an account with the foreign banks like RHB or HSBC, so no way I'm going down to the bank in person to open a new account just for that extra 0.1% – 0.2% in interest rates.
So it will be T-Bills for me, for the spare cash I have.
I'm fine with not having the liquidity because I have enough cash stashed away in Singapore Savings Bonds, UOB One and UOB Stash Account for liquidity requirements.
And just for the record, I do hold money in money market funds too – mainly my spare cash that is held in the brokers such as Moomoo, Tiger Brokers or Webull.
So there you have it!
Expected yields on the next T-Bills, and how I am approaching my own cash management.
Hopefully this helps you in deciding what is the right mix of options for your own cash, and I would love to hear what you think!
WeBull Account – Get up to USD 500 worth of fractional shares + chance to win USD888 / Tesla Model 3 (expires 30 May)
I did a review on WeBull and I really like this brokerage – Free US Stock, Options and ETF trading, in a very easy to use platform.
I use it for my own trades in fact.
They're running a promo now with up to USD 500 free fractional shares, and a chance to win USD 888 or a Tesla 3.
You just need to:
Sign up here and fund any amount
Maintain for 30 days
Trust Bank Account (Partnership between Standard Chartered and NTUC)
Sign up for a Trust Bank Account and get:
$35 NTUC voucher
1.5% base interest on your first $75,000 (up to 2.5%)
Whole bunch of freebies
 Fully SDIC insured as well.
It's worth it in my view, a lot of freebies for very little effort.
Full review here, or use Promo Code N0D61KGY when you sign up to get the vouchers!
Looking for a low cost broker to buy US, China or Singapore stocks?
Get a free stock and commission free trading Webull.
Get a free stock and commission free trading with MooMoo.
Get a free stock and commission free trading with Tiger Brokers.
Special account opening bonus for Saxo Brokers too (drop email to [email protected] for full steps).
Or Interactive Brokers for competitive FX and commissions.
Looking for the best investment books to improve as an investor in 2023?
Check out my personal recommendations for a reading list here.
Do like and follow our Facebook and Instagram, or join the Telegram Channel. Never miss another post from Financial Horse!
Looking for a comprehensive guide to investing that covers stocks, REITs, bonds, CPF and asset allocation? Check out the FH Complete Guide to Investing.
Or if you're a more advanced investor, check out the REITs Investing Masterclass, which goes in-depth into REITs investing – everything from how much REITs to own, which economic conditions to buy REITs, how to pick REITs etc.
Want to learn everything there is to know about stocks? Check out our Stocks Masterclass – learn how to pick growth and dividend stocks, how to position size, when to buy stocks, how to use options to supercharge returns, and more!
All are THE best quality investment courses available to Singapore investors out there!