I received this great question from a Patreon looking to build a dividend portfolio:
Greetings FH,
I find the offerings in the 'passive investing' options from banks expensive and want to create a portfolio of my own.
A key criteria is to keep capital risk moderate.
Target yield is 5%
I want to build this with:
Singapore

Netlink (CJLU)
Kep Infra (A7RU)
Starhill Global REIT (P40U)
Golden Agri (E5H)
OCBC (O39)
UOBKH (U10)
HPH Trust (NS8U)
Kep Corp (BN4)

Overseas

LYG (Lloyd Banking ADR)
BTI (British American Tobacco)
Citigroup
I also like to do trading on the portfolio and that goes into consideration while choosing the stocks (liquidity, and price movements).
Can you help with your advice pls?
Mainly, any of these that you wouldn't like to see in a relatively safe portfolio.
My target size of the total portfolio will be between sgd300k-500k (equivalent, because some stocks are in USD).
 Typically I will use my DBS platform to buy, trade and hold the portfolio.
Really interesting question – so let's do a deeper dive.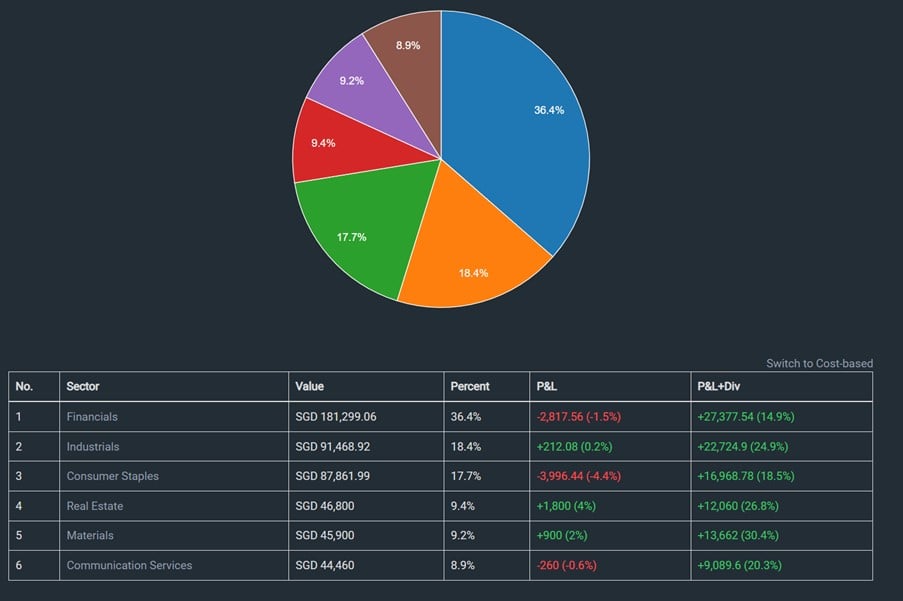 Asset Allocation of the Dividend Portfolio
Assuming that we equal weight each of the 11 dividend stocks above, with a $500,000 portfolio.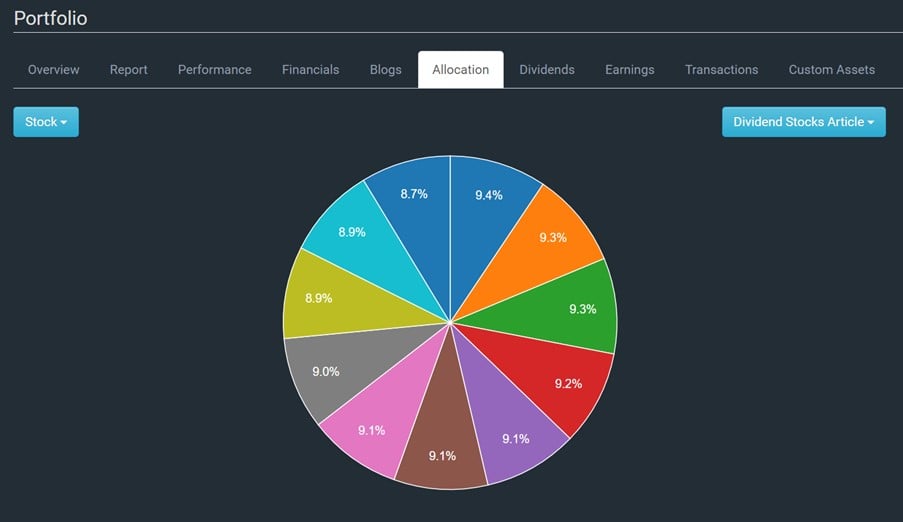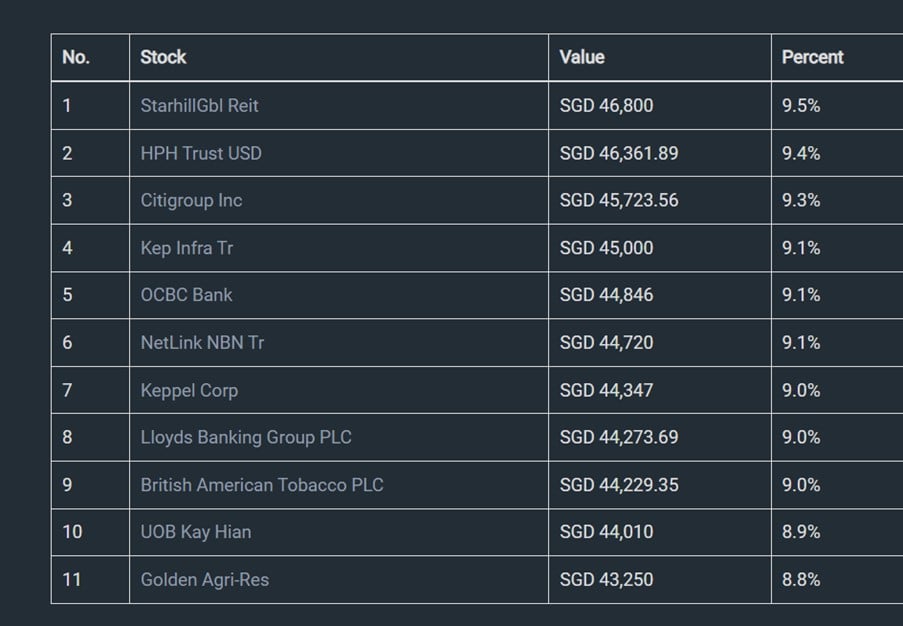 This is what the rough asset allocation looks like.
Financials is the biggest, coming in at 36%, followed by industrials (18%) and consumer staples (17%).
Interestingly real estate comes in only at 9%, which is unusual because usually for a Singapore dividend portfolio you'll see it quite heavy on REITs.
(Note: I built most of the charts below using Stocks Café which I find useful to track my own portfolio returns – check out my review on Stocks Café).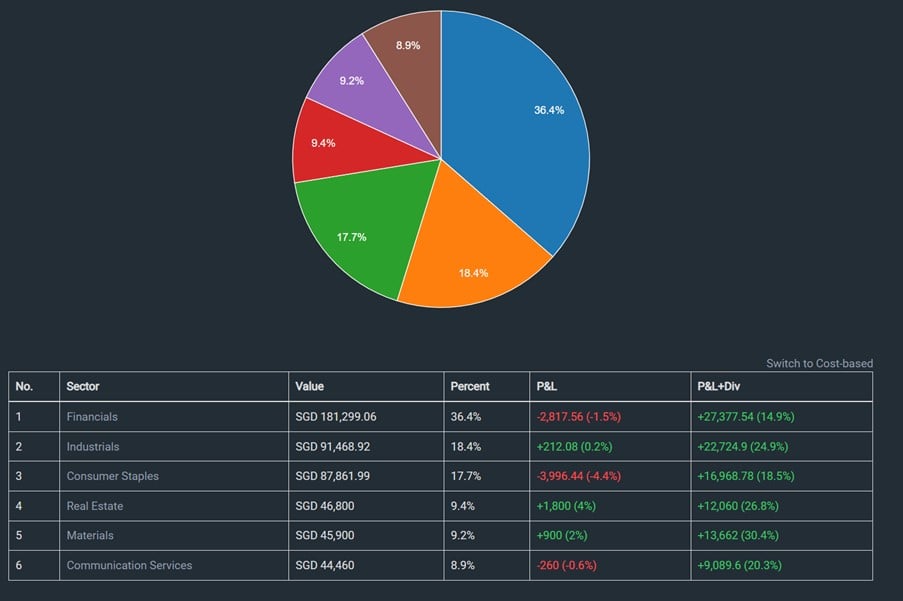 6.4% dividend yield on this portfolio
Dividend yield is about 6.4% for this portfolio (using 2022 numbers).
On a $500,000 portfolio, you're looking at $32,000 a year in dividends.
Or $2600 a month.
Not too shabby frankly, for a portfolio designed to be low to moderate risk.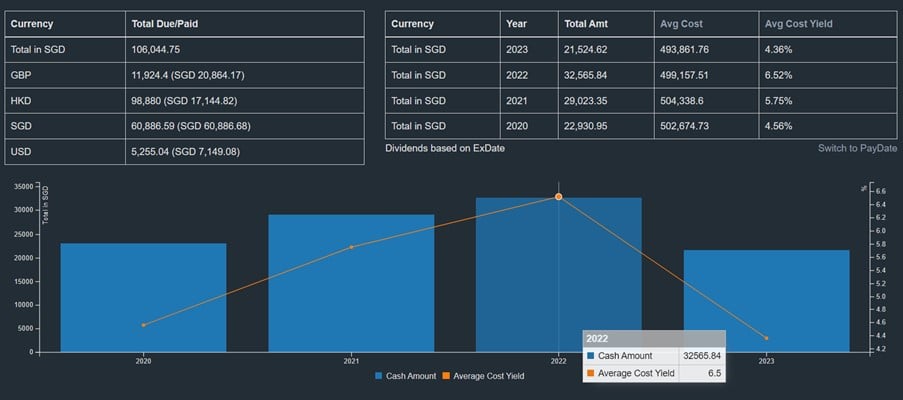 You can see the breakdown per stock below.
HPH Trust is the highest yielding dividend stock with a 9% yield, and Citi the lowest at 4.3%.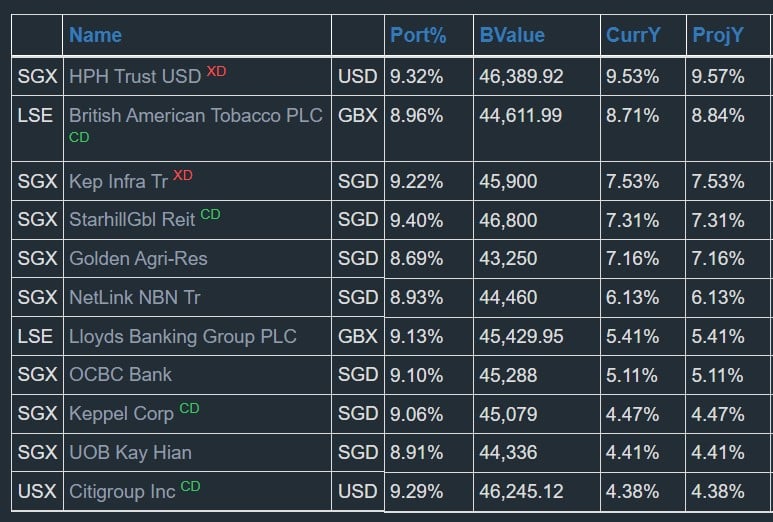 3 Comments from me on the dividend portfolio
Now let's say I were to run a relatively safe dividend portfolio, for myself.
What tweaks would I make to the portfolio above?
For obvious reasons – nothing in this article should be taken as financial advice, and has not been tailored for any investor specifically. If you are in doubt as to the action you should take, do consult your financial advisor.
1st Point – I would add more REITs
Let's start with the big picture points.
A dividend portfolio, for a Singapore investor.
With only 1 REIT counter, and a 9% allocation to REITs?
Man… that's almost criminal.
There's a reason why most dividend portfolios for Singapore investors are heavy on REITs.
It's because the SGX has a lot of great REITs with great sponsors and high quality real estate.
And also because REITs have very favourable tax treatment for Singapore based investors – all the rental income from the property all the way up to you as an investor is tax free.
If you're building a dividend portfolio for a Singapore investor, you probably do want a meaningful allocation to REITs for this reason.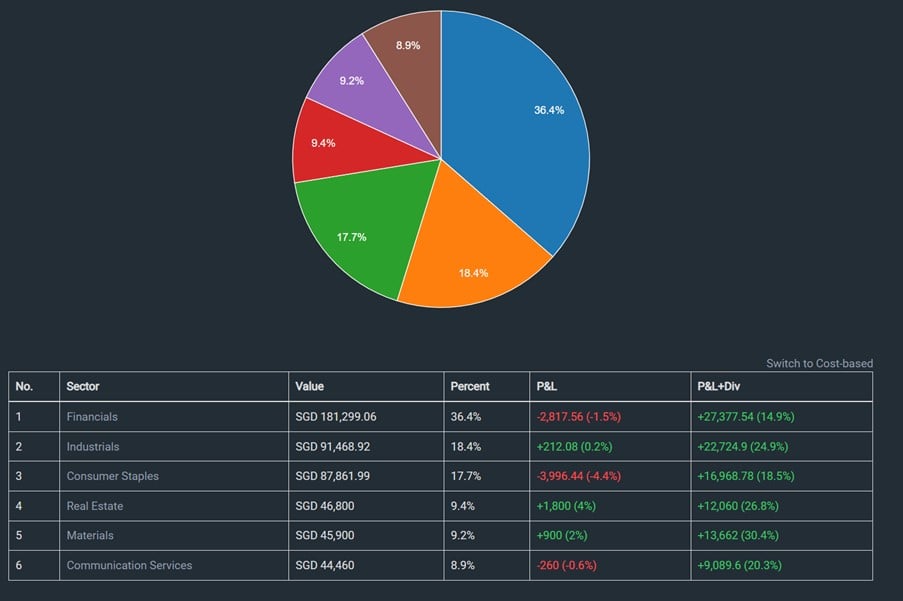 Are REITs risky with rising interest rates?
That said, I do want to caveat that this is no longer the 2010s with interest rates stuck at rock bottom.
So don't expect the same performance with REITs this decade as you saw the last decade.
Higher interest rates no doubt will affect REIT performance going forward, both in the form of (a) higher interest expenses, and (b) higher real estate cap rates (just a fancy way of saying lower real estate valuations).
Which means you want to be more careful about what REITs you buy, and at what valuations.
What REITs would I consider for a low risk dividend portfolio?
Personally I like Starhill Global REIT, and I do have plans to add if it goes into the 40s.
But with all honesty, I'm not so sure Starhill Global REIT is your go-to REIT if you're trying to build a "low-risk" dividend portfolio.
Starhill Global REIT as a small-cap ish REIT is probably in the moderate to high risk range for me.
I also like Lendlease REIT which trades at about a 7% yield and very close to Starhill Global, but again I wouldn't say that is a low-risk REIT.
If I truly want lower-risk, I would probably go with the boring blue chips.
Ascendas REIT, CapitaLand Integrated Commercial Trust, Frasers Centrepoint, maybe even Parkway REIT.
Those kind of names.
No doubt dividend is lower at 5-6%, but if this dividend income is for retirement, it might help you sleep better at night.
In any case, you can see the full list of REITs (and stocks) I am keen to buy on Patreon.
Qualifier – But if one is prepared to trade…
That said, I note that the Patreon talked about the fact that he likes to do "trading" on the dividend portfolio.
If one is prepared to do active trading, and has good risk management systems is in place.
Then yeah I think names like Starhill Global or Lendlease REIT work perfectly.
What is the right asset allocation of REITs?
The right percentage of REITs to own – really depends on the investor.
I would say anywhere from 30-50% is probably reasonable.
But if you own a lot of investment properties in Singapore in the residential and commercial and industrial space, then yeah you probably don't want to own so many REITs.
BTW – we share commentary on Singapore Investments every week, so do join our Telegram Channel (or Telegram Group), Facebook and Instagram to stay up to date!

I also share great tips on Twitter.
Don't forget to sign up for our free weekly newsletter too!
2nd Point – Might take out HPH Trust
Stock picking is ultimately a personal game.
The stocks I like, may be very different from the stocks someone else likes, and so on.
And who is right or wrong, the market will give you the answer.
So generally speaking I don't like to comment too heavily on individual stock picks.
But when I look at the list of names below, I think the one that jumped out at me was HPH Trust USD.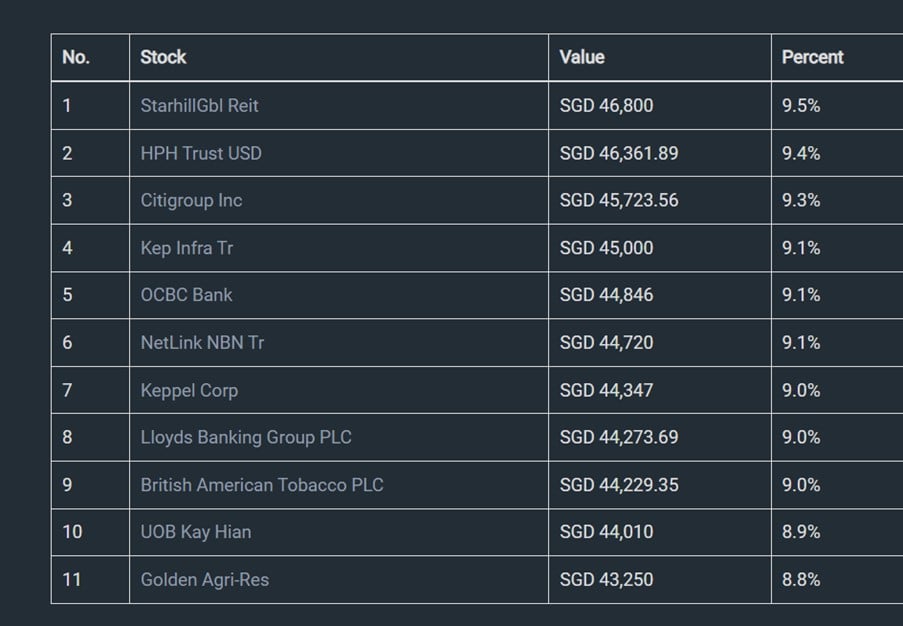 For those who are not familiar with HPH Trust, this is the share price since IPO:
And that's the log chart mind you.
Here is the price chart in nominal prices, which is just horrendous:
What is HPH Trust? From their website (emphasis mine):
The asset portfolio of Hutchison Port Holdings Trust ("HPH Trust") includes market-leading, best-in-class and deep-water container terminals in the Pearl River Delta of South China.
Both Hong Kong and Shenzhen have ranked amongst the top 10 world container ports in terms of throughput since 2001. In Hong Kong, HPH Trust operates Hongkong International Terminals ("HIT"), COSCO-HIT Terminals ("COSCO-HIT" and Asia Container Terminals ("ACT"). In mainland China, HPH Trust operates Yantian International Container Terminals ("YANTIAN") and Huizhou International Container Terminals ("HICT").
While our operations in Hong Kong focus on transshipment as a result of the free port status in Hong Kong, the main focus of our operations in Shenzhen is on origin and destination cargoes. Together, these ports with a total of 38 berths, handled a total throughput of 22.7 million twenty-foot equivalent unit ("TEU") in 2022.
HPH Trust has been listed on the Main Board of the Singapore Stock Exchange since March 2011, and has launched dual currency trading of its units since early 2012.
The problem with HPH Trust, is that you are buying Hong Kong ports.
And the cost of doing business in Hong Kong, is much higher than it is in mainland China (due to manpower costs, licensing costs etc).
So if you are investing in Hong Kong ports competing against mainland China ports, you start to see the problem.
You may argue that after the complete collapse in share price, that the current 9% dividend yield is sustainable, and a good buy.
That's fair.
But if I were comfortable with China risk, I see many other places to deploy capital for a similar dividend yield without having to also take on this kind of idiosyncratic port related risk.
Many of the SOEs (or even the Big 4 banks like ICBC which I wrote about) are paying close to 8-9% dividend yields today for example.
Higher dividend yield, most of the times, means higher risk
As a general note, a couple of the names like HPH Trust and Starhill Global are on the higher risk side for me.
I personally wouldn't include them in a low risk dividend portfolio, unless of course the intention is to trade these positions with careful risk management.
You can see the dividend yields below, generally speaking a higher yield will mean higher risk – there is just no free lunch in this world.
I would also add that with Citigroup and Lloyds one is taking on exposure to the US and UK banking sector respectively.
If you are familiar with those economies and don't mind the risk that is absolutely fine, but investors not so familiar with the US / UK macro may want to think twice.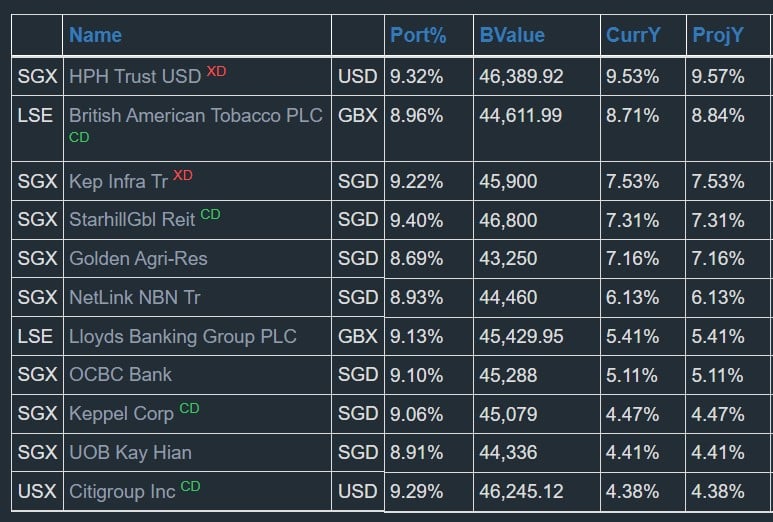 3rd – Point – Might mix in some bonds into the dividend portfolio
Final point.
Now I wasn't sure whether the dividend portfolio above was only for the equities part of the portfolio.
And whether there's another portfolio dedicated to cash / bonds, which together comprise the full dividend portfolio.
But the point I wanted to make was that if you're building a dividend portfolio today.
You can't leave out bonds anymore.
For the first time in 15 years, bond yields are attractive
For most of the past 15 years since 2008, bond yields were terrible.
Between a corporate bond at a 3% yield, or a REIT at 6% yield – the decision was a no brainer (unless you were buying bonds with leverage like private bankers like to sell you).
But for the first time in 15 years, bond yields are getting interesting again.
These days you're getting close to 4% risk free on a 6 month government bond.
And if you want to go further out the risk curve, you're getting 5-6% yields on investment grade bonds with about 3 – 5 years duration.
If you want to build a low-risk dividend portfolio with 5% target yield, you can actually build that entirely out of bonds today.
What kind of bonds to buy?
I write a lot of articles on Financial Horse about T-Bills.
For the simple reason that they are risk free, and pay a very decent yield at close to 4%.
The drawback with T-Bills is that they're only 6 or 12 months duration, which means that upon maturity you're exposed to wherever interest rates are at that point in time.
The solution to that is to buy slightly longer duration 3 – 5 year bonds.
And to buy investment grade credit, so you get a higher yield vs the risk free, but not so high that you're taking on equity risk.
I find this a good diversifier to equity risk, if all you're concerned about is the yield.
Needs to be accessed via bond funds
Much of this needs to be accessed via bond funds though, because as a retail investor you will not be able to build a sufficiently diversified bond portfolio by yourself (unless you're ultra high net worth).
There's a whole selection of bond funds on Endowus and FSMOne, and I wrote a piece on Patreon recently on what to look at.
Long story short – you can (a) pick the right bond funds on Endowus/FSMOne to fit your risk appetite, or you can (b) go with a managed solution like Syfe Income+ or Endowus Income.
The managed solution means extra fees though, but the benefit is that it's quite hands-off (if you trust the manager).
This is the rough details for Syfe Income+ below – 4-6% yields, about 4 years duration.
What is the biggest risk with a pure dividend portfolio?
Fundamentally – the risk with a pure dividend focussed portfolio is that by it's very nature you are picking mature companies, with a mature business model.
Think about it this way.
If your core business is growing 70% year on year like NVIDIA, are you really going to take 50% of your profits and use it to pay a dividend?
Or are you going to use that profits and reinvest in the core business?
Basically, you only start paying a dividend when the growth in the core business is slowing – to the point where it makes more sense to pay the profits to shareholders rather that invest in the core business.
So by building a pure dividend portfolio, you are effectively self-selecting for mature businesses, without so much growth potential.
Look at the list below and you get what I mean.
Yes there are some big name banks and infrastructure and consumer staples in there.
But no player you would expect to grow earnings 20-30% year on year.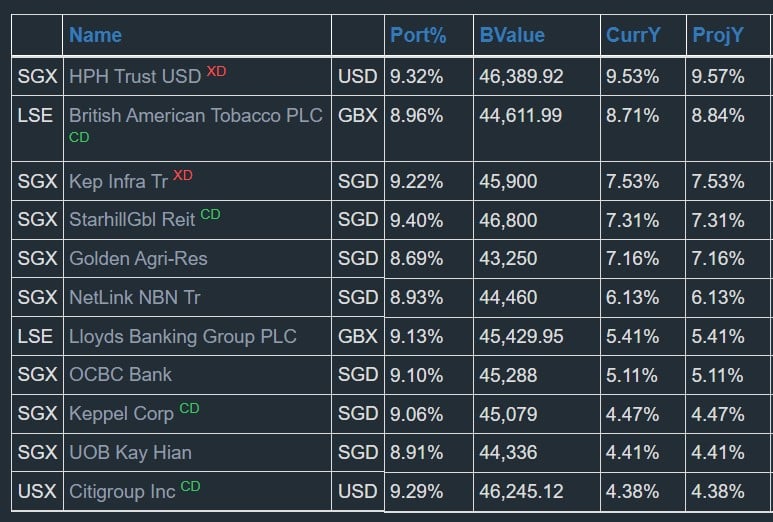 How would I do it for myself? Invest in a dividend yield portfolio?
If it were me.
For my own portfolio.
The big changes I would make are:
Increase REITs exposure
Include Bonds in the portfolio to diversify risk (unless this is the equity portion of the portfolio)
Include commodities exposure (as inflation hedge this decade)
Add in growth potential – for eg. Tech
But do all that, and dividend yield goes down massively.
So it really goes back to what you're trying to achieve.
If you do want to focus on dividends at the cost of growth, then my comments would be the 3 points above.
If you want a more diversified portfolio with growth potential, then you will likely have to sacrifice some of the yield.
No free lunch in that way.
Patreons have full access to my personal portfolio, so you can see how I am positioned today.
This article was written on 4 August 2023 and will not be updated going forward. For my latest up to date views on markets, my personal REIT and Stock Watchlist, and my personal portfolio positioning, do sign up as a Patreon.
WeBull Account – Get up to USD 580 worth of shares
I did a review on WeBull and I really like this brokerage – Free US Stock, Options and ETF trading, in a very easy to use platform.
I use it for my own trades in fact.
They're running a promo now with up to USD 580 free fractional shares.
You just need to:
Sign up here and fund $300 SGD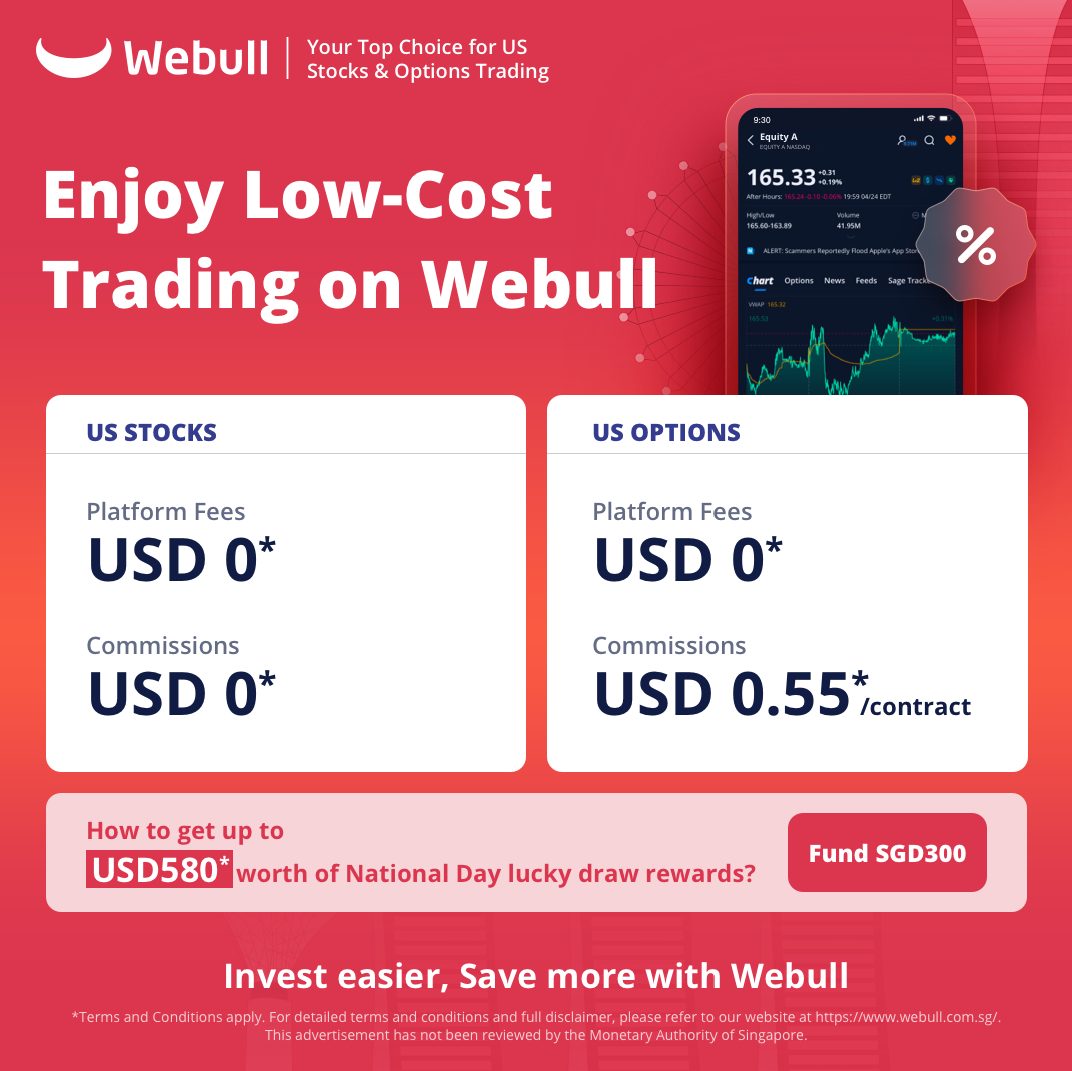 Trust Bank Account (Partnership between Standard Chartered and NTUC)
Sign up for a Trust Bank Account and get:
$35 NTUC voucher
1.5% base interest on your first $75,000 (up to 2.5%)
Whole bunch of freebies
 Fully SDIC insured as well.
It's worth it in my view, a lot of freebies for very little effort.
Full review here, or use Promo Code N0D61KGY when you sign up to get the vouchers!
Portfolio tracker to track your Singapore dividend stocks?
I use StocksCafe to track my portfolio and dividend stocks. Check out my full review on StocksCafe.
Low cost broker to buy US, China or Singapore stocks?
Get a free stock and commission free trading Webull.
Get a free stock and commission free trading with MooMoo.
Get a free stock and commission free trading with Tiger Brokers.
Special account opening bonus for Saxo Brokers too (drop email to [email protected] for full steps).
Or Interactive Brokers for competitive FX and commissions.
Check out my personal recommendations for a reading list here.