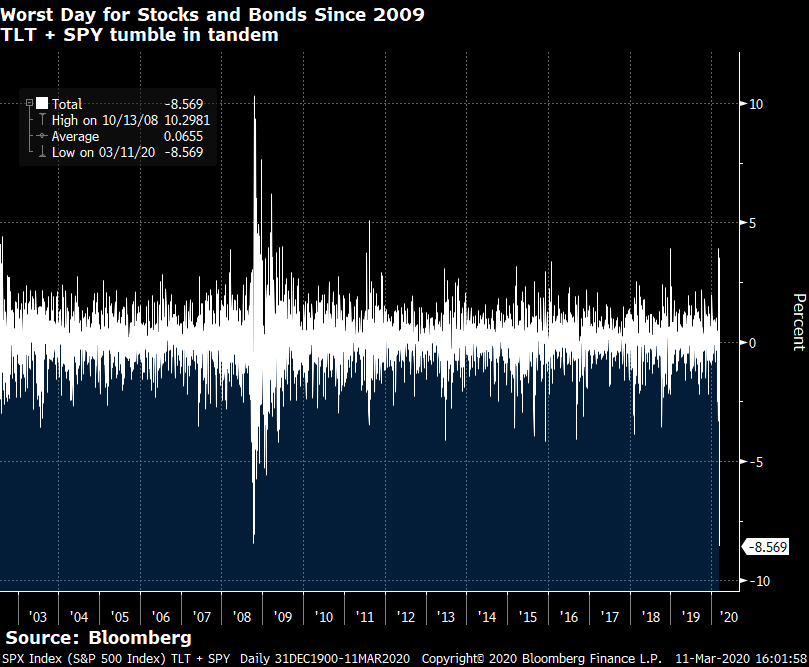 The past week has been a tumultuous time for everyone. Myself included. It's been the fastest bear market in stocks that we have ever seen (quicker than the great depression).
Every single portfolio has been hit. The past week saw cross asset correlations go up. This means that the stuff that investors usually use to hedge (US Treasuries, Gold etc) actually dropped together with stocks. Just take a look at the cover chart – TLT and SPY are tumbling together!
This is really bad because it impacts almost every portfolio strategy out there. Everything that is loosely based on modern portfolio theory – 60/40s, risk parity, the StashAway style funds etc would all have suffered big losses these week.
So hey, take a deep breath, and forgive yourself. Even the professional money managers got wrecked this week.
The only asset class that did well? Cash. And maybe Singapore Savings Bonds (SSBs).
Why do cross asset correlations go up? It's usually a sign that investors are liquidating. Investors need cash urgently, so they are selling whatever they can get their hands on – and they are instructing their fund managers to do the same.
And why do investors need cash?
Any number of reasons – from meeting margin calls, to raising cash to make up for business cash flow. The past week would have seen big margin calls from anyone using leverage in financial markets, so my theory is that the big liquidation so far is coming from investors needing to meet margin calls. But as this drags on, we'll start to see the latter reason come into play.
Financial Horse team will be here
So in these tumultuous times, I want you to know that I (and the Financial Horse team) will be here for you.
Every Saturday (or Sunday if I'm tied up), there will be an article on Financial Horse sharing my thoughts on investing and the markets. Rain or shine, no matter how busy I am with work, it will be there. And nothing but my honest opinions and thought process on what's going on. Whether you believe me, and what you choose to do with it, I leave it up to you entirely.
And if you want my thoughts or you want to share comments or feedback, just leave a comment on the post. I answer each comment personally.
For those of you who haven't signed up for our mailing list, please do consider signing up, its absolutely free. It's a weekly newsletter that goes out at noon every Sunday, and rounds up the week's posts so you never miss anything. I do share additional information there sometimes that could be handy (there's a FH 7 Commandments for Investing you get when you first sign up).
Basics: What happened this week
We usually start these articles with a recap of the past week. Not sure what you guys (and girls) think of that. Do you like this section, or do you prefer we skip and dive straight into my thoughts? Let me know in the comments below.
I'll keep it for this week, but if you don't like it I'll take it out next weekend.
Btw, all charts are sourced as at 13 March 2020. I will not be updating this article going forward. Updated thoughts are on Patron.
US High Yield and Investment Grade credit spreads are starting to blow up. We're well above the 2018 highs at this point, but still below the 2016 highs – the 2 other times this cycle where we came close to a recession.
I'm using the 20 year charts here to give you some sense of perspective, because the 5 year charts always induce panic, which doesn't do anyone any favours.
ITRAXX MAIN (corps IG) and CDX NA IG sample set out below. This is the cost of credit default swaps, and reflects widening credit spreads. The 4 week change here is faster than the GFC back in 2008, which shows that investors were caught completely off-guard by COVID-19.
Fed Futures are pricing in 100bps cut now – which takes us to zero bound.
What really didn't help, was Christine Largarde coming out to promise that "all options are on the table", and then absolutely disappointing the market with no rate cuts and no big policy moves. That lend to the 10% drop in the FTSE and the 17% drop in Italian Markets. Classy move, Largade.
Sentiment
Sentiment has swung from greed 1 month back to complete fear. I don't think I've seen the Fear&Greed this low, ever.
This is what the Vix looks like. Completely blowout, with an extreme backwardation curve. In plain English, what this means is that volatility is at an extreme high – but no one has any clue what the next 30 days will look like.
Similar sentiments in SPX and VSTOXX.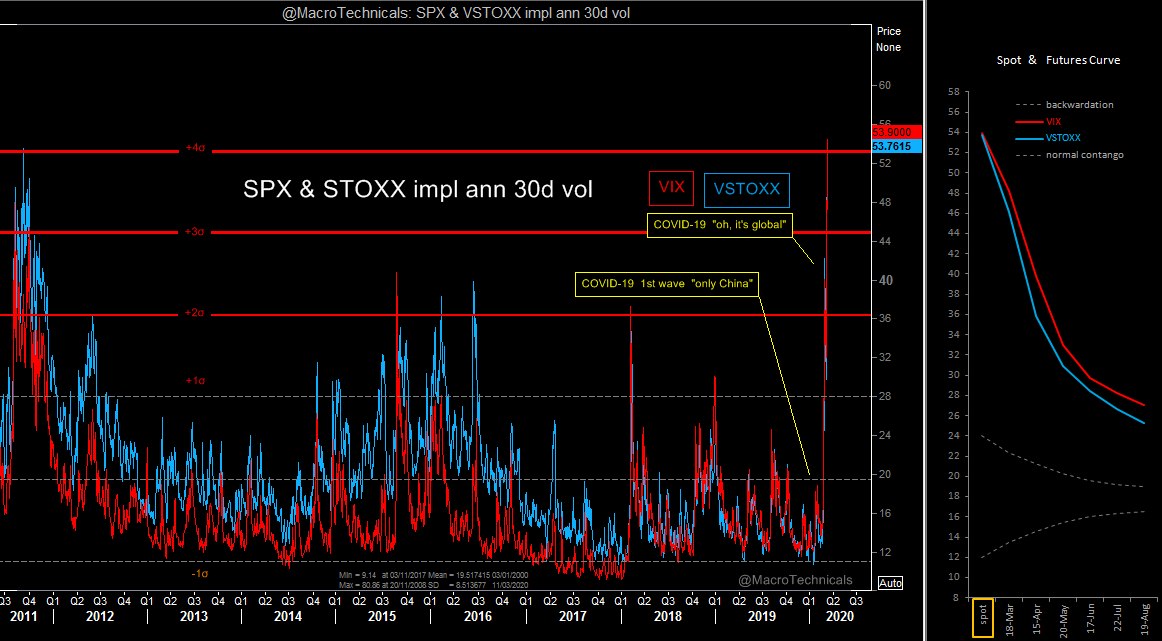 What happens next?
Okay, so what happens next? It's clear that no one, not even the professionals, has any clue at this stage. Everyone is just selling first and asking questions later.
We did a quick poll on the Facebook Group earlier this week – and most of you answered not sure, stay in cash for now. The second most popular answer was buying opportunity, which is actually pretty worrying – more on this later.
What was my original buy signal? When does it trigger?
A couple of weeks back I published an article that set out my entire framework to approaching COVID-19. Do take a look if you haven't read it already – but the gist is that this crisis is COVID-19 induced, and everything is tied back to the virus. Once the virus goes away, the problem goes away.
I then analysed the Hubei data and found that cases peak about 2 weeks after drastic measures are taken to control the spread. My theory then, was that one waits until drastic global measures are taken to control COVID-19 (lets call this Buy Signal 1), waits 1.5 to 2 weeks, and then buys in.
Note: There's a really good article which shows that cases actually peak the day that shutdown occurs – but this only shows up in testing cases 2 weeks later. Really good read, well worth your time.
The way things are playing out, with Italy on shutdown, all European flights to US blocked, and US and Spain starting to really ramp up measures, I think we may hit Buy Signal 1 in the coming weeks.
Is the original buy signal still valid?
The problem now, is that the measures being taken to control COVID19 are going to hit the economy. I think we're pass that at this point. Global air travel has plunged, China was shut for 1.5 months and struggling to recover, Italy is completely shut, Spain looks like it will be shut soon, rumours going around of NY about to be shut. Heck, even the Euros 2020, NBA and La Liga got postponed, and Coachella got cancelled.
So the question now, is whether the measures being taken, will impact the economy to the point where we see a bigger global recession. Because if we do, then the correct buy signal is no longer tied to COVID19, and it will play out like any other recession.
In other words – if COVID19 triggers a recession, then the correct buy signal is not tied to the virus situation, but the policy response from policy makers (that's how a normal recession is played – let's call this Buy Signal 2).
Last week I set out my base case for a global slowdown and recession in 2020. Over the past week, we've had a lot more information coming out to refine the base case.
I think at this point:
Eurozone
Probably already is in a recession, or will go into one very soon. Italy will be really badly hit. Spain a close second. Germany and France follow closely. Undecided on UK for now – but it doesnt look good.
US
US growth will slow significantly this year. Undecided on whether they have a recession. Bond market says about 60% probability of recession, which I don't disagree with.
Japan
High chance Olympics will be cancelled / postponed. This will be a big hit to the Japanese economy. Consumption tax from last year really impacted consumption too. I think Japan goes into a recession, but this could be a close one.
China
China by contrast, is far better positioned than the rest of the world. They've dealt with COVID19, and now they're free to restart the economy – albeit very slowly. China is trying to transition to a consumption driven economy, but for now they're still very manufacturing heavy, and the global slowdown will hit them.
They have room to cut rates and stimulate if they want to, but what's worrying is that latest commentary from top policy makers are signaling a willingness to accept slower growth. One of the top guys (can't remember who) just came out to say that GDP growth doesn't really matter, as long as China avoids instability, and people have jobs.
In China, policy signaling is everything, and the fact that top leadership is trying to shift the narrative to accept slower growth, is really worrying.
I think China may disappoint on stimulus this year, simply because they want to avoid inflating more asset bubbles.
So don't count on China saving the world this time around. This isn't 2008.
Rest of the world
Who does that leave us? Africa? Middle East? Latin America? South East Asia? These economies will not be able to pull the world economy out of the doldrums alone. And don't forget that the oil plunge is going to wreck havoc on a lot of these guys too.
Will this spiral further? What really worries me?
There are 2 points in particular that really worry me: (1) a US BBB corporate debt downgrade, and (2) Eurozone banks.
US BBB Corporate Debt Downgrade
This is what the US debt profile looks like. That huge $3 trillion BBB stack? That's what worries me.
COVID19 is going to hit cash flow for many companies. Consumers are just going to stop spending. Oil price crashing is going to hit cash flow for many energy companies.  Earnings will be impacted eventually (they're mostly hedged, but refinancing will be tricky).
As this plays out, the credit rating agencies will need to start downgrading some of the BBB debt, in response to deteriorating cash flows and balance sheets. Once BBB debt hits BB, it becomes junk status.
This means that many pension funds and institutional investors are prohibited from holding them (can't hold junk bonds). So they're going to be forced to sell.
And when you look at the BBB stack, it's bigger than the entire junk bond market put together. There is no way the junk bond market is able to absorb enough BBB debt once the downgrade starts happening. And once liquidity mismatches like that start happening, things can go back really quick.
Eurozone Banks
Eurozone banks are in a bad place.
A decade of low interest rates has decimated their balance sheets, and further rate cuts will hit their net interest income (NII). To add insult to injury, non-performing loans from COVID-19 are going to tick up in the coming months.
And these are global systemically important Financial Institutions (ie. Too big to fail).
Regulators will need to cut capital requirements for the banks soon, and that probably won't even be enough. I think Eurozone banks will need big bailouts from the Eurozone governments in the coming months. That's going to be tricky because the Eurozone is not the US or China where decisions can be made easily. The Eurozone comprises 27 nations, and it's de facto leader Merkel has waning political influence in her home country Germany.
I think they will do what it takes eventually, but how we get there, could be a bumpy ride. Any small policy misstep along the way could lead to huge sell-offs.
Which Scenario materializes?
The million dollar question then – does COVID19 end (1) without a global recession, (2) a global recession (but not a huge one), or (3) does one or the above get triggered?
My current thinking for each scenario:
Scenario 1 (no global recession) – then the buy signal is easy. I start buying at Buy Signal 1, and ride it up.
Scenario 2 (global recession (but not a big one)) – then I buy at Buy Signal 2
Scenario 3 (one of the two events above gets triggered and starts playing out in a big way) – then there is a small possibility of a depression, and a huge risk off across all asset classes (bigger than what we've seen). I probably still at Buy Signal 2, but the cues to watch are slightly different – I use depression style economic analysis.
No one knows for certain of course. But at this point in time, my base case assumes a Scenario 2 style event.
I no longer think a V-shaped recovery is realistic. China has been instructive to show that once COVID19 is controlled, demand doesn't spring back. And demand that was lost during the shutdown? It never comes back. COVID19 was bad, but the oil price shock was probably the final nail in the coffin. I have my thoughts on OPEC+ and why they did what they did, but that's an article for another time.
Buy the dip strategies can be risky in times like this
The past 11 years has been a non-stop bull market – where every time the bull market threatened to end, central banks stepped in to backstop markets. This has bred a generation of traders and investors who are conditioned to buy the dip. After all, when stocks fall, just buy the dip, wait for central banks to backstop, and profit. It's been the most profitable strategy over the past 11 years.
This kind of thinking can be dangerous. If you trace back to the 1930s great depression, a buy the dip strategy results in horrendous losses.
To be clear, I'm not saying that the 1930s will repeat, all I'm saying is that if you're buying this dip, you need to at least understand why you think the economy will recover quick.
And I think this time around, central bank ammunition is highly limited. Fed Funds rate is 1 – 1.25%, so they only have 100 bps of cuts left. This probably goes soon. Eurozone is at -0.5 and they're reluctant to cut any lower (for good reason – it will decimate the banks).
So the real firepower this time, needs to come from fiscal stimulus. But governments don't act as quickly as central banks, so short term, we still need to wait and see. And the immediate term concern remains COVID19. Controlling COVID19 is the paramount consideration for global governments at this stage – fiscal stimulus can come later. Things like what Germany and the US announced yesterday will help, but it's probably not going to be enough just yet.
What am I doing?
I exited a lot of positions last week and dialed back on equity exposure (as shared here) last week. I've also been reducing equity exposure (shifting to bonds and cash) since early 2019. But even then, but the rest of my equity positions have taken the full force of the selling this week.
Wish I sold more, but hindsight is 20/20!
I'm going to hold off buying the dip on this one. My base case has now switched to looking at Buy Signal 2 (policy response from policy makers) rather than Buy Signal 1 (drastic government action to contain COVID19)- and this being conditional on Buy Signal 1 being triggered. 
Very simply – I buy when policy makers reveal large scale policy response (read: Fiscal stimulus, not monetary stimulus rubbish), on a scale that will be sufficient to offset the demand/supply shock from COVID19. And this is conditional on governments having first undertaken drastic public health measures to contain COVID19.
And in the meantime – I will sell into any big stimulus based rally.
I know that's not saying a lot, but things are very fluid at this stage. I cannot predict with certainty how COVID19 plays out, nor can I predict how governments respond with respect to policy moves. They are all shifting probabilities at this stage – and updating at a rapid pace.
But as this situation plays out, I'll continue sharing thoughts on Financial Horse, so do check back every weekend for my thoughts.
I could turn out to be wrong though, and COVID19 doesn't cause any lasting damage. For those of you who think that way, you may want to think about using Buy Signal 1.
But for me personally, I'm worried about this one. I'm going to err on the side of caution here.
Btw for those are want to go back to basics, the FH Course is a great place to start. It's a complete guide to investing for Singapore investors, covering shares, REITs, bonds, reading the macro cycle etc. Find out more here. We've updated the FH Course with exclusive Patron content on the virus, so if you bought the course previously, do check in for the latest materials.
FH Ask Me Anything
Huge shoutout to all Patron members the past week. We did an Ask Me Anything (AMA) series earlier this week, and the questions were absolutely top notch. Answering them was a true delight, and I think the answer could be really helpful to many investors out there. Do check it out here!
If you have any burning questions you want my thoughts on and are not a Patron member, you can also leave a comment on this post (but do consider signing up as a Patron – it's just $5 a month for the premium articles, and really helps keep the site running).
Please no "Do I buy DBS now or wait for $19" style questions though. And also note that I can't advise on your personal situation, so keep the questions general.
As always, stay healthy, stay frosty. Health is wealth. Never forget that. Live to fight another day. ?
What do you think? When will you buy into this market? Share your comments below!
---
Do like and follow our Facebook Page. We share great links and infographics there.
Support the site as a Patron and get market and stock watch updates. Big shoutout to all Patrons for their support!
Join our Facebook Group to continue the discussion, we have a great community of people who want to help each other become better investors. Everyone is welcome!
Looking for a comprehensive guide to investing? Check out the FH Complete Guide to Investing for Singapore investors. We genuinely think it's the highest quality and best value investment course out there today!