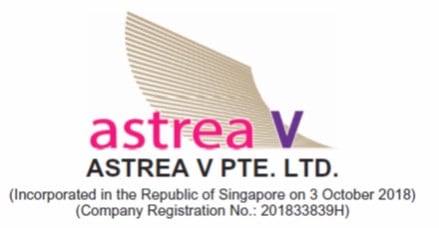 Update (11 June 2019): The preliminary pricing for Astrea V is out. At 3.85%, it's lower than last year's 4.35%, which I suppose is fair since interest rate expectations have come down quite significantly since. Check out the more detailed review on it here.
---
Astrea V Pte. Ltd. (the "Issuer" ) and Azalea Investment Management Pte. Ltd. ("Azalea") today announced the launch of the Astrea V PE Bonds, the second private equity bonds to be listed on the Singapore Exchange with a retail tranche. The Issuer is offering S$180 million of Class A-1 Bonds at a fixed interest rate of 3.85% per annum, for subscription by the public in Singapore ("Public Offer").
The Public Offer follows the successful placement of S$135 million of the Class A-1 Bonds, US$230 million Class A-2 Bonds and US$140 million Class B Bonds to institutional investors and accredited investors, which concluded earlier today. The placement tranche saw strong demand across all classes of bonds, with a combined placement orderbook in excess of US$3.4 billion equivalent from over 189 accounts.
The Public Offer will open from 9.00 am tomorrow (12 June) and will close at 12.00 pm on 18 June 2019. Credit Suisse (Singapore) Limited, DBS Bank Ltd. and Standard Chartered Bank (Singapore) Limited are the Lead Managers and Underwriters for the Astrea V PE Bonds offering.
Azalea will also be conducting three public presentations for investors to understand the Astrea V transaction, and would like to invite you to attend it. The details are as follows:
| | | |
| --- | --- | --- |
| Date / Day | Time | Venue |
| 14 June 2019, Friday | 6.30pm | DBS Auditorium, MBFC Tower 3 |
| 15 June 2019, Saturday | 9.00am | DBS Auditorium, MBFC Tower 3 |
| 17 June 2019, Monday | 6.30pm | SGX Centre |
---
I was really excited by last year's Temasek's Astrea IV Bonds. In fact, since this site was created, the 2018 Astrea IV Bonds was the only investment to have ever received a full 5/5 Financial Horse Rating. That's how much I like them.
Of course, because of their red hot popularity, everyone who applied only received a miserable S$4000 allocation, myself included.
So imagine my surprise when I was given a heads up that there will be a new round of Astrea bonds coming, Astrea V! I knew that there was a lot of talk about a new round of Astrea bonds, but still, this was like Christmas come early.
The preliminary prospectus was just lodged on MAS OPERA (available here). I had a quick flip through and it looks like the structuring is highly similar to that of Astrea IV, which is a good thing because Astrea IV's structuring was iron clad (in a good way).
Pricing isn't out yet (we'll need to wait for the registered prospectus for that), so it remains to be seen what the yield for these Astrea V bonds will be. If the global macro environment is anything to go by, it'll probably be a bit lower than last year's 4.35% given how much yields have come down since then. But we'll see.
I'll save my full judgment until the registered prospectus and pricing is out. But in the meantime, here's some of the information that is available:
Astrea V Pte. Ltd. is offering the Astrea V Private Equity (PE) Bonds, backed by cash flows from a diversified portfolio of private equity funds. A copy of the preliminary prospectus in relation to the offer has been lodged with the Monetary Authority of Singapore (MAS) today. Further details of the offer will be available when the final prospectus is registered with the MAS at a later date.
Three classes of bonds will be issued: Class A-1 Bonds, Class A-2 Bonds and Class B Bonds. Of the three classes, a portion of the Class A-1 Bonds will be offered to the public in Singapore, making it the second listed retail PE bonds that give retail investors exposure to PE, after Astrea IV last year. The Class A-2 and Class B Bonds will be offered to institutional and accredited investors only.
Astrea V is sponsored by Astrea Capital V Pte. Ltd., an indirect wholly-owned subsidiary of Azalea Asset Management, which in turn is a wholly-owned subsidiary of Temasek. The offering of the Astrea V PE Bonds represents a continuing step by Azalea to bring retail investors in Singapore closer to private equity through listed retail PE bonds.
Are you equally excited about these bonds? Share your thoughts in the comments section below, I respond personally to all comments! 
---
Enjoyed this article? Do consider supporting the site as a Patron and receive exclusive content. Big shoutout to all Patrons for their generous support, and for helping to keep this site going! 
Like our Facebook Page and join the Facebook Group to continue the discussion! Do also join our private Telegram Group for a friendly chat on any investing related!