Since it's top ($700) in November 2021, Netflix has plunged to $215 this week.
That's a massive 69% plunge in just 6 months.
This makes Netflix the worst performer in the S&P500 and NASDAQ100 this year.
The last time Netflix stock was this low – was January 2018.
Back when the US-China Trade War was all we had to worry about (those simpler times…).
So… Netflix at $215, at 2018 prices, after a 69% collapse.
Will I buy this stock at $215?
Back by popular demand – launching a big promo for the REITs MasterClass! Massive discount and freebies thrown in. Find out more here!
Why did Netflix stock plunge 35% this week?
The latest Q1 2022 results were a big shocker.
For the first time in Netflix's history ever, the number of paid subscribers fell:
See the red circled box above – paid subscribers fell by 200,000 this quarter.
Digging into Netflix's numbers
If you look deeper into the numbers, you'll find that Netflix lost 700,000 subscribers because of their pullout of Russia (due to the Ukraine war).
So if you add this back in, Netflix would have gained 500,000 subscribers this quarter.
But compared to the past 4 quarters which were pulling in 1.5 – 8 million subscribers each, that is still a horrendous miss.
The forecasts don't help too.
Netflix forecasts a stunning 2 million loss of subscribers in Q2 2022.
There's no way to sugarcoat this – for a growth stock, this earnings result was a stunning miss.
Netflix's reasons for the slowing growth
Netflix cites 4 reasons for the slowing growth:
Account sharing – users sharing accounts with friends/family


Pie isn't growing quickly enough – overall pie for streaming is not growing as quickly as they would like


Increasing competition – more competition from new players like Disney plus, Amazon, YouTube etc


Macro factors – rising inflation and slowing growth hits consumer wallets
And if this sounds like excuses to you, well… it reads the exact same way to me.
You can see more below or on the earnings call:
What is Netflix's plan going forward?
To "solve" the slowing growth, this is what Netflix plans to do:
Improve content and recommendations – a streaming platform lives and dies by content, so Netflix will double down on great content, and allowing users to discover that content (through personalised recommendations)
Monetise sharing – Netflix estimates 100 million+ users are sharing accounts. Find a way to make sharing harder, and you get more subscribers


Ad supported tier – for the first time ever, Netflix may introduce ad supported price tier. For more price conscious consumers, you can pay a lower monthly fee, but watch ads with your content


Grow outside the US – double down on growth outside the US. In fact if you narrow it down by regions, the slowdown is coming primarily from the more developed markets. APAC is the bright spot that is still growing and can support future growth.
My take on Netflix's slowing growth
No way to sugarcoat this one – this is nothing short of an absolute disaster for Netflix.
When a growth stock stops growing, very bad things happen to the stock price.
You just need to look at SEA and Facebook for an example.
And looking at the reasons cited by Netflix, and the solutions they are proposing, this doesn't look like a quick fix.
These are deeper, structural problems in Netflix's business model.
This is not something that you can just create a new season of the Witcher and return Netflix to growth.
This is about Netflix bumping into the upper limits of its growth.
Bill Ackman cuts his Netflix position for a $430 million loss
If you've been following the news, you'll know that Bill Ackman's Pershing Square Capital Management took a $1.25 billion position in Netflix just 3 months ago.
In January, he said that:
"the opportunity to acquire Netflix at an attractive valuation emerged when investors reacted negatively to the recent quarter's subscriber growth and management's short-term guidance." He cited the company's favorable characteristics, including its subscription-based business model and its management team.
And just 3 months later, he sold his entire position at a $430 million dollar loss.
I know a lot of people think that looks stupid.
But this to me is how investing should be like.
Man had an investment thesis on Netflix, and bet big on it.
Man was proven wrong, and he cut his loss immediately.
And he lives to fight another day.
Mock Bill Ackman all you want, but this is how institutional level investing is like. And I respect him for sticking to his process.
BTW – we share commentary on Singapore Investments every week, so do join our Telegram Channel (or Telegram Group), Facebook and Instagram to stay up to date!
Don't forget to sign up for our free weekly newsletter too!
[mc4wp_form id="173″]
Just created a Discord server where I collate analyst reports and investing resources that I come across in my research. Hit us up here if you're keen.
Macro climate is not helping Netflix Stock Price
I've said it before, and I'll say it again.
2022 is not the year to get too cute with risk.
With inflation at 40 year highs and the Feds on the fastest hiking cycle in 25 years, all risk assets are going to get squeezed across the board.
Equity risk premium will drop, exactly as we've seen the past week (and first quarter).
This will hit Netflix in 2 ways:
Falling equity risk premium – will hit the valuation multiples of Netflix
Consumers cutting back – higher interest rates and inflation will hit consumers, who will do whatever they can to cut costs. Netflix is one of the first to get cut in a climate like that (or to switch to sharing)
Feds are now calling for a 0.5% rate hike in May, and close to 2% by end of the year.
That's a pretty scary macro climate.
What I like about Netflix?
Now I know it's all been doom and gloom so far, so let's talk about what Netflix has going for it:
221 million subscribers globally
Best in class content production process
Netflix still has 221 million subscribers globally
With 221 million subscribers globally, Netflix is the number one paid streaming platform globally.
I know platform plays are no longer sexy with rising rates and rising inflation.
But let me put it this way.
If you are a tv / movie content producer, and you want to monetise your content to a large international audience.
Who would you go to?
Netflix probably ranks quite highly up there.
And at the very least – there should be some value in that longer term.
Competition from Disney Plus and YouTube
Competition is catching up quickly though.
Disney plus has almost 130 million subscribers now, which is more than half of Netflix's.
By contrast – YouTube has 2.1 billion, which makes it the undisputed king in the video content space.
But to be fair, YouTube is slightly different from Netflix in that the content is short form and free.
Best in class content production process
Say what you want, but Netflix has the formula for churning out best in class content, quarter after quarter.
This quarter has seen big hits like:
Bridgerton (627 million hours viewed for season 2 *, our 1 biggest English language series in our history) and
Inventing Anna (512m hours viewed)
Tinder Swindler (166m hours viewed, our biggest documentary film ever released)
The Adam Project (233m hours viewed)
The problem of course, is that content creation does not come cheap.
Operating margins sit at about 20%, which is high for a value stock, but not so sexy for a growth stock.
Investors were happy to overlook profitability when Netflix was growing at breakneck pace.
But now that growth is slowing, profitability will come to the forefront.
Valuations of Netflix Stock
The tricky part about Netflix now – do you value it as a growth stock, or as a value stock.
As a growth stock, the 19 times P/E, and $99 billion market cap is frankly very cheap.
As a value stock, and if you adjust for some one-off items you have a 30 times P/E which is still on the high side if growth is slowing.
Problems are not unique to Netflix
I want to be very clear though – all of the problems mentioned above are not unique to Netflix.
Disney, the number two player in video streaming, will face the exact same problems in time.
And the market recognises this too, as Disney stock has been pummelled (down 40% from highs):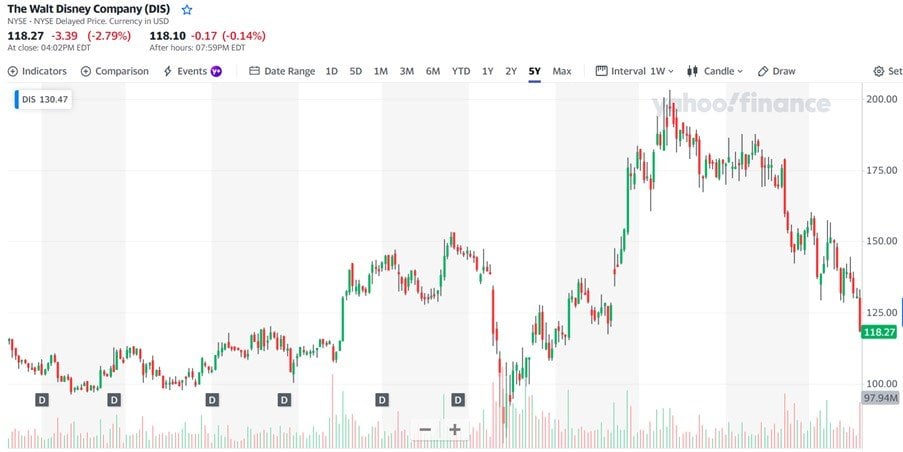 Is Disney a better buy?
If you assume Disney Plus is worth half of Netflix (loosely based on subscriber count), that's almost a $50 billion valuation there.
So you're getting the rest of the Disney business, with theme parks and movies and TV, for $170 billion.
So yes… at a certain point this cycle, Disney could be worth looking at too.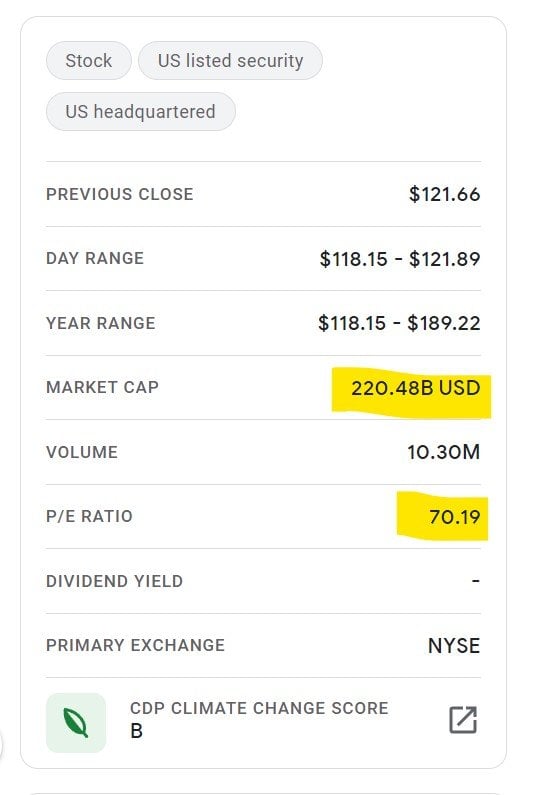 Will I buy Netflix Stock at $215, 2018 prices?
Full disclosure that I have a small position in Netflix.
But right now, I will not add to my position.
The kind of problems Netflix is citing, and the solutions proposed – these will need a couple of quarters to kick in (if they pull it off).
Which means from a fundamental earnings perspective, the recovery wouldn't come so soon.
You can argue that maybe management is trying to sandbag the guidance for a big Q2 beat, but my read is that they're not. They're simply telling it like it is.
Which is that – video streaming growth is slowing, due to rising competition, slowing growth, and deteriorating macro.
At the same time, I just don't see any need to rush to buy stocks right now.
Feds are going to hike until something breaks. And if nothing breaks, they will keep hiking, so upside for equity prices will be muted too.
Technicals wise, Netflix stock has broken through almost every major support there is.
It will take time to bottom.
Cautionary tale for the COVID trade… and FAANG
Netflix may have been the first to fall, but in my view – it will not be the last.
Slowing growth from Facebook and SEA back up the narrative from Netflix.
That growth for the COVID stocks is slowing across the board, at a rapid pace.
The question then – perhaps the video streaming business is no longer a good one to invest in.
Just like eCommerce, social media, or Saas?
I've been increasingly thinking that a secular shift to a higher interest rate / inflation climate could catalyze a paradigm shift in investing, with investors favouring value stocks (over growth) in the years to come.
I shared views on this with Patrons the past week.
For those who are keen, you can check out my personal stock watch and full personal portfolio on Patreon.
Closing Thoughts: Is there a price I would buy Netflix stock at?
Netflix is a 2.5 horse rating for me.
Longer term, there is much to like about Netflix – with their dominant position in streaming (221 million paying subscribers), and best in class content creation process. Reed Hastings is a smart guy, I am sure he will find a way to monetise that dominant position in video streaming.
But from a short to mid term perspective, there is no doubt there are real headwinds in play.
Management will need to implement changes to their core business and pricing strategy.
While navigating a high inflation slowing growth environment that will hit consumer spending.
All while the Feds are on the fastest rate hike cycle in 25 years.
As to whether that is already baked into the share price, it really is questionable.
If you view Netflix as a value stock instead of a growth stock, there could be more room to fall.
Even if you view it as a growth stock, it could trade rangebound for a while due to broader macro.
In my view – I  don't see a big hurry to add to Netflix. Might as well let things play out a bit more to see if growth can recover, and let macro play out, before deciding.
By the end of this cycle, I would expect a lot more bargains to show up in the stock market.
As always, this article is written on 23 April 2022 and will not be updated going forward. Latest thoughts (and my stock watch and personal portfolio) are available on Patreon.
Back by popular demand – launching a big promo for the REITs MasterClass! Massive discount and freebies thrown in. Find out more here!
Netflix – Financial Horse Rating
Financial Horse Rating Scale

 Looking to buy Bitcoin, Ethereum, or Crypto?
Check out our guide to the best Crypto Exchange here.
Looking for a low cost broker to buy US, China or Singapore stocks?
Get 1 free Apple share (worth $230) you're new to MooMoo and fund $2700.
Get a Free Apple stock (worth S$230) when you open a new account with Tiger Brokers and fund $2000.
Special account opening bonus for Saxo Brokers too (drop email to [email protected] for full steps).
Or Interactive Brokers for competitive FX and commissions.
Do like and follow our Facebook and Instagram, or join the Telegram Channel. Never miss another post from Financial Horse!
Looking for a comprehensive guide to investing that covers stocks, REITs, bonds, CPF and asset allocation? Check out the FH Complete Guide to Investing.
Or if you're a more advanced investor, check out the REITs Investing Masterclass, which goes in-depth into REITs investing – everything from how much REITs to own, which economic conditions to buy REITs, how to pick REITs etc.
Want to learn everything there is to know about stocks? Check out our Stocks Masterclass – learn how to pick growth and dividend stocks, how to position size, when to buy stocks, how to use options to supercharge returns, and more!
All are THE best quality investment courses available to Singapore investors out there!
FYI – We just launched the FH Property Series. Everything you need to know to buy a property in Singapore, completely free of charge.