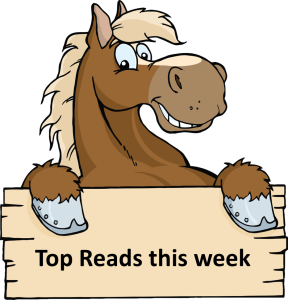 Rounding up top investing articles from around the web, including articles shared by fellow investors in the Financial Horse Facebook Group.
---
Sea, the tech startup that's become South-east Asia's most valuable company, has acquired Indonesia's PT Bank Kesejahteraan Ekonomi, according to people familiar with the matter. The move accelerates the company's ambition to establish itself as a leader in financial technology and services across its region, much as it has done with mobile gaming and online shopping. Sea raised almost US$3 billion in a stock offering last month, saying it intends to spend the proceeds on business expansion.
---
The new policy, due to start on Feb 8, will allow WhatsApp to share user data with parent company Facebook. Users outside of Europe who do not accept the new terms of service will be booted from the app. Amid privacy concerns, many users across the globe, including in Singapore, have migrated to alternative messaging platforms, with Telegram and Signal seeing major boosts in new downloads.
---
VF Corp. owns clothing brand The North Face, along with Vans, Timberland and Dickies. The U.S. company behind the clothing label The North Face has decided to relocate the nerve center of its Asia-Pacific operations away from Hong Kong in favor of Shanghai and Singapore.
Singapore Airlines (SIA) has raised US$500 million (S$660 million) in its first US dollar bond issue, which the company will use to buy new aircraft as the global aviation industry prepares for a post-pandemic travel rebound. The transaction was finalised early on Thursday (Jan 14) and the price was set at US treasuries plus 260 basis points, according to a term sheet seen by Reuters. The size of the five-and-a-half-year deal was finalised after bookrunners received bids above US$1.5 billion, and the bond carries a 3 per cent coupon rate, the term sheet shows.
---
More than 6,200 people have received their first doses of the Covid-19 vaccine since Singapore kicked off its vaccination drive, with eight vaccination centres to be set up by the end of February, Health Minister Gan Kim Yong said on Wednesday (Jan 13). This includes two centres at Changi Airport Terminal 4 and Raffles City Convention Centre that are already operational, as well as two more at the former Hong Kah Secondary School and Woodlands Galaxy Community Club that will be ready next week.
---
Employers in Singapore still harbour a bias against mature workers, said Senior Minister Tharman Shanmugaratnam on Tuesday (Jan 12). "You'll never get a perfect match of skills, except for a certain, very few, specialised jobs," the minister added. "In general, you hire someone, you train them up, and they have to adapt. It can be done." Singapore has people with experience, a willingness to work hard and a willingness to learn, said Mr Tharman, who is also Coordinating Minister for Social Policies.
---
US PRIVATE equity giant Blackstone Group is planning to buy Lucas Real Estate Singapore's iconic facility, the Sandcrawler, at an indicative price of nearly S$175.8 million, The Business Times (BT) has learnt. The futuristic-looking, horseshoe-shaped building's design was inspired by the Star Wars franchise's giant fictional vehicles with the same name.
---
SPH REIT has declared a first-quarter distribution per unit (DPU) of 1.2 Singapore cents, down from 1.38 Singapore cents in the year-ago period. The lower DPU, down by 13 per cent year on year, was "in line with the gradual Covid-19 recovery in both Singapore and Australia", said the manager in an interim business update on Wednesday.
---
SINGAPORE and Malaysia have a shared commitment to keep supplies flowing in from across the Causeway – and Singapore's supply chain is resilient enough to withstand any potential disruptions going forward.
---
---
Resale transactions for non-landed private homes rose 18.1 per cent in 2020 from a year ago, flash figures from SRX Property showed on Tuesday. A total of 10,712 properties changed hands. For the whole of last year, resale prices rose by 1.4 per cent, with Nicholas Mak, ERA Realty's head of research and consultancy, noting that the price index ended 2020 on the highest level since statistics from the real estate portal were made publicly available. The gain was a touch weaker than the 1.8 per cent increase recorded in 2019. PropNex head of research and content Wong Siew Ying said the renewed interest in the resale condo market in the second half of 2020 likely helped to support the new sale market, as some sellers may have recycled capital into acquiring properties in new launches.
---
Goldman Sachs, Morgan Stanley and JPMorgan said they would delist 484 warrants and other derivative products linked to China Telecom, China Mobile and China Unicom stocks in Hong Kong later this month to comply with US sanctions on the three mainland telecom companies. The delistings are unlikely to disrupt markets as they represent only about 4 per cent of more than 12,000 derivative products listed in Hong Kong.
---
Throw a dart, hit a winner, so it has lately seemed. Emboldened by Federal Reserve stimulus, vaccines and the psychological conditioning that arises when no bad patch lasts, everyone from retail newbies to institutional managers is rushing to cash in on the 10-month-old meltup. Of course, it's possible that all of this could continue for weeks, if not months, without so much of even a little reversal. Predicting exactly when such fevers will break is a near impossible task. But bubble warnings are starting to blare from every corner.
"It's a full-blown mania, and the bull's relative youth doesn't make it 'safer' to climb aboard," Doug Ramsey, Leuthold Group's chief investment officer, wrote in a Jan. 8 report to clients — which went on to note his firm has also been among the buyers. "We're just as guilty as the others in chasing this momentum"
---
Sonos, which makes wireless speaker systems, has risen to a nearly $3 billion market cap after its surge. Its stock is up another 11% just this year. Gordon said earnings growth should fuel more gains for the stock, especially after its last earnings report blew past analysts' estimates. The company earned 33 cents a share in its September-ended quarter on nearly $340 million in revenue, beating expectations on the top and bottom line. Shares soared 30% the day after it reported those results in mid-November.
---
Last year's worst is now this year's best. Energy is the top-performing sector now, up nearly 15% since Jan. 1 amid falling U.S. crude oil inventories. The group suffered a horrible 2020, losing over 37%. Though energy's long-term outlook is dimming, the sector isn't void of opportunity, Mark Tepper, president and CEO of Strategic Wealth Partners, told CNBC's "Trading Nation" on Tuesday.
"This is a very tricky sector," Tepper said. "In my opinion, I think this is no longer a buy-and-hold sector. It's more of a trade. I don't care what time frame you use — three years, five years, 10 years — the energy sector has been underperforming the S&P over any of those time frames by double digits annualized." That should continue as clean energy adoption accelerates, but in the meantime, there appears to be one potentially valuable trade in the making, Tepper said.
---
The young entrepreneurs built their rocketship by applying the formula Facebook made famous: Their app was free, easy to use and addictive. And Robinhood—named for the legendary medieval outlaw who took from the rich and gave to the poor—had a mission even the most woke, capitalism-weary Millennial could get behind: to "democratize finance for all." 
---
Among them is Zerodha, dubbed the Robinhood of India. At the height of lockdowns in 2020, the brokerage — which accounts for 15% of India's total daily retail trades — saw registered user numbers double to 4 million.
Kamath, who has a preference for large-cap stocks — the big-name companies that typically populate major indices like the S&P 500 — laid out his three best pieces of advice for investors. Firstly, diversify, diversify, diversify. Secondly, don't try to time the market or rely on debt to pay for assets. "The one thing you realize as a trader, as an investor, after having spent so many years in the market … is nobody knows what will happen tomorrow," said Kamath. "It is kind of impossible and pointless to try and make that prediction, so we ask people not to lever as much as possible."
Lastly, set a stop-loss, or a maximum amount you're willing to lose. "You might put all of the research and work into a certain idea, but when something does not work out you need to retain the ability to take your losses early and be able to walk away from it and not be egotistical," said Kamath.
---
Looking for a comprehensive guide to investing? Check out the FH Complete Guide to Investing and FH REITs Masterclass for Singapore investors.
2021 Stock Watch: Support the site as a Patron and get market updates. Like our Facebook Page and join the Facebook Group to continue the discussion!