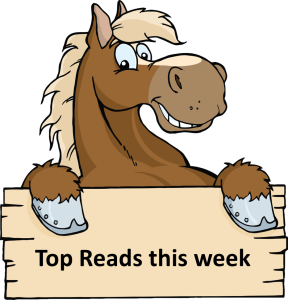 Rounding up top reads from around the web, including articles shared by fellow investors in the Financial Horse Facebook Group.
---
Singapore has a total of 25 billionaires – four emerged since the last survey, but one dropped off the ranks from April to July this year. Total billionaire wealth here grew by 11 per cent, reaching US$79.1 billion in April. But from April to July, it bounced 30 per cent to US$102.6 billion. This trend is in line with a V-shaped rebound in global stock markets from April to July that propelled billionaire wealth to a new high of US$10.2 trillion.
---
Overall unemployment rate climbed to 3.4% in August, and it "remains to be seen" if it will rise more quickly in the coming months, said the Manpower Ministry.
---
Currently, such compulsory acquisition is allowed only when flat owners deliberately make a misleading or false statements for the purchase of flats, and not for the transfer of flat ownership.
Another change made to the Housing and Development Act will allow approved banks to pledge property loans involving HDB flats as collateral for liquidity from the Monetary Authority of Singapore (MAS).
---
The judicial managers of insolvent marine fuels supplier Inter-Pacific Petroleum (IPP) have sued the company's former director, Dr Goh Jin Hian, over US$156 million (S$212.6 million) in losses it sustained due to his alleged breach of director's duties, according to court documents seen by The Straits Times. The suit against Dr Goh, who is the son of former prime minister Goh Chok Tong, was filed late last Friday night (Oct 2).
Dr Goh Jin Hian has stepped down as chairman of mainboard-listed Cordlife Group after news broke that he is being sued by the judicial managers of a failed marine fuels supplier over US$156 million (S$212.6 million) in losses due to alleged breach of director's duties. On Monday, The Straits Times reported a suit against Dr Goh, who is the son of former prime minister Goh Chok Tong, was filed last Friday night (Oct 2) in Singapore's High Court for Deloitte & Touche, the judicial managers of Inter-Pacific Petroleum.
Dr Goh has also had his passport retained as a result of an unrelated probe by the Singapore Police's Commercial Affairs Department (CAD) into a possible offence under the Securities and Futures Act involving New Silkroutes Group, of which he retired last week as chief executive but remains as non-executive chairman.
---
Novena Global Healthcare group co-founders and directors Terence Loh and Nelson Loh have agreed to legally separate all their business interests, Mr Terence Loh told The Straits Times on Wednesday (Oct 7). Under the agreement, Mr Terence Loh will transfer all the shares he owns in Singapore-registered Bellagraph Nova (BN) Group to Mr Nelson Loh for $1 and resign as its director. Mr Nelson Loh will transfer all the shares he owns in three corporate entities – Cayman Islands-registered Novena Global Healthcare Group and all its subsidiaries, Singapore-registered Dorr Global Healthcare International, and Singapore-registered Rock Star Advisors – to Mr Terence Loh for $1. He will also resign as director of these three entities.
---
IKEA Singapore is opening a third outlet at Jem in Jurong and is hiring 200 people, the Swedish furniture giant announced on Oct. 6. The store, the third outlet here, is slated to open in the second quarter of 2021. It will be three storeys in total and span around 6,500sqm.
---
SIA @ Home is one of three initiatives the national carrier has come up with to engage customers during the Covid-19 pandemic, which has devastated the travel industry, with passengers and planes grounded and the number of flights plunging.
---
Amazon is planning to take over some of Citigroup's office space in Singapore at a time when a number of the e-commerce giant's Chinese tech rivals are expanding here.
---
Most Americans are not on track to retire as millionaires. In fact, only 12% of Americans in their 60s say that they have more than $1 million in savings, according to a 2020 TD Ameritrade report. 
Based on his interaction with millennials and members of Generation Z, He said many of them are entering the stock market but lack "the right mindset". Some want to make a quick buck and turn S$10,000 into S$100,000 in two years. "But a lot of them will panic (when the market turns), especially first-timers. Some actualise their losses — they put in S$20,000, and if it drops by 30 per cent, they sell and then the market recovers," he added. "You have to ride the ups and downs; that's the way to reduce the risk." His investment horizon is between 10 and 20 years.
"Don't have a 'fear of missing out' (FOMO) mindset — of rushing into the market to follow the crowd. This is a polite way of saying, investing based on greed," he said.
Kenneth Lou, co-founder and CEO of financial platform Seedly, warned that investors should invest money they are willing to lose in the event the market drops. "(Or) if a second wave of infections come around, then this should be a very big test of the reasons that you invest," he said in another Money Mind episode. "Is it for the long term or … the short term?"
One information technology consultant, who started trading two years ago, told CNA Insider he lost S$50,000 in forex trading and gold exchange-traded funds. As he was cash-strapped, he had used his credit card to finance his trading and needed Credit Counselling Singapore to help him restructure his debt to the bank. His stock market losses also cost him his marriage, he lamented. In the past, he made thousands of dollars in forex trading and thought his winning streak would never end. "I've learnt not to be arrogant about it. There's no such thing as fast money," he added.
---
The crisis has disproportionately affected small businesses and low-income service workers. They are essential for the real economy, but not so much for equity markets.
A second, and perhaps more convincing, explanation for today's stock market performance is that central banks have pushed interest rates down to near zero. With markets convinced that there is little chance that rates will rise in the foreseeable future, prices of long-lived assets such as houses, art, gold, and even Bitcoin have all been driven upward. And because tech firms' revenue streams are tilted far into the future, they have benefited disproportionately from low interest rates.
A third explanation is that in addition to providing ultra-low interest rates, central banks have directly backed private bond markets – representing an unprecedented intervention in the case of the US Federal Reserve.
While these three explanations offer some insights into why stock prices are rising at a time when the real economy is heading south, they tend to miss a big piece of the puzzle: The economic pain inflicted by COVID-19 is not being borne by publicly traded companies. It is falling on small businesses and individual service proprietors – from dry cleaners to restaurants to entertainment providers – that are not listed on the stock market (which leans more toward manufacturing).
---
Mr Trump appeared to change course with a Twitter message calling for what he described as a "stand alone bill" for "stimulus checks" of $1,200, and directing a comment to Nancy Pelosi, the Democratic speaker of the House of Representatives: "Move fast, I am waiting to sign!"
Hopes for fresh stimulus faded further after Ms Pelosi, in a television appearance, called Mr Trump's decision to cease negotiations until after the election a "terrible mistake" that reflected "erratic behaviour". Mark Meadows, the White House chief of staff, and Larry Kudlow, director of the National Economic Council, then hit back at Democrats for failing to seek a compromise in the talks. Yanmei Xie, of the research house Gavekal, said the fact Republicans and Democrats were still wrangling over a bailout package meant the chance of the US economy getting fiscal support before the November presidential election was "dimming".
---
Yawger said the divergence shows that "crude oil is much less forward looking than equities.  " In my opinion, a deal done in January, when the new Congress is seated, has no impact on November Crude Oil which expires on October 20. Hence, weakness in the barrel but not in equities," he said.
Meanwhile, talk of a $25 billion aid package targeted at airline employees — one of the individual measures mentioned by Trump and previously backed by Democrats — would be unlikely to do much for oil prices, Yawger argued. While such a package would be good news for airline workers and for equities, it would do little for jet-fuel demand. "The program would serve as a bridge between crisis and normalcy. The airline plan is not structured to put more people on planes," he said.
---
Big Tech stocks barely flinched one day after members of Congress recommended parts of their underlying companies be broken up.
"The time these Big Tech stocks get hit by some bad headlines from the House Judiciary Committee is the time you have to buy them," CNBC's Jim Cramer said while giving his take on monopolistic concerns about U.S. tech giants.
"While they've crushed some competitors, they've also created entire industries that are filled with small businesses," he said.
---
A report backed by Democratic lawmakers has urged changes that could lead to the break-up of some of America's biggest tech companies. The recommendation follows a 16-month congressional investigation into Google, Amazon, Facebook and Apple. "These firms have too much power, and that power must be reined in," Democratic lawmakers working on the probe wrote. But Republicans involved in the effort did not agree with the recommendations.
---
US President Donald Trump has returned to work and held briefings at the Oval Office less than a week after he tested positive for coronavirus. The president has had no Covid-19 symptoms for more than 24 hours and has been fever-free for more than four days, his doctor, Sean Conley, said. In a video message on Wednesday, Mr Trump said he felt "great", adding: "I think this was a blessing from God." He said he wanted all Americans to have access to the treatments he was given.
President Trump renewed his attacks on China, telling Americans: "You're not going to pay for it. It wasn't your fault that this happened. It was China's fault. And China is going to pay a big price,,, This was China's fault."
---
PARADOX OF THRIFT: Encouraging consumers to spend more can be another useful lever and an impactful one if the economy has a strong consumer base. But it is also difficult to achieve, especially when consumers' confidence may be affected.
---
Four out of five affluent Chinese parents with children studying foreign curriculums and taking foreign examinations say they have postponed plans to send kids abroad
Concerns mounted among wealthy and middle-class mainland Chinese after the US recently revoked more than 1,000 visas of graduate students and research scholars
---
China's economy likely expanded 5.2% in the July-September quarter as a policy-led recovery continues, with growth expected to accelerate from 3.2% during the April-June period, a survey by Nikkei and Nikkei Quick News found. Though some economists express optimism that tariffs on Chinese goods will be reduced if former Vice President Joe Biden wins the American presidential election next month, others think the U.S.-China rivalry will continue regardless of the result of the vote.
China has largely contained the spread of the coronavirus, and the economy quickly returned to growth in the April-June period. The survey of 29 economists revealed that most expect July-September growth to expand further, with estimates for the third quarter ranging from 2.5% to 7.1%.
Christina Zhu, an economist at Moody's Analytics, agreed that a Biden win could signal a return to a multilateral approach in addressing trade issues through the World Trade Organization and other international frameworks, leading to a reduction in tariffs.
But not all the economists agreed that a Biden victory would benefit China's economy. Tommy Wu, lead economist at Oxford Economics, said Biden favors other forms of protectionism such as providing subsidies for American companies to reshore production activities to the U.S. or penalizing them for moving jobs overseas. "Also, a Biden administration will very likely work closely with the U.S.'s traditional allies, which will probably be even less favorable for China," Wu said.
Others think American policy toward China will remain tense regardless of the election outcome. "It is difficult for the deteriorating U.S.-China relationship to achieve fundamental improvement regardless of the election result," said Cheng Shi, chief economist at ICBC International. "In the long run, it is the consensus among U.S. politicians to maintain the superiority of the U.S. and contain the rise of China."
---
Looking for a comprehensive guide to investing? Check out the FH Complete Guide to Investing and FH REITs Masterclass for Singapore investors.
Stock Watch 2020: Support the site as a Patron and get market updates. Like our Facebook Page and join the Facebook Group to continue the discussion!