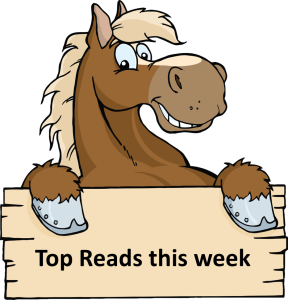 Rounding up top reads from around the web, including articles shared by fellow investors in the Financial Horse Facebook Group.
---
Shares of Sea Ltd, South-east Asia's most valuable company, fell after reporting third-quarter financial results that showed signs of a slowdown in e-commerce growth. The Singapore-based company owns e-commerce platform Shopee and game developer Garena.
Its revenue doubled to US$1.2 billion (S$1.6 billion) for the quarter and it boosted annual forecasts for two key businesses. But net losses also doubled to US$419.9 million and quarter-on-quarter growth in e-commerce gross merchandise value dropped to 16 per cent, from 29 per cent in the second quarter. Sea shares slid 4.3 per cent in US trading on Tuesday (Nov 17). The stock is still up more than 300 per cent for the year.
---
Global equities ease from this week's record highs, after US data shows Americans barely hit stores last month, igniting concern over the threat of COVID-19 to the economy.
COVID-19 cases in Europe continue to surge, with infections in France passing 2 million and the UK recording the biggest daily increase since May, knocking utilities and construction stocks.
Government bond yields eased, although safe havens such as the Swiss franc and gold fell against the dollar.
---
Paris and Zurich have joined Hong Kong as this year's costliest cities worldwide, while Singapore and Osaka have slipped from their joint-top spot after the coronavirus pandemic weakened the US dollar, a survey published on Wednesday (Nov 18) showed.
---
Errors have been found in the records of around 3,000 former and current civil servants, which impacted benefits they received such as their starting salaries and medical leave wages. Disclosing this on Wednesday (Nov 18), the Public Service Division (PSD) said it discovered the errors while upgrading the civil service's human resources and payroll IT systems. The Civil Service will compensate both current and past officers who were underpaid due to these errors, with the total sum amounting to around $10 million.
---
ABOUT a quarter of organisations in Singapore plan to introduce or continue with salary freezes in 2021, a tad fewer than the 30 per cent that paused wage increments this year. As for pay cuts, about 3 per cent of employers said they intend to implement them next year, compared with the 29 per cent who made salary reductions this year. However, most organisations in the Republic are taking a wait-and-see approach, as they continue to tread with caution on salary increments while navigating the impacts of the coronavirus pandemic.
---
Pharmacy stocks fell sharply on Tuesday after Amazon launched its new Pharmacy offering, which includes online ordering and delivery for prescription drugs. Dow Jones Industrial Average member Walgreens Boots Alliance dropped 9.6% on Tuesday. CVS Health shares lost 8.6%. Shares of Rite Aid fell 16.3%, while GoodRx stock declined 22.5%.
Amazon Pharmacy is available in 45 states and accepts most forms of insurance. Amazon Prime members can also receive discounts on generic and name-brand drugs when paying without insurance, the company said.
---
Governments and central banks have promised to shell out $19.5 trillion since the coronavirus erupted to "put a floor under the world economy," according to the International Monetary Fund. Some countries need even more help to recover from the crisis, but they might not get it. 
Governments have announced nearly $12 trillion in stimulus measures
as of September and central banks have chipped in at least $7.5 trillion to soften the impact of the pandemic on their economies, the IMF said in its 
annual report
on Monday. Yet despite the unprecedented scale and speed of the rescue,
which cut taxes, paid wages, granted loans to small businesses and took interest rates to record lows, the global economy is suffering
the worst recession since the Great Depression. Economic activity and employment in large parts of the world, including in the United States and Europe, remain well below levels seen before the pandemic hit.
---
New private home sales in Singapore plunged more than 50 per cent in October amid a dearth of fresh projects and restrictions on the reissue of options to purchase (OTP). Private developers sold 642 units, excluding executive condominiums (ECs), in October, data from the Urban Redevelopment Authority (URA) showed on Monday (Nov 16). This is down 51.7 per cent from September's more than two-year high of 1,329 units, and also a decline of 31.1 per cent compared to the same month last year, when developers sold 932 homes.
---
Each Singaporean aged 18 and above (as of 2020) will get $100 in SingapoRediscovers Vouchers that can be used for attraction tickets, hotel stays and local tours in Singapore from Dec 1, 2020 to June 30, 2021. These will be distributed in denominations of $10. There are five authorised online platforms to redeem the vouchers: Changi Recommends, Trip.com, Klook, GlobalTix, and Traveloka. You will need to use your SingPass account to claim your vouchers.
---
In a statement on Thursday (Nov 19), the Immigration and Checkpoints Authority (ICA) and the police said that four Singaporeans, two permanent residents and two long-term pass holders had made the false declarations to avoid serving their stay-home notices at dedicated facilities.
---
Singapore's ambition to produce about 30 per cent of its food needs locally has made significant progress despite the disruption from the pandemic. The "30 by 30" goal to reach that milestone by 2030 was set last year and marks a significant increase, given the country produces less than 10 per cent of its nutritional requirements now. The plan is to use indoor growing technologies – such as hydroponic and vertical farming – and data analytics to optimise production.
---
DBS was the latest lender to announce a slew of new work practices on Tuesday. UOB had also earlier announced instituting a two-day work-from-home policy post Covid-19. Singapore's largest lender will give its 29,000-strong workforce the option to work remotely up to 40 per cent of the time, as well as implement a formal job-sharing scheme which enables two employees to share responsibilities of one full-time role.
---
"Stay-at-home" stocks including Zoom and Peloton tumbled on Monday after Moderna revealed its COVID-19 vaccine was almost 95% effective in a late-stage trial.
Fastly, Chegg, and other stocks that have at least partly benefited from the pandemic also retreated.
In contrast, airlines, cruise lines, manufacturers, and other "real economy" stocks jumped as investors wagered the vaccine would allow economies to reopen in a matter of months.
---
China stocks shed some of their early gains, with the benchmark Shanghai Composite index ending the session higher on Wednesday, lifted by the government's pledge to implement additional policy measures to prop up a coronavirus-ravaged broad economy. ** At the close, the Shanghai Composite index was up 0.22% at 3,347.30, while the blue-chip CSI300 index ended 0.06% lower.
** China will promote economic growth to a "reasonable" range while pursuing higher quality development, Premier Li Keqiang was quoted as saying on Tuesday night by state radio. ** Remarks made by Premier Li helped assuage investor concerns that authorities might soon abandon policy stimulus plans as the recovery in the world's second-largest economy from its COVID-19 slump gathered momentum.
---
Wall Street sees positive vaccine developments as a major confidence booster, firming up expectations for a big economic rebound next year. If companies have faith that vaccine distribution can begin in late 2020 or early 2021, they can start to make more concrete plans for the future.
Unfortunately, vaccines won't prevent an extremely tough winter. Many European countries are still under modified lockdowns, and the United States surpassed 11 million coronavirus cases on Sunday. At least 45 states have reported more new infections this past week than the previous week, according to Johns Hopkins University.
"The good news on vaccines is tempered by the fact that they won't come soon enough to prevent a difficult winter for many economies," Neil Shearing, group chief economist at Capital Economics, said in a note to clients on Monday.
---
Companies around the world are racing to make vaccines and other therapeutics to combat the virus that causes Covid-19. 
"We are working on 10 neutralizing antibodies and also on one Covid-19 vaccine. Some major progress is going on with these treatment," says Chris Chen, chief executive at WuXi Biologics.
---
Nvidia reported earnings for its third fiscal quarter of 2021 on Wednesday.
Nvidia beat analyst expectations on both earnings and revenue in its fiscal fourth quarter but shares barely moved in extended trading.
Nvidia said it set company records for revenue and quarterly profit and that revenue was up 57% from the same period last year
---
Huawei, the Chinese telecom giant once ranked as the world's largest smartphone maker and increasingly squeezed by Washington, announced Tuesday that it would sell its budget handset brand Honor to a government-backed consortium in a bid for the unit's survival.
Huawei has been struggling to overcome restrictions on crucial chip technologies by the U.S., which calls the company a national security threat. By breaking off, Honor can get smartphone supplies without Washington's blockade, but will lose access to Huawei's resources and may even face new U.S. restrictions in the longer term, analysts warn.
---
The promising news out of Asia stands in sharp contrast to the West, where many nations are grappling with a resurgence of Covid-19 and have been forced to once again impose restrictions in an attempt to bring their outbreaks under control. Federal Reserve Chairman Jerome Powell reiterated last Thursday that the US economy will need more stimulus from both the government and the central bank to get through the crisis. The Bank of England warned earlier this month of a douple-dip recession for the UK economy as the country re-entered national lockdown. The European Union is facing a similar fate.
---
″[H]umility, openness, fairness [and] being authentic" are most important – "not [being] the smartest person in the room or the hardest working person in the room," Dimon, who runs the nation's largest bank and oversees more than 250,000 employees globally, told LinkedIn editor in chief Daniel Roth in a recent video. 
"Management is: Get it done, follow-up, discipline, planning, analysis, facts, facts, facts. It's [getting] the right people in the room, kill the bureaucracy, all of these various things," Dimon told Roth. "But the real keys to leadership aren't just doing that." It's about having "respect for people," not about having "charisma" or "brain power," he said. Having these traits also increases your productivity, along with your success, Dimon said. If you're "selfish" or "take the credit" when it isn't warranted, others are "not going to want to work," which will impact efficiency on the job.
---
Christine Lagarde, president of the European Central Bank, said any medical breakthrough won't alter her assumptions about the global economy next year. "While the latest news on a vaccine looks encouraging, we could still face recurring cycles of accelerating viral spread and tightening restrictions until widespread immunity is achieved," she said. "The recovery may not be linear, but rather unsteady, stop-start and contingent on the pace of vaccine roll-out."
But here's the bigger problem: one in ten jobs worldwide is linked to travel and tourism. And the industry is supported by a constellation of small enterprises—everything from bus companies to tour guides, restaurants and souvenir shops.
The challenge facing the global economy is how to funnel money to these companies—the "real"  economy—as opposed to the financial economy where money spins around in search of trading profits. If you're running a zipline operation in Hawaii, noted Ajay Banga, CEO of MasterCard, "you've got a big problem." 
---
Looking for a comprehensive guide to investing? Check out the FH Complete Guide to Investing and FH REITs Masterclass for Singapore investors.
Stock Watch 2020: Support the site as a Patron and get market updates. Like our Facebook Page and join the Facebook Group to continue the discussion!