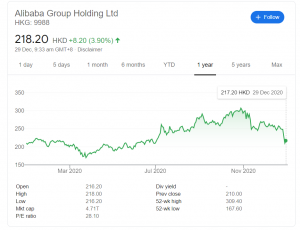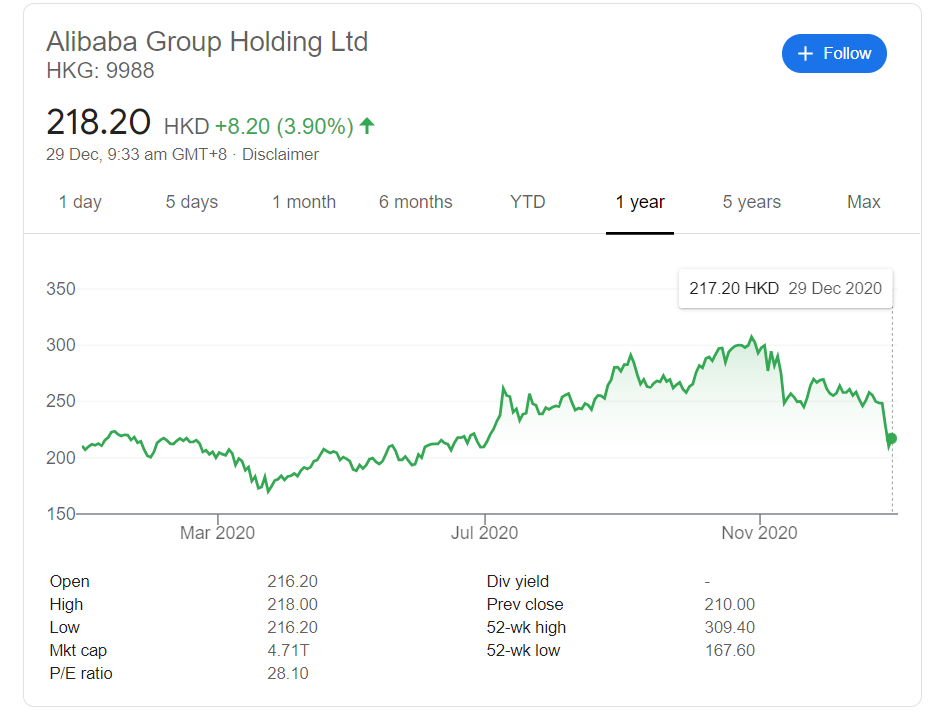 In case you missed it, the China government launched an antitrust investigation into Alibaba last week.
This, combined with the pulling of Ant's IPO, has caused Alibaba's share price to drop from its high of 300 HKD (Oct 2020) to about 210 HKD today.
That's approximately a 30% fall, which was the peak to trough fall for Tencent back in 2018 when the government went after them.
Buying opportunity, or falling knife?
Facts
Lots of speculation out there, so let's round up the facts:
Jack Ma gave a speech in Shanghai on 29 Oct 2020 with reference to "Traditional banks are operating with a 'pawn shop' mentality"
China regulators pulled Ant Group's IPO on Nov 3 
On Dec 24, China regulators launched an anti-trust investigation into Alibaba Group
On Dec 27, China regulators announced the objective of the investigation, which was to require Alibaba to comply with a number of objectives on financial rules and competitive practices
Opinion
With the facts out of the way, let's go into opinions. Popular media reported that Nov's pulling of the Ant IPO was in response to Jack Ma's speech in Shanghai.
Other commentators disagree, and suggest that the opposite is true (i.e., Jack Ma's speech was in response to his inside knowledge that the Ant IPO would be pulled).
But of course, all of these opinions belong to the rumour category, so take it with a pinch of salt.
Why now?
Ant Financial was increasing financial leverage in the system via shadow banking (it took loans from banks and loaned them out on leverage, holding 2% capital adequacy ratios). China cracked down on shadow banking since earlier this year, and Ant was the most recent casualty.
China may be sending a signal to:
The financial sector on risky loans and bad debt
The tech sector on anti-competitive practices
This post first appeared as Premium Content on Patron! Subscribe to Patron for more exclusive content, including monthly Stock Watch across 3 markets – Singapore, China/HK and US Stocks!
How can this play out?
In terms of Alibaba specifically, there are 2 ways this can play out:
Tencent route (just like Tencent in 2018, a slap on the wrist, and then everything goes back to normal when the company plays ball)
Wanda route (where the company was forced to significantly sell down its assets to reduce debt, and today is a shadow of its former self)
My personal take
Now personally I have no clue of the outcome of the antitrust action. China regulatory regime is a tough nut to crack. 
As investors, it all goes back to risk vs reward, and probabilities.
What's the potential payout if you're right, versus the loss if you're wrong? And what's the probability of the win versus loss?
Which is the more likely outcome?
Destroying Alibaba makes very little sense to me.
You lose Alibaba, which has significant clout and weight in the international markets
You lose credibility in Chinese tech companies internationally, which makes it far harder for them to raise capital going forward
You create a vacuum in the eCommerce space. Chances are, one of Tencent, Meituan, Pinduoduo or JD will expand to fill up this void, and you're just left with Alibaba 2.0.
So frankly, that outcome doesn't make sense to me.
Companies are built by people, so if the company is broken, why kill the company when you can just replace the people?
If the goal is to send a powerful message, I think the pulling of the Ant IPO and the anti-trust investigation has made the point.
Alibaba CEO Daniel Zhang came out on Friday to affirm their commitment to regulated development.
But of course, things could play out completely different. It's definitely a tail risk you need to be aware of if you're buying into Alibaba (or any China stock).
My Base Case
The way I see it though, this is a company that is growing revenues 30% year on year, and with its cloud business growing at 60% year on year.
COVID-19 has been a massive tailwind for its core eCommerce business, and China's middle class is just going to explode as this decade progresses.
All very powerful tailwinds for Alibaba's business.
Short of a breakup of Alibaba, there's just going to be massive upside in the coming 3 – 5 years.
Personally, my base case here is for something similar to what happened to Tencent back in 2018 (recap here).
The company was put in a world of pain regulatory wise as none of its games could get approval, and it's share price tanked 30% over a 12-month period.
But eventually the company played ball, it revamped its systems and processes, and its share price recovered.
Is Alibaba a Good Buy right now?
I really like Alibaba's business assuming the fundamental assumptions don't change. I have a position in Alibaba, and will likely take the opportunity to add to it.
Of course, this is not an investment without risks.
Nobody knows the outcome of the antitrust legislation. If the goal is to break up the company, things are going to get a lot worse before they get better.
All goes back to risk-reward, and your own risk appetite.
Love to hear your thoughts!
BTW – We're running a massive Christmas Promotion for all Investing Courses. 
2021 will not be straightforward for markets, with lots of opportunities for investors! Don't miss out! 
Check it out here! PROMO ENDS IN 3 DAYS!
---
This post first appeared as Premium Content on Patron! Subscribe to Patron for more exclusive content, including monthly Stock Watch across 3 markets – Singapore, China/HK and US Stocks!