The Financial Horse Complete Guide to Investing is a complete guide to investing for Singapore investors.
The course covers everything from asset allocation, stocks, REITs, CPF and tax optimisation.
Buying the course gets you lifetime access, so you'll be able to go through the course at your own time and convenience.
If you want to be confident about your investing in 2023, check out the Complete Guide to Investing.
Flash promo details below!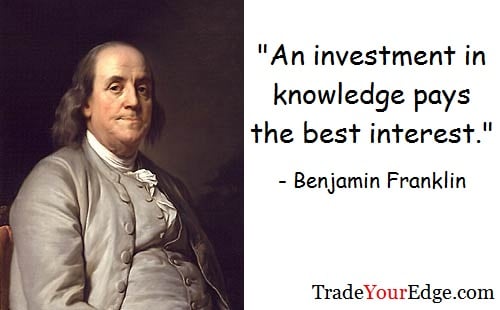 The most common question I get on this site is: "I am x years old. I have y dollars in the bank. How do I invest my money?"
After answering countless reader questions, it started becoming obvious to me that there was an underlying set of considerations and framework that applied to investing, that could be used to address these queries.
However this framework was more than could be imparted in a simple paragraph, or even a 2,000 word article.
Which is why the Complete Guide to Investing was created.
Unlike other courses which only touch on stocks, the Complete Guide to Investing gives you everything you need to know as an investor in Singapore.
From asset allocation, understanding market cycles, Stocks, REITs, Bonds, ETFs, CPF and tax planning… to build a complete portfolio as a Singaporean investor.
Asset allocation will make or break your returns
I'm a huge believer in asset allocation.
To build this course, I re-thought my entire approach towards asset allocation for Singaporean investors.
I built a complete framework from the ground up to think about your net worth as a Singapore investor, inclusive of CPF, property (residential + investment), bonds, stocks, REITs.
This is the same approach I adopt towards conceptualising my own net worth.
In fact, I would even go so far to say that the Asset Allocation module itself is probably worth the entire course fee.
Don't know how or where to start investing?
No time to go through complicated books and concepts?
The Complete Guide to Investing offers you a practical framework to investing.
Straightforward and easy to understand with real world examples.
When you finish the course, you'll feel confident that:
You understand investing fundamentals
You understand the importance of asset allocation
You can navigate shares, REITs, and fixed income
You have control over your investments
You can optimize your stocks portfolio confidently
You get lifetime access to the course, so you can learn at your own pace and refresh at anytime you need.
What is the course structure?
The course consists of 12 modules as follows:
Module 1: Objectives and Goal Setting
Module 2: The Importance of Asset Allocation
Module 3: Understanding the Market Cycle
Module 4: REITs
Module 5: Property Investing for Individuals
Module 6: Shares
Module 7: ETFs
Module 8: Bonds & Fixed Income
Module 9: CPF & Tax Planning
Module 10: Sample Portfolios
Module 11: Advanced Reading
Module 12: Statistics, Probabilities and Randomness – Getting an extra edge in Financial Markets
Do check out the course page for more information.
There is a detailed table of contents that is expandable for you to explore.
Use this as a Shortcut to Success
Jumpstart your learning and start from a much higher base than your peers
Can you learn everything in this course by yourself? Absolutely, most of this can be learned through books, classes, and painful trial and error.
But ask yourself, how long would it take for you to build up such knowledge?
In this course, I've taken everything I know about investing, what I learnt from books, courses, academic journals, interviews, speaking to people, and all my experience in the financial markets, and condensed it into this course.
Think of this as a way to shortcut years of your learning, and immediately start on a much higher base than your peers.
If I had been offered such a course, when I began my investing journey, I absolutely would have jumped at the chance.
2 Day Promo: Don't Miss Out!
For this April weekend, the course price will drop from:
This is nothing compared to the amounts you're investing over a lifetime
Think about it this way – the first stock I bought I invested $2,000, and I lost 80% of that money. That's $1,600.
As a beginner investor, you're bound to make mistakes. If this course can help you avoid a 50% loss on a $2,000 investment, it's paid for itself more than 3 times over.
Think about how much you're investing in the markets over a lifetime, and how much you can improve with a strong foundation.
Don't be penny wise and pound foolish.
This is a small investment that will help you for a lifetime.
Be a Confident Investor today!
Testimonials from course members
Here's what course members have to say about the course.
"Special add value for the asset allocation module, really helpful for investors looking to grow wealth." – J.A.
"Easy to understand content and especially appreciate how it is curated for the Singapore context." – T. Loh
"Yes, I would recommend to others. Good for anyone who needs a quick crash course on investing." – L.G. Lee
"Breaks down complex concepts into simple forms." – C.A. Tan
"Sensible and neutral advice for Singapore investors." – Chris W.
"A broad explanation of different type of investments that we can look into." – L.D.
"Very comprehensive and insightful! Especially for fresh graduates, useful to learn asset allocation early on." – J. Ong
"Easy to understand and relevant. Very comprehensive content, and breaks down the different components in a clear and concise manner." A. Low
"Comprehensive, orderly and useful. Taught in a way that is easy for newbie investors like me to understand". – K.P.
"All the information that you need as an investor. Sets out a framework of the factors to consider for each asset class. Great course!" Richard H.
"Important concepts made simple, and easy to understand. Value for money as there are a lot of additional investing tips not readily available online." B. Yong
Build an investment portfolio for long-term wealth creation
Supercharge your knowledge & net worth, and get ready to take advantage of market opportunities in 2023!
This course is for investors who want to step up their game and maximize their investment portfolios to build long-term wealth.
If this sounds like you, sign up for the course today!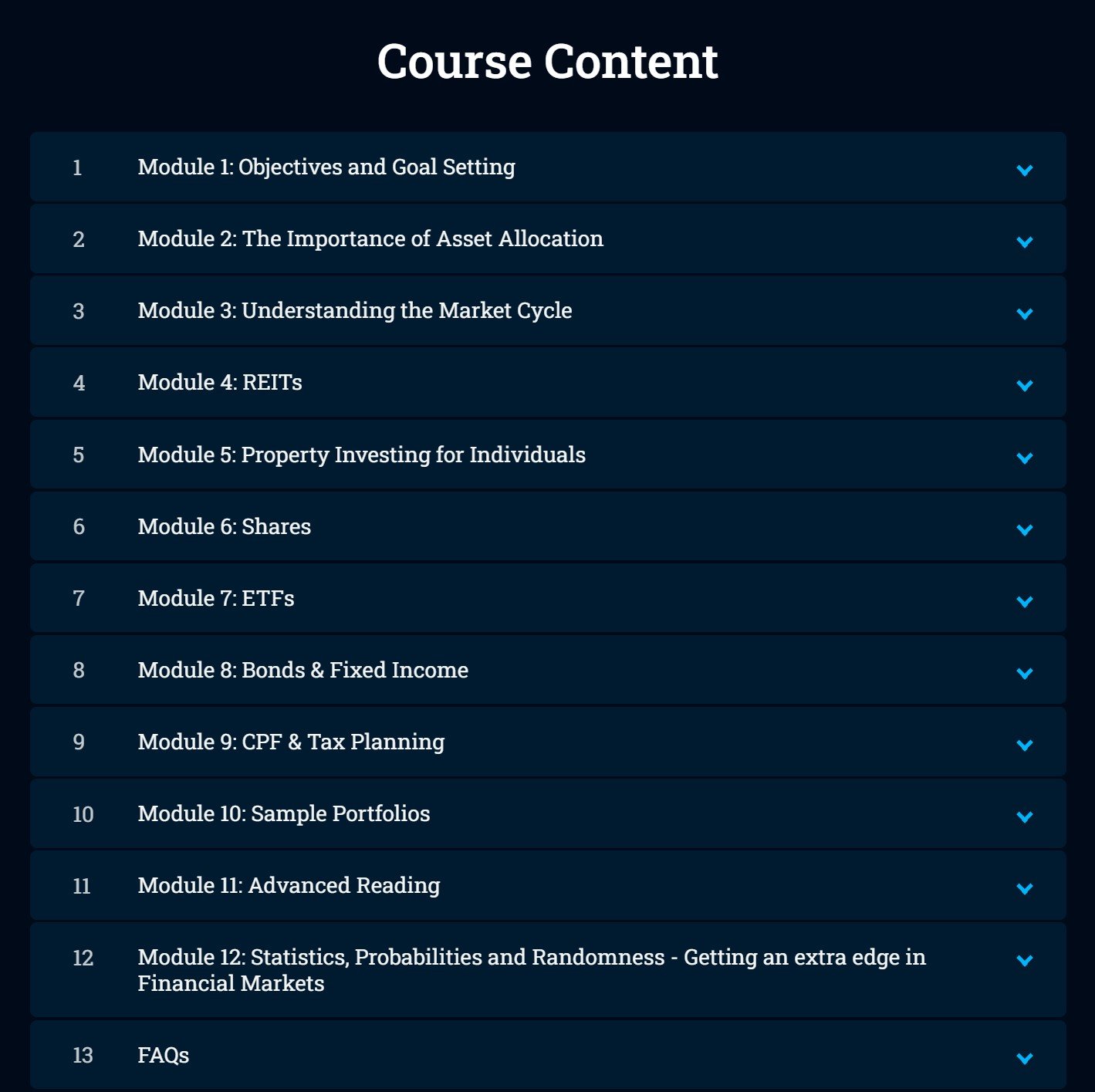 An investment in knowledge pays the best interest.
Invest in yourself, and your future self will thank you for it.
Don't be an anxious investor anymore!
Achieve financial security by knowing what you are doing.
Build an investment portfolio that helps you achieve the dream life you want.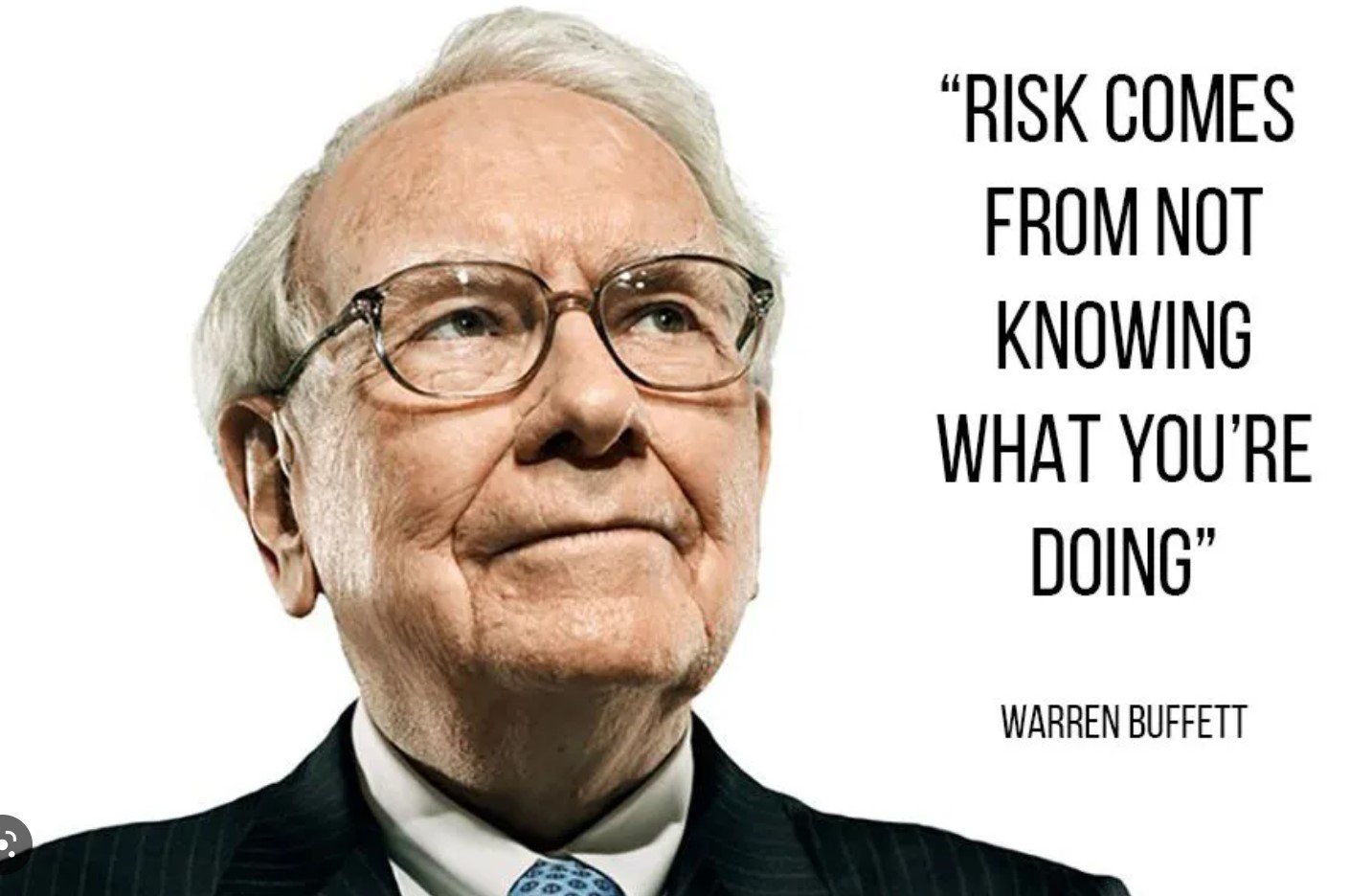 Be confident and take charge of your financial security
The Complete Guide to Investing offers you everything you need to know about investing.
It's a practical and simple approach to investing to help you build long-term wealth.
Understand investing fundamentals, and supercharge your investing knowledge.
Take action towards financial freedom today!
This special price is available for 2 days only, so don't wait, and grab this special offer!