How should you manage your money?
There are probably dozens of answers to the question. Everyone has a unique preference when choosing a budgeting tool.
It depends on many factors like your money personality and financial goals.
Because there is no one right answer, this leads to sometimes contradictory advice online.
Some say you should physically write things down to practice mindfulness with money. Others preach automating your finances to eliminate the need for willpower to make good financial choices.
The "best" tool is the one that works for you.
This article serves as a guide for you to discover your preferences for a budgeting tool. Whether it's pen and paper or artificial intelligence, the best tool is one you stick to in the long term.
This post was written by a Guest Contributor.
Best budgeting tools of 2023
Best minimalist method of expense tracking: Kakeibo
Best free spreadsheet expense tracker: Google Sheets
Best expense tracker app for syncing multiple accounts: Planner Bee
Best AI "financial advisor": ChatGPT
Best minimalist budgeting method: Kakeibo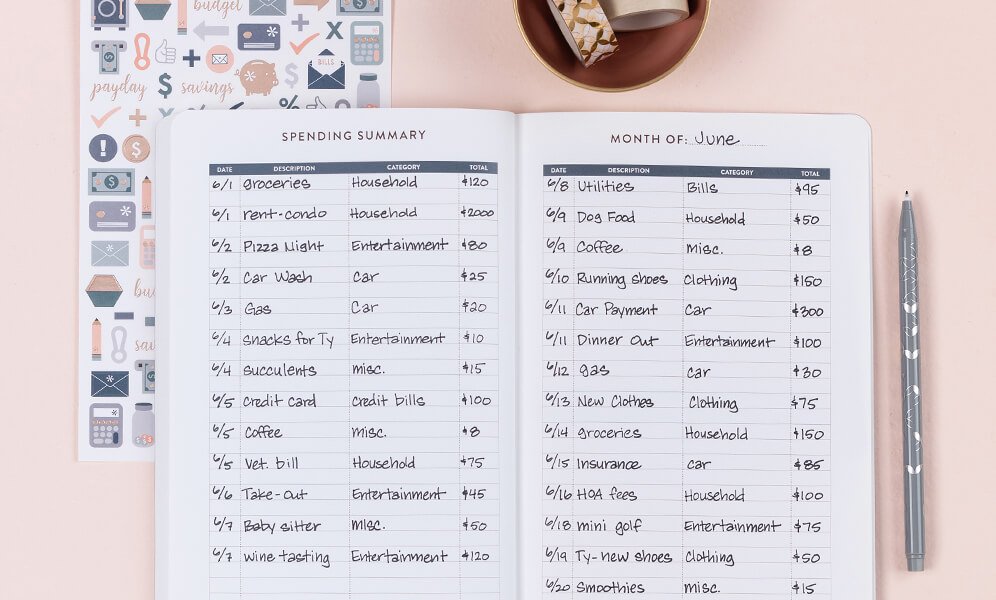 Kakeibo is the perfect old-school budgeting tool for a digital world.
Kakeibo is a century-old budgeting system from Japan that provides a minimalist approach to managing your finances.
All you need to get started is a pen and a notebook.
In essence, kakeibo, the Japanese term for "household family ledger", is a physical budgeting journal. You begin by answering financial questions and setting savings goals. Then you track and categorise your expense and review expenses at the end of every month.
Handwriting takes much longer than plugging in entries on a phone or laptop. But that's exactly the point.
The slower pace puts you in a more meditative state, forcing you to reflect on your purchase, compared to seeing a transaction automatically logged in an electronic tracker.
Creating a little more friction to spending might also help you cut down on impulse purchases and achieve your financial goals.
BTW – we share commentary on Singapore Investments every week, so do join our Telegram Channel (or Telegram Group), Facebook and Instagram to stay up to date!
I also share great tips on Twitter.
Don't forget to sign up for our free weekly newsletter too!
[mc4wp_form id="173″]
Best free spreadsheet expense tracker: Google sheets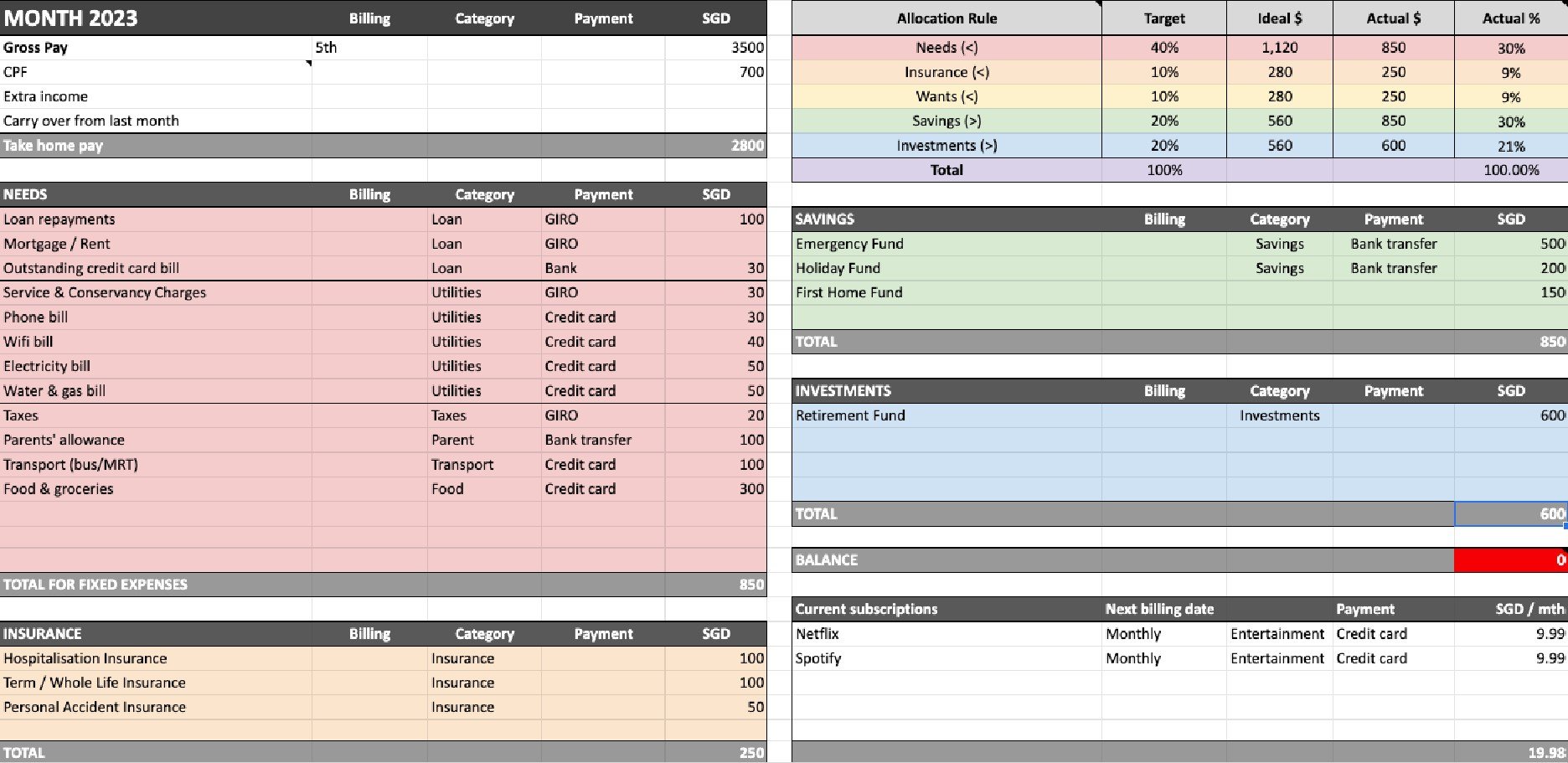 Google Sheets is great if you like a highly customisable and versatile budgeting tool.
It is a middle-of-the-road option between manual and automated expense tracking. It requires a hands-on approach to log each transaction. But you can also automate certain tasks and calculations. For example, you could use pivot tables to break down spending by month and category.
Instantaneous cloud syncing gives you the added benefit of accessing your spreadsheet on any device. And collaborating with others is easy, making it an excellent option for couples or families.
There is also a rich community of personal finance creators online to provide inspiration, templates and guides to create your dashboard.
Lisa's Adulting in Singapore provides a helpful walkthrough of her budgeting system in a local context. 
Best expense tracker app for syncing multiple accounts: Planner Bee
If Kakeibo is the most minimalist option, Planner Bee falls at the opposite end of the spectrum. It's one of the best options if you want to automate as much of your finances as possible.
Planner Bee lets you connect an impressive list of financial institutions to your dashboards. Currently, this includes:
Banks: DBS, OCBC, UOB, CIMB, Bank of China, HSBC, Standard Chartered and American Express. It also supports some foreign banks in Malaysia, Hong Kong, Indonesia, Thailand and Vietnam.
Insurance (Singapore): AIA, Aviva, AXA, Great Eastern, NTUC Income, Prudential
Investment: Autowealth, Aviva Navigator, Endowus, Fundsupermart, TD Ameritrade
This is especially helpful for people with accounts across multiple institutions where manually tracking and updating each account would simply be too time-consuming.
Bringing everything under a single dashboard gives you a more accurate picture of your net worth. Planner Bee automatically updates your dashboard daily with any new transactions and adjusts your budget accordingly.
ChatGPT — your personal AI "financial advisor"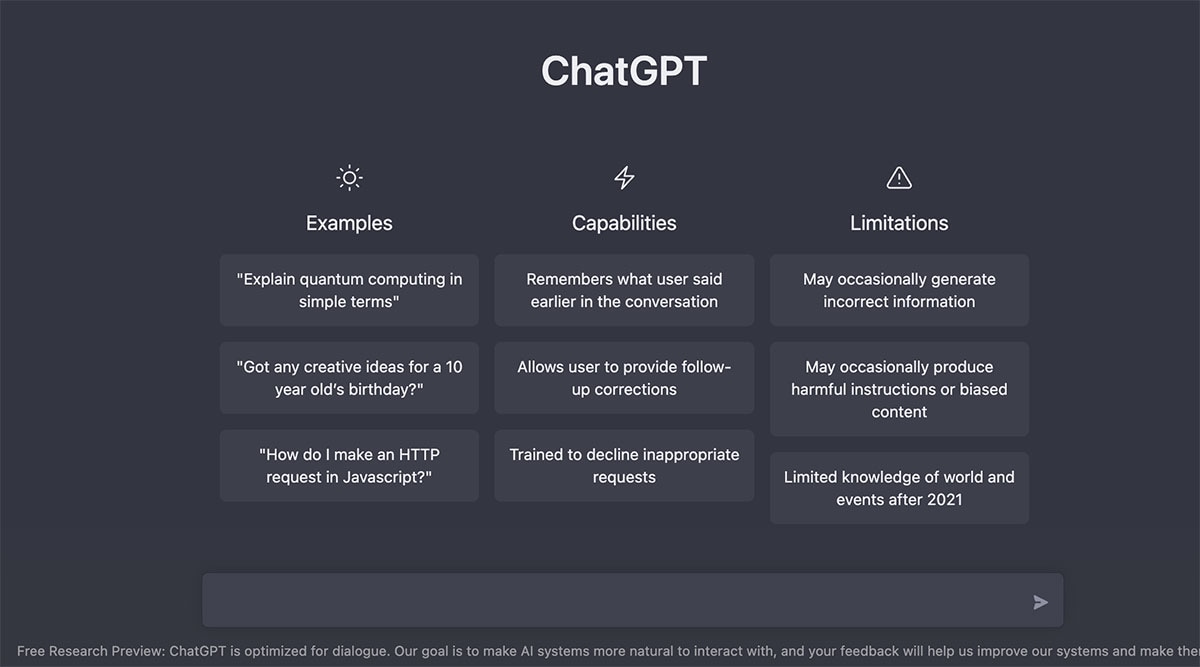 Artificial intelligence (AI) has the potential to revolutionise personal finance by providing personalised advice tailored to individual financial goals and needs. It can tailor its advice by analysing your spending patterns to make personalised recommendations and suggestions.
ChatGPT offers a glimpse into what this future might look like.
It's still a long way from replacing a professional financial advisor. But properly used, is a powerful tool everyone should use. The best way to use it is to treat ChatGPT like a friend that is really knowledgeable about personal finance.
That's to say, ChatGPT can provide a starting point for answering virtually any questions. You could ask it to explain financial concepts, help you with retirement planning and offer tips to save money.
But you shouldn't take their advice at face value and expect it will make bad or wrong suggestions occasionally. You still need to put in the effort to evaluate the suggestions and come to a reasoned decision on your own.
The key to making the most out of ChatGPT is to invest time in writing a good prompt. Providing context, such as explaining your goals and current financial situation will lead to results that feel personalised to you.
Conclusion
The best budgeting tool is the one you stick to. Each tool has pros and cons, so it's important to find the one that works for you.
Whether you prefer the tactility of pen and paper or the convenience of automation, various budgeting tools can help you track and manage your finances.
Whichever tool or approach you choose, the most important thing is to be consistent and stick to it.
What budgeting tool do you use?
For more personal finance & investing content, follow Financial Horse on Social Media!