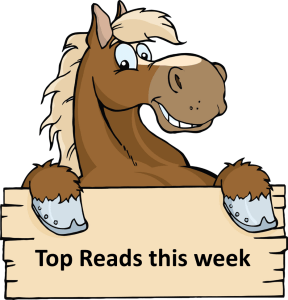 Rounding up top reads from around the web, as shared by fellow investors and myself in the Financial Horse Facebook Group.
---
What is a melt-up? It's a term traders use to describe a specific market event: a rapidly accelerating rally driven purely by sentiment, with high participation, volumes, and volatility. That is, market optimism has come untethered from fundamentals, and investors are chasing returns by jumping on an upward-moving bandwagon. A melt-up doesn't give investors waiting to buy the dip any chances to get in — it's all based on momentum and, in its later stages, FOMO.
---
A great question I often wonder myself.
The short answer? If you seek market returns, own everything in the market via index funds. If you seek to outperform the market, own 20-25 stocks (or we'll allow for as many as 50 if you think the additional stocks are really critical to the success of your strategy). But do not end up with a portfolio that is stuck in the middle.
---
SGX flagged the unusual price movements and asked the cord blood banker if it knew of any information which could explain the trading. In Feb 28, it appointed Tan Poh Lan as its executive director and group CEO following the exit of former group CEO Michael Weiss. Prior to the change of guard, Ms Tan was Cordlife's group chief operating officer. In a separate announcement on the same day, it released its fiscal 2018 results for the full year ended Dec 31, 2018, where it recorded $5.2 million in net profit, from a net loss of $1.7 million the year before.
---
Part 2 from last week's article, the last 5 points has a greater emphasis on the right attitude value investors should adopt: Keep turnover low, Keep net transaction costs low, Act like an Owner, Focus, Don't be Complacent and Keep a long-term mindset.
---
The author likes Sheng Siong for the simple reason that they are a defensive and stable business, their financial performance is relatively strong, management is solid and their dividend yield is pretty decent.
---
Hyflux's default has raised concerns that other debt-laden firms which sold bonds in the Singapore currency could face difficulties making repayments. Borrowers excluding banks and other financial firms face $5.1 billion of debt due in the rest of this year.
---
The stock is up about 75% from the US$19 IPO price, and Pinterest's market cap is approaching US$18 billion.
---
Chinese tech-driven coffee chain files for IPO. The Starbucks challenger intends to go public on the Nasdaq and trade under the symbol LK.
---
The tech sector was among the worst hit after Google parent Alphabet reported a 29% drop in quarterly earnings. The reading sent its shares plunging more than 7% in New York after-hours trade. That was followed on Tuesday morning by Samsung Electronics saying that operating profit dived a worse-than-expected 60.2% in the January-March period. The firm's shares sank 1%, while in Hong Kong, Tencent shed a little more than that and ZTE collapsed 3%. Taipei-listed Foxconn and LG Display in Seoul also tumbled.
---
OCBC Investment Research has downgraded its call on DBS Group Holdings to "hold" with a fair value of $29.18 after the bank's shares gained 3.6 per cent on Monday following better-than-expected first quarter earnings. On Monday, DBS posted first quarter net profit of S$1.65 billion, up 9 per cent year on year and 25 per cent quarter on quarter, on higher margin, strong trading income and a S$100 million write-back due to improved credit quality. Following its first quarter earnings release on Monday, other research houses have maintained their "buy" recommendations on DBS.
---
Grocery and delivery start-up Honestbee chief executive and co-founder Joel Sng has stepped down from the company, and Mr Brian Koo, whose family controls LG, one of South Korea's largest companies, will take over as its interim CEO and board chairman.
---
Tesla plans to raise $2 billion in capital through new equity and convertible notes. Elon Musk signaled the intent to buy about $10 million of the company's stock in the new offering.
---
An interesting read.
"I personally accept it," the 30-year-old Shih said of his father's decision not to pass on the family fortune to his three children. "He told us when we were very young and we didn't have a choice. He would say that it's better not to lead a life that's too comfortable in one go. You'll treasure more if you gain things step by step."
---
Till next time, Financial Horse, signing out! 
Enjoyed this article? Do consider supporting the site as a Patron and receive exclusive content. Big shoutout to all Patrons for their generous support, and for helping to keep this site going! 
Like our Facebook Page and join the Facebook Group to continue the discussion! Do also join our private Telegram Group for a friendly chat on anything investing related!