A lot of you have been asking for my views on the Singapore residential market in 2021 / 2022.
In the midst of COVID, weak economy, job insecurity – yet HDB resales are going for a million a pop, and condos are making new highs every week.
What gives?
So I wanted to pen this article to share my views – and also the fact that I bought a second condo in Singapore in 2021.
I will share my personal experience and thought process, and hopefully it will be useful for you in your decision making.
This is a modified version of the article that first appeared on Patreon. If you enjoy articles like this, do support FH as a Patron and receive exclusive content, my personal stock watch and personal portfolio!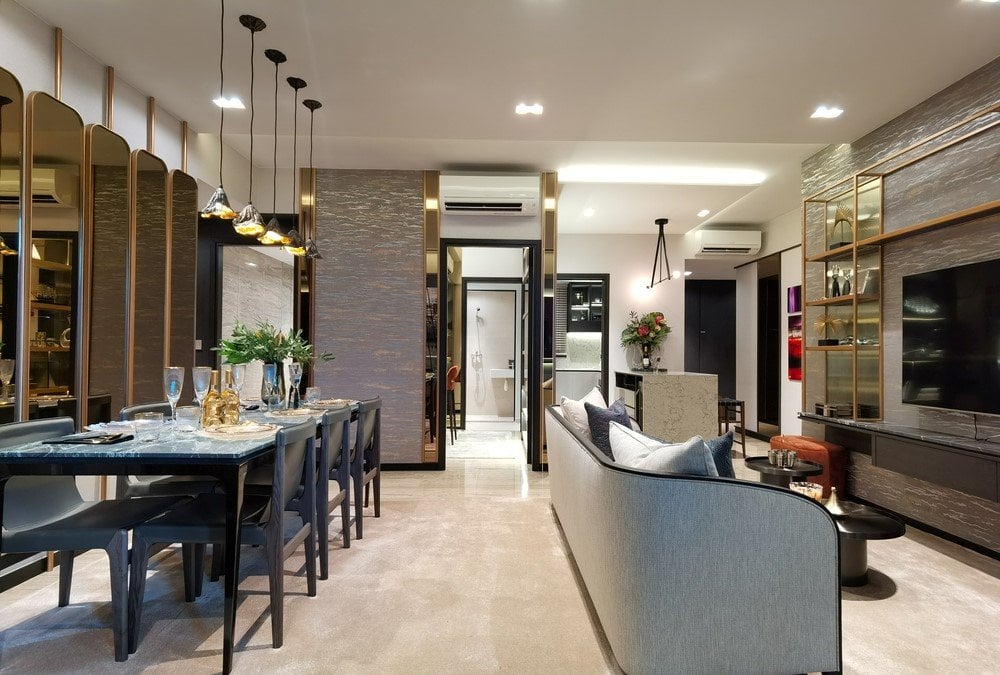 What Singapore Residential Property did I Buy in 2021?
Before this I already owned a leasehold condo.
In 2021, I went ahead and bought a freehold condo.
How did I buy another property in Singapore in 2021?
To avoid Additional Buyer's Stamp Duty (ABSD), I had to "decouple" my existing property.
Very simply – I sold my stake in the property to my spouse, freeing up my name to buy another property.
Fees wise, I had to pay (1) legal fees (about $5k plus), and (2) buyers stamp duty (on the 50% stake I was selling).
Sidenote: Property investing is a much poorer investment if it's a second property, because it significantly affects the loan you can take (45% for second home vs 75% for first), and ABSD is a gamechanger. 12% on a 3 million property is $360,000 (payable in cash), which really affects buy price.
General Observations on the Singapore Residential Property Market (from personal experience)
I'll keep this discussion to the private residential market, but many of these comments are applicable to BTO/Resale as well:
Rental Market is very strong now
Supply chain disruptions are really bad – Construction costs have gone up materially
Structural demand-supply mismatch
Sellers are asking sky high prices, buyers are not willing to match
Low interest rates are a very powerful tailwind
Rental Market is very strong now
The rental market is very strong now.
Anecdotally, I'm seeing 10% – 20% rental increases just compared to late 2020.
It's hard to pinpoint the exact factors, but I would say it's a mix of:
Singaporeans moving out of their house and renting
the usual foreigners who need a place to stay
For (1), because of COVID and work from home, many Singaporeans decided to move out to rent a place. This created additional demand that wasn't there before.
The impact of (2) came down slightly the last few months as the government tightened entry restrictions due to COVID's delta variant. But going forward, it should start to pick up again as Singapore continues to reopen to the world.
As a landlord, it's very easy to rent out a house now, with a decent increase in rent.
Supply chain disruptions are really bad – Construction costs have gone up materially
The cost of building materials has gone up, and the cost of labour has gone up.
This has impacted construction costs in a big way.
For labour – think about all the migrant workers who now need to be tested for COVID regularly, and need special accommodation. And all the migrant workers who can't enter Singapore. There is, and I kid you not, a bidding war for blue collar workers right now.
Somebody needs to pay for that cost.
For now, developers are absorbing the higher costs, but at some point they will want to pass it on to buyers. With the recent Pasir Ris 8 launch, many developers seized that opportunity to raise prices across the board.
Structural demand-supply mismatch
There is a structural imbalance in the market currently. Supply cannot keep up with demand.
Supply of new properties (both private and BTO) has been delayed drastically because of COVID's impact on migrant workers, which delayed construction anywhere from 6 – 12 months.
Just this week it was announced that another 5 BTO projects are delayed because the main contractor is bankrupt. Can't really blame them, because these contractors are locked into pre-COVID prices, and paying post-COVID prices.
Imagine if you're locked into a fixed priced contract with 10% margins, and your cost of materials/labour went up 20% across the board.
To continue on the construction project would be a loss maker for them, so bankruptcy is a fair decision. All across Singapore (and the world), many contractors are facing this exact problem.
Meanwhile, demand has gone up due to COVID. A year of work from home has made people realise the importance of their home, and they all want a nicer home + more space.
Throw in HDB upgraders and new couples, and the supply can't keep up with demand, creating a structural mismatch.
Sellers are asking sky high prices, buyers are not willing to match
Because of supply delays, for homeowners who want to want to move in quickly, resale is the best option.
At the same time – for sellers with an investment property, the rental market is very strong, creating very little pressure to sell.
Most sellers also understand there is a demand-supply mismatch, so they are in no hurry to sell, believing that if they hold the property they can get a better price down the road.
This creates a situation where most sellers are asking for a price 10-20% above last done, which most buyers balk at (understandably).
For now, the impasse is yet to be resolved, so the price index hasn't moved conclusively either way.
Low interest rates are a very powerful tailwind
Take me for example.
I eventually settled on a 1.05% mortgage, fixed for 2 years.
1.05%. To borrow millions of dollars. For a 30 year mortgage.
That's just ridiculous to me, and I'll borrow as much as the bank would give me at these rates.
As comparison – the last time I repriced was 2018, 1.85% for a 3 year loan.
The difference is really big, and we really shouldn't underestimate the impact of low interest rates on property prices.
Will there be cooling measures for the Singapore residential property market in 2021 / 2022?
A lot of commentators are talking about cooling measures.
I definitely could be wrong here, but my personal view is that cooling measures are unlikely in 2021.
The thing with cooling measures is that they work to cool an overheated market. If people are FOMO-ing into the market, or if developers are going crazy with enbloc bids, then cooling measures help.
Think 2007/2011 (FOMO), and think 2018 (en-bloc fever).
This time around, the problem is structural in nature. Supply cannot keep up with demand.
In a market like this, I'm not sure if cooling measures work. It's very hard to tailor the cooling measures to only hit the speculators, and not the people who genuinely need a home.
All cooling measures will do is deprive certain people from buying a house, and I'm not sure if that is the right decision here.
Could be wrong though.
BTW – we share commentary on Singapore Investments every week, so do sign up for our mailing list.
Don't forget to join our Telegram Channel and Instagram  (or our Reddit Community)!
[mc4wp_form id="173″]
Will Singapore residential house prices go up in 2021 / 2022?
Singapore house prices have held up amazingly well all throughout COVID.
HDB Resale Prices
After some initial weakness in Q2 2020, HDB resale prices have been very strong since, up 3.0% each quarter in 2021.
Source: https://www.hdb.gov.sg/residential/buying-a-flat/resale/getting-started/resale-statistics
Private Residential Properties
In Q1 2021, Landed properties increased 6.7%, while condos increased 2.5%.
Both of which moderated in Q2 2021 when the Phase 2 Heightened measures kicked in.
The big increase in landed is interesting – it seems families are really prioritizing space.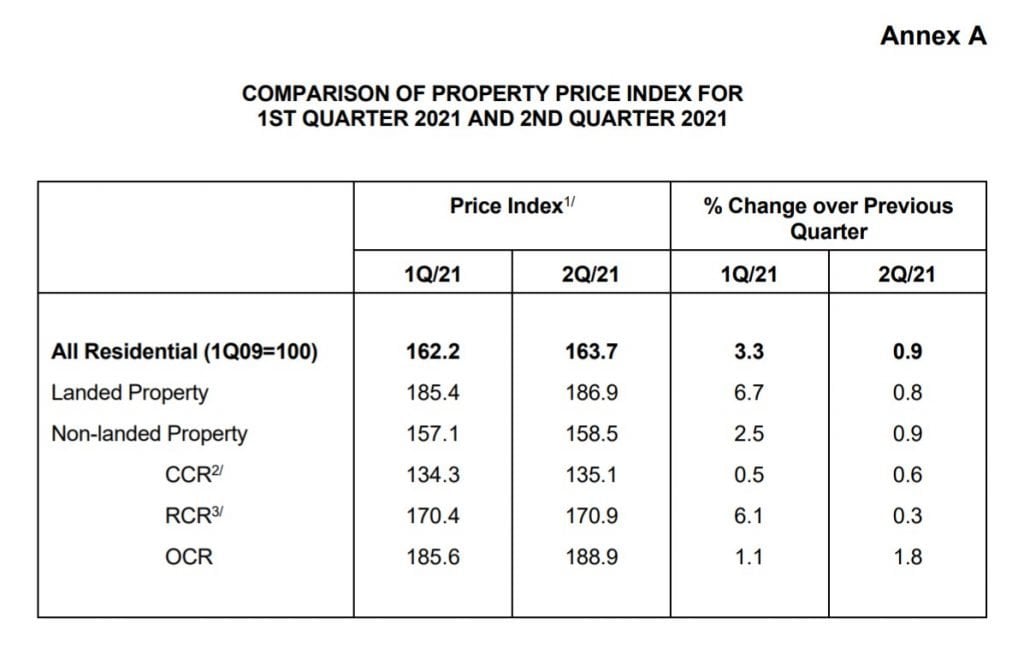 Source: https://www.ura.gov.sg/-/media/Corporate/Media-Room/2021/Jul/pr21-23b.pdf?la=en
What are COE Prices telling us?
COE prices are a proxy to house prices – offering clues as to how house prices will trade.
And COE prices have generally been very strong so far, backing up the house data.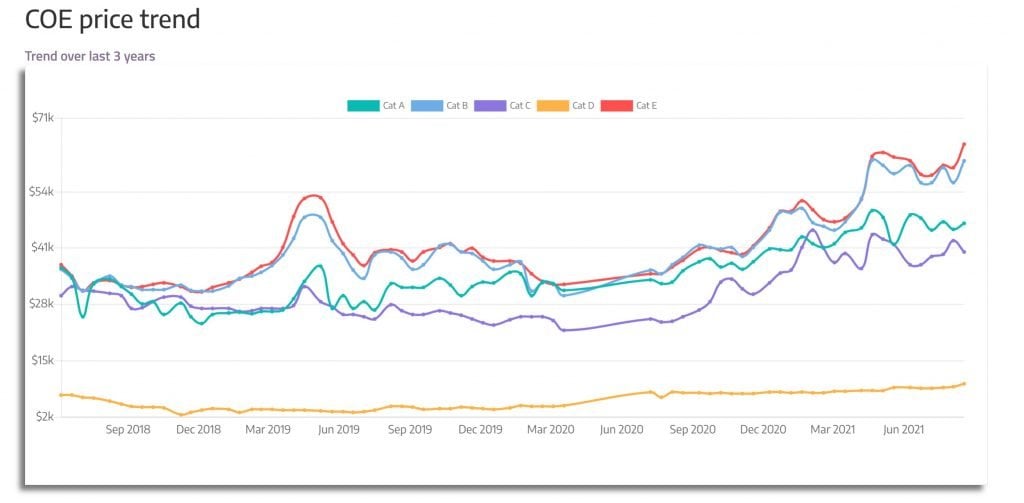 Source: https://arcade.sg/arcade/coe/index 
My 2020 call on Singapore property prices was absolutely wrong
In 2020, I wrote an article saying that property prices may go down in 2021. My thinking was that demand would go down, and supply would continue to go up.
As it turns out – the call was absolutely wrong.
Demand was stronger than ever because the government stimulus preserved a lot of jobs, and work from home meant people treasured their space. While supply was devastated by the impact from COVID on migrant workers.
That just illustrates the difficulty of making predictions in this COVID environment.
So this time around, no predictions as to property prices from me.
Why did I buy another residential property in Singapore (2021)?
That said, I will share my though process behind buying another property, and you can decide if it works for you.
Time in the market
Low Interest Rates
Potential Inflation Hedge
Earn the rent
Time in the market
Time in the market, vs timing the market.
Fast forward 5 – 10 years, and I think most of us would agree that house prices in Singapore are going to be higher than where they are today.
The Singapore government controls supply carefully, so the chances of an oversupply are not high. As long as economic growth keeps up, and Singapore continues to be a hub for South East Asia, property prices should trend upwards at GDP growth rates longer term (2-3%).
So the question then is whether to buy now, or wait for a better entry price.
As investors – we're very familiar with such decisions.
Do you buy the S&P500 at all-time highs, or do you wait for a pullback which could come 6 – 12 months later (or not).
Time in the market vs timing the market.
Low Interest Rates
Low interest rates really shouldn't be underestimated.
With 75% leverage at 1% interest rates, that turns a nominal return of 2-3% on the house, to about 7% return on the equity you put in.
Potential Inflation Hedge
Taking up a big loan is also a way to hedge against inflation going forward.
If there is indeed inflation, house prices go up, but the loan amount stays the same – further juicing returns.
Earn the Rent
The options for me were to (1) live in my existing property or (2) buy a new property and rent out the existing.
I already had the cash set aside for a property, so I decided not to time the market and go with (2).
As long as the market doesn't crash, I'm already earning the rental yield from the other property every month.
My other property has about a 3.5% yield now (rentals have gone up quite strongly), which means that for every year I rent it out I'm getting about 3% of the purchase price back (after costs). Let it run for 3 years and that's almost 10% of the purchase price in rent.
Macro Views from a Horse
Okay so this is Financial Horse, so despite my better judgment I'm still going to share macro views.
I think that short term, 6 to 12 months, there is a real risk of deflationary pressures in financial markets.
As shared with Patrons the past week, 3 big factors that worry me short term:
Credit Impulse peaked in 2H2020
Path forward is of tightening monetary policy
Delta Variant
There was an interesting article in the FT about how certain top fund managers have "substantially backed away from a "rich" US equity market".
I generally share similar views in the short term.
But that's just short term. Mid term, once you go to mid 2022 and beyond, I think that's a real case to be made that we're going to see inflationary pressures.
I think all the supply chain disruptions across the board are really going to impact prices at some point.
But that's financial markets. The difference is that the Singapore residential market is very tightly regulated and controlled.
Even if stocks crash, it's going to take 6 – 12 months to feedback into the property market. By which time things could have recovered. Or the government could have intervened.
So for commentators predicting a big crash in Singapore house prices, I'm not so sure.
A 5% – 10% dip is definitely possible, but tough to see a 20% – 30% crash from here. This isn't 1997 anymore. The world has changed. The bias today is for prices to go up, rather than down.
Closing Thoughts: Am I buying at a top?
Am I buying a property at the top here?
Definitely possible.
But in investing, you always make a decision with information you have today, and move on. Can't apply hindsight to evaluate the quality of a decision.
So despite all that's going on with COVID, I decided to buy a property for the reasons above.
I would really love to hear your views on this one though. Am I making a big mistake? Are you also in the market for a residential property? What are your main considerations?
This is a modified version of the article that first appeared on Patreon. If you enjoy articles like this, do support FH as a Patron and receive exclusive content, my personal stock watch and personal portfolio!
---
Looking for a low cost broker to buy US, China or Singapore stocks?
Get a Free Apple stock (worth S$200) when you open a new account with Tiger Brokers and fund $2000.
Get 2 free Pfizer shares and 5 Haidilao shares (worth $200) you're new to MooMoo and fund $2700 + fulfil the trading conditions.
Special account opening bonus for Saxo Brokers too (drop email to [email protected] for full steps).
Check out our review on Tiger Brokers and MooMoo.
---
 Join our Reddit community at r/SingaporeInvestments.
 Do like and follow our Facebook and Instagram, or join the Telegram Channel. Never miss another post from Financial Horse!
Looking for a comprehensive guide to investing that covers stocks, REITs, bonds, CPF and asset allocation? Check out the FH Complete Guide to Investing.
Or if you're a more advanced investor, check out the REITs Investing Masterclass, which goes in-depth into REITs investing – everything from how much REITs to own, which economic conditions to buy REITs, how to pick REITs etc.
Both are THE best quality investment courses available to Singapore investors out there!