REITs have been getting a lot of bad flak recently. I like to think that this is down to 2 reasons.
Firstly, because REITs are yield instruments traded on the public capital markets, the market tends to value them together with fixed income products. Accordingly, when interest rates goes up, the price of REITs tends to drop in tandem with other fixed income products, as investors now expect a higher yield from their investments.
Secondly, because REITs are essentially a leveraged property investment (you buy property, gear up to 30-40% permanently, and collect the yield), a rising interest rate environment will increase the cost of funding for REITs. Much like how your mortgage payments go up when interest rates go up, the same thing happens with REITs, affecting the amount of distribution received. Indeed, the weighted average cost of debt I'm seeing for most REITs these days is in the 3+ % range,  and when you look at the recent acquisitions in the Singapore market that are being transacted at a 2-3% yield on cost, it really makes you wonder how DPU accretive any new transaction will be for a REIT.
I actually don't disagree with the 2 arguments above. I agree that there are headwinds facing the REIT industry. But I also think that from the perspective of a long term investor, REITs are still very reasonably priced, with many good opportunities in the market.
I like to think of a REIT investment as an investment in the underlying property, only with a lot of leverage. Imagine that you invest in a fantastic office building right smack in the heart of CBD, that is generating 4% yield on cost right now. With leverage, the yield is boosted to 5%. Now what happens when argument (1) above comes true. The equivalent is that the price of the property drops, because investors demand a higher yield on cost from the property. But does this matter to me? Hell no, because as a long term investor, I don't really care what price other investors are willing to pay pay to buy the property from me, because I am not selling regardless. I am happy to sit on my hands and collect the yield.
What about argument (2)? When the cost of borrowings goes up, each refinancing will cause the weighted average cost of debt to go up. However, in a rising interest rate environment, this typically signifies a stronger economy, and I may be able to pass this off to tenants by increasing the rental reversion. Of course, this doesn't work all the time, because like every good Singaporean property owner knows, the amount of rental you can charge is also influenced by supply and demand. Which is why it's also important to understand the dynamics of the asset class you are buying into. Although that said, if you're lazy or can't be bothered, you can just diversify.
And as you can see from the charts below, from a longer term perspective, REITs are actually trading at quite reasonable valuations.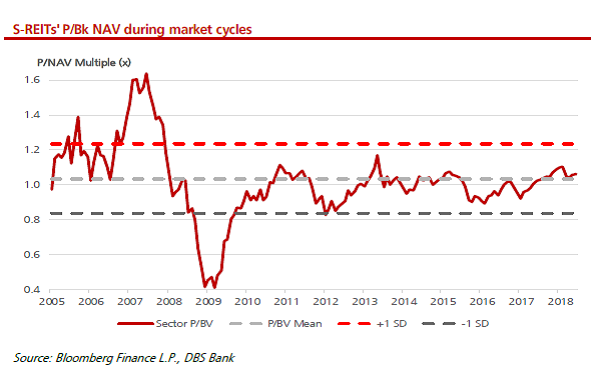 Source: DBS Research
In this article, I'm going to pick 5 REITs that are attractive to me as an investment currently. The rules are simple:
"Financial Horse, imagine that you own no REITs at all (omg the horrors). You have S$100,000 to pick 5 REITs for your new portfolio, and make the purchases over the next 1 month. You cannot sell the REITs for the next 10 years."
Basics: What to look out for in a REIT
One of the first articles I wrote on Financial Horse was on the 5 things to look out for when investing in REITs. Very simply, they are:
A strong sponsor
Reasonable P/B ratio
Sector / Geographical allocation
Quality of Assets
Distribution Yield
For this exercise, I would have to pick 5 REITs that reasonably meet the 5 points above right now.
I published a REIT screener created by a reader earlier this week, but that screener used numbers from the FY2017 annual reports and excluded China REITs, which was not acceptable for the current exercise. I wanted the latest 2Q2018 numbers, and I also wanted access to China REITs, as I think there are great opportunities in that space right now. Accordingly, I've used the numbers compiled by DBS research below (I did some checks and the historical numbers largely check out).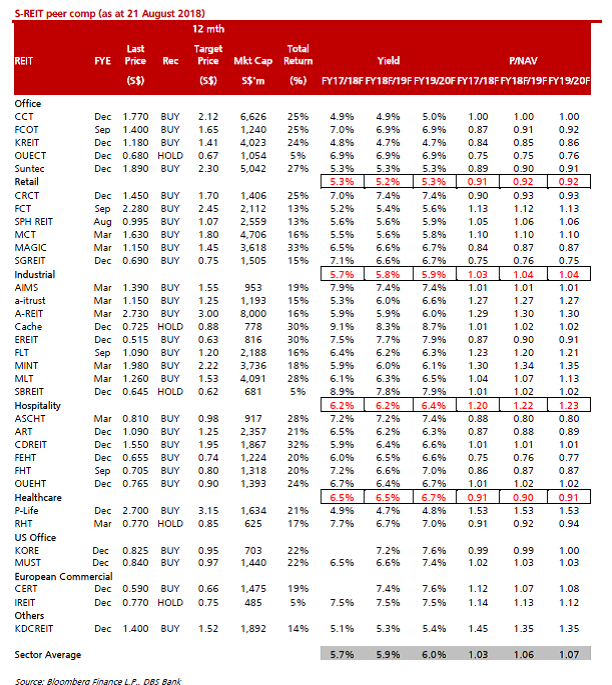 1. Mapletree Commercial Trust
You guys must be sick of hearing about Mapletree Commercial Trust by now. I seem to mention Mapletree Commercial Trust in every REIT article I write. You can take a look at my original article for why I love this REIT so much, but simply put, it's a pure Singapore play that offers exposure to 2 of the best in class properties in Singapore: Vivocity and Mapletree Business City Phase 1. It's also backed by Mapletree, arguably my favourite REIT sponsor in Singapore. A lot of investors are wary about over exposure to retail these days due to the impact of ecommerce (a view I don't share), and if you have such concerns, Mapletree Commercial Trust offers a blend of exposure to retail, business park and office.
I have to admit the current unit price (S$1.62) isn't fantastic. It works out to about a 5.5% yield, and a 1.1x P/B. This REIT went down to the low 1.5+ range earlier this year when everyone was freaking out over rising interest rates, and I absolutely loaded up on this REIT back then. 1.5+ is a fantastic price, but even at it's current price, I still really like Mapletree Commercial Trust.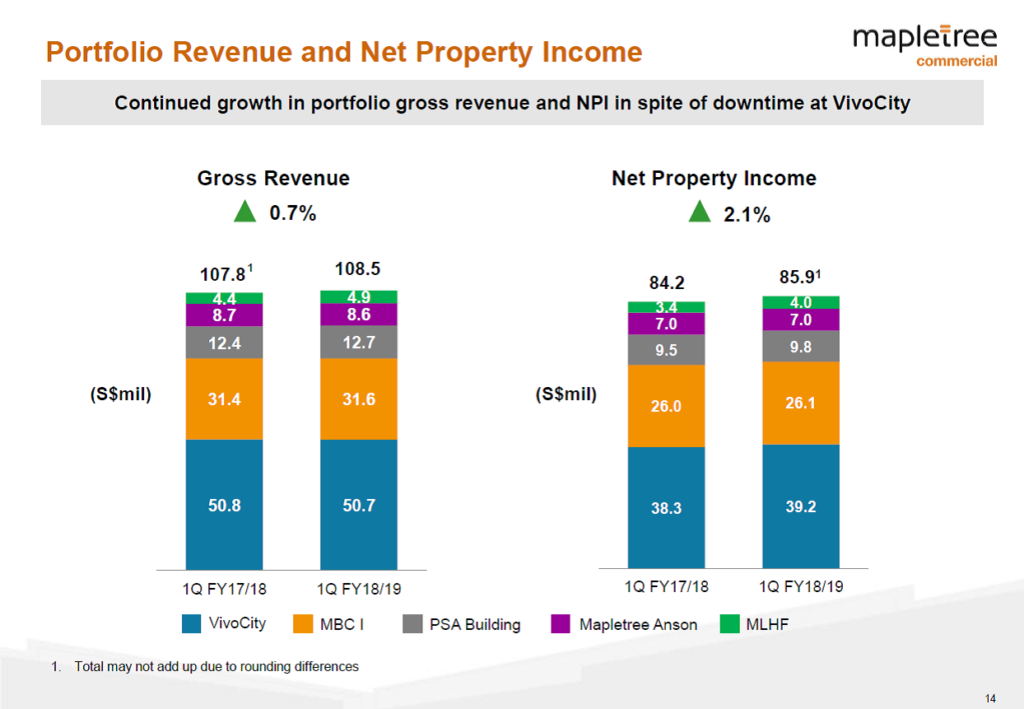 2. Mapletree Logistics Trust
Within the industrial and logistics space, my choice would be Mapletree Logistics Trust. A lot of investors like Ascendas REIT and Mapletree Industrial Trust, both of which are pure Singapore industrial plays, but personally I like the higher yield (6.1%) and more attractive P/B (1.04) offered by Mapletree Logistics Trust. I also like the exposure to logistics (I think the logistics asset class is going to have massive secular tailwinds in the coming decades), and the broad exposure to Asia.
Mapletree Logistics Trust recently acquired five great ramp-up logistics properties in Singapore from a subsidiary from HNA. It was a very interesting sale and leaseback from the HNA subsidiary (probably to raise cash in their bid to deleverage), but HNA's loss is MLT's gain. The chart's below don't reflect this latest purchase, so expect Singapore as a proportion of MLT's portfolio to go up.
3. Ascott REIT
My choice in the hospitality sector is Ascott REIT. It's currently trading at a 6.5% yield, and 1.0 times book value. Ascott REIT offers very broad exposure to the global hospitality sector, and I also like the blend between fixed Master Leases and Management Contracts. The former provides a fixed income to help smooth out gains, while the latter allows Ascott REIT to enjoy the upside from improving rents in the hospitality sector.
One problem with the hospitality sector is that the latest numbers have not been attractive. RevPau (Revenue per available unit) numbers have been showing weakness across the board, and it remains to be seen if this is a temporary or longer term thing.
However, given that I am picking REITs from a long term perspective, this bothers me a lot less. There may be some weakness in the short term, but this would be offset by the broad diversification in this 5 REIT portfolio, and in the longer term, this would offer exposure to the upside offered by the hospitality sector.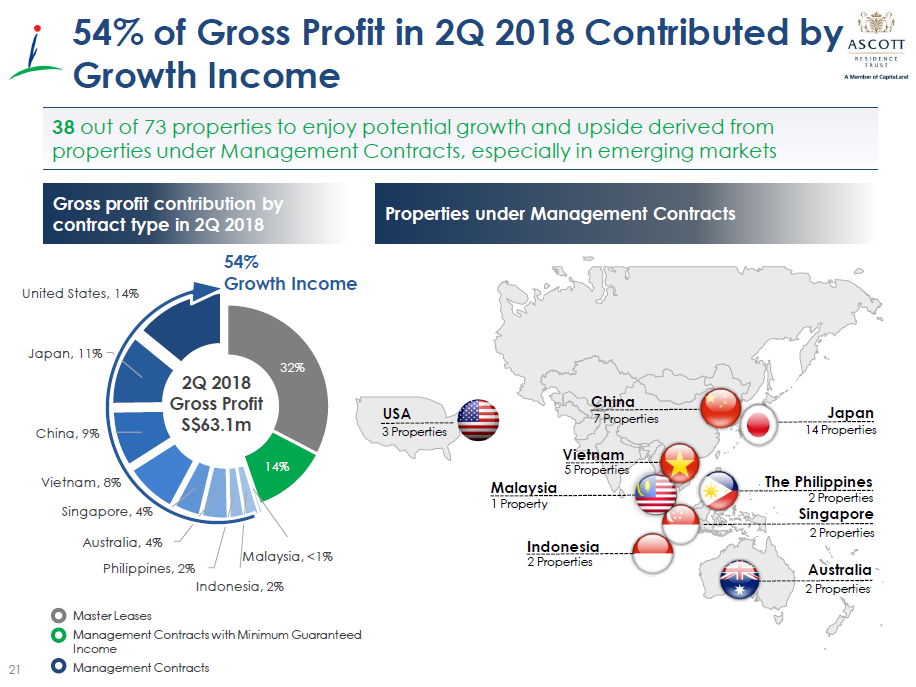 4. CapitaLand Retail China Trust
This may be a controversial one for some of you guys. Some people absolutely swear off China REITs. For me, I like the long term prospects of China, and I love the fact that other investors hate China, because of the opportunities this offers to a discerning REIT picker. If you take into account the recent acquisitions done by CapitaLand Retail China Trust, and offset the depreciation in the RMB, you're still looking at what is comfortably a 7+ % yield, and a 10% discount to book value, which is pretty attractive from a risk reward perspective.
I get that this is a pure China play, and exposure to China retail at that! But the shopping malls owned by this REIT are located in Tier 1 cities in China, and if you've visited any of them before, you'll know that they are mainly necessity malls targeted at average Chinese shoppers. Personally, I don't see ecommerce replacing shopping malls entirely. If you look at the recent moves out of China, you'll see that the big boys like Alibaba are starting to rent brick and mortar stores (similar moves from Amazon), that to me, really illustrates the limits of ecommerce. The way that offline retail is done will need to evolve, but the need for a physical store front in convenient locations, will remain.
The pure China point, is troubling due to the current trade war. I think the trade war will affect China in 2 ways:
Retail Spending. I think the impact to retail spending in China will be muted, given how big the size of domestic consumption is these days. Cities that are heavily reliant on trade, basically the greater bay area  of Hong Kong, Shenzhen, Guangzhou etc, may see an impact, but CapitaLand Retail China Trust should be relatively shielded given that a huge proportion of its assets is in Beijing.
RMB depreciation. The impact of the trade war on the RMB can be a dissertation in itself, but suffice to say, my personal view is that China's depreciation of the RMB is done for now, and we're not going to see major moves in the near future. If so, this should provide a floor on the unit price.
The fact that CapitaLand is a strong sponsor and one of the biggest players in China (about half of CapitaLand's portfolio is in China) is an important point as well. This isn't one of those family and friends China REIT with zero liquidity that we're talking about here (not naming names, but you know what I mean;)
5. Netlink Trust
I'm going to cheat for the last one. Netlink Trust is a business trust, not a REIT, but I absolutely love this one. Check out my original article for the full reasons why, but simply put, I think Netlink Trust offers the monopoly that comes with being a sole telco operator, without the messiness that comes with being an actual telco player. Singtel, Starhub and M1 (check out the links for my previous articles on them) are all facing great pressures due to rising competition, the switch to SIM only, and the potential entry of TPG Telco. With Netlink Trust, you basically own the underlying fibre connection that almost all home internet connections ride on, with no real competitor.
Instead of owning real estate, you own fibre networks, and instead of rent, you charge a fee to telco players to use your fibre network. It trades at a 6% yield currently, but don't expect to see fantastic revenue growth as the amount of "rent" chargeable is tightly regulated by the authorities. But a 6% yield, from what is essentially a monopoly, is good enough for me.
Honourable Mention: Singapore Office REITs
I'm sure the savvy REIT investors out there would have realised that I didn't include any pure play Office REITs here. The only exposure to the office space comes from Mapletree Commercial Trust.
And that was intended, because I just don't like the valuations in this space right now. Office properties (20 Anson, 55 Market Street) have been transacted at 2-3% yield on cost recently, reflecting the ridiculous prices investors are willing to pay for a good quality office building these days. And that is reflected in the unit price of the office REITs. Keppel REIT and CapitaLand Commercial Trust are currently trading at sub 5% yields. I get that rental reversions in the office space are on the rise, but a lot of these increased rents won't kick in until next year. Until the yields are more compelling, I prefer to remain on the sidelines.
Closing Thoughts
As always, please don't blindly rush out and buy REITs based on this article. Take the time to understand the properties you are buying into, the industry dynamics, and the strategy of the REIT. If you do so, you'll find it incredibly rewarding to construct a broad, diversified portfolio of REITs that will pay you a healthy distribution for years to come. It's actually okay to mix in a REIT with a higher yield when the rest of your portfolio has safe and stable properties, as this will increase the yield of your overall portfolio.
To quote a Warren Buffet analogy, REITs are like chicken rice. We're going to buy them for the rest of our lives, so when the price of REITs/chicken rice come down, why would you not be happy? Take the opportunity to stock up on them when they are cheap, and when prices go up years down the road, you'll be pleased that you had the foresight to do so.
Financial Horse, signing out!
---
Financial Horse has a set of 7 Commandments for Successful Investing, that I ask myself before making every investment, and that I will never break regardless of the situation. Enter your email below to receive a copy in your inbox!
[mc4wp_form id="173″]
Enjoyed this article? Like our Facebook Page for more great articles, or join the Facebook Group to continue the discussion!