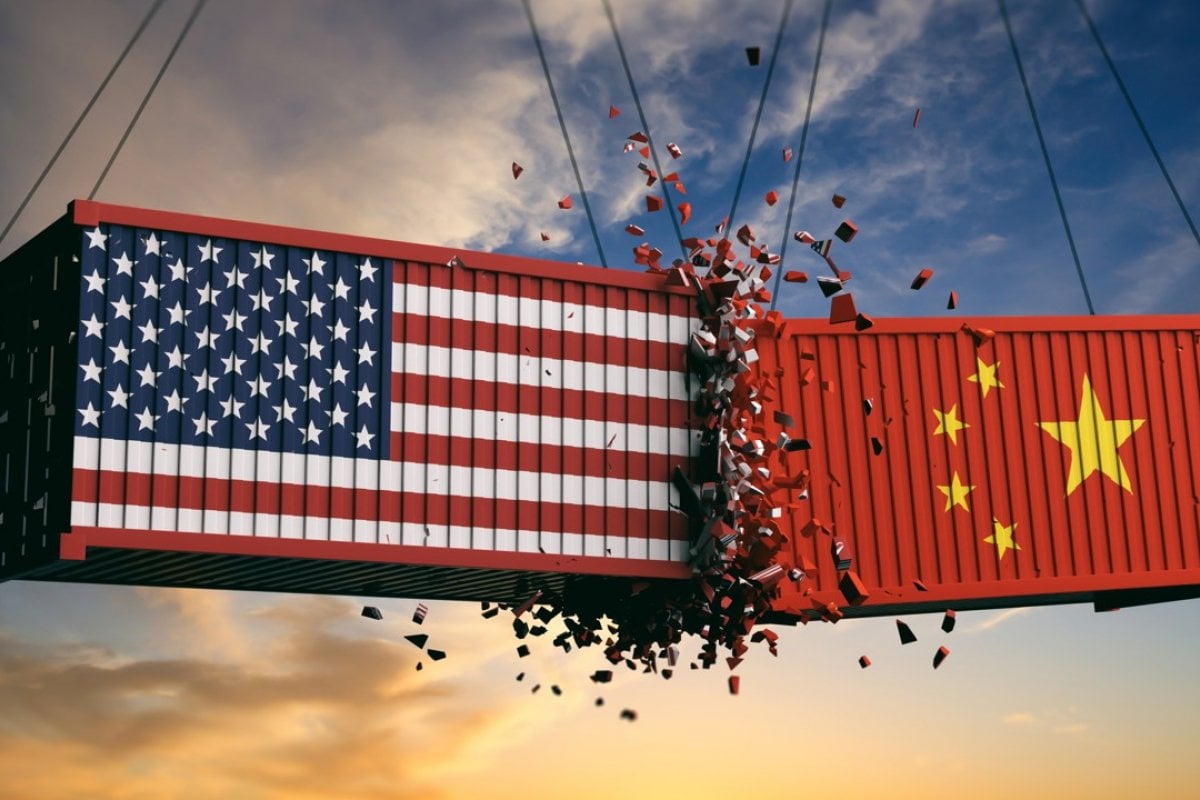 In a lot of my articles last year, I shared that that 2018 was not the right time to buy Hong Kong or China stocks. I wrote that the trade war would escalate in 2019, and that a better buying opportunity would eventually present itself.
Fast forward one year, and it's now nearing the end of 2019. Is this the right time to be buying Hong Kong or China stocks?
Basics: Why have Hong Kong / China stocks fallen so much?
A picture speaks a thousand words, and the 5 year charts for the Hang Seng Index, and the iShares China Large-Cap ETF are set out below.
Couple of key points to note:
The index in general is near the lows achieved in 2018
However, it is still a fair bit higher than the lows hit in 2016 during the China devaluation and oil crash scare
What caused the "crash" this time?
When making judgments about the future, my favoured approach is to always start from first principles. So let's take a step back and look at the 3 factors that contributed to the "crash" this time around (1) Trade War, (2) China Deleveraging and transitioning of the economy (3) Hong Kong Protests.
Trade War
The first one is the trade war. Trump and China have been locked in an escalating trade war since 2018.
Now this is a financial blog, so I'm not going to comment on whether the trade war is justified. All we care about is whether the trade war will escalate, or whether it will go away.
And the fact of the matter is that despite both parties constantly saying that they are eager to strike a deal, their actions reflect anything but that. I'm big on execution, and I believe that actions speak louder than words, and when you look at Trump's vs Xi's actions (chart above), it pretty much paints a picture of a constantly escalating trade war.
And despite what Trump says, Trade wars are not easy to win, neither are they good for the global economy. As any economics student will tell you, global trade creates a win win situation for both countries, as each country focuses on their own comparative advantage, and overall production goes up. In the current world, China focuses on manufacturing, while US focuses on R&D and designing the products. The trade war throws that entire world order into question.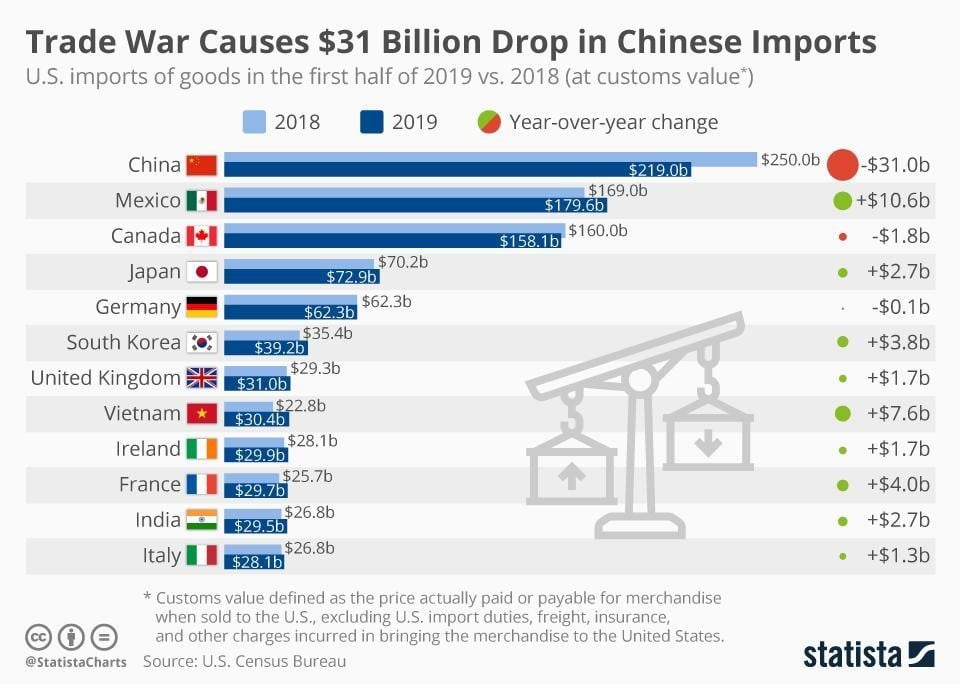 So in the short term at least, the effect of the trade war is that (1) Chinese exports to the rest of the world will decrease, and (2) many large MNCs will look to shift their supply chains out of China.
In the longer term, that lost demand can be replaced by domestic consumption, and domestic supply chains, which is exactly what China is doing now as they settle for a longer term trade war. But in the short term, that's probably not going to be good for corporate earnings, and stocks.
China deleveraging the economy and transitioning the economy into a consumption driven one
At the same time that this trade war is playing out, China is also trying to deleverage the economy, and transition it into a consumption driven one. There's 2 parts to this story, so let's break it down.
Deleveraging
A fair bit of China's growth over the past 10 years have come through the growth of credit. When growth of credit exceeds the growth of productivity in the economy, that creates bubbles, that needs to be gotten rid of. Now in the west, because they are capitalist economies, such bubbles usually result in a financial crisis, and the regulators will attempt to limit the fallout of the crisis. In China, because of the centrally planned nature of the economy, the regulators have been trying to front run the problem, and address it before it results in a financial crisis.
So the past few years have seen China tightening lending requirements in the market. This has made it harder for small businesses (or even large SOEs that are highly leverage) to raise financing cheaply. Credit growth is the fuel that powers the expansion of the economy, so this slowing in credit creation has contributed to a slowdown in the economy.
Transitioning the economy
The transitioning of the economy on the other hand, was the natural next stage in China's development. Just look at Lee Kuan Yew's playbook for developing Singapore. First you start by building up your manufacturing base, and attracting foreign capital and intellectual property. But manufacturing alone does not get you to first world status. Most manufacturing centric economies get stuck in the middle income trap. To really break out of the middle income trap and achieve first world status, you need to move up the value chain. And you need big domestic consumption, and you need big domestic companies that are global players. And that's what China is working on now.
In fact, this transitioning of the economy was one that was always going to happen anyway, and all the trade war did was to accelerate the process.
Because of this, Chinese household debt as a percentage of GDP has increased quite significantly in the past 4 years.
How much higher can they go? The US is currently sitting at 76%, so if we use that metric, China's 52% still has some room to grow. Of course, the US is a developed nation while China is still developing, so it's not really an apples to apples comparison here.
Short term though, the impact on stocks is really tricky to call.
It depends on how adept the PBOC and government are in striking a balance between the deleveraging and transitioning, and maintaining growth in the economy.
The latest indication is that they are still looking to inject liquidity into the economy, so this saga is definitely not over.
Hong Kong protests
And of course, the Hong Kong protests. The one that nobody saw coming, but which has turned out to have a surprisingly large effect.
This past week, Carrie Lam announced that she would be formally withdrawing the bill, and the Hang Seng Index promptly rose 1000 points as a result.
Again, I won't go too much into the politics, but I think this one is more of a short term issue. Longer term, the impact on stocks will be limited, since most of the companies derive a large proportion of income from the mainland these days.
So… is now the right time to buy?
As always, whether to invest depends on your risk appetite, your investing timeframe, and your execution (which shares you pick). But you guys are regular readers of Financial Horse, so you already know this ?.
I'll share what I plan to do for myself, and hopefully you guys will find that helpful in your decision making.
For me, I think that current valuations are looking really attractive, across many industries. Just to throw some numbers out there, Xiaomi is at a 17 times forward PE (Apple is 18), Tencent is at 32 (Google is 24), while China Construction Bank is at 0.57 times book value and a 5 times P/E.
Objectively speaking, a lot of valuations for the large caps are looking very reasonable. But can they go even lower from here? Absolutely. How the trade war plays out, how the deleveraging plays out, how the easing cycle plays out, all these are still big question marks, and without knowing how they play out it's not possible to know how the market moves going forward.
My personal thinking though, is that more pain lies ahead. Deleveraging and transitioning of the economy takes time. China is incredibly fast paced, but this kind of deep rooted shifts in the economy takes years to effect. And in the short term, a lot of export driven demand may drop, while domestic demand cannot grow sufficiently quickly to replace that demand.
At the same time, this slowdown in China is coming at a time when the global economy is starting to slow too (actually they are probably linked). And unlike in 2008, China can no longer go on a massive spending spree to save the global economy because they're trying to deleverage themselves. And this time around, monetary policy globally is going to be of limited usefulness because interest rates are already negative in most developed economies. So there will be a period of volatility globally as central banks and governments work out the best way to combat the slowdown.
Now I get all the conventional spiel on how market timing is silly and it's all about time in the market. I also get that it's incredibly hard to time the bottom of anything.
But again, investing is all about risk-reward. And where stocks are, where the global economy is, I'm not so sure if I want to invest big in China / Hong Kong right now.  I'm going to watch how things play out over the next 6 to 12 months, and make my decision then.
And as always, I'll be sharing my stock ideas on Patreon as and when I decide to enter, so do check it out if you want some additional insights.
What do you guys think? Am I missing out on a big opportunity by not investing in China now? Share your comments below!
---
Looking for a comprehensive guide to investing? Check out the FH Complete Guide to Investing for Singapore investors.
Support the site as a Patron and get market and stock watch updates. Big shoutout to all Patrons for their support! Like our Facebook Page and join the Facebook Group to continue the discussion!