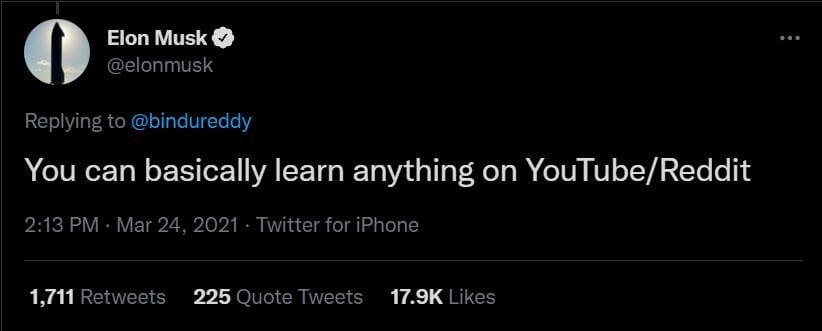 As Elon Musk famously tweeted, "You can basically learn anything on YouTube/Reddit". 
YouTube is a wonderful resource for personal finance and investing. However, the wealth of content floating around can be overwhelming. 
Here are 14 of the top YouTube channels to get started!
Read on if you want to find the best place to learn about budgeting, stock analysis, financial news and more.
Personal Finance/ Investing YouTube channels
Ken Teng, AKA Chicken Genius, is probably the most popular Singaporean finance YouTuber. He's most famous for being a huge Tesla-bull.
Since then, he continues to churn out videos explaining why the company is his highest-conviction stock. Tesla makes up the majority of his portfolio, with the rest comprising other high-growth stocks.
Chicken Genius' methods are unconventional, but he does a good job of explaining his investment philosophy. He also discloses all his holdings and trades, so you know he has skin in the game.
Suggested watch: I made $1.5 million in 4 months | Stock Market Portfolio | Stocks to buy now
The Fifth Person's YouTube channel is a good companion to their blog. Their videos are mostly roundtable discussions featuring the co-founders and chief editor as they dissect financial news.
Watching their videos feels like lunching with a bunch of seasoned investors and hearing their thoughts on the latest issues like the tech crackdown in China. Compared to their blog, you get to hear more of their personal opinions and thoughts on the market. 
Suggested watch: China Tech Crash – Is It Time To Buy?
Here at Financial Horse, we cover macro content, and analysis on stocks, ETFs, REITs and more! 
On our YouTube Channel, we offer the same in-depth content but in a bite-sized format, perfect for catching up on the markets during a quick break.
Suggested watch: Top 5 Growth Stocks for Singapore in 2021
Kelvin's colloquial and playful style is fun and easy to watch. Great for beginner investors, his channel is a good place to learn about investing and personal finance.
We've interviewed Kelvin on Financial Horse as well – where he shared his early retirement goals with us (FIRE before 40!)
Suggested watch: How To Get High Interest On Your Cash Savings In Singapore 2021
Josh Tan is a financial planner turned blogger/YouTuber. He shares great insights on personal finance planning and retirement strategies. 
We've also interviewed Josh on Financial Horse – check out our interview where Josh shares his top retirement planning strategies for Singaporeans!
Suggested watch: No more CPF shielding Soon?
ARK Invest is the YouTube channel of the investment firm run by Cathie Wood. Even if you're not invested in ARK's funds, the channel is worth following. Every month or so, the channel publishes an episode of "In the Know". For 30 minutes or so, Cathie weighs in on the biggest financial news at the time.
It's amazing (and rare) that you get to hear directly from one of the world's top investors – on her thoughts on fiscal policy, the economy, market signals, innovation, and more.
Suggested watch: Commodity Markets, Innovation Surprises Brewing, Economic Indicators | ITK with Cathie Wood
Graham Stephan is a US-based YouTuber with over 3.4 million subscribers. Graham became a millionaire at 26, starting as a real estate agent. He's now become a full-fledged internet personality whose known for his frugal lifestyle and engaging commentary on personal finance issues. 
Graham's engaging personality, frugal life hacks and skill in explaining complex issues makes him definitely worth a watch.
Suggested watch: Kevin O'Leary Reacts To My $10 Million Dollar Investment | Shark Tank
Jaspreet Singh is the CEO of https://www.briefs.co & https://www.marketinsiders.com, and he aims to spread financial education.
Suggested watch: 2023 plan to become a millionaire
Many millenials discovered Mark Tilbury on TikTok. His lessons on investing and personal finance are entertaining and educational.
If Mark's TikToks are good for bite-sized content, his YouTube channel is where he goes into a lot more detail. 
Suggested watch: The 13 BEST Side Hustles To Start (at EVERY AGE)
The Financial Diet is a blog and YouTube channel for millennials. Founder Chelsea Fagan does a great job at making personal finance topics unintimidating alongside engaging commentary on pop culture topics that involve money. 
TFD also features a weekly video essay, "Making It Work", that tells us personal finance stories from real life people.
Suggested watch: 5 Consumer Habits that are making us depressed
Ali Abdaal is better known on YouTube as a productivity-guru. 
Although investing and finance is not the main focus of his channel, he offers a unique perspective. For example, his video on a popular personal finance book, Your Money or Your Life, offers a great high-level overview on how you can transform your relationship with money and work.  
Ali's videos are a great place to learn mental tools and habits to become a better investor.
Start here: The Book That Changed My Relationship With Money
Andrei Jikh's investing channel has a focus on cryptocurrencies. His videos break down complex topics, making the channel a good place to start if you're looking to dip your toes into crypto.
Suggested watch: The Safest Way To Store Bitcoin (Step By Step)
Coin Bureau is one of the go-to sources for crypto news on YouTube. With 1.4 million subscribers, this is one of the more popular channels for catching up with the latest crypto news, altcoins and projects. 
Suggested watch: Ethereum: ETH 2.0 Projections You HAVE To See!
Asianometry provides high-quality video history essays on Asia and beyond. 
Asianometry covers interesting and in-depth content, from exploring Asus in Taiwan, Naver in South Korea, to the rise and fall of China's Evergrande Group.
Suggested watch: India's Semiconductor Failure
Conclusion
We hope you enjoyed this list of personal finance & investing YouTube Channels! 
There are definitely many more great channels we could have discussed. Did we miss any of your favourites? Let us know in the comments!
Join Financial Horse's Investing Community!