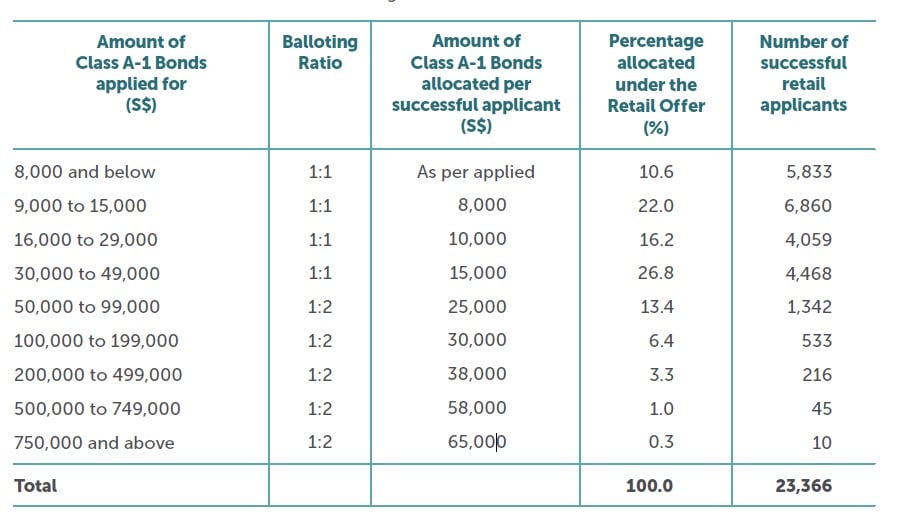 Astrea VI Balloting Results are out!
Pretty good allocations across the board this time.
Anyone applying for $8000 and below gets what they applied for.
Anyone applying from $9000 to $15,000 gets $8,000.
Anyone applying from $16,000 to $29,000 gets $10,000.
And if you applied $50,000, you actually have a 50% change of getting $25,000, which is really great.
Had I known this, I probably would have upped my allocation in a big way.
Full table below:
Retail Tranche was 3.1 times subscribed.
This isn't as strong as Astrea IV or Astrea V, but to be fair the retail tranche is bigger this time around ($250 million for Astrea VI vs $180 million for Astrea V).
Don't forget to join our Telegram Channel and Instagram!
[mailmunch-form id="928667″]
More information below:
At the close of the Retail Offer at noon on 16 March 2021, the Issuer received over S$784 million of applications from a total of 25,511 valid applicants.
This equals 3.1 times subscribed.
The Issuer has allocated the Class A-1 Bonds, with all 21,220 valid applicants of less than S$50,000 receiving some allocation in full or in part. This reflects the Issuer's desire to distribute the Class A-1 Bonds to a broader retail investor base, especially in favour of the smaller retail investors.
Applications of S$50,000 or more have been balloted at the balloting ratio shown in the table on the right, with successful applicants allocated in part.
76% of the Class A-1 Bonds under the Retail Offer were allocated to applicants who subscribed for less than S$50,000. All applicants who applied for S$8,000 or less received full allocations.
Good luck to those who applied!
Astrea VI will trade on the SGX on 9am Friday, 19 March 2021.
If you didn't get or if there are refunds, you should get the refunds into your account by 6pm on 18 March 2021.