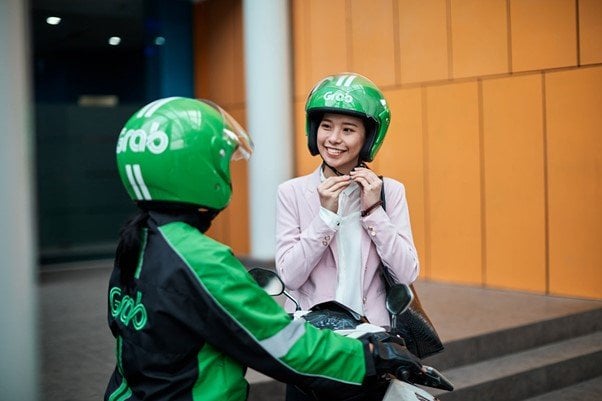 Grab IPO-ed on 2 Dec 2021, and traded as high as $13.29.
In the 2 months since – Grab's share price has been absolutely murdered.
Down a whopping 63%.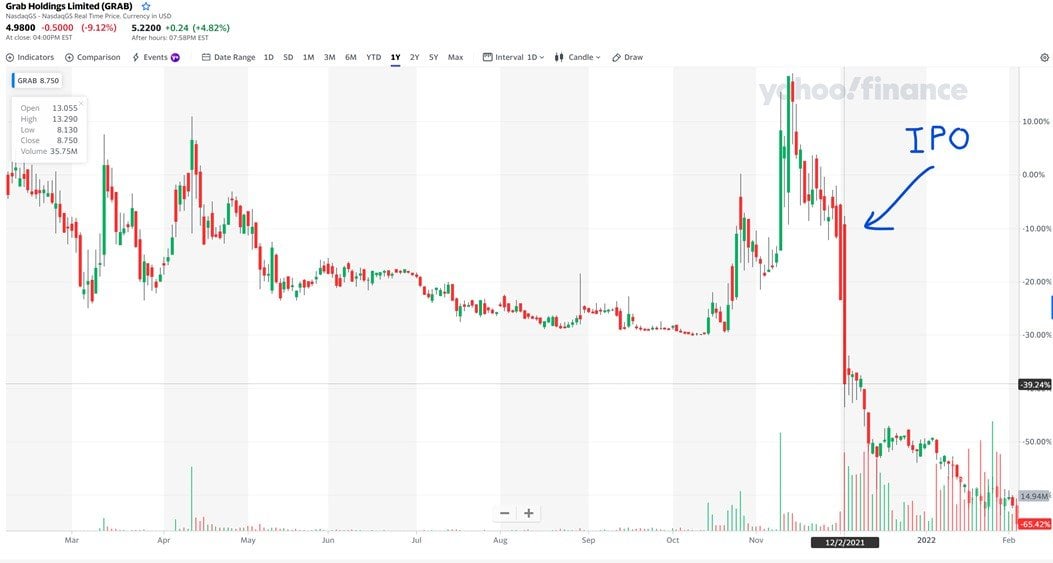 At this price, Grab is trading at US$18.6 billion market cap.
Is Grab stock a good long term buy at this price?
Chinese New Year Promo for the Stocks MasterClass ends this weekend!
Rising interest rates will create a volatile 2022, so if you're serious about investing big money do take the time out to learn to invest.
Sign up here.
What is Grab's core business / markets?
Anyone living in South-East Asia will have heard of Grab.
What started as a Ride-Hailing company, has expanded into food delivery and Fintech.
As at Q3 2021, the revenue split is broadly:
Ride Hailing / Mobility – 56% of revenue
Food Delivery Business – 31% of revenue
Fintech – 8.9% of revenue
And the key markets are Cambodia, Indonesia, Malaysia, Myanmar, the Philippines, Singapore, Thailand and Vietnam.
What I hate about Grab?
So I'm just going to skip all the boring bits and dive straight into the good stuff.
Here's what I don't like about Grab:
Can Grab ever turn a profit?
Is Grab's "Superapp" a pipe dream?
Macro is unfavourable for Growth Stocks
Can Grab ever turn a profit?
Unlike Sea which has massive free cash flow from their gaming business, for Grab, every single business line is bleeding cash.
Losses in Q3 2021 grew by $366 million to $(988) million.
That's almost a billion in losses for one quarter.
A bulk of this are one-off expenses like interest accrued on Grab's convertible shares, stock based compensation and fair value changes on investments etc.
But whatever way you spin it – Grab is haemorrhaging cash.
It's a good thing they have $5.1 billion in cash on their balance sheet.
Is it even possible to be profitable in ride hailing or food delivery?
Which got me wondering – is it even possible to make money in ride hailing or food delivery?
I decided to look at the most mature global players in this space – Meituan for food delivery, and Uber for ride hailing.
As it turns out, the answer is yes you can make money, but the margins are not high.
Food Delivery (Meituan)
For Meituan, their Food Delivery Margins are only 10.6%, and that's after years of consolidation and improving operational efficiencies.
Contrast that to their hotel/travel business, where the margins are a whopping 42.6%, and you get an idea of how low margin the food delivery business is.
This has big implications for valuations that we will discuss later.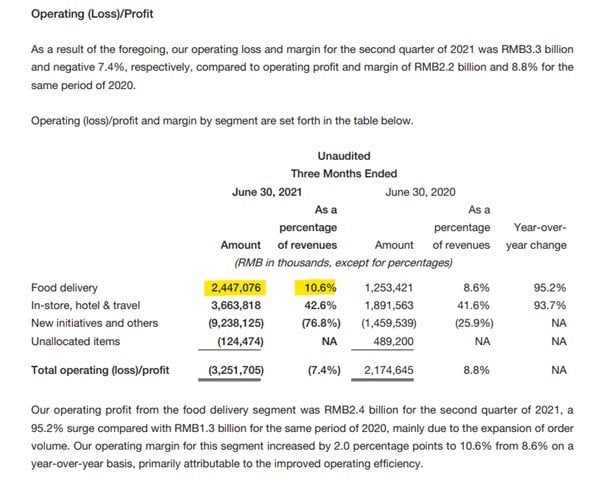 Ride Hailing (Uber)
Here's Uber, the global leader in ride hailing.
After what management touts as "particularly impressive" growth in margins, their ride hailing sits at a profit margin of 5.5%.
I mean, I could have confused those numbers with Keppel / Sembcorp for a second there.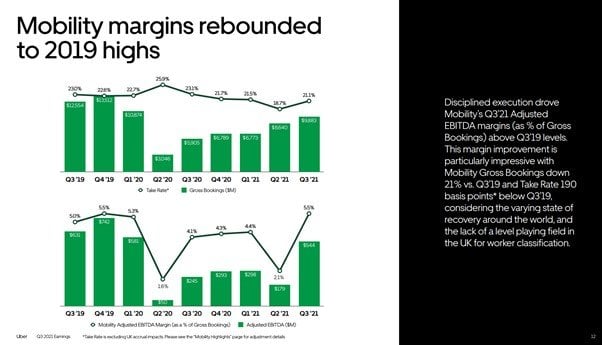 TLDR – Delivery and Ride Hailing are low margin businesses. Even the global leaders in this space struggle for 5-10% margins.
Grab is investing heavily into growth in their delivery and fintech businesses, which means they won't break even any time soon.
Which brings me to my next point.
Is Grab's "Superapp" a pipe dream?
When I was reading through the management transcripts, the concept of "Superapp" kept popping up here and there.
It's clear that management wants to build a South East Asia Superapp – the "WeChat" or "Meituan" of SEA.
You can't fault the vision, but the devil is in the details.
Many people have been trying to build this elusive Superapp, and people have been trying for quite a few years now.
And I still don't see a Superapp for South East Asia.
The funny thing is that outside of China, nobody has succeeded in building a Superapp.
Maybe only China has the necessary conditions to build a Superapp, and no one else can do it?
In any case, this horse isn't smart enough to figure this one out. I'm just going to assume it cannot be done, and put Superapp in the basket of moonshots. Together with self-driving Grabs.
If Grab can do it, fantastic. But I want to see progress before I believe it.
Macro is unfavourable for Growth Stocks
I'm like an old horse who whines about macro week after week.
So I'm not going to belabour the point.
Latest Macro Views are here, and very little has changed since.
Rate hikes and sticky inflation are a very toxic combination for growth stocks in 2022.
If it wasn't already obvious to you, all the hawkish talk from the ECB the past week should have hammered that point home. I mean – when Christine Lagarde realises inflation is a problem and starts turning hawkish, you know that it's going to be a big problem.
The path forward lies with monetary tightening.
Which means this is not a good time to be buying growth stocks. Period.
The real wash-out is still to come.
And when the wash-out comes, it's going to be super tough to call the exact bottom for growth stocks, because there is no true "fair value" here. When you are running DCF on 2030's revenue, you can make almost any number seem fair.
BTW – we share commentary on Singapore Investments every week, so do join our Telegram Channel (or Telegram Group), Facebook and Instagram to stay up to date!
Don't forget to sign up for our free weekly newsletter too!
[mc4wp_form id="173″]
Just created a Discord server where I collate analyst reports and investing resources that I come across in my research. Hit us up here if you're keen.
What I like about Grab?
So that's the bad stuff.
Now let's talk about what I actually like.
Recovering mobility business (ride-hailing)
With the path that Omicron is taking, I think 2022 will be the year of COVID reopenings.
With a lower severity virus, and significantly higher transmission rates, COVID lockdowns don't make sense anymore.
The past week saw Thailand and Bali open their borders to foreign travel, and I expect this to be the dominant theme for 2022.
As South East Asia continues to reopen, Grab's Ride Hailing business will benefit:
Growth into grocery and Fintech (which are more sticky and high margin)
To give credit where credit is due, I'm 100% certain that Grab's management knows that Ride Hailing and Food Delivery are not high margin businesses. The user base is price conscious, and have zero brand loyalty.
So they're taking very active steps to move into the grocery and fintech business, where there are actual moats to attract a more sticky userbase, and sustain higher margins.
Here's some of the recent moves Grab has made:
Grab continues to expand its role as an e-commerce enabler, particularly in deliveries. In November, Grab announced a partnership with Lazada to enable Lazada sellers to provide same-day delivery services for their consumers in Singapore via GrabExpress. Grab has a similar partnership with Lazada in Indonesia and Malaysia.

Grab also announced in November the addition of new major retail chains to GrabMart as it continues to scale up grocery delivery across Southeast Asia. New partners joining GrabMart include convenience store chain Indomaret in Indonesia; hypermarket chain Big C in Thailand; hypermarket chain Lotus's Malaysia (formerly known as Tesco Malaysia); S&R supermarket in the Philippines best known for their attractive members-only discounts; and Mega Market in Vietnam, a leading wholesaler and distributor of grocery products.
Grab has increased its ownership stake in OVO. OVO is a leading digital wallet in Indonesia and the most used for both online and offline payments. It operates on an open ecosystem platform, with a wide range of acceptance points. Grab believes closer collaboration with OVO will create a stronger financial services platform with an open ecosystem, allowing both companies to expand the suite of financial services they can offer to ecosystem partners as well as increase speed to market.
And don't forget their digital bank license with Singtel.
I like this move.
It's very similar to the Meituan strategy, where they cornered the market in food delivery, then used their user base to upsell higher margin travel and hotel business.
If Grab can do the same with groceries and fintech, they can command a premium valuation.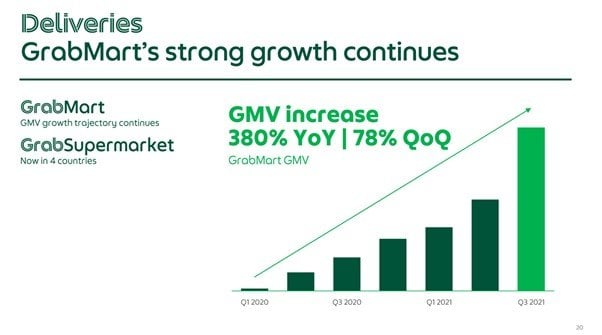 Valuations of Grab after 63% Plunge
Well how do I put this.
If you liked Grab at $13, you should like it 2x more at $5, no?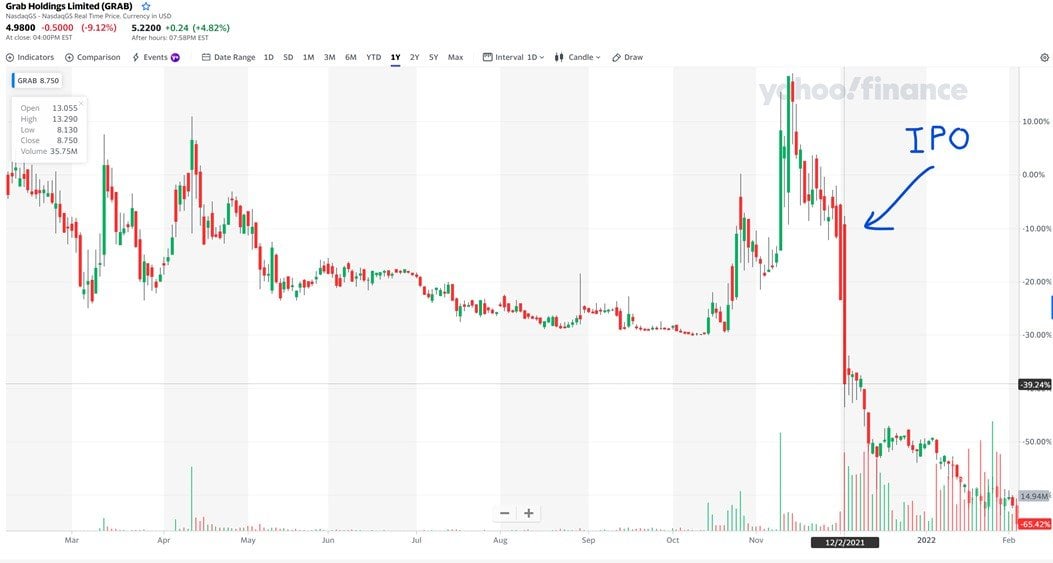 Very little has changed from a fundamentals perspective, but the valuation has more than halved.
I recall back in 2018/2019 when Grab was marketing to high net worth individuals at a $10 – $15 billion valuation.
3 years on, with a much more mature business, and ability to exit on public markets – you now have the opportunity to invest close to the 2018/2019 valuations.
If you look at it this way I guess the valuations are fantastic.
What is the fair valuation for Grab's stock?
It's never easy to value growth stocks like Grab, because most of the revenue forecasts 1 or 2 years out are completely meaningless.
Just like with Sea, I'm going to stay big picture here.
I see 2 possible paths that Grab can take:
Meituan of SEA (premium valuation)
Uber of SEA (low valuation)
Meituan of South East Asia (Premium Valuation)
Under this scenario, Grab uses it's core ride-hailing and food delivery user base to expand strongly into groceries and fintech.
This results in a more sticky userbase that is less price conscious.
Meituan at its peak valuation was $355 billion market cap, and today (post-crackdown) it sits at $178 billion.
If you adjust for GDP, the equivalent valuation for Grab (in share price) will be $9.4 – $18.8.
A whopping 100% – 370% upside from here.
Of course there are several key differences, namely:
China is 1 homogenous block, whereas SEA is a collection of 11 countries (resulting in higher operational costs)
Grab has more competition from Gojek-Tokopedia
But on the other hand – SEA has more room for growth than China.
In any case, I encourage you to stay big picture here.
If Grab can become the Meituan of SEA, and the market values it as such, that could be a 100% upside in the low scenario, and 370% in the high scenario. 
Uber of South East Asia (Low Valuation)
In this alternative Scenario, Grab doesn't manage to expand successfully into higher margin businesses like groceries or fintech. Or maybe they do but it's not a meaningful portion of the revenue.
They basically become the Uber of South East Asia, stuck with ride hailing and food delivery businesses.
This results in a predominantly non-sticky userbase, that will easily switch to a competitor if the prices are cheaper.
Uber's Market Cap is US$67 billion.
Adjusted for GDP, the equivalent valuation for Grab (in share price) is $2.5.
Another 50% downside from here.
Again, I get that it's not perfect because Uber owns a stake in Grab etc, but if you adjust all this out the point is still clear.
If Grab can successfully become Meituan and pivot into higher margin businesses, the stock can easily double from here.
If Grab remain stuck in ride hailing and food delivery, the stock can still drop another 50% from here.
Right now, the market is valuing Grab somewhere in between.
Not just a ride-hailing/delivery company, but also not fully a higher margin company.
Can Grab successfully make the pivot?
Which brings us to the million dollar question – Can Grab make this pivot?
My personal take is that Grab is making all the rights moves.
But just making the rights moves isn't enough.
You still need to actually do it.
And here I frankly don't have a strong view.
Grab's execution is decent, but not Sea's level of strong.
Whether they can do it, it may be best to just wait and see.
With the macro headwinds, there's also no urgent need to pile into growth stocks.
This gives you time to see how Grab's investments play out. If the pivot is successful, you can add at that stage. You do lose some of the upside, but you also remove a big chunk of uncertainty.
Why is Shopee's (Sea) valuation so much higher?
Interestingly, Shopee at $80 billion valuation commands a 4x valuation premium over Grab.
This comes down to:
Much higher growth – 100%+ revenue growth versus negative/flat for Grab
Ecommerce and Gaming are (potentially) higher margin businesses than delivery or ride hailing
Additional markets in Brazil, Europe and Taiwan
Grab cannot go into other markets, because at this point ride hailing and food delivery is saturated globally.
They can't change their core businesses of delivery or ride hailing, that's the hand they are dealt.
And growth, obviously they are doing everything they can to juice growth.
So the valuation difference does make sense to me.
Closing Thoughts: Will I buy Grab at $5?
Full disclosure – I have no position in Grab.
And funnily enough, I actually liked Grab a lot more before I did this deep dive.
On paper, there's a lot to like.
SEA Superapp, 25% the price of Sea, digital banking license, fintech play.
But actually digging into the numbers makes this horse a lot less optimistic.
The core ride-hailing and food delivery business are low margin businesses. You need massive market share and a ton of operational efficiencies even to eke out a 5-10% margin.
While Grab is making all the right moves into higher margin areas, for now their business is predominantly still ride-hailing and food delivery.
If you buy now, you're basically taking a punt that Grab can make this successful pivot. Which frankly, I have no strong views as to whether they can.
For me personally, I'm just going to wait and see.
If I see their new ventures bearing fruit, and the valuation declines even further from here, I might open a position.
Otherwise, I'm happy to sit on the sidelines and watch this play out. I think there will be lots of great opportunities in other stocks as 2022 plays out.
This is a 2.75 horse rating for me. Grab stock could be a decent long term buy, but there is a lot of uncertainty as to whether their new ventures will bear fruit.
Chinese New Year Promo for the Stocks MasterClass ends this weekend!
Rising interest rates will create a volatile 2022, so if you're serious about investing big money do take the time out to learn to invest.
Sign up here.
As always, this article is written on 5 Feb 2022 and will not be updated going forward. Latest thoughts (and my stock watch and personal portfolio) are available on Patron.
Financial Horse Rating – Grab Holdings
Financial Horse Rating Scale

Looking to buy Bitcoin, Ethereum, or Crypto?
Check out our guide to the best Crypto Exchange here.
Looking for a low cost broker to buy US, China or Singapore stocks?
Get 1 free Apple share (worth $230) you're new to MooMoo and fund $2700.
Get a Free Apple stock (worth S$230) when you open a new account with Tiger Brokers and fund $2000.
Special account opening bonus for Saxo Brokers too (drop email to [email protected] for full steps).
Or Interactive Brokers for competitive FX and commissions.tb
Do like and follow our Facebook and Instagram, or join the Telegram Channel. Never miss another post from Financial Horse!
Looking for a comprehensive guide to investing that covers stocks, REITs, bonds, CPF and asset allocation? Check out the FH Complete Guide to Investing.
Or if you're a more advanced investor, check out the REITs Investing Masterclass, which goes in-depth into REITs investing – everything from how much REITs to own, which economic conditions to buy REITs, how to pick REITs etc.
Want to learn everything there is to know about stocks? Check out our Stocks Masterclass – learn how to pick growth and dividend stocks, how to position size, when to buy stocks, how to use options to supercharge returns, and more!
All are THE best quality investment courses available to Singapore investors out there!