It's the start of a new year!
No matter how your investments fared in 2022, the performance counter is reset and you have the opportunity to regroup for 2023.
So… I wanted to survey the 2023 investing landscape with fresh eyes.
How would I go about investing $100,000 in 2023?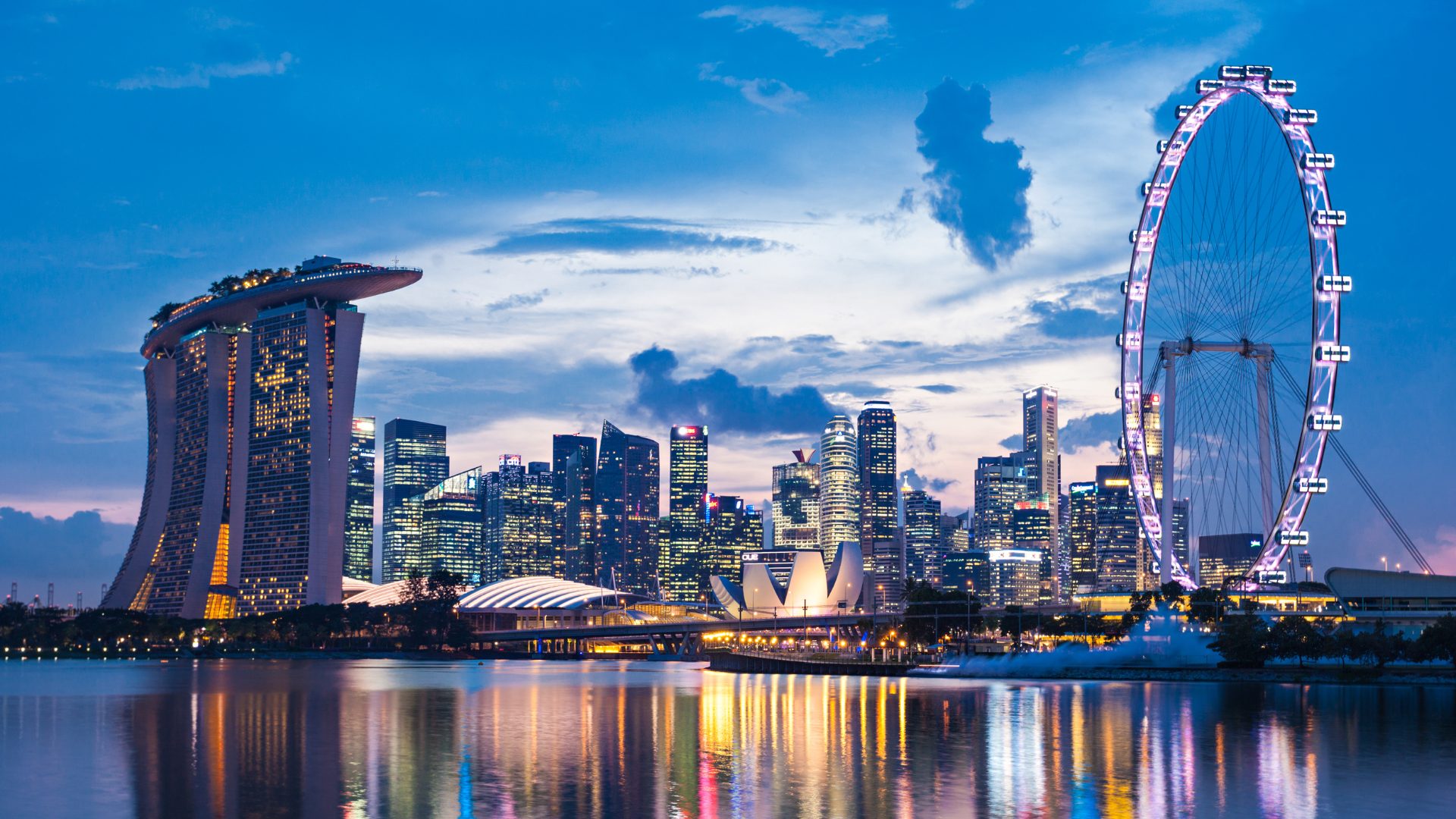 Note: This post was sponsored by OCBC. All views and opinions expressed in this post are from Financial Horse.
3 Key Questions on how to invest $100,000 in 2023:
There are 3 key questions to answer:
What to buy (asset allocation)?
When to buy (market timing)?
What exactly to buy (stock picking)?
Let's try to answer each individually.
What to buy (asset allocation)?
Beginner investors often overlook the importance of asset allocation.
But in reality, it is asset allocation that drives the bulk of your returns.
Instead of obsessing over whether to buy OCBC stock now or 3 months later.
You should really be obsessing over whether your cash is staying in T-Bills, going into stocks, or going into REITs.
Asset allocation that suits your risk appetite and time horizon is key to achieving your financial goals.
Asset Allocation – $100,000 in 2023
On the topic of asset allocation, there is plenty to unpack.
I've talked a lot in the past about how I think the 60/40 won't work so well going forward.
60/40 is the idea that you allocate 60% into stocks, and 40% into government bonds (Treasuries).
When stocks drop in a market crash, the government bonds go up in price (because interest rates go down) – providing a hedge.
The problem of course, is that this only works when inflation is low.
When inflation is high, interest rates cannot be cut so readily, so this stock-bond correlation goes out the window.
If the 60/40 is dead… what to use instead?
Frankly there are no easy answers here.
The 60/40 has been the cornerstone of most investment portfolios the past 40 years.
It's not something that can be replaced overnight, and is something I suspect we will be asking ourselves as this decade plays out.
My preliminary thoughts for now, are to increase equity allocation (to hedge mid term inflation risk), and keeping enough in cash that you can sleep at night even if your investments are volatile.
Yes, this means accepting higher volatility, so the key is to hold enough cash such that you can tide through any market conditions.
In any case – given that a risk free T-Bill gives you about 4% yield these days, the hurdle rate for any new investment has gone up a lot.
This is an example of one asset allocation that you can adopt, but it will have to vary for each individual (especially the cash component) based on your personal needs.
| | |
| --- | --- |
| Asset Class | Amount |
| Cash (T-Bills, Fixed Deposit, Singapore Savings Bonds) | $20,000 |
| Gold (or alternatives) | $5,000 |
| Energy | $20,000 |
| REITs | $15,000 |
| Singapore Stocks | $10,000 |
| China Stocks | $15,000 |
| US Stocks | $15,000 |
| Total | $100,000 |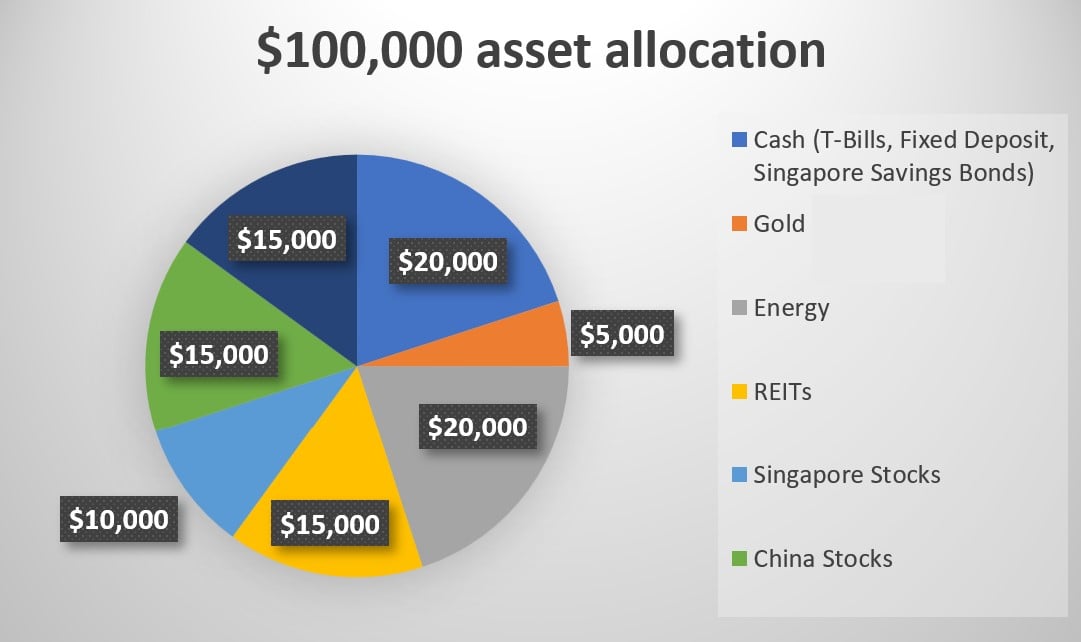 And with any diversified portfolio, it is always handy to have a trusted investment partner which can offer you access to a full range of investment options.
Consider OCBC as your platform of choice for investments.
OCBC's wide range of investment options are able to suit your needs, risk appetite and time horizon, and you are able to conveniently manage and monitor all your investments on a single platform.
Check out OCBC's Financial OneView, which allows you to consolidate your finances (including insurances, investments, CPF holdings, taxes and more) and get personalised insights to make better financial decisions. Check out our full review here!
When to buy (market timing)?
Probably even more tricky is when to start buying.
Anyone who has been investing in market for a while knows how tricky market timing can be.
Buy too early, and potentially suffer a large decline.
Buy too late, and watch stocks march up relentlessly before you're forced to buy in higher.
There's 2 ways to approach this: (1) dollar cost average (DCA), or (2) market time.
(1) Dollar Cost Average
If you want to go with (1), you just buy regularly over a period.
For instance, a 12 – 24 month timeframe.
Consider OCBC's blue-chip investment plan, which from just S$100/month.
You can choose how much and what to invest, all done via the OCBC Digital app or Online Banking.
The counters available include blue-chip stocks and ETFs that trade on SGX, including CapitaLand, DBS, Keppel, SembCorp, SIA, ST Engineering and other blue-chip household names you are familiar with.
You can also access ETFs such as the Lion-Philip S-REIT ETF, Nikko AM SGD investment Grade Corporate Bond ETF, Lion-OCBC Securities Hang Seng Tech ETF.
With no lock-in period, you can withdraw your investments any time according to your needs. 
(2) Market Time
If you want to market time on the other hand, then well, that's an entire metagame in itself.
You need to keep track of Jerome Powell's every word, US unemployment numbers, JGB yields, and probably much more.
It all depends on your investing style and preferences.
My personal view – as an active investor?
The post COVID world is very different from the past decade.
I think investing this decade is a lot more nuanced than investing the past decade.
Instead of easy fed liquidity creating a rising tide lifts all boats scenarios, I think the gains (and losses) will be much more uneven across geographies and asset classes this decade. So personally I think a more active approach may make sense, but frankly this has to be a personal decision.
In any case – let's split the discussion up into a couple of buckets (by asset class).
When to buy (market timing)?
Cash
I think the cash is a no brainer.
If you can get a fixed deposit or T-Bill at around 4%, it'll probably be a good idea to deploy your cash.
In fact I think any cash you're not investing, should probably be earning at least a 3 – 4% yield until such time as you use it.
China Stocks / Energy
China stocks and Energy, I think there's an argument to be made you can start averaging in at these levels.
With China – I think it's arguable that the policy bottom was right after the China party congress.
After that, we saw meaningful turnarounds in China policy both on COVID and real estate debt.
Sure, I doubt if we go back to the pre-COVID days of unchecked monetary stimulus.
But we probably see more supportive economic policies coming out going forward.
With Energy – the big wildcard is how bad the economic slowdown in 2023/2024 would be.
If it's bad and takes a lot of oil demand off the market, oil prices could collapse just like they did in 2008.
But mid term though, I really like how oil looks.
There's just not enough investment into supply, all while the green energy transition will take a decade or more to play out.
So with Energy, it's really about balancing the short term vs the mid-term.
REITs, Singapore Stocks, US Stocks
With stocks that are sensitive to interest rates or economic growth, I do think you want to be a lot more careful on the timing.
The market might be slightly too optimistic on the timing of the rate cuts.
With latest US unemployment at a generational low of 3.5% – there's a lot more labour weakness to go before we see rate cuts.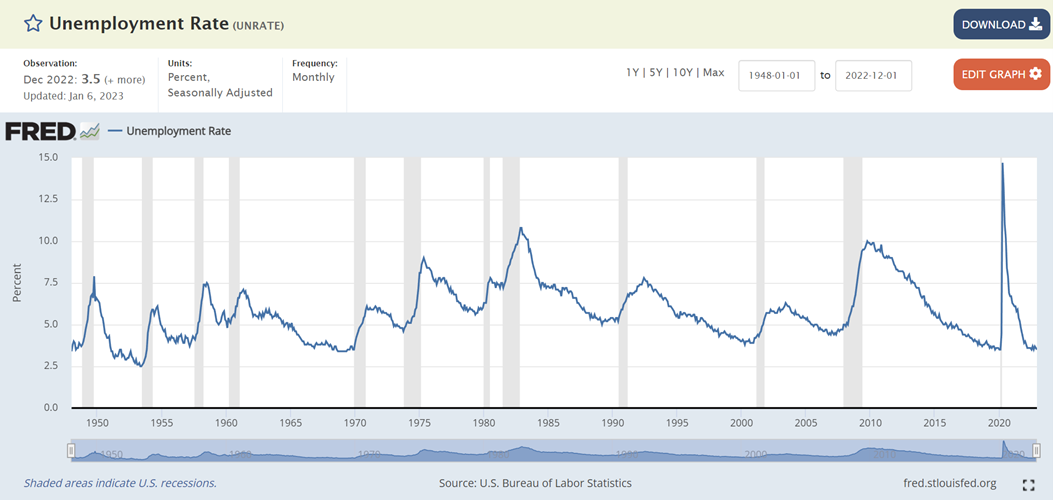 I think at the very least with this basket of stocks / REITs, you want to watch 2023 play out for more clues on timing.
What exactly to buy (stock picking)?
Which brings us to the final question.
Exactly what stocks to buy.
Identifying what stocks to buy is a whole career in itself, so I'm just going to share high level views here.
Cash
This one's easy.
A mix of T-Bills, Fixed Deposit, Singapore Savings Bonds, and a high yield savings account.
You want to balance liquidity needs, and yield.
OCBC 360 account is a great option for a fully liquid high yield savings account, where you can earn up to 4.65% p.a. on your first S$100,000 when you credit your salary, save and spend on eligible OCBC credit cards.
Boost the interest rate to 7.65% p.a. effective interest rate if you also fulfil invest and insurance bonus pillars.
Exclusively for new OCBC customers, OCBC is also currently offering an additional 2.00% p.a., payable for 2 months on your first S$100,000 when you open a new 360 Account and sign up for an eligible Credit Card.
Plus, get an extra 1.50% a year for opening a new 360 Account and extra 0.50% a year for applying for and activating a new credit card for new credit card customers. Additional bonus interest will only be paid for 2 months.
Eligible credit cards are the OCBC 365 Credit Card, OCBC NXT Card, OCBC Titanium Rewards Credit Card, OCBC 90°N Mastercard and OCBC 90°N Visa Card.
Promotion until 28 February 2023. Find out more here.
Terms & conditions, and fees and charges apply.
Gold
Gold is a controversial one.
Gold hasn't really gone anywhere the past 12 months.
But if you ask me, I think that's really down to rising real rates.
If the feds start cutting in 2023/2024, all that could change.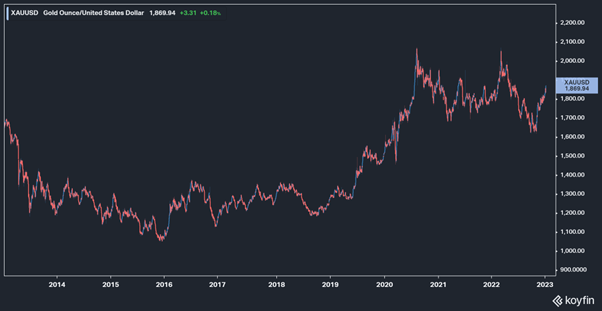 If you want exposure, you can buy GLD, or GDX for a more leveraged exposure.
Consider also OCBC's precious metal account where you can invest in gold and silver from under S$30.
We have done a full review on OCBC's precious metals account previously, where we've highlighted the ease of use for Singapore investors interested in investing in gold and silver.
Key advantages include, no holding of physical assets, no sales charge or custody fees and easy and convenient instant account opening.
Energy
If you don't want to stock pick, you can just go with a broad ETF like XLE.
Those who do want to stock pick, I know many investors who like OXY because Warren Buffett bought it.
Personally, I usually go for the the oil majors like Exxon, Chevron or Shell. 
OCBC's Online Equities Account  gives you access to 15 global exchanges, including the Singapore, US, China and Hong Kong markets.  
REITs
For REITs, the general approach would be to either buy the blue chips or buy the smaller REITs for a higher yield.
The answer on which to buy would depend on your risk appetite, and their price.
At today's price I think the small REITs are probably better value especially if you're a discerning stock picker.
But if the bigger blue chip REITs drop in 2023, I would definitely be looking to pick them up.
Names like Lendlease REIT, Mapletree Commercial Trust, Ascendas REIT are on my watchlist. 
Apart from purchasing REIT counters directly or via a DCA strategy like OCBC's Blue Chip Investment plan (BCIP) that gives you access to the Lion-Philip S-REIT ETF, you can also consider OCBC RoboInvest's Singapore Stable REITs portfolio.
Singapore Stocks
Banks are a standout winner in a higher interest rate environment (eg. OCBC, DBS, UOB).
The key question is whether we get a bad recession – and if so whether current prices are sufficient attractive.
At current prices I probably wouldn't be adding banks in size, but I definitely will if we get a sell-off.
If they don't sell off, then quite a few Singapore dividend stocks are looking interesting too.
For instance, ST Engineering, and maybe SATS.
OCBC, DBS, UOB, ST Engineering and other Singapore blue chip counters are available via OCBC's Blue Chip Investment Plan from just S$100/month.
China Stocks
For China I would probably go for the dividend stocks.
Think banks, real estate, telco, oil etc.
The big 4 China banks like ICBC are going at 8% dividend yields.
With China there is real geopolitical risk though (from US-China tensions).
So it really depends on your risk appetite.
If you're not comfortable, you can always choose to omit, or allocate a much smaller %.
Another option you could consider are China funds.
For instance, Fidelity China Focus Fund A SGD which focuses on China through investments in Chinese companies listed in China and Hong Kong, as well as securities in non-Chinese companies which have a significant portion of their activities in China.
Or if you are looking for more geographical diversification, consider the FSSA Dividend Advantage Fund SGD.
The fund manages a diversified portfolio of Asia ex-Japan companies, focusing on stocks that deliver high-quality dividend yields, strong dividend growth prospects and long-term capital appreciation potential. 
China Tech?
I know a lot of you are interested in China Tech.
China Tech has been quite a rollercoaster. It is not yet clear how big tech will fit into the new China, given that China doesn't want them to be too powerful domestically.
Until more clarity on this emerges, China tech is probably more of a trading position for me.
And less of a long-term investment.
"New Economy" China stocks?
And finally of course, avid stock pickers can go into the Beijing approved sectors of hard manufacturing and new energy.
There is a lot of money to be made there if you're good with picking.
Personally I prefer to play broader, long term themes rather than to stock pick small cap names.
If you're interested in China counters, but aren't sure how to proceed.
Consider using OCBC BCIP to gain exposure to Lion-OCBC Securities China Leaders ETF and Lion-OCBC Securities Hang Seng Tech ETF.
Another option is to consider robo-advisors that offer thematic portfolios.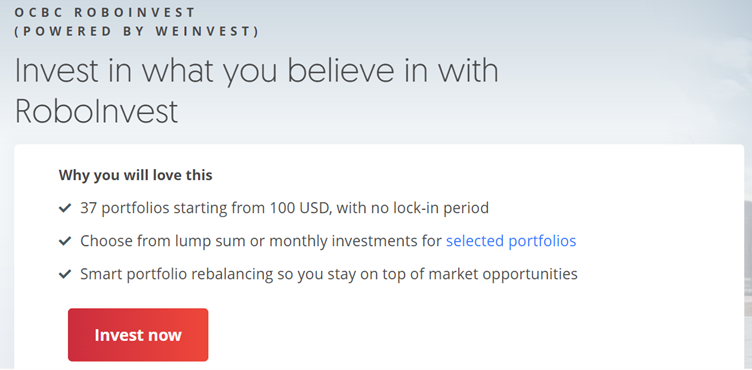 OCBC RoboInvest offers a China Growth portfolio.
They also offer other portfolios with more conservative risk appetite, such as cautious, defensive or balanced portfolios. 
With 37 portfolios across 6 markets, you can find something that suits your investment needs.   
US Stocks
And finally, US Stocks.
The US market (just like the China market) is so massive that a small paragraph like this wouldn't do justice.
Personally though, sectors I like in particular are tech, semiconductors and cyclicals.
Tech and semiconductors have dropped a lot, but I would be surprised if this is the bottom.
I would probably be looking to add some time in 2023 though, and names like AMD and Cloudflare are interesting for me.
Cyclicals like JP Morgan, maybe Disney, have also plunged too.
As recession fears continue to play out in 2023, I would like to add to those positions.
Invest in the US market with ease with OCBC.  Invest directly into US stocks with OCBC's Online Equities Account, or invest in US focused funds that are selected by OCBC's investment experts.
Alternatively, try out OCBC RoboInvest, which offers USA-centred portfolios including US Tech Leaders, Stable US Healthcare Giants and many more.
Limitless Investment Opportunities with OCBC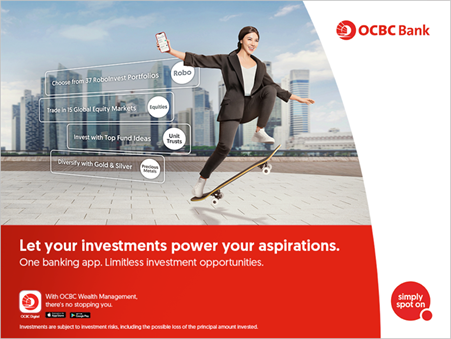 Regardless of your risk appetite and personal portfolio allocation, OCBC's wide range of investment options offers you limitless investment opportunities.
Conveniently manage and monitor all your investments on a single app.
What's more? From now till 28 February 2023, get 23% off Unit Trusts sales charge with promo code "FH23" when you invest into OCBC Unit Trusts via the OCBC digital app or internet banking.
T&Cs apply. Investment is subject to investment risk, including the possible loss of the principal amount invested.
Check out OCBC's full suite of investment options today!
Note: This post was sponsored by OCBC. All views and opinions expressed in this post are from Financial Horse.
Disclaimer:
Singapore dollar deposits of non-bank depositors and monies and deposits denominated in Singapore dollars under the Supplementary Retirement Scheme are insured by the Singapore Deposit Insurance Corporation, for up to S$75,000 in aggregate per depositor per Scheme member by law. Monies and deposits denominated in Singapore dollars under the CPF Investment Scheme and CPF Retirement Sum Scheme are aggregated and separately insured up to S$75,000 for each depositor per Scheme member. Foreign currency deposits, dual currency investments, structured deposits and other investment products are not insured.
Investments are subject to investment risks, including the possible loss of the principal amount invested. 
This information is intended for general circulation and / or discussion purposes only. It does not consider the specific investment objectives, financial situation or needs of any particular person.
Before you make an investment, please seek advice from your Relationship Manager regarding the suitability of any investment product taking into account your specific investment objectives, financial situation or particular needs. If you choose not to do so, you should consider if the investment product is suitable for you, and conduct your own assessments and due diligence on the investment product.
The content here is for informational purposes only and should NOT be taken as legal, business, tax, or investment advice. It does NOT constitute an offer or solicitation to purchase any investment or a recommendation to buy or sell a security. In fact, the content is not directed to any investor or potential investor and may not be used to evaluate or make any investment. Do note that this is not financial advice. If you are in doubt as to the action you should take, please consult your stock broker or financial advisor.