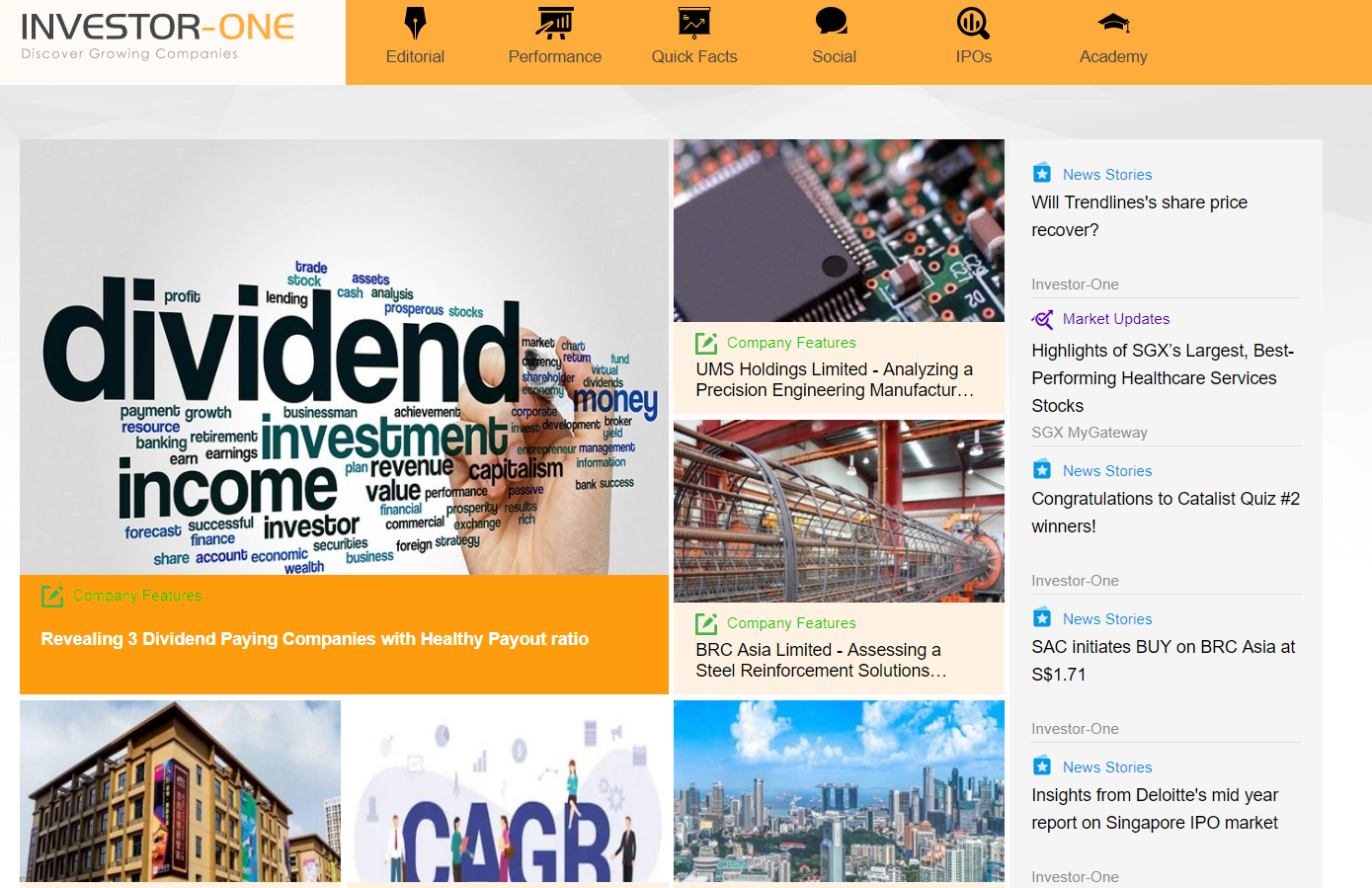 Disclaimer: The following post is sponsored by Investor-One, all opinions and views expressed in this article are courtesy of Financial Horse.
Many readers routinely ask where they can get reliable information on stocks. In response, I always recommend to start by reading books (must-read list here!) and following financial sites and journals. While there is no lack of information for US stocks, I do have to acknowledge that there are less resources for Singapore investors who want to learn more about Mainboard/ Catalist stocks. In fact, that was one of the reasons why I started this blog in the first place.
As the community of internet-savvy investors grows, there have been an increasing number of investing sites that provide diverse and quality information. Today's post introduces Investor-One.
Investor-One was launched in 2017, and they provide an easy way for investors to access information on SGX stocks. Built with investors in mind, the portal aims to provide readers with a holistic approach to assess companies through a wide array of information sources – news, fundamental data and fellow investors' sentiments via social media. Investor-One is developed and maintained by ShareInvestor and supported by the Singapore Exchange.
For investors who are keen to expand their knowledge sources, this post will highlight some of Investor-One's key features that you should check out!
Editorial Features
Investor-One provides investors with editorial features on both SGX Mainboard and Catalist-listed companies. These articles provide a handy overview on SGX counters using financial metrics such as revenue & distributable income, net profit, management efficiency ratio, dividends, ownership, leverage ratio and consensus estimates. Some interesting reads on the portal are highlighted as follows:
EC World REIT – Understanding a China-focused Logistical REIT Using 4 Financial Metrics
Evaluates EC World REIT based on 4 Financial Metrics:
Revenue & Distributable Income
Management Efficiency Ratio
Ownership
Leverage Ratio
Top Glove Corporation Berhad: Assessing a Rubber Glove Manufacturer Using 4 Financial Metrics
Evaluates Top Glove based on 4 Financial Metrics:
Revenue and Net Profit Trend
Margins
Debt Levels
Dividends
And many more:
Cordlife Group: Using 4 Financial Metrics to Evaluate a Cord Blood Storage Company
QAF Limited: Basking In a Bakery Business Using 4 Financial Metrics
JB Foods: Getting a Taste of a Cocoa Ingredients Producer Using 4 Financial Metrics
Sunpower Group: Powering the Environmental Solutions Specialist Using 4 Financial Metrics
Useful content on earnings and post-results announcements:
Dissecting Golden Agri-Resources FY2019 result and Outlook for FY2020
ESR-REIT upcoming earnings announcement
Hyphens Pharma International Limited Post Result Announcement
Powermatic Data System Limited Upcoming Earnings Announcement
There is also timely content pertaining to current events such as:
Budget 2020: How These Virus-Hit Stocks May Benefit
Record S$48.4B Resilience Package: Who will stand to benefit?
BreadTalk Group: Is 77 cents a good offer for retail investors?
Catalist Stocks
One of Investor-One's unique advantages are their primers on Catalist-listed stocks. Some interesting ones featured on the portal:
A Time for Growth: An interview with the top management of Memiontec Holdings
A simple, easy to read FAQ on Memiontec, coming from the CEO himself.
Leader in the Russian agriculture business – An interview with Don Agro's top management
A bite-sized series of 5 questions and answers from the Chairman of Don Agro.
JEP Holdings: Gaining a Deeper Understanding of a Precision Machining Company using 4 Financial Metrics
A handy article analyzing JEP Holdings Ltd (SGX: 1J4), a leading provider of precision machining and engineering services to the aerospace industry.
Quick Facts
Investor-One has a really handy search toolbar for "Quick Facts" on companies!
This is a great tool for investors who want to do research into the counters they are looking to invest in, and is particularly useful as a big picture overview for company analysis.
IPOs

They also have a "IPO" section, featuring the performance of recent IPOs.
C-Suite Interviews
Investor-One is able to connect readers to management of SGX companies. For instance, this interview with Biolidics CEO, where he shares about the Company's proprietary technology makes early detection and treatment of cancer much more effective.
When investing in any company, it's really important to look at management as part of due diligence. As retail investors, we don't always have easy access to senior management. Reading management interviews is a good way for retail investors to gain access into management thinking and their vision for their company.  
Company Performance
Investor-One has a really interesting company performance section on the portal. This is particularly relevant for investors looking for updated information and trends.  It's also completely free, and a quick way to do some basic due diligence on the financial metrics before you do a deeper dive into the financial statements and business model.
Note: Screenshots below do not reflect current data, do check out Investor-One for updated data!
Closing Thoughts
Investor-One is a great site for investors to keep updated on key company metrics, information and news. Through the portal's engaging content, investors can stay updated on the markets and discover new and upcoming Mainboard and Catalist-listed stocks.
Check out useful tools such as the Quick Facts search toolbar, Company Performance and IPO section, and join ShareInvestor's Telegram to connect with fellow investors!