I've been getting questions about estimated yield for the next 6 month T-Bills, so I decided to continue with this series of T-Bills articles.
If you think there is any other information on T-Bills yields (or trends) that you want me to write on, just let me know and I will try to include in this series going forward.
In any case, the next 6 month T-Bills is on Thursday, 2 February 2023.
If you're applying with cash, you will want to apply by 9pm on Wed, 1 February 2023.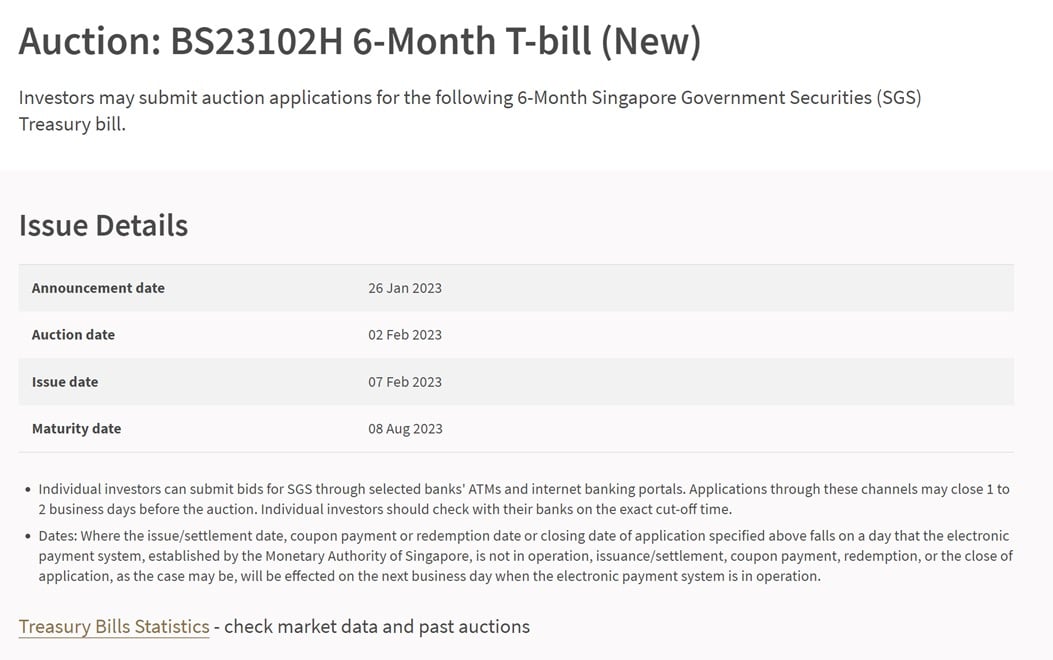 What is the estimated yield on the next 6 month T-Bills Auction on 2 February 2023?
It is fairly clear that global interest rates have come down meaningfully since the start of the year.
As shared in yesterday's macro piece, I do think this is troubling because it has the potential to create a meaningful recovery in growth – which will prevent inflation from going down.
Which will necessitate the next round of monetary tightening.
Which means that if interest rates come down too soon, inflation may go back up, requiring even higher interest rates down the road (and to stay there longer).
I don't think the market is pricing this in at all, which will be a very troubling development.
But in any case, coming back closer to home – the short term impact is that risk assets are up, and interest rates are down for now.
And I think you'll probably see that reflected in lower T-Bills interest rates.
6 month T-Bills trade at 4.00%
Latest 6 month T-Bills trade at 4.00% on the open market.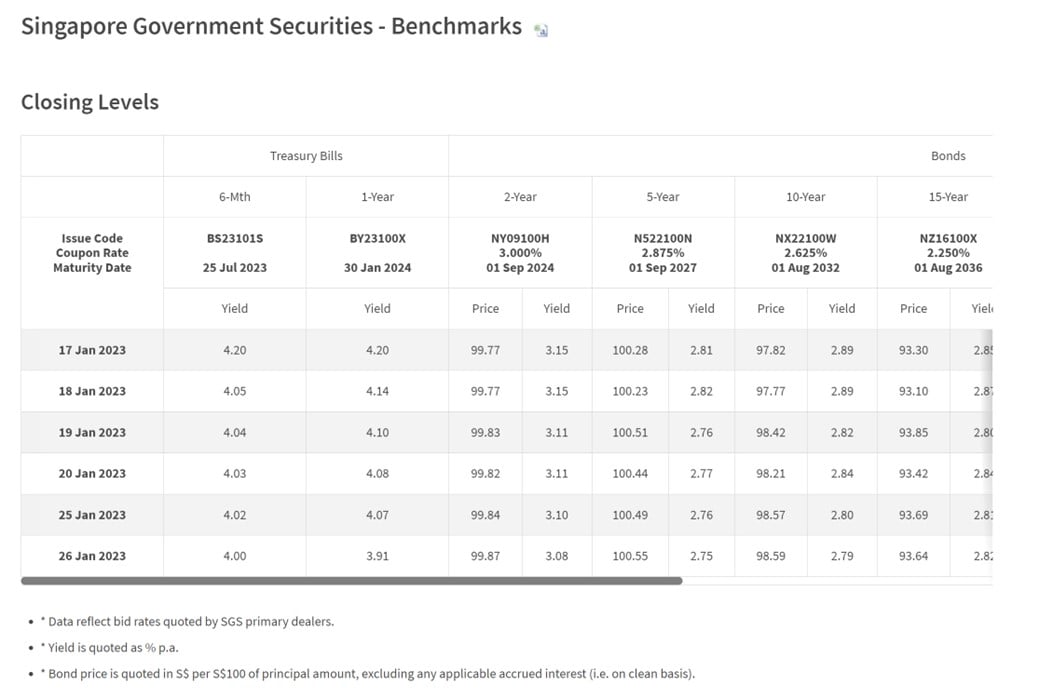 12 week MAS Bills trade at 4.13%
While the latest 12 week MAS Bills trade at 4.13%.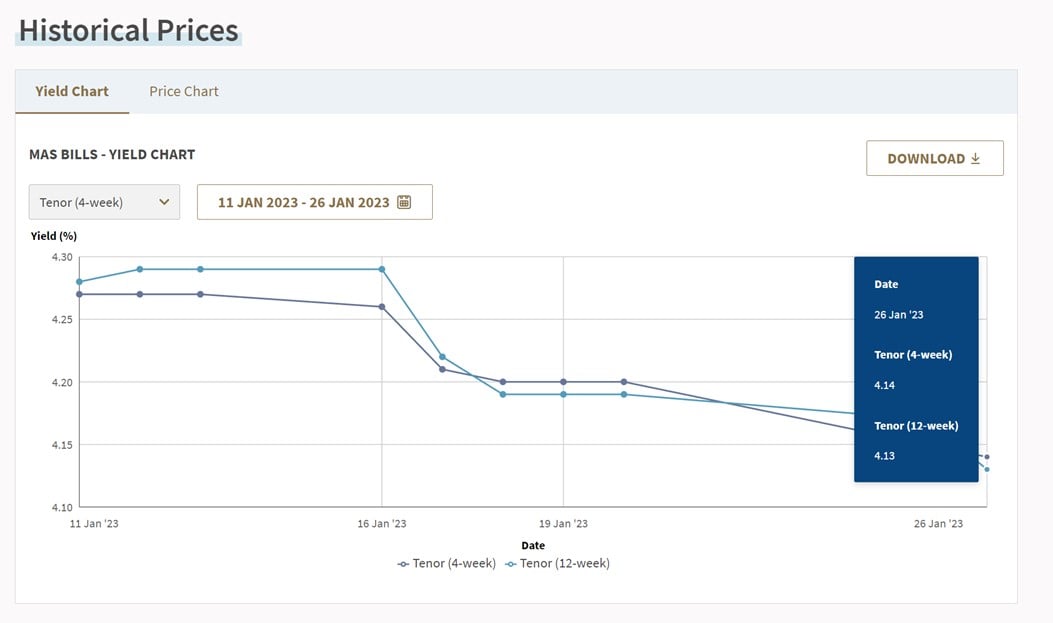 Estimated yield of 3.95% – 4.05% for the 6 month T-Bills?
As shared above, the interest rate trend is very firmly down since the start of the year.
And all the recent T-Bills auctions have a cut-off yield that came in squarely below the market pricing.
Looking at this, I think you might see the next 6 month T-Bills auction come in at around 3.95% – 4.05%.
Give or take 0.1% either way.
You can buy T-Bills with CPF-OA online via DBS now
Just a quick shoutout that if your CPF-IA account is with DBS, you can now buy T-Bills using CPF-OA online via the DBS internet banking website.
You must have your CPF-IA account with DBS though.
And from what I know, UOB or OCBC have not implemented this yet.
Very convenient if you want to buy T-Bills with CPF-OA, saves you easily an hour at the bank.
I will do a more detailed article explaining how to do it, so keep a look out for that.
BTW – we share commentary on Singapore Investments every week, so do join our Telegram Channel (or Telegram Group), Facebook and Instagram to stay up to date!

I also share great tips on Twitter.
Don't forget to sign up for our free weekly newsletter too!
[mc4wp_form id="173″]
Fixed Deposit a much better buy than 6 month T-Bills?
As shared previously – I think T-Bills are only worth it if you get a meaningful yield premium vs fixed deposit.
With fixed deposit you can technically break it any time to get your money back (for a small penalty), and this optionality alone is worth something.
Whereas with T-Bills, technically you can sell it over the counter (OTC) via your bank, but realistically the liquidity is so thin for retail investors that your chance of being able to sell before maturity is quite slim.
Fixed Deposit from RHB yields 4.28% for 12 months
On fixed deposits – you can get 4.28% on a 12 month fixed deposit from RHB right now.
This is only for the Cecil Branch though, and you do need to go down in person to queue for it.
Compared to 3.87% on the latest 12 month T-Bills, I think you're better off just putting the cash in fixed deposit instead.
If you want something more straightforward (and a local bank), you can use OCBC's 8 month fixed deposit for 4.08%.
It can be done online too, and saves you the hassle.
You do need to have an OCBC360 account to enjoy these promo rates, but as long as you already have an OCBC online banking account it should be relatively painless to open one.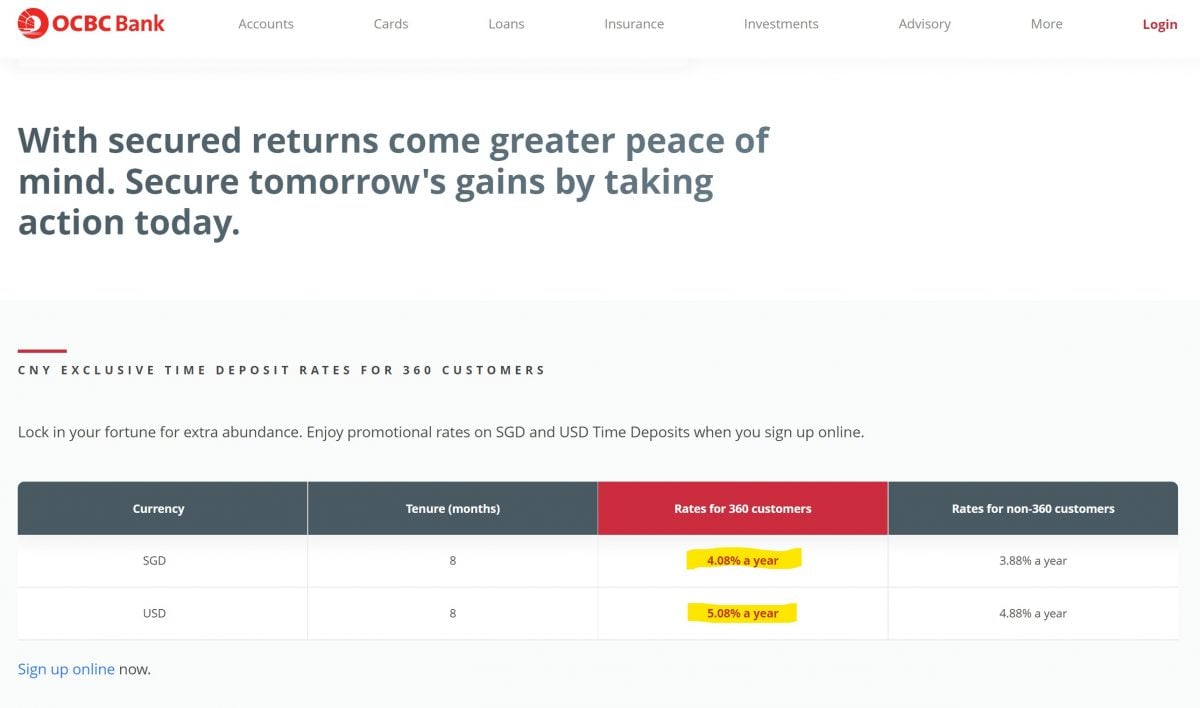 My personal views on T-Bills interest rate trend?
If you ask me, I think we might see a short term period of weakness for T-Bills interest rates, as the market prices in a soft landing and recovering growth.
But as this plays out, inflation may start to return, and the Feds may be forced to take interest rates higher for longer.
Which could mean that T-Bills interest rates go down short term, but go back up later in the year.
But hey, that's just my view, and I could be wrong.
In any case, the debate between Fixed Deposit vs T-Bills is a straightforward one.
You buy Fixed Deposit when FD rates are higher, you buy T-Bills when T-Bills rates are higher.
For now Fixed Deposit rates are higher, so if you ask me I'm probably going to put my cash into Fixed Deposit instead.
Trust Bank Account (Partnership between Standard Chartered and NTUC)
Sign up for a Trust Bank Account and get:
$35 NTUC voucher
1.5% base interest on your first $75,000 (up to 2.5%)
Whole bunch of freebies
 Fully SDIC insured as well.
It's worth it in my view, a lot of freebies for very little effort.
Full review here, or use Promo Code N0D61KGY when you sign up to get the vouchers!
WeBull Account – Free USD150 ($212) cash voucher
I did a review on WeBull and I really like this brokerage – Free US Stock, Options and ETF trading, in a very easy to use platform.
I use it for my own trades in fact.
They're running a promo now with a free USD 150 (S$212) cash voucher.
You just need to:
Sign up here and fund S$2000
Make 1 US Stock or ETF trade (you get USD100)
Make 1 Options trade (you get USD50)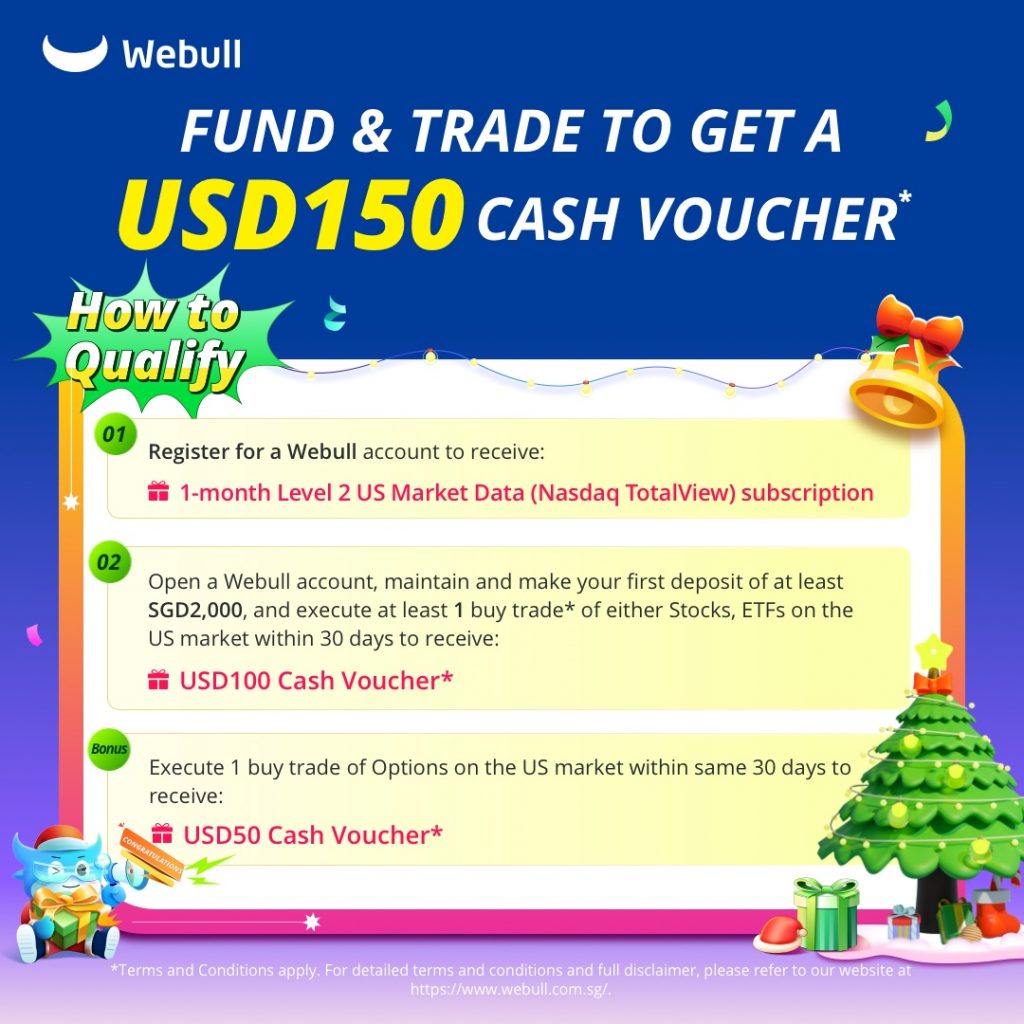 Looking for a low cost broker to buy US, China or Singapore stocks?
Get a free stock and commission free trading Webull.
Get a free stock and commission free trading with MooMoo.
Get a free stock and commission free trading with Tiger Brokers.
Special account opening bonus for Saxo Brokers too (drop email to [email protected] for full steps).
Or Interactive Brokers for competitive FX and commissions.
Do like and follow our Facebook and Instagram, or join the Telegram Channel. Never miss another post from Financial Horse!
Looking for a comprehensive guide to investing that covers stocks, REITs, bonds, CPF and asset allocation? Check out the FH Complete Guide to Investing.
Or if you're a more advanced investor, check out the REITs Investing Masterclass, which goes in-depth into REITs investing – everything from how much REITs to own, which economic conditions to buy REITs, how to pick REITs etc.
Want to learn everything there is to know about stocks? Check out our Stocks Masterclass – learn how to pick growth and dividend stocks, how to position size, when to buy stocks, how to use options to supercharge returns, and more!
All are THE best quality investment courses available to Singapore investors out there!