Broker Wars are heating up!
It started with the entry of Tiger Brokers, then Moomoo, and now Saxo has joined in the fray with commission free trading for US stocks.
Promo Details: Commission free trading for US stocks
The full terms and conditions are here, but to sum up:
Applies to all new customers who sign up after 19 April 2021
Zero fees on all US equities and US ETFs, from 19 April to 3 September (normal fees are USD 4 per trade)
Zero commission trading is always great, so if you're in the market for a new broker, Saxo is well worth looking at.
Don't forget to use the referral link at the end of this post for additional welcome bonuses (details below).
How does Saxo compare vs the other brokers on the market (Tiger and Moomoo)?
A lot of you have asked about how Saxo compares with the other stock brokers on the market, especially the new China brokers Tiger and Moomoo.
So I wanted to share some views on this.
We'll look at this in 3 ways:
Market Access
Fees
Reputation / Safety
Market Access
I've summarised market access below.
To sum up:
Both Saxo and Interactive Brokers offer a full range of market access.
Tiger and Moomoo both lack access to European exchanges. This is a big loss for Singapore investors because the Irish domiciled ETFs (listed on the London Stock Exchange) offer superior withholding tax treatment for Singapore based investors. Not having access to those is a real bummer.
So if you're looking for a one stop shop with access to all markets you may need, Saxo and Interactive Brokers would be the preferred choices.
Winners: Saxo and Interactive Brokers
Fees
A lot of investors like to obsess over fees for a stock broker.
This was me too when I first started, and I used a local broker which charged me USD25 a pop + USD2 a month custody fees.
But over time, as I moved to the lower cost brokers with more competitive access fees, I found that the difference between paying 1 USD or 2 USD each trade didn't bother me all that much.
Instead, what mattered more to me was the broker's ability to execute trades at a competitive market price, market access, broker features, safety etc.
So my advice to fellow investors out there is don't be penny wise pound foolish.
Fees is only 1 factor to consider when picking a broker.
Evaluate it holistically, and pick a broker you are comfortable with.
Trading Commissions
I've set out trading commissions below, and frankly, with any of the broker on this list below you're paying very, very small commissions per trade.
If you're on a local broker like DBS, UOB Kay Hian or POEMS etc, you save a lot by jumping to one of the brokers below.
But once you're on one of these, fees are very competitive.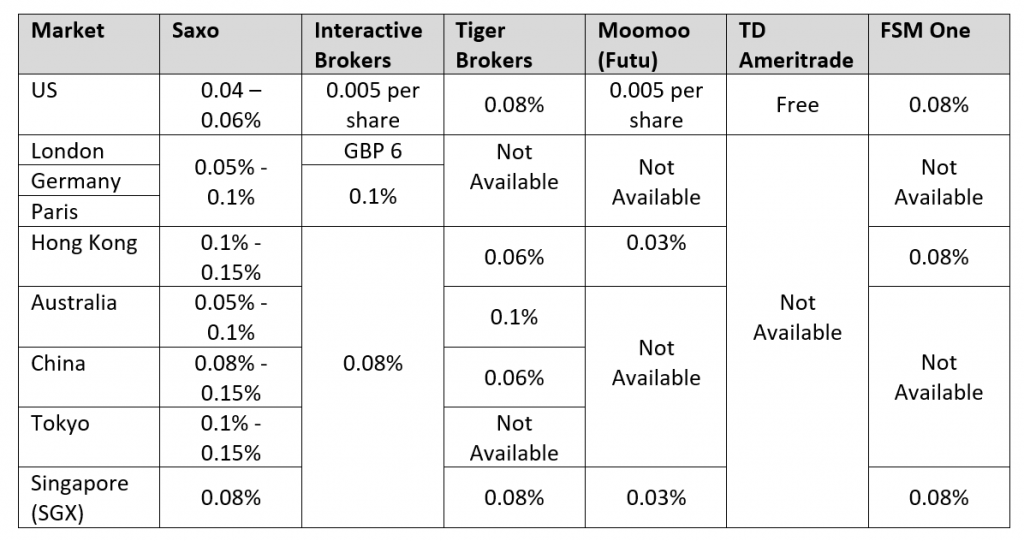 FX Fees
Some of you have written in to ask about FX fees for Saxo, so I decided to look more into it.
For Saxo accounts, if you are funding your account in SGD, you need to change the money via a sub-account transfer before you buy the stock, to enjoy the superior FX fees.
So for example if you're buying a USD stock, you will:
Transfer in SGD
Change the SGD to USD via a sub-account transfer (open a USD sub-account if you don't already have one)
Buy the USD stock.
So you need to change the USD before buying the stock. If you do that, the FX spread you enjoy is 0.30%.
I did a comparison against the other 2 new China brokers, Tiger and Moomoo, and funnily both have very similar FX spreads:
Tiger Brokers FX Spread – 0.3%
Moomoo FX Spread – 0.35%
Interactive brokers has the cheapest FX spread of the lot, it's basically interbank rates. That said, there is a charge of about 2 USD for each conversion, so it's best to convert more at one go.
Custody Fee
Custody fees are set out below.
Basically, Saxo is a fixed 0.12% per annum, and Interactive Brokers is USD 10 a month if your account value is below US$100,000.
With Interactive Brokers, the USD 10 a month charge can be used to offset trading commissions, so if you're below $100,000 but trade frequently, it could still make sense for you.
And to put things in perspective, Saxo's 0.12% fee is $12 a year on a $10,000 portfolio.
That's miniscule in the broader scheme of things, especially when you consider trading fees and welcome bonuses.
| | | | | | | |
| --- | --- | --- | --- | --- | --- | --- |
| Market | Saxo | Interactive Brokers | Tiger Brokers | Moomoo (Futu) | TD Ameritrade | FSM One |
| US | 0.12% per annum | Minimum trading commission of USD 10 a month if account value below USD 100,000 | NA | NA | NA | NA |
Winner: Very close, each broker has its own pros and cons.
I like Saxo for AUMs below US$100,000, and I like Interactive Brokers for AUMs above US$100,000 or frequent traders.
Reputation / Safety
This one may come down to personal preference.
I get that Moomoo and Tiger Brokers are both Nasdaq listed.
But they're also China companies, coming into Singapore with a very aggressive growth strategy.
What their plan is 2 – 3 years from now, really tough to say.
I have accounts with both of them that I funded a couple thousand to play around with, but I haven't gotten to the point where I'm funding them with serious amounts of my net worth.
But again, really a personal preference for this one. Depends on your comfort level.
FH Personal View
With Saxo offering commission free US trading, they're a very viable option for new investors.
But frankly speaking, all the brokers are very competitive in terms of price, so I would say the paramount decision here should not be on price alone.
That said, if you're with a local bank like DBS/UOB/POEMS, it may be worthwhile to consider switching to save on fees.
How do I do it?
To share with you'll how I do it, I use DBS Vickers cash upfront for Singapore stocks, because I really like having my stocks in my CDP account, so I can receive company notifications, and for easy access to AGMs.
For my international shares, I use a mix of Saxo and Interactive Brokers. I do buy stocks on European Exchanges (especially London Stock Exchange), so the London access is important to me.
I think Saxo is great when the amount of International Shares you hold is less than $100,000 (because Interactive Brokers has that US$10 a month fee), but after crossing that $100,000 Interactive Brokers is worth checking out. Or if you trade often such that you hit $10 a month regularly, then Interactive Brokers could be interesting too.
But again – all the brokers are quite close, and there are pros and cons for each.
If you're undecided, one option is to just try it out, to get a feel, before shifting big amounts of money in.
Whichever one you pick, there are referral links below, so don't forget to sign up through the link for special account opening bonuses.
Referral Links
If you're keen on opening a Saxo account, Financial Horse has partnered with Saxo for a special account opening bonus if you fund $3000 and make 1 stock trade. The link is below, drop me an email at [email protected] for the next steps!
Note: If you're interested in this bonus, please do make sure you click through the link to open an account!
Referral Link: Saxo Referral Link. 
Interactive Brokers Referral Link
Or if you prefer IBKR, here is the referral link: Interactive Brokers Referral Link
Tiger Brokers
If you do want to check out Tiger brokers, you can use the link below to get 1 share of Starbucks and 60 days commission free trades:
FH Referral Link: Tiger Brokers Referral Link
Moomoo
If you do want to check out Moomoo, you can use the link below to get a free apple stock, a 30 SGD cash coupon, and commission free trading for 90 days:
FH Referral Link: Moomoo Referral Link
---
Hope this post was useful! Follow Financial Horse on Facebook & Telegram for weekly updates!