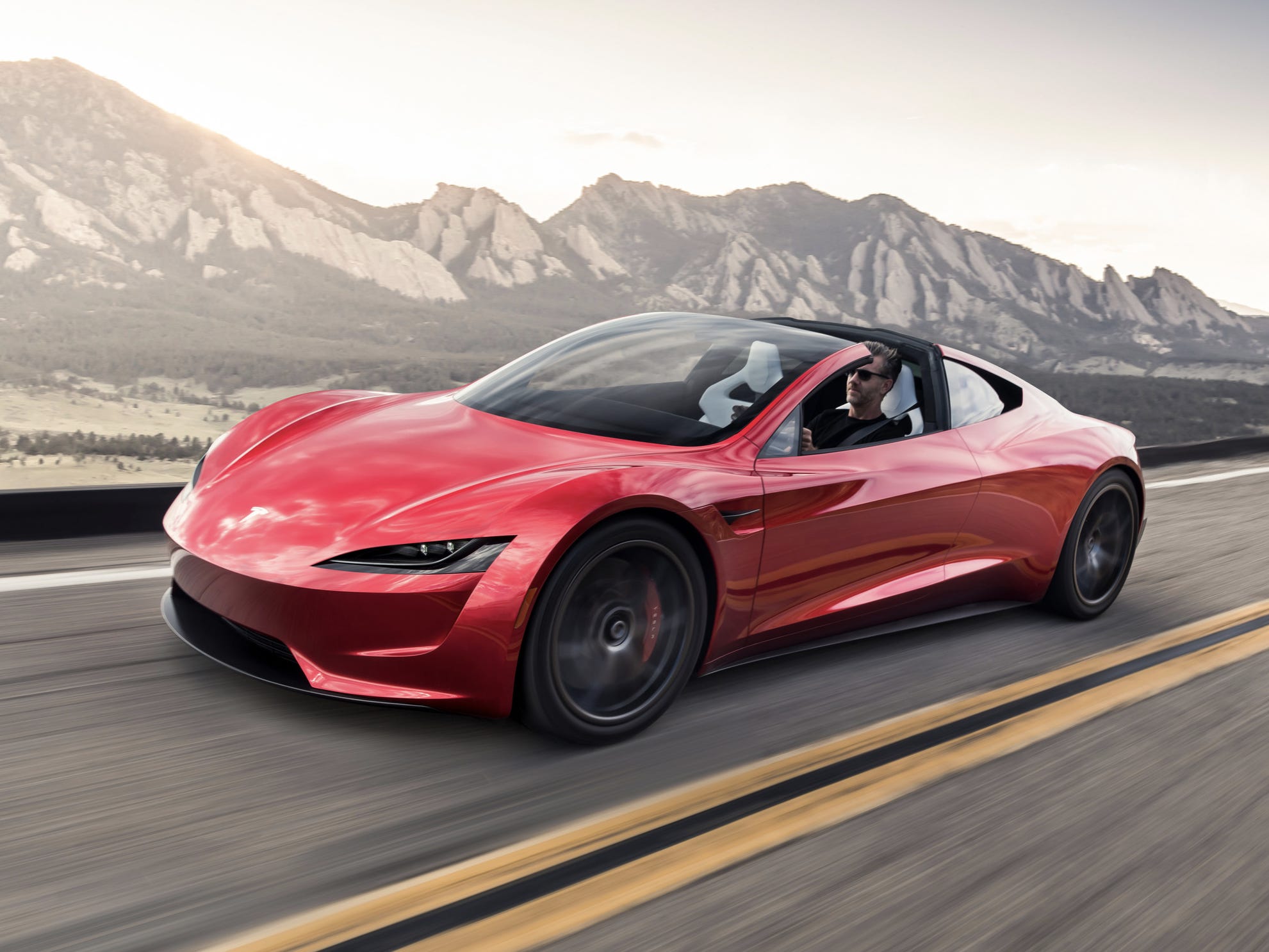 This article was submitted by a Guest Contributor. 
In this year's ARK Invest Big Ideas report, Electric Vehicles (EVs) were identified as one of 14 "transformative technologies".
The report forecasted that EV sales will increase at a 53% annual rate to grow from 4.8 million in 2021 to 40 million units in 2026.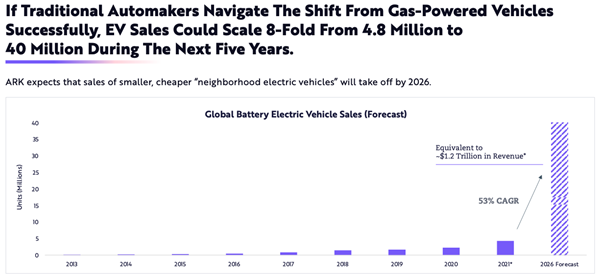 In other words, they predict EVs sales will grow exponentially in the next 5 years and begin to displace the internal combustion engine (ICE) as the dominant vehicle. 
We can't talk EVs without mentioning Tesla and its competitors. This post will examine emerging trends in the EV market and whether Tesla is likely to remain dominant. 
The future is electric
This insightful article by McKinsey highlights three key levers as to why the future is electric.
Regulation
Governments around the world are introducing incentives and regulation to speed up the transition to EVs.
Carrots include funding EV-subsidies and building up the EV-charging infrastructure. As part of the Biden administration's $1 trillion infrastructure bill, the US will spend $5 billion to build up a network of EV charging stations across the country, and up to $12,500 in tax incentives per vehicle.
Sticks include fuel taxes and pushing forward timelines to ban ICE sales. The U.K. has moved forward a ban on the sale of ICE cars from 2040 to 2030. It will also require all new vehicles to have zero tailpipe emissions by 2035.
The EU will also be introducing the Euro 7 emission standards.
These stricter regulations – have discouraged automakers from developing new ICE technologies, instead steering their efforts towards EVs.
Consumer behaviour
More consumers are choosing EVs over ICE vehicles for myriad reasons: cost savings, cutting carbon emissions, and a perceived improvement in driving experience.
In 2020, even with the pandemic, global EV sales increased by 33% year-on-year, while ICEs declined by 16%.
EV sales rose even higher in 2021, rising 112% year-on-year, while ICEs was barely positive at an estimated 1.7% growth.
With these numbers, it's no surprise that almost every legacy automaker can see the writing on the wall and has begun some kind of shift towards EVs.
Technology
Early EVs had terrible range. Over the years, improvements in battery tech mean that EVs can now travel on average 320km on a single charge. This eliminates range as a sticking point.
The other is price. EVs are currently priced at a premium compared to their ICE counterparts. However, EVs are becoming more cost-competitive with each year.
According to Wright's Law, for every cumulative doubling of units produced, battery cell costs will fall by 28%. This is critical because the largest cost component of an EV is its battery. As more EVs are produced, costs will continue to fall, bringing the price of EVs lower.
The tipping point will be when EVs reach price parity, meaning that the sticker price of an EV matches that of a similar ICE vehicle. This will attract new groups of buyers (from early adopters to early majorities).
At that point, choosing EVs over an ICE will be a true no-brainer.
With the same sticker price, EVs definitely win out because of their lower lifetime ownership costs – EVs require less maintenance (no need for oil changes) and electricity is generally cheaper per kilometre than petrol.
Tesla is leading the EV revolution
Tesla is undoubtedly leading this new future of an EV world.
Tesla's Q4 was another blowout quarter. They delivered over 308,000 vehicles to bring their full-year count to 936,172 vehicles, an 87% increase from 2020.
Going into 2022, Tesla doesn't expect this level of growth to slow. They plan to focus on meeting existing demand for existing models, choosing to push back new models like the Cybertruck and the lower-priced $25,000 "Model 2".
In their quarterly report, they also noted that they expect to achieve 50% average annual growth in vehicle deliveries over the next several years to produce 20 million cars annually over the next nine years.
During their earnings call, Musk reiterated that the supply chain and manufacturing capacity was the main limiting factor. To scale production and meet demand, two new factories in Austin and Berlin will go online this year.
It's unlikely that either will fully ramp up by year-end, but it certainly sets up Tesla for continued growth down the line.
Meanwhile, legacy automakers are taking clear steps to transition to EVs. According to The New York Times, the auto industry will invest around half a trillion dollars in the next five years to transition to EVs.
Even with the increased competition, analysts believe Tesla will maintain its lead for the foreseeable future. He noted Tesla's advantages in vertical integration, software, battery technology, capital availability.
As a pure-EV maker from the onset, Tesla sidesteps the challenges legacy automakers are facing. 
Especially with the supply chain shortages, global EV sales are likely to be supply-constrained as companies attempt to scale battery pack production. EVs only represent around 5% of total car sales, so there is still plenty of room to grow.
Who are Tesla's biggest competitors
Players in the EV market can be divided into 3 categories:
Legacy automakers (Volkswagen, Toyota);
EV startups (Nio, Rivian, Lucid); and 
Big Tech (Apple)
Legacy automakers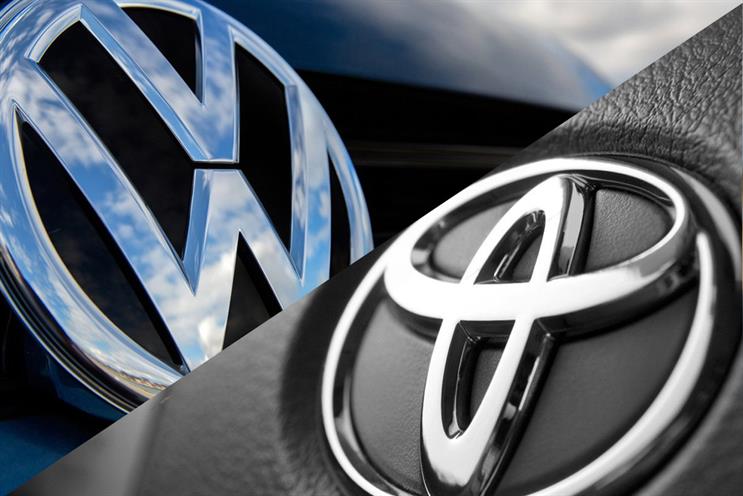 Legacy automakers are your traditional car companies, like Volkswagen, Toyota, and Ford.
They have decades of experience building cars, and collectively outsell Tesla as EVs still make up a tiny portion of the total vehicle market.
Within this broad category, automakers fall into a spectrum based on their commitment to an EV strategy.
On the aggressive end, you have Volkswagen, one of the most forward-looking in pushing towards electrification. The group also owns brands like Audi, Lamborghini, Bentley and Porsche – making it third biggest EV maker in the world. 
Their CEO, Herbert Diess, has praised Tesla's technological leadership and welcomed the fact there will be competition between the two firms going forward. Presently, Volkswagen still lags Tesla in EV sales despite being one of the largest car makers by worldwide sales. It delivered 369,000 electric vehicles in 2021 (28% comprising hybrid EVs), less than half of what Tesla delivered.
Over in Asia, Korean automaker Hyundai is one of the largest EV maker in the world by sales.
Backed by strong demand, the group raised its EV sales target for 2026 from 1 million units to 1.7 million units. This combines sales from Hyundai and its affiliate Kia, and their premium brand Genesis.
Bolstered by strong results in Germany – where their Ioniq 5 EV won a German car of the year award – it has decided to reenter the Japanese market after withdrawing more than a decade ago..
In the US, GM and Ford have ramped up their aspirations for EVs. GM aims to sell 400,000 EVs, cumulatively, by 2024. Ford is launching its all-electric F-150 pickup truck this year and has committed around $50 billion to develop more EVs faster.
On the policy side, Biden's infrastructure bill sets aside an additional US$4,500 tax incentive for buyers who choose union-affiliated carmakers like Ford and GM. 
Interestingly, after snubbing Tesla for months, publicly refusing to even mention their name, Biden finally acknowledged Tesla.
The spat first started in late Jan. "I meant it when I said the future was going to be made right here in America. Companies like GM and Ford are building more electric vehicles here at home than ever before," Biden tweeted on 25 Jan. 
After the 25 Jan snub, Musk replied to Biden's tweet: "Starts with a T/Ends with an A/ESL in the middle". Musk then compared Biden to a "damp sock puppet in human form."
Biden finally acknowledged Tesla on 9 Feb, describing Tesla as the country's "largest electric-vehicle manufacturer" in a speech focused on domestic EV manufacturing.
BTW – we share commentary on Singapore Investments every week, so do join our Telegram Channel, Facebook and Instagram to stay up to date!
Just created a Discord server where I collate analyst reports and investing resources that I come across in my research. Hit us up here if you're keen.
Don't forget to sign up for our free weekly newsletter too!
[mc4wp_form id="173″]
EV Startups
The next category are EV Startups. 
EVs are incredibly popular in China, which is also the world's largest car market.
The government began offering cash subsidies for EVs as early as 2009.
In 2021, EV sales grew 169% to 2.99 million units, representing 14.8% of total car sales. This is well ahead of the government's goal to hit 20% EV penetration by 2025.
China's EV market is well-developed and is home to around 200 EV assemblers and start-ups. That being said, all are still playing catch-up to Tesla.
For example, NIO, Xpeng Motors, and Li Auto – the three most aggressive local EV start-ups — combined sold 280,075 EVs in China in 2021.
That is still 13% less than what Tesla produced. Nevertheless, all three startups are also seeing phenomenal growth, at least doubling their production from the previous year.
As one of the top-selling EV manufacturers in China, Nio is now set on expanding internationally. Nio's first step was to open a showroom in Norway, with plans to expand to at least four other European markets by the end of the year.
Longer-term, they aim to be in more than 25 countries by 2025. Nio is also launching two new models, and is building a second manufacturing plant to meet the growing demand.
Similarly, Xpeng also has ambitions to be a global automaker, with a goal to make half of vehicle deliveries going to countries outside China. Xpeng also plans to Sweden, Denmark and the Netherlands this year.
Meanwhile, in the US, there are two startups aiming to dethrone Tesla: Lucid and Rivian.
Lucid, headed by a former Tesla executive, Peter Rawlinson, shipped its first vehicle, Lucid Air, last October. It is a luxury sedan that is perhaps the most serious contender to Tesla's Model S. It is capable of traveling up to 520 miles on a single charge, about 100 miles more than the longest-range Tesla Model S.
This makes the Lucid Air the first EV to break the 500-mile barrier. Its sleek design and impressive performance also earned it the 2022 MotorTrend Car of the Year.
Lucid has promised to deliver 20,000 Air sedans in 2022 and 90,000 vehicles in 2023.
Then there is the Amazon-backed Rivian. Early videos of their first vehicle, R1T, an electric pickup, look frankly amazing.
Several YouTubers like the tech reviewer Marques Brownlee were invited to test-drive the car and were blown away by their experience.
As of 16 December 2021, Rivian had delivered 386 of its flagship vehicle. CEO R.J. Scaringe said in an earnings call that the company expects to produce around 1,200 vehicles in 2021.
As these delivery numbers show, both Lucid and Rivian are very much in the early stages of production, much like the "production hell" Tesla was in years back. They're also bleeding cash — as is the case with the huge investments needed to build capacity and scale production.
Honourable mentions: Big Tech
If an EV is a computer on wheels, then it's no surprise that Apple has been trying to produce an EV for the longest time. 
In 2014, Apple began working on "Project Titan," with over 1,000 people dedicated to developing an EV. Much of the project is tightly under wraps, so most news is speculative.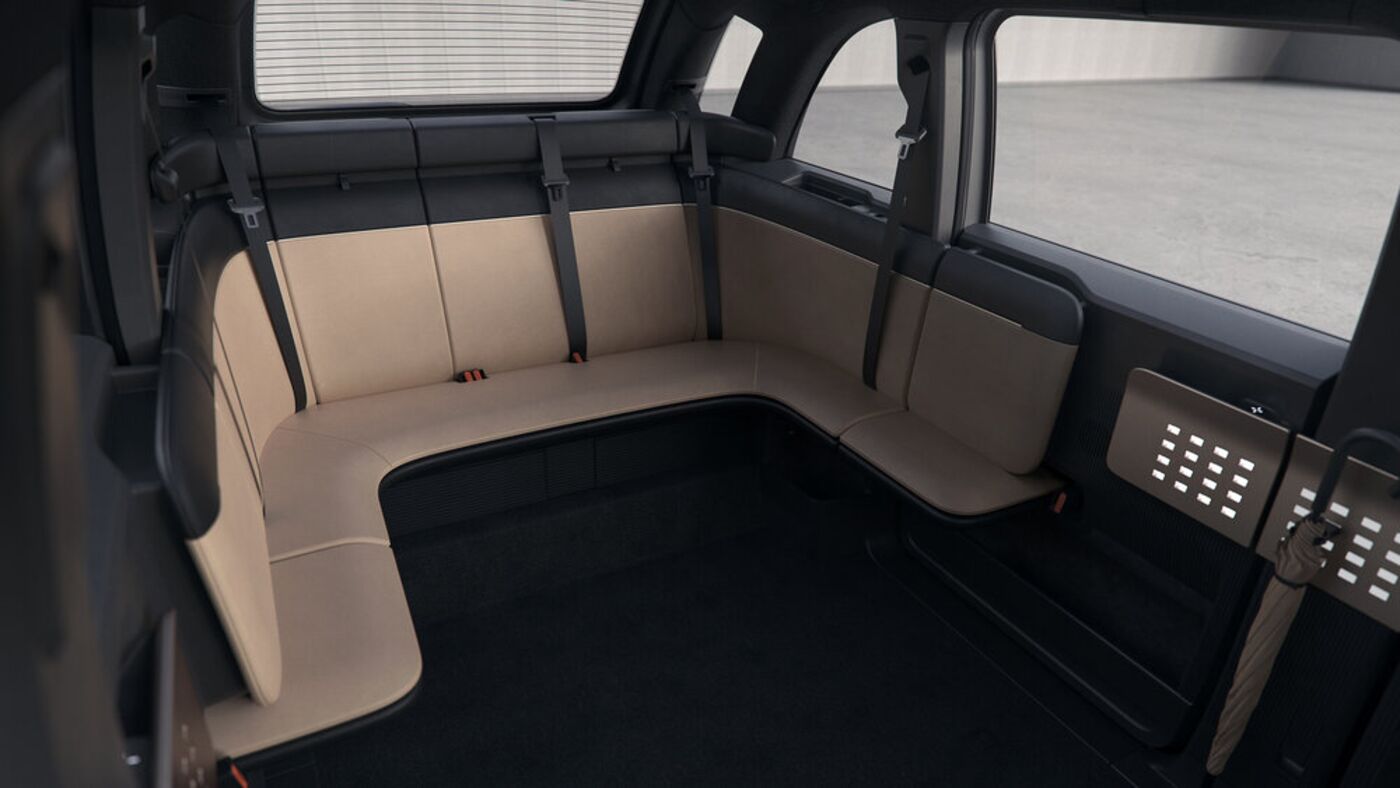 According to Bloomberg, Apple currently plans to launch a self-driving EV as early as 2025. Here's how they describes the vision for the car:
"Apple's ideal car would have no steering wheel and pedals, and its interior would be designed around hands-off driving. One option discussed inside the company features an interior similar to the one in the Lifestyle Vehicle from Canoo Inc., an upstart in the EV industry. In that car, passengers sit along the sides of the vehicle and face each other like they would in a limousine. 
Apple has also explored designs where the car's infotainment system – likely a large iPad-like touch screen – would be in the middle of the vehicle, letting users interact with it throughout a ride. The car would also be heavily integrated with Apple's existing services and devices."
Because Apple has no experience with car manufacturing, it is likely to partner with an established automobile manufacturer to build its vehicle.
But with its close to 3-trillion market cap and mountains in cash reserves, Apple certainly has the war chest necessary to tackle this challenge.
EVs headed for exponential growth
The S-curve is a pattern that charts the innovation of any new product.
ARK predicts that EVs are entering the steep part of the S to experience exponential growth in the next few years.
That will depend on several factors: Tesla maintaining its lead and continuing to scale; legacy automakers successfully making the transition to EVs; and more startups being able to ramp up successfully.
2022 will be a critical year to determine if that prediction is correct.
This article was submitted by a Guest Contributor. 
For more personal finance & investing content, Follow Financial Horse on Social Media!