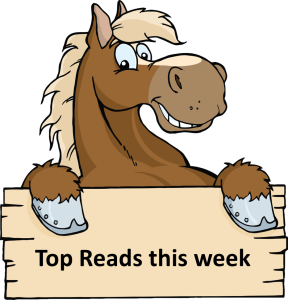 Rounding up top investing articles from around the web, including articles shared in our Facebook Group and Reddit Community: r/SingaporeInvestments.
---

---
Petrol operators in Johor Bahru (JB) are stepping up efforts to prevent foreign-registered vehicles from pumping government-subsided Ron95 petrol. Part of these efforts include stationing petrol station employees at the pump to observe foreign-registered vehicles as they fill up their tanks, Malaysian news site The Star reported.
---
The paper was released on Mar 28, with proposals for 25 action plans in five key areas: Equal opportunities in the workplace, recognition and support for caregivers, protection against violence and harm, other support measures for women and mindset shifts.
MPs Jessica Tan (PAP-East Coast) and Melvin Yong (PAP-Radin Mas) asked that tripartite guidelines on flexible work arrangements, which are to be introduced by 2024, be accelerated.
---
There are a lot of useful articles out there on how to save $100,000 by 30, how to budget, how to increase your income.
But let's say you're a comfortable millionaire in your 30s and 40s. What next?
---
Singapore has 23 university courses – 16 from NUS and seven from NTU – that made it to the global top 10 lists of the Britain-based Quacquarelli Symonds (QS) World University Rankings by subject. Singapore ranked higher than Hong Kong, which has seven courses in the top 10 lists, China has four, and Japan, three.
Globally, Singapore has the fourth-best higher education system in the world, after the United States, Britain and Switzerland.
---
Sers, which began in 1995, involves demolishing old blocks, offering residents new units nearby and redeveloping the old site. Flat owners of the 606 units will receive compensation based on the market value of their flats at the time of the Sers announcement.
Eight primary and 10 secondary schools will merge over the next three years, including schools with long histories like Telok Kurau Primary and Tanglin Secondary.
---
Rents in core central, overall central and outside central districts in the city state ranged from S$3.20 (US$2.40) to S$4.43 per square foot per month in February, according to Singapore-listed PropNex. That translates into a 10.2 per cent to 11.9 per cent increase on an annual basis.
---
Airport services firm Sats will be building a $150 million food hub in the Jurong Innovation District, as part of Singapore's ambition to enhance food resilience and self-reliance. The Sats Food Hub will be part of Singapore's wider food manufacturing ecosystem, which includes research institutes, agrifood tech start-ups, accelerators and trade associations.
---
A Malaysia Airlines (MAS) flight from Kuala Lumpur to Tawau in Sabah dove several thousand feet in mid-air, with passengers panicking as the plane lost altitude sharply.
---
Sri Lanka's President Gotabaya Rajapaksa will not resign, a minister said on Wednesday (Apr 6), despite protests against his handling of the country's worst economic crisis in decades and as doctors held street protests over a shortage of medicine.
Rajapaksa, governing the country since 2019 with other family members in top positions, revoked a state of emergency late on Tuesday after five days as dozens of lawmakers walked out of the ruling coalition, leaving his government in a minority.
---
The lockdown now covers the entire city after restrictions in its western districts were extended until further notice, in what has become a major test of China's zero-tolerance strategy to eliminate the novel coronavirus. Shanghai's quarantine policy has been criticised for separating children from parents and putting asymptomatic cases among those with symptoms.
---
Dorsey, who announced plans to leave Twitter in November, recently tweeted that he feels guilty about the role the company has played in creating a centralized internet.
---
Founded in Vilnius in 2012, Nord Security's team now stands at 1,700 people and it is recruiting a further 200 staff.
In early March, Russians were turning to VPNs to bypass the country's tightening internet controls following the Kremlin's invasion of Ukraine.
---
While there are units sold for under $1.0 million in the central region, they are more suitable for single owner-occupiers or investors because the units tend to be small. Owner-occupiers and their families should look outside the central region for larger units.
Looking for a comprehensive guide to investing? Check out the FH Complete Guide to Investing, Stocks Masterclass and REITs Masterclass for Singapore investors.
2022 Stock Watch: Support the site as a Patron and get stock market updates. Like our Facebook Page and join our Telegram Channel for weekly updates!
Join Financial Horse's Investing Community!