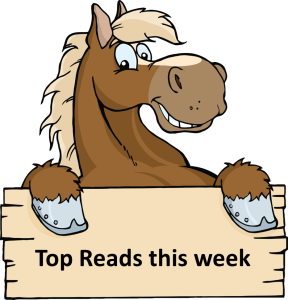 Rounding up top reads from around the web, including articles shared by fellow investors in the Financial Horse Facebook Group.
---
US stocks rose Wednesday amid continued efforts by the US government to reopen the economy.
Investors looked past a dismal report from ADP showing US companies lost 20.2 million jobs in April. The government April jobs report is due Friday.
---
President Trump, in particular, has been eager to energize the economy, saying Wednesday that the White House coronavirus task force would focus on reopening the country and developing a vaccine. Still, much about the country's future remains unknown. The number of confirmed coronavirus cases in the U.S. has climbed beyond 1.2 million, and many have fear there could be a resurgence of cases as life begins to return to normal. Comments from corporate executives, meanwhile, haven't offered investors reassurance either, as companies have continued to report massive profit declines, dividend cuts and layoffs during first-quarter earnings season.
Economic data look similarly grim. The nonfarm private sector in the U.S. lost about 20.2 million jobs from March to mid-April, the ADP National Employment Report revealed Wednesday. Losses were the steepest among large businesses with 500 or more employees, raising new questions about whether more pain in the markets could be ahead.
---
Property developers in Singapore are getting some assistance to ride out disruptions caused by the coronavirus with the government extending the sale duration period for residential units as well as the timeline for projects to be completed. The temporary relief measures, announced Wednesday, kick in immediately, according to a joint statement by the national development, finance, law, trade and industry ministries.
Home prices slipped 1% in the three months ended March 31, Urban Redevelopment Authority data released last month showed. Developers are likely to delay launching new projects while showrooms and display units remain closed. "The government will continue to ensure that prices for private residential properties remain broadly consistent with economic fundamentals," according to Wednesday's statement. "These temporary relief measures do not alter the other existing residential property market cooling measures."
The measures include:
Extension of a residential, commercial or industrial project's completion period by six months
A six-month extension for the commencement and completion of residential development, and the sale of apartments, in relation to the remission of the additional buyer's stamp duty for developers
---
Alibaba has bought half of a $1.2bn skyscraper in Singapore as China's largest tech company ramps up its push into south-east Asia. The ecommerce company's local subsidiary will purchase the stake in the 50-floor Axa Tower in downtown Singapore from a group led by Perennial Real Estate, the property company said in a filing. The transaction is the biggest commercial deal in the Asian city-state since 2017.
---
Since mid-February 2020, engineering firm Singapore Technologies (ST) Engineering has begun domestic production of medical-grade surgical masks and the masks are now being tried and fitted at Singapore's hospitals that are in the frontline fight against Covid-19. In an online interview with the media on Wednesday (May 6), Trade and Industry Minister Chan Chun Sing said that Singapore had to restart its domestic production capabilities when one of its foreign suppliers could not fulfil its contractual obligations recently to produce surgical masks. He did not specify the name of the foreign supplier. There used to be manufacturers here that produced surgical masks but that stopped more than 10 years ago. 
---
Singapore's retail sales in March fell at the steepest pace in 22 years as consumption across nearly all categories plunged due to the COVID-19 outbreak, but a few sectors were unscathed, most notably supermarkets and hypermarkets. Retail sales fell 13.3 per cent on a year-on-year basis, data released by the Department of Statistics (SingStat) showed on Tuesday (May 5). This is the biggest drop since September 1998, according to Reuters.
Analysts said they expect retail sales to decline even further going forward as the impact from "circuit breaker" measures takes hold. Retail sales "probably has not hit bottom yet since it's pre-circuit breaker", said Ms Selena Ling, head of treasury research and strategy at OCBC Bank. Singapore entered the circuit breaker period on Apr 7.
---
Highly indebted owners continue to hold out even as more homes go under the hammer amid worsening economic conditions due to Covid-19. As of now, there are no distress sales and the sellers say they want to pull out as the market is not favouring them, said Joy Tan, Edmund Tie's head of auction and sales. Market is at a standstill, as banks are holding back, giving borrowers more time, said Ms Tan. More than 17,000 people have applied to defer their mortgage repayments.
---
Singapore Airlines Ltd.'s shares surged the most in more than three decades on bets that ongoing fund raising will help the carrier survive as lockdown restrictions ease worldwide from Italy to the U.S. Its share price, adjusted for the planned rights issue, soared as much as 21%, the most since October 1987. It pared its advance to 11% this afternoon. The company unveiled in March plans to raise about S$8.8 billion ($6.2 billion) by rights issue and convertible bonds to contend with the devastating impact of the coronavirus pandemic. Investors had until Tuesday to buy the stock to be entitled to any rights.
---
Ninja Van, a Singapore-based logistics startup, has secured an additional $279 million in fresh funding as it works to scale its operations to keep up with the surge in e-commerce deliveries in six Southeast Asian countries. Europe's GeoPost, Facebook co-founder Eduardo Saverin's B Capital Group, Monk's Hill Ventures, Carmenta, Golden Gate Ventures Growth Fund, Intouch Holding, Grab, and two sovereign wealth funds put money in the six-year old startup's Series D financing round.
---
Singapore department store Robinsons is to close its store in Jem mall in what it terms an "amicable exit" after negotiations with landlord, Lendlease. The Robinsons Jem store will close by the end of August, leaving the Al-Futtaim Group-owned retailer with just two remaining stores in the city state, at The Heeren on Orchard Road and Raffles City. 
---
She stressed: "One thing is clear: Employers should not act unilaterally and put their employees on prolonged no-pay leave or reduced pay without the employees'consent." Employees who need help can approach the Tripartite Alliance for Dispute Management for advisory and mediation services, Mrs Teo said in response to a question from Non-Constituency MP Dennis Tan.
---
The collapse of Singapore's largest homegrown oil trader Hin Leong, and its sister company Ocean Tankers, removed one of the biggest regional suppliers of marine bunker fuel, gasoline and gasoil from the Asian oil trading hub in April.
---
Wong Tetchoong, 59, of Singapore, was rescued by the Fiji Navy on April 30 after nearly three months alone at sea.
Wong set off on a cross-Pacific sailing trip on February 2, but struggled to find anywhere to dock after countries started instituting coronavirus lockdown measures.
He was finally allowed to dock in Fiji when his yacht was damaged in strong winds. The decision came after talks between both the Fiji and Singaporean governments, according to The Guardian.
---
Tesla and SpaceX CEO Elon Musk and the musician Grimes have had their first baby, a boy born Monday night.
Musk caused confusion by tweeting that the baby's name is "X Æ A-12 Musk."
Grimes broke down the significance of each letter of the bizarre name on Twitter on Tuesday night, explaining that X stands for "the unknown variable," Æ stands for "my elven spelling of Ai," and A-12 is the "precursor to SR-17 (our favorite aircraft)."
---
Looking for a comprehensive guide to investing? Check out the FH Complete Guide to Investing and FH REITs Masterclass for Singapore investors.
Stock Watch 2020: Support the site as a Patron and get market updates. Like our Facebook Page and join the Facebook Group to continue the discussion!