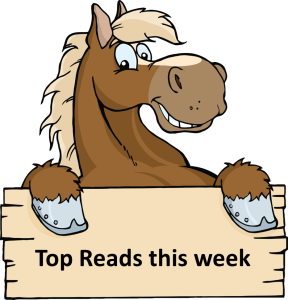 Rounding up top reads from around the web, including articles shared by fellow investors in the Financial Horse Facebook Group.
---
The Fed pledged to buy as much government-backed debt as needed to bolster the markets for housing and Treasury bonds. It announced that it would buy corporate bonds, including the riskiest investment-grade debt, for the first time in its history. And it promised to unveil more, including supports for small businesses, in the days and weeks to come. The Fed is throwing its full weight at confronting the economic fallout from the coronavirus, which poses a severe threat as factories shut down, people lose jobs and the economy grinds to a halt while lawmakers in Congress continue to struggle to find a fiscal response, making the central bank the primary line of defense.
---
The central bank astounded markets on Thursday when it announced an historic move to buy risky corporate debt as part of a larger $2.3 trillion rescue package for businesses and municipalities hit hardest by the coronavirus pandemic. Just two weeks ago, the Fed drew a line in its whatever-it-takes playbook, saying it would only consider the purchase of investment-grade corporate debt as part of any efforts to pump liquidity into the credit markets. 

Under the newly expanded Fed program, the Fed will now buy what many pension funds will not: speculative grade corporate bonds. Junk. There's a caveat: for a so-called "fallen angel" to qualify, it would have had to be rated "at least BBB-/Baa3 by two or more [credit agencies] as of March 22, 2020," the Fed explains. And, that firm "must be rated at least BB-/Ba3" at the time of issuance.
---
Early on Friday morning, Saudi Arabia-led Opec and Russia struck a deal to cut 10m barrels a day from global supply, the biggest supply reduction ever made as the producers moved to prop up the global oil market. Confirmation of the deal was delayed by Mexico's refusal to make large cuts to its own oil production, defying Saudi Arabia's push to have all countries in the Opec+ alliance cut an equal share.  The US, Russia and Saudi Arabia, the world's top three oil producers, all endorsed the agreement to cut production, with Donald Trump, US president, saying that the US would help Mexico "pick up some of the slack" to smooth the deal's progress.
---
A record oil production cut hangs in the balance after energy ministers from the Group of 20 major economies on Friday agreed that stabilization in the market is needed, but stopped short of discussing specific production numbers.
On Thursday all members of OPEC and its allies, known as OPEC+, agreed to a 10 million barrels per day production cut, except for Mexico.
President Donald Trump said the U.S. would cut production in an effort to get Mexico "over the barrel" at a White House press conference on Friday.
---
"Enforcement Officers reported that there are still too many people not taking the circuit breaker measures seriously … stiffer penalties are clearly needed. From tomorrow, we will no longer issue written warnings. Any offender encountered by our Enforcement Officers will be asked for particulars immediately."
---
Swab tests for the coronavirus have been extended from public and private hospitals here to all 20 polyclinics and several general practitioner clinics. https://www.flugowhere.gov.sg/
---
The Federal Reserve launched a series of new lending programs Thursday to pump US$2.3 trillion into the damaged US economy, but Fed chair Jerome Powell tried to offer reassurance, saying the recovery could be "robust".The Fed's announcement came at the same time as a Labor Department latest weekly report showed 6.6 million more people filed for unemployment benefits last week, following 6.9 million in the prior week, and 3.3 million in the week ended March 21. That is a stunning reversal for the world's largest economy where the jobless rate was near historic lows before it was forced to shut down to stop the spread of Covid-19.
Treasury Secretary Steven Mnuchin meanwhile gave a more definitive timeframe, saying on CNBC businesses could restart as soon as May. "As soon as the President feels comfortable with the medical issues, we are (doing) everything necessary (so) that American companies and American workers can be open for business and that they have the liquidity that they need to operate their businesses in the interim," he said.
The unemployment data indicate the coronavirus pandemic is set to eclipse job losses from the 2008 financial crisis, and International Monetary Fund chief Kristalina Georgieva warned Thursday that the world faces the worst global emergency since the Great Depression.
---
The juggling act for policymakers will be to reopen without triggering a second wave of infections that leads to a fresh round of lockdowns and yet more economic damage. History serves as a warning: the 1918 Spanish Flu pandemic, the world's worst health crisis until this one, hit in three waves before finally being contained.
The city of Wuhan, the original epicentre of the outbreak, provides a test case after China this week lifted its months-long quarantine. Austria, Denmark and Norway are also on course to gradually open up. Unfortunately, there's no off-the-shelf plan for governments to decide when, let alone how, to rev up the economic engines after such an abrupt halt in activity, especially when restarting could put the lives of more people at risk.
---
The pandemic sweeping the world will turn global economic growth "sharply negative" in 2020, triggering the worst fallout since the 1930s Great Depression, with only a partial recovery seen in 2021, the head of the International Monetary Fund (IMF) said. IMF Managing Director Kristalina Georgieva painted a far bleaker picture of the social and economic impact of the new coronavirus than even a few weeks ago, noting governments had already undertaken fiscal stimulus measures of US$8 trillion (S$11.39 trillion), but more would likely be needed. She said the crisis would hit emerging markets and developing countries hardest of all, which would then need hundreds of billions of dollars in foreign aid.
---
Many countries are now "fiscally challenged," with few having the headroom to deploy monetary policy as rates are currently so low, Chan Chun Sing, Singapore's minister for trade and industry, told CNBC.
"Not many countries have the means like Singapore from our reserves to inject the necessary liquidity into the system," Chan said.
Chan called on the world's major economic powers to step up their leadership in these trying times to "provide stability" for the global financial system.
As the pandemic worsened globally, some countries have also turned more protectionist. That could pose a risk for global supply chains, Chan also warned.
---
A deal has so far proved elusive amid fraught discussions between the more fiscally conservative north and the indebted south, which has been hit hard by the pandemic and is pushing for unprecedented measures like issuing joint EU debt.
The package under discussion would bring the EU's total fiscal response to the epidemic to 3.2 trillion euros, the biggest in the world. But it includes contentious elements that expose deep divisions among countries on sharing the financial burden of crises, bringing back bitter disputes and mistrust from the sovereign debt crisis of 2010-2012. Another problem is agreeing conditions under which euro zone governments could access cheap credit from the euro zone bailout fund, the European Stability Mechanism (ESM).
---
"Anyone who assumes we're going to get a sharp snapback in activity isn't thinking about how consumers are going to feel. They're going to be very cautious," said Nariman Behravesh, chief economist at IHS Markit. "Households and businesses have seen their finances deteriorate. People are buying groceries on their credit cards."
---
The British economy went into reverse in February as GDP growth declined by 0.1%, even before the onset of the coronavirus pandemic that brought the country to a halt. Analysts said the figures would bear little relation to those for March, which were likely to show a much steeper fall in activity and the economy entering a deep recession. On a three-month rolling basis, the economy grew by 0.1% between December and February.
---
The company sent an email to all employees with the Zoom app on their computers and told them that the app would stop working this week, citing "security vulnerabilities." Google has its own videoconferencing app called Meet, a direct competitor to Zoom. Tesla did the same thing earlier this month, also over security concerns, and asked employees to rely on phone calls, emails, and texts instead.
---
It might not be until fall 2021 that Americans "can be completely safe" from COVID-19, Bill Gates said in a Tuesday interview with Judy Woodruff on PBS Newshour. That's because it will take more than a year before a vaccine can be developed and deployed, according to researchers working to develop a treatment for COVID-19.
"The vaccine is critical, because, until you have that, things aren't really going to be normal," the billionaire philanthropist told Woodruff. "They can open up to some degree, but the risk of a rebound will be there until we have very broad vaccination."
Social distancing is helping to lower the number of COVID-19 cases. The goal, Gates explained, is to get that number down to a point where "contact tracing" (a process in which those within close contact with an infected person are closely monitored) can be done, in order to maintain necessary quarantines.
---
Looking for a comprehensive guide to investing? Check out the FH Complete Guide to Investing for Singapore investors.
Stock Watch 2020: Support the site as a Patron and get market updates. Like our Facebook Page and join the Facebook Group to continue the discussion!