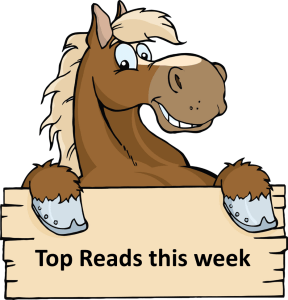 Rounding up top reads from around the web, including articles shared by fellow investors in the Financial Horse Facebook Group.
Interested in bite-sized finance updates? The top financial news in just 3 minutes. Delivered straight to your inbox. For Free. Join 400,000 other insiders here.
---
Temasek Holdings reports a plunge in returns over a one-year period. Still, the value of its portfolio was 313 billion Singapore dollars as of March 31 — growing from 308 billion Singapore dollars in the previous year.
"We remain watchful around the risks of a late cycle recession in the US. Brexit and political fragmentation continue to weigh on Europe, while China has yet to move fully to restructure its economy for longer term sustainability," Lim Boon Heng, Temasek's chairman, says in the annual report.
---
 Net portfolio value of S$313 billion as at 31 March 2019
 One-year Total Shareholder Return (TSR) of about 1.5%
 Ten-year TSR of 9%; 20-year TSR of 7%
 Invested S$24 billion; divested S$28 billion
 Dividend income of S$9 billion
---
REASON #1 You Are Afraid of Investing
It will be nearly impossible for the typical worker to become a millionaire without at least doing some investing.  A few movie stars and pro athletes will break this rule, but from there they will have trouble making their money last if it invested and grow over time.
REASON #9 You Chose the Wrong Career Path
Anyone, with any income, can become a millionaire.  Bigger paychecks will increase the odds that you reach the status of having a million-dollar net worth.
Reason #10 You Chose The Wrong Spouse
Choosing the wrong spouse will make your quest to become a millionaire much more difficult. If one spouse is a spender and the other is a saver, the spender tends to win out.
REASON #11 You Lack Purpose In Life
Those who have a purpose or passion in life make it easier to get up each and every morning. It may be tempting to pick a job or career path based mostly on the salary, also consider the quality of life that it will end up providing for you and your loved ones.
---
Singapore's ex-finance tsar Tharman Shanmugaratnam may be eminently qualified to succeed Christine Lagarde as head of the IMF, but few among his admirers believe the global body will break from tradition with a non-European chief.
---
In the first scenario, you're only saving and investing for eight years; in the second, you're saving and investing for 39 years. Still, the person who starts at age 19 would end up with more money in their portfolio in the long run.
Because the miracle of compound interest starts working the day you put it in place — but the key to compound interest is that it takes decades. It doesn't get done in days.
When you try to get rich quickly, you stay poor forever. This is about building wealth for your lifetime.
---
REITs, which have gained more than twice as much the broader equity market this year, are starting to look overvalued and may not see such strong performance in the second half. The FTSE Straits Times Real Estate Investment Trust Index has surged 18% in 2019, closing last week at the highest since 2007. The gauge traded at 1.2 times book value on Friday, the most expensive in more than six years.
"REITs have had a tremendous run, so we do think that they look fairly valued," Min Lan Tan, head of the Asia Pacific chief investment office for the wealth manager, said at a press briefing Monday. "A lot of the good news is priced in."
Some analysts remain optimistic. Singapore REITs boast the highest dividend yields across all major REIT markets, according to Jason Low, a senior investment strategist at DBS Group Holdings Ltd.'s wealth-management unit. As bond proxies, they'll also get a boost from interest-rate cuts in the U.S., said Rainer Michael Preiss, a portfolio strategist at Taurus Family Office.
---
Prime US REIT (Prime) has just filed is preliminary prospectus with the MAS just last week Friday, 28-Jun-2019. This comes on the back of two other REITs with exposure to US based assets completed their offering – ARA US Hospitality Trust and Eagle Hospitality Trust.
Prime will be listing a total of 923mil units and making a public offer of 335.2mil units to the public priced at US$0.88 each which is expected to raise US$294.98mil in gross IPO proceeds. The remining are already placed out to cornerstone investors. This would give Prime a market cap of US$812.24mil or about S$1,101.34mil – larger than the market cap of ARA US Hospitality Trust and Eagle Hospitality Trust.
At the offering price of US$0.88 per unit, the yield is forecasted to be 7.4% and 7.6% on an annualised basis for FY2019 and FY2020 respectively. The NAV per Unit will be US$0.84 at point of listing giving it a P/B Ratio of 1.048x. It will list with an initial gearing of 37.0%.
---
Although Chinese internet companies have seen their stocks stumble, two global investment banks say the sector appears to be a solid bet.
"Internet is essentially a structural growth story in China. We don't see it changing anytime soon," says Credit Suisse Chief Investment Officer for Asia Pacific John Woods. UBS Global Wealth Management says that Chinese internet companies offered "solid share buyback prospects" and have high cash flows.
---
Virgin Galactic is set to be the first publicly-traded human spaceflight company. Investors can already can buy a stake in Virgin Galactic by buying shares of Social Capital Hedosophia. "There's a lot of potential upside here but a lot less room for error," Space Angels CEO Chad Anderson told CNBC.
---
Class A-1 notes, offered by Temasek-linked private equity (PE) vehicle Astrea III, have been fully redeemed. In addition to the principal amounts of the notes, the noteholders also received a bonus redemption premium of 0.3 per cent of the principal.
---
Don't succumb to the hype! Save your money.
---
Known as the 'premium' version of Daiso, the outlet is slated to open July 14 at the newly revamped Funan mall. When it does, it'll be a bargain hunter's paradise with a flat pricing of $5.80 on most items.
---
Deutsche Bank AG began winding down its equities business from Sydney to Mumbai. The bank cut about half its equities staff in Asia and plans to reduce the group by another 25% within a month, adding that a majority of the region's equity capital market bankers have been laid off. Deutsche Bank will stagger further cuts through the end of the year.
---
Netflix built its business on the back of other companies' content. And it worked incredibly well. Netflix now has 149 million subscribers—more than any cable company.
But this world is now gone. One by one, Netflix's colossal competitors have woken up. They're ending their contracts with Netflix, taking back control of their content, and launching their own streaming services that will compete with Netflix.
---
British billionaire James Dyson, inventor of the bagless vacuum cleaner, has bought the most expensive apartment in Singapore, where his company plans to build an electric car.
The three-story "super penthouse" at the top of Singapore's tallest building was reportedly sold for S$73.8 million.
---
Enjoyed this article? Do consider supporting the site as a Patron and receive exclusive content. Big shoutout to all Patrons for their generous support, and for helping to keep this site going!
Like our Facebook Page and join the Facebook Group to continue the discussion! Do also join our private Telegram Group for a friendly chat on all things investing related!