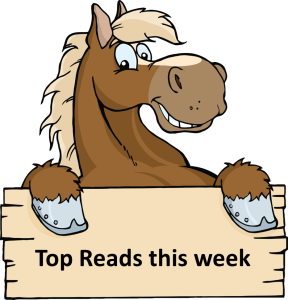 Rounding up top reads from around the web, including articles shared by fellow investors in the Financial Horse Facebook Group.
---
"We are deeply concerned both by the alarming levels of spread and severity, and by the alarming levels of inaction. We have, therefore, made the assessment that Covid-19 can be characterised as a pandemic," said WHO director-general Tedros Adhanom Ghebreyesus at a news conference, adding that the organisation was not using the word lightly. There are now over 120,000 cases in 114 countries.
---
The Singapore economy is expected to grow 0.6 per cent this year, according to economists and analysts polled in a survey by the Monetary Authority of Singapore (MAS) released on Wednesday (Mar 11).  This is a sharp drop from the 1.5 per cent growth expected by economists in the previous survey. The forecast came after Singapore last month downgraded its GDP forecast for the year amid concerns about the ongoing COVID-19 outbreak.
---
Stock rebounded from their worst day in more than 30 years, gains that were pinned partly to signs of movement in Washington and a pledge by leaders in Germany to spend heavily to support Europe's largest economy.
The earliest gains quickly faded, however and the S&P 500 was up only about 3 percent soon after trading began. Buyers also swept through markets in Europe, with major indexes there rising as much as 10 percent before paring gains. Oil prices, which have collapsed in recent weeks, rose 7 percent, and yields on United States government bonds rose.
All those moves are signals that investors feel a touch better about the outlook for the economy than they did a day ago. But financial markets have been nothing if not inconsistent for the past three weeks, plunging and then rising, and then plunging again, as each day brought new measures to contain the outbreak and new worries that the economy, workers and businesses would take a hit as a result of them.
---
"I don't think we've hit a bottom yet," the firm's chief global market strategist told CNBC's "Trading Nation" on Wednesday. "What's going to be critical is the fiscal response, particularly tying it to keeping those Americans afloat who have lost work because of the virus."
According to Hooper, the health care and the Federal Reserve's monetary policy responses to the pandemic aren't enough to help Wall Street and Main Street weather the economic fallout.
---
President Donald Trump addressed the nation amid the growing coronavirus crisis and failed to provide a coherent message. He announced the banning of flights to and from Europe, excluding the UK, from Friday. Measures to provide relief for businesses were limited. Markets were disappointed by the lack of significant fiscal stimulus in the president's Oval Office address.
At the same time, basketball matches at the NBA were canceled after a played contracted the virus and actor Tom Hanks said he and his wife were confirmed positive, bringing the virus to the mainstream of American life. 
Stock markets in Asia and S&P futures are significantly lower. American stock indexes entered a bear market on Wednesday. alongside oil prices, which have resumed their falls amid the price war.
---
Stocks plummeted in Asia on Thursday (March 12) after United States President Donald Trump suspended all travel from Europe for 30 days, a day after the US Dow Jones industrials entered bear market territory and world health officials declared the coronavirus a pandemic.
Shares in  Singapore, Australia, Japan, the Philippines and Indonesia have now also entered bear markets, as well as a gauge of euro-area stocks and benchmarks in Italy, Germany, Spain, France and the UK. Stocks are said to enter a bear market when they fall at least 20 per cent from a recent peak. The Dow reached that unwelcome milestone on Wednesday, breaking an 11-year bull run.
---
China is preparing to inject more cash into the financial system, as the slowing economy faces further pressure in the form of slumping global demand from the coronavirus pandemic.
While the central bank is expected to encourage bank lending by lowering the reserve requirements in the coming days, a blitz of data on Monday is expected to lay bare the scale of stimulus needed to reboot the $14 trillion economy.
---
"In such a situation, we must do our utmost to support our people and our businesses, including considering using past reserves if necessary," Madam Halimah wrote. "If our public health is at stake and our people's welfare affected, we need to do the necessary."
Her post came hours after Deputy Prime Minister Heng Swee Keat said that the Government is not ruling out the use of Singapore's past reserves, although it must first get the President's consent. "Our reserves have been set aside to meet the needs of a rainy day, and it looks like this rain is not a light one," he told a Budget roundtable jointly organised by The Straits Times and The Business Times.
---
ndonesia announced a 120 trillion rupiah (US$8.1 billion) stimulus package on Friday (Mar 13) to support Southeast Asia's biggest economy as the spread of the coronavirus disrupts global activity.
The stimulus, representing 0.8 per cent of gross domestic product (GDP), includes exempting some workers in manufacturing from income tax and giving manufacturing companies a discount on corporate tax payments, Finance Minister Sri Mulyani Indrawati told a news conference.
---
"As the virus spreads to countries everywhere, country-specific border control measures will become less relevant and effective because we are unable to shut Singapore from the world. We have to now shift our approach," said Mr Wong.
"We will look at the whole range of social distancing measures," he said at a press conference held at the National Press Centre. The Ministry of Health announced on Tuesday that senior-centric activities by government agencies will be suspended for two weeks. Over time, the Government will have to ramp up and implement more social distancing measures, Mr Wong said.
---
Frasers Logistics & Industrial Trust (FLT), Frasers Commercial Trust (FCOT): Unitholders of both trusts have voted overwhelmingly to approve their merger. The unitholders also approved the acquisition of Farnborough Business Park in the UK by the enlarged entity. FCOT units closed up $0.03 or 1.9 per cent at $1.62 on Tuesday, while FLT rose $0.03 or 2.5 per cent at close at $1.23. Both had requested trading halts on Wednesday before the market opened. They then lifted the halts on Wednesday night.
Q&M Dental Group: The mainboard-listed firm is partnering two Chinese companies to set up a surgical mask manufacturing company, Q&M said on Wednesday after trading hours. The counter rose $0.02 or 4.6 per cent to finish at $0.46 on Wednesday.
OCBC Bank: An employee of OCBC was diagnosed with the novel coronavirus on Tuesday, the lender said on Thursday in response to queries from The Business Times (BT). The staff member works at OCBC Centre along Chulia Street, BT understands. Shares of OCBC shed $0.22 or 2.3 per cent on Wednesday to close at $9.50.
StarHub: The mainboard-listed telco will acquire an 88 per cent stake in Malaysian information and communications technology firm Strateq for $82.1 million. StarHub shares closed at $1.45 on Wednesday, down $0.05 or 3.3 per cent, before the announcement.
Singapore Press Holdings (SPH): The media and property group has started its £10.6 million ($18.9 million) asset enhancement initiative to refurbish nine properties in its UK student accommodation portfolio. The counter ended trading unchanged at $1.87 on Wednesday, before the announcement.
---
American oil giant ExxonMobil cut pump prices by three cents on Wednesday afternoon (March 11), its second reduction since Monday's plunge in crude oil prices. As at 2pm, petrol at Esso stations are $2.14 a litre for 92-octane, $2.18 for 95-octane and $2.58 for 98. Diesel is $1.83 per litre. All the rates are before discounts, and are three cents lower than most prices posted by its rivals, which are likely to start matching Exxon's cut later today. With the latest adjustment, Esso's 95-octane – the most popular grade here – is now 7.2 per cent lower than its price in mid-January. Since then, crude oil prices have fallen by more than 40 per cent.
---
During times of uncertainty in the stock market, billionaire Mark Cuban follows what he called the "No. 1 rule of investing": "When you don't know what to do, do nothing," he said in 2016 on the Cyber Dust app. Although the circumstances differ today, Cuban still "absolutely" follows the same rule, he told CNBC Make It on Monday, as the Dow tanked more than 2,000 points. "If you don't fully understand the risks of an investment you are contemplating, it's OK to do nothing," Cuban said in a 2010 blog post. In fact, making reactive moves as the market fluctuates is not a good way to invest, according to experts.
---
Retirement savers should breathe — even if they're close to retirement — before they do something they might regret. Diversification is an important concept, and it means that when the U.S. stock market is down, other assets in a portfolio – be it municipal bonds or an emerging market fund – will help cushion the broader market's fall. 
It's not always all bad when the stock market is down. And for 20- and 30-somethings, who have a long time horizon before retirement, a market that's down can be good news – they'll get to buy more shares cheaply that will eventually be worth more.
---
When stocks are tumbling, it's much harder to pull the trigger. You buy a stock; it goes down. You buy another stock; it also goes down. You become demoralized. You may have been jazzed about "buying the dip" at first, but that enthusiasm vanishes as time goes on and losses pile up. The idea of buying stocks starts to make you feel sick.
That nauseated feeling is the price you pay for the stock market's long-term returns. If you buy stocks when it feels good and sell when it starts to feel bad, which is what many people do, you'll be disappointed by your results. You'll miss out on those rare opportunities to score incredible bargains.
Most great investments begin in discomfort. A lot of bad investments begin in discomfort, too. Investing is hard. But don't let that discomfort keep you on the sidelines. If there's a company you believe will survive this crisis and thrive once the outbreak is over, there's no better time to invest than right now.
---
The Dow closed down over 1,400 points Wednesday, ending its historic bull market run and entering bear market territory as the coronavirus was officially named a pandemic by the World Health Organization. Here's what you need to know.
A bear market marks a 20% decline in stocks from recent highs and an overall pessimistic feeling on Wall Street. They typically last around 13 months, according to a CNBC analysis.
The U.S. stock market had been in a bull market — or consistently increasing — since March 2009, one of the longest on record. In that time, it's experienced a number of corrections, or declines of 10% from record highs, before rebounding.
That goes beyond investing: You should also take stock of financial basics like your liquid savings and budget.  "Make sure you have an emergency fund that you can access if needed," he says. "It might not make much, but the comfort of knowing it is available will be worth it."
---
4 new SMCs, 3 existing ones removed; New Sengkang GRC created
Number of MPs to go up to 93 from 89
The changes to constituency boundaries are incremental in nature, with the largest changes in the fast-growing north-eastern part of the island. In all, about 13 per cent of voters will find themselves in a new constituency, compared with the 19 per cent of voters affected by boundary changes ahead of the 2015 election. Political analysts said the next election could be held as early as next month, or in early May or June. 
The report comes on the same day that Singapore announced more social-distancing measures in its fight against the global coronavirus pandemic, including limiting the size of gatherings to 250 people to reduce the risk of transmission.
---
Looking for a comprehensive guide to investing? Check out the FH Complete Guide to Investing for Singapore investors.
Stock Watch 2020: Support the site as a Patron and get market updates. Like our Facebook Page and join the Facebook Group to continue the discussion!