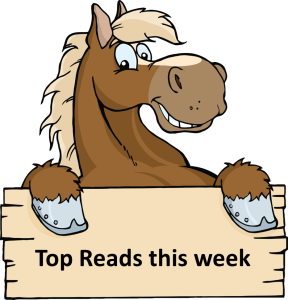 Rounding up top reads from around the web, including articles shared by fellow investors in the Financial Horse Facebook Group.
---
US stocks slipped on Wednesday after the chair of the Federal Reserve warned that the coronavirus pandemic risked causing long-term damage to the economy. The US may need to deploy "additional policy measures" to avoid an "extended period of low productivity growth and stagnant incomes", Jay Powell said. "The recovery may take some time to gather momentum."
---
Conventional wisdom would explain the market's comparatively modest losses this way: Since markets tend to be forward-looking, investors have already accounted for what's expected to be a cataclysmic drop in second-quarter activity and are forecasting a relatively rapid economic recovery afterward. The Federal Reserve's actions have also bolstered investors' confidence that the bottom won't fall out of the market.
But the pandemic has also highlighted a deeper trend. For decades, the market has been growing increasingly detached from the mainstream of American life, mirroring broad changes in the economy.
"Wall Street has very little to do with Main Street," said Joachim Klement, a market analyst at Liberum Capital in London. "And less and less so."
---
Top coronavirus health expert Dr. Anthony Fauci's recent warning about the potentially dire consequences of reopening states and schools too soon was "not an acceptable answer," President Donald Trump said Wednesday.
Trump told reporters at the White House that he was "surprised" by Fauci's answers during a hearing before the Senate Committee on Health, Education, Labor and Pensions.
---
Property buyers who have entered into agreements to purchase or lease homes from developers can now apply for temporary legal protection should they face difficulties making payments because of the COVID-19 pandemic.
The move is an extension of the COVID-19 (Temporary Measures) Bill passed last month, which provides temporary relief from certain legal action for non-residential leases, construction or supply contracts, event agreements, tourism-related contracts such as tour packages as well as secured loan facilities.
---
House Democrats released their latest coronavirus relief bill wishlist, worth $3 trillion, with a vote scheduled for Friday. The package includes federal aid to states, more stimulus checks, hazard pay for essential works, funding for testing and more unemployment insurance.
The major averages declined after Republican Senator Lindsey Graham pushed legislation to demand China either cooperate with an investigation into the origins of coronavirus or face sanctions.
Dr. Anthony Fauci, the director of the National Institute of Allergy and Infectious Diseases, warned a Senate committee on Tuesday that the U.S. does not yet have the coronavirus outbreak "completely under control" and that the national death toll is "likely higher" than current levels.
U.S. consumer prices in April—the latest slew of sobering economic data, showed a drop of 0.8% last month, the most since 2008, according to the Labor Department.
---
DBS's POSB has recorded a jump of almost four times in the number of account openings for migrant workers in April, as the Covid-19 pandemic adds to the urgency for migrant workers to have access to digital banking. POSB's target now is to bank all 750,000 migrant workers in Singapore by the end of this year. DBS shares closed at $19.28 on Wednesday, down $0.07 or 0.4 per cent.
Singapore Airlines (SIA): The national carrier on Wednesday described the Covid-19 pandemic as the greatest challenge ever faced by the aviation industry, and said that the industry is likely to remain highly competitive even after the crisis blows over. SIA shares closed at $4 on Wednesday, down $0.29 or 6.8 per cent before the announcement.
---
Airports continue to incur fixed costs for maintaining the infrastructure. Their burden is even greater because partners such as retail outlets and airlines have been given breaks in terms of rentals and reduced parking and other fees, respectively.
---
HSBC Holdings took steps to oust the management at a Singapore oil trader as Europe's biggest bank seeks to limit potential credit losses from the sector following the collapse of Hin Leong Trading.
---
GENTING Singapore on Wednesday saw earnings halved for the first quarter as the global coronavirus pandemic took its toll on tourism. The company said it remains pessimistic for the rest of the year, foreseeing that any recovery may be long-drawn. 
---
The Government plans to draw a total of S$21 billion from past reserves to fund the Resilience and Solidarity Budgets announced earlier this year.
---
Front-line healthcare workers around the world, including those in Singapore, can now apply for free return tickets from Qatar Airways till next Monday (May 18). A total of 100,000 tickets will be given out, with about 14,000 tickets released at 5.01am Singapore time daily. Countries are given an unspecified number of tickets based on their population size.
---
HOMEWARE retailer Iuiga has secured S$10 million in Series A funding from the technology arm of Indonesian conglomerate Konimex Group, which will be chiefly put to growing its operations in Indonesia. 
---
Firms must put in place safe management measures at workplaces to prevent Covid-19 from spreading in the community again even as local transmission numbers fall, the Ministry of Manpower said on Saturday (May 9).
---
An American pilot working for Federal Express (FedEx) was jailed for four weeks on Wednesday (May 13) for breaching his stay-home notice to buy masks and a thermometer from Chinatown. His lawyer told the court that he had left the room as his sick wife had asked him to buy protective equipment before returning home.
---
The MSS is a Singapore Armed Forces (SAF) cross country ambulance mounted at the rear, with a transparent booth with gloved holes for the tester's hands. The tester sits inside the ambulance, while the migrant worker stands outside.
---
Looking for a comprehensive guide to investing? Check out the FH Complete Guide to Investing and FH REITs Masterclass for Singapore investors.
Stock Watch 2020: Support the site as a Patron and get market updates. Like our Facebook Page and join the Facebook Group to continue the discussion!