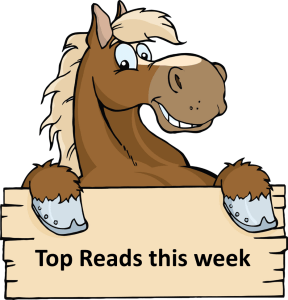 Rounding up top reads from around the web, including articles shared by fellow investors in the Financial Horse Facebook Group.
---
Your first job is important, it sets the tone for your entire career. In the beginning, it is tempting to think short-term and make decisions to get paid more or get promoted quickly. If you ask the people who have done very well in their careers, they all emphasize that it is more important to adopt a long-term view of your career. Do the things that benefit you in the long-term. Don't sacrifice the forest for a tree.
Congratulations! You have now reached the second stage of your career where you are in a leadership role. At this stage, you have more responsibility and manage others.
At this stage, being good at what you do is not enough. What's important is the ability to manage others. Your success will be measured by the success of your team.
---
Those "old tech" stocks are Microsoft Corp. (MSFT), Intel Corp. (INTC), Apple Inc. (AAPL), German software giant SAP SE (SAP), Dutch semiconductor manufacturer ASML Holding NV (ASML), and Japanese sensors and instruments maker Keyence Corp. (KYCCF). "Old tech has been an opportunity hiding in plain sight," as Christopher Harvey, head of equity strategy at Wells Fargo Securities, observed in a note cited by the FT. These stocks "have been chronically under-owned because the average large-cap portfolio manager no longer considers them 'growth' companies," he added.
---
Activist investor Carl Icahn has bought a $1.2 billion stake in HP Inc <HPQ.N> and is pushing for the personal computer maker's merger with printer maker Xerox Corp <XRX.N>, arguing that a union could yield big profits for investors, the Wall Street Journal reported on Wednesday.
---
Every year, CNBC scans the globe looking for the 100 venture-backed start-ups that have the potential to transform industries and become tomorrow's household names. Our 2019 Upstart 100 list showcases young start-ups that are building and scaling businesses addressing the rapidly changing technological era we live in.
---
Chinese e-commerce giant Alibaba has announced plans to raise up to $13.4 billion by issuing shares in Hong Kong, a vote of confidence in the Asian financial hub that has been rocked by months of civil unrest.
Alibaba said in a stock market filing Wednesday that it wants to use a secondary listing in Hong Kong to fund its continued expansion into online travel, delivery and media. Protests are rattling Hong Kong. But companies aren't abandoning the city yet. Alibaba (
BABA
) will price 500 million new shares on or around November 20, with trading starting in Hong Kong roughly four business days later. At the current New York price of Alibaba's shares, the offering could raise as much as $13.4 billion, if the company's bankers exercise an option to purchase some additional shares.
---
"For right now, it's really about whether there is another replacement within the region to compete with Hong Kong," Ng told CNBC's "Capital Connection." Some bankers and wealth managers said they recently received more queries from clients about moving funds from the Chinese-ruled city to Singapore, another Asian financial hub often seen as a close rival to Hong Kong.
There are still parts of Hong Kong's financial industry that cannot be easily shifted, Ng said, but noted that some cities in mainland China could challenge the territory's status. "When China starts to open more of its onshore market, we will start to see more financial development … this is going to attract more inflows from foreign investors into the onshore market directly," said Ng. However, China maintains relatively close capital account conditions now — a stark contrast to Hong Kong's free capital flows. "I think this is quite important for investors and also generally for the financial market itself," Ng added.
---
Disney signed up 10 million customers for its Disney+ streaming services within the first day of its broad international launch, the company said Wednesday. The company's shares closed up more than 7% on the news. Disney is offering a seven-day free trial, so likely not all of the sign-ups represent customers who will continue to pay for the service.
---
The tech giant is launching customer checking accounts in a partnership with Citigroup and Stanford Federal Credit Union. But analysts say the move isn't about finding a new revenue stream for Google.
It's more about insights into consumer purchase behavior to compete with Amazon, and driving engagement with its existing products.
"For Google, the deposit account will help with stickiness and additional access to data — customer data is what they make its money on," Bain partner Gerard du Toit tells CNBC. "The motivation for these tech firms is not that they expect to make huge amounts of money on payments."
By starting with checking accounts instead of a credit card, Google also won't have to "disappoint" customers by not approving creditworthiness.
---
Over the past two months, tax investigators from the Inland Revenue Authority of Singapore (IRAS) arrested 10 members of a criminal syndicate suspected of perpetuating Goods and Services Tax (GST) carousel frauds. "The profile of tax evaders is changing. In the past, we investigated mainly businessmen who failed to report their income fully, or who claimed certain expenses not allowable for tax purposes. Today, we deal with more syndicated groups whose members may have been involved in past criminal activities," said Lawrence Eng, assistant commissioner of IRAS' Investigation and Forensics Division.
---
People's Action Party (PAP) parliamentarian Ong Teng Koon's attempt to provide career advice to desperate food delivery riders went awry when he asked them whether they want to become Singapore Post (SingPost) postmen instead.
Food delivery riders who rely on Personal Mobility Devices (PMDs) to make a living were abruptly left in the lurch when the Government announced a ban on PMD use on public footpaths earlier this month. Those who flout the ban will face fines of up to S$2,000 and/or imprisonment of up to three months, after a grace period ends on 31 Dec. The abrupt ban, which went into effect the day after it was announced, caused intense dissatisfaction among hundreds of food delivery riders who flocked to PAP MPs' Meet-the-People sessions, seeking an alternative solution.
---
As Americans turn to nondairy milk or private-label products, many traditional companies have been on the decline. Additionally, due to Walmart ending its long-term distribution contract with Dean Foods, the company also claims it is facing a mountain of debt and says it is unable to fund all of its workers' pensions.
---
Investors who need access to their money in the next 10 years should understand several irrefutable facts:
• There's no guarantee stocks will return anything over a 10-year period. From 2000 to 2010, the U.S. stock market, as measured by the S&P 500 Index SPX, +0.07%  of the largest publicly traded companies, had a negative return.
• The U.S. stock market now trades near all-time valuation highs on several metrics, as it did in 2000 before the dot-com crash.
• Valuations are one of the best predictors of long-term returns. (High valuations lead to low long-term returns, while low valuations are followed by high long-term returns.)
---
The semiconductor stocks have been soaring. So far this year the ETF that tracks the sector, the SMH, has jumped over 50 percent. In the last month alone, the ETF has gained over nine percent. And according to history, the rally could still have room to run.
---
People have short memories and recall recent events more clearly than those in the past. This phenomenon is also known as a recency bias, and its especially dangerous with investing. During a bull market, investors forget about prior market declines causing them to invest aggressively, without concern for future reversals. The same phenomenon occurs during recessions and market troughs. Investors tend to sell as market prices fall, fearing to buy back into the markets due to the belief that recent market drops will continue, says Raul Elizalde, chief investment officer at Path Financial in Sarasota, Florida. Dalbar research found that that the average investor lost 9.4% during 2018 while the S&P 500 dropped only 4.3%. The underperformance of individuals versus the markets is proven over many periods due in part to the belief that recent market performance will continue.The strategy to avoid recency bias is to understand the stock market's history and invest for the long term.
---
Shares of Walgreens Boots Alliance (WBA) surged 6% in early trading Monday on the report. According to Bloomberg, KKR has approached Walgreens about a deal. The buyout firm KKR is one of the world's largest private equity firms, and its leveraged buyout of RJR Nabisco was cataloged in the book, "Barbarians at the Gate."
---
It's shaping up to be a good year for investors. The S&P 500 has returned a little more than 26% so far in 2019 once you factor in dividends, but some unexpected stocks are performing even better. Avon Products (NYSE:AVP) and DISH Network (NASDAQ:DISH) continue to post declining financial results. Facebook (NASDAQ:FB) seems to always be generating unflattering news coverage. Yet after falling out of favor, all three stocks are smoking the market this year.
---
Earlier in May, CPF announced a number of changes to the use of CPF for home purchase. The new change allowed buyers to purchase older HDB flats as long as the lease left on them lasts the homeowners to the age of 95. That change dramatically changed the HDB resale market, making older flats more viable and attractive to potential buyers.
Later in September, the Housing Development Board raised the income ceilings for first time buyers of HDB flats, and executive condominiums by $2,000, making HDB homes available to more buyers. The income ceiling for first time home buyers buying both HDB Built-To-Order (BTO) flats and resale flats was raised from $12,000 to $14,000, while that for Executive Condominiums was raised from $14,000 to $16,000. The income ceiling for singles was also raised from $6,000 to $7,000. All these new income ceilings were also applied to buyers' eligibility for HDB housing loans.
At the same time, they announced a change in the allocation of grants to first time home buyers. The Additional CPF Housing Grant (AHG) and the Special CPF Housing Grant (SHG) – each offering grants of up to $40,000 – were replaced with the new Enhanced CPF Housing Grant (EHG) with a grant of up to $80,000. AHG had an income ceiling of $5,000 and the SHG had an income ceiling of $8,500, while the EHG which replaces them has an income ceiling of $9,000.
---
The National Trades Union Congress (NTUC), Singapore's sole trade union centre, will raise the retirement and re-employment age of its staff from 2021 – one-and-a-half years ahead of the national schedule. From 1 January 2021, the retirement age of its staff will go up from 62 to 63, while the re-employment age will similarly be raised from 67 to 68. All of NTUC's 12 social enterprises – which include FairPrice, Foodfare, Income and First Campu – will also do so from 1 July 2021.
---
Singapore has unveiled an ambitious strategy to become a global leader in artificial intelligence by 2030, attempting to carve out a niche for itself in an increasingly politicized technology.
Deputy Prime Minister Heng Swee Keat outlined five key areas the island nation is targeting for AI applications including in transport and logistics planning, provision of municipal services, detection and management of chronic diseases, personalized education and border control. The country is planning to eventually fully automate immigration clearance for all travelers.
---
Singapore' average salary increase for 2020 is predicted to be 3% after inflation.
It was predicted to rise 2.6% in 2019, and 2.7% in 2018.
Singapore's expected increase is "among the world's highest", with the largest increase going to India (5.4% after inflation).
Salaries here are expected to remain high, thanks to low inflation and a tight labour supply.
---
Looking for a comprehensive guide to investing? Check out the FH Complete Guide to Investing for Singapore investors.
Support the site as a Patron and get market and stock watch updates. Like our Facebook Page and join the Facebook Group to continue the discussion!